Let's talk about what I never talk about — underwear.
It's so basic, yet it's something that I often overlook.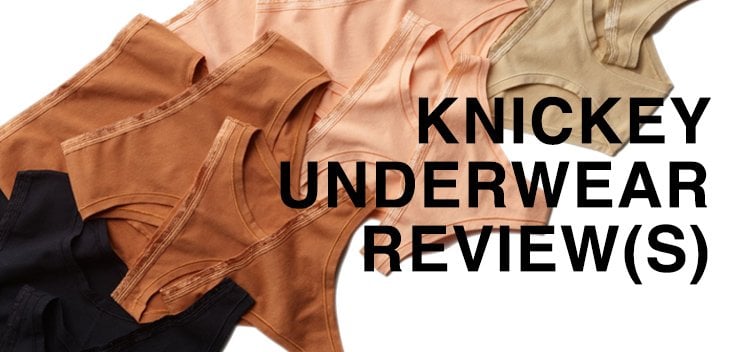 For day-to-day, simple cotton underwear is the absolute best in my books.
… but finding the absolute best cotton underwear has proven difficult lately.

Despite my love for the Gap's underwear, ordering from them is a pain… then there's Everlane underwear, but their cotton is thin and flimsy.
One night I was private-browser Googling DTC-underwear brands and the next morning this DTC sustainable underwear brand, Knickey, randomly emailed me. If I hadn't been on a private-browser, I would've thought it was spam.
They wrote a nice email and asked if they could send me some of their organic cotton underwear — kismet, right?
… but, you know, newinspired doesn't work like that.
So, I simply (and rudely) deleted their email.
… but then a couple months later new basic underwear was still on my mind, so I went on their site and was like, "hmmm…"
I ordered a Starter Set with my own money, and then 2 more sets (again with my own money), and what follows is a totally un-sponsored and un-gifted review on Knickey's simple & sustainable underwear…
---
Knickey Organic Cotton Underwear Sizing
For reference, I'm 5'5.75" and weigh 115-117 lbs.
For comparison's sake, my swimsuit sizes run below:
–ACACIA, XS or S for tops and small to medium for bottoms
–Eres, FR 38
–Matteau, size 1 for top and size 2 for bottoms
–MIKOH, size XS for tops and small to medium for bottoms
My sizes in other underwear brands run from an XS to S.
… so I bought a Starter Set of Knickey underwear in both a size XS and S.
Here's how the two sizes compare…
(Note: I'm not showing the Low-Rise Thong sizing because I'm not that confident, but, the size difference is basically the same as Knickey's other undies.)
---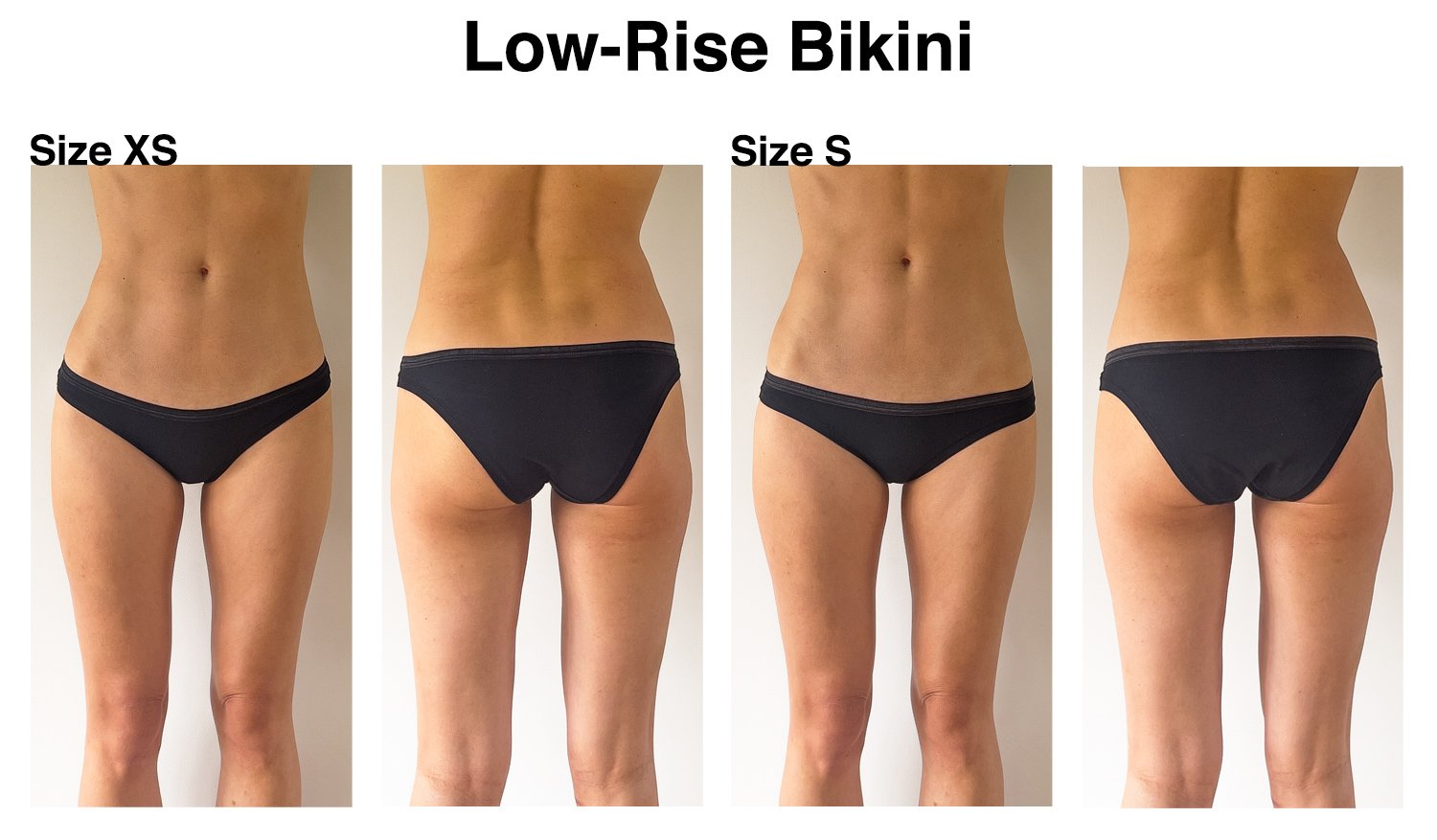 Along with the Low-Rise Thong, Knickey's organic cotton Low-Rise Bikini (OK, all their underwear is organic cotton…) is my favourite.
Although the bum is a bit baggy in an S, it works totally fine in either size.
---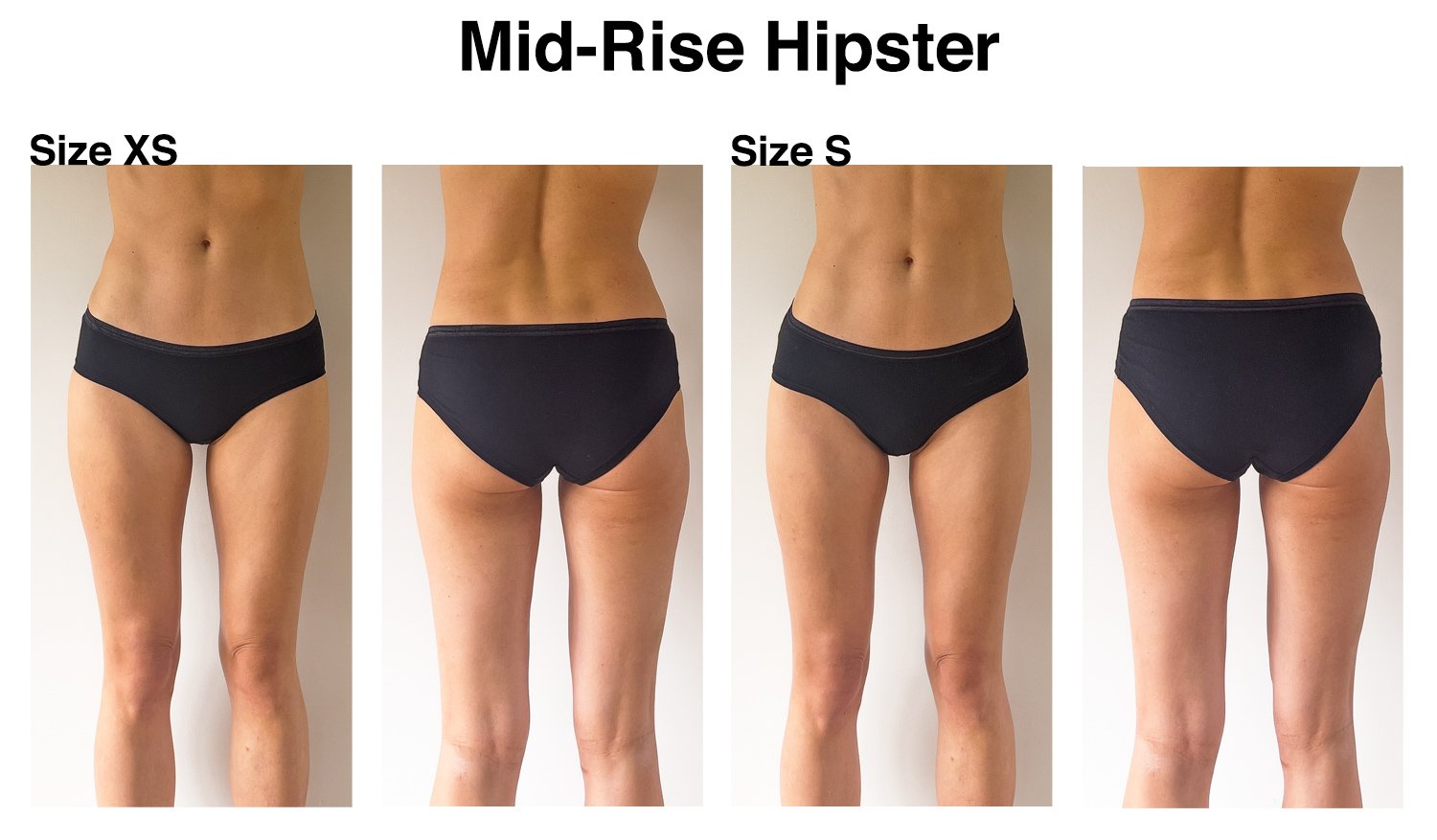 The Mid-Rise Hipster feels and kind of looks massive on me in a S, but in an XS it's a standard and a solid fit.
---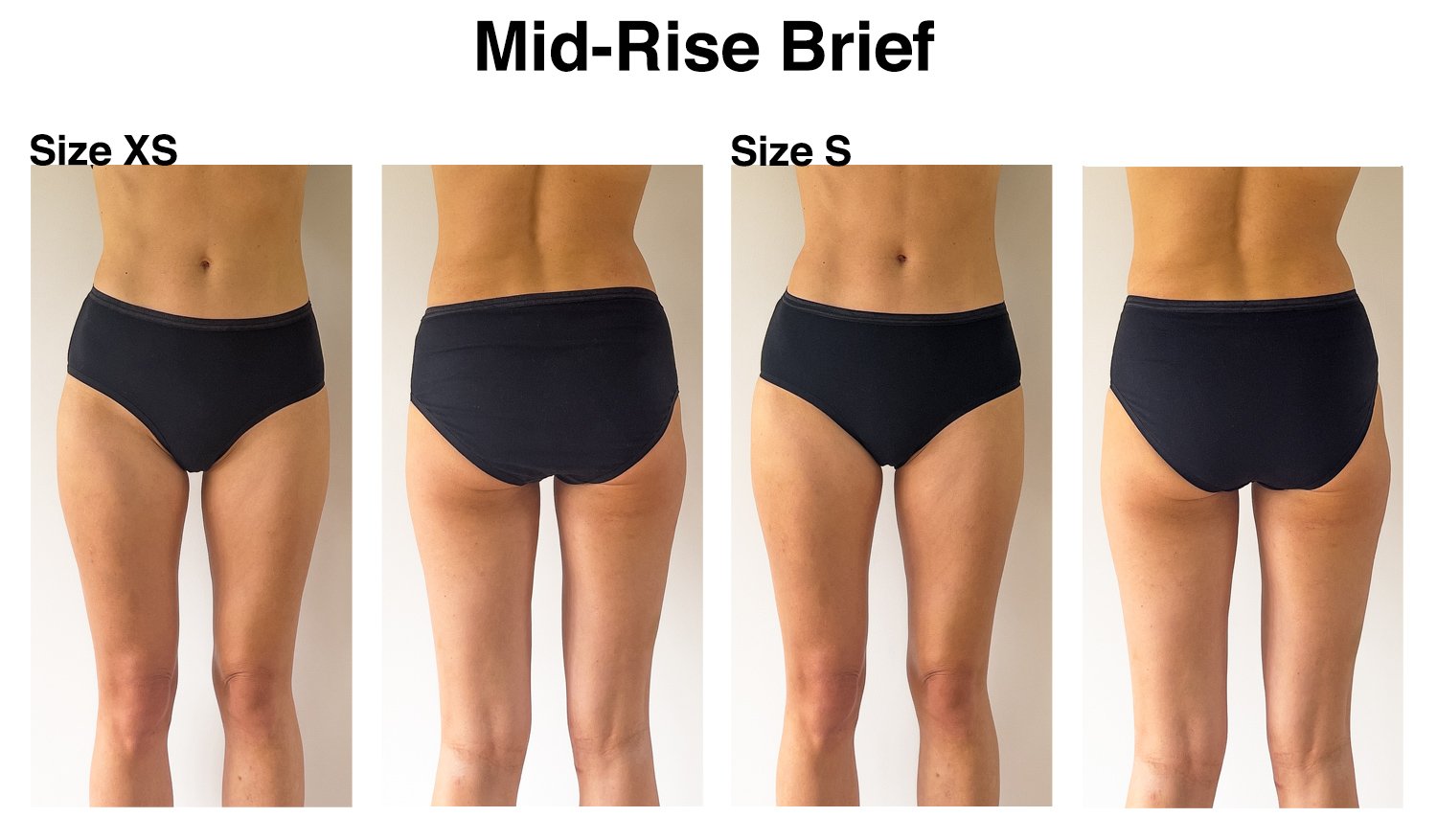 Honestly, in either size, this is my least favourite pair. The Mid-Rise Brief just doesn't flatter my flatter derrière and makes whatever below the navel pooch I think I have feel more, uhhh, poochier.
… but, honestly, when my laundry day is still a few days away and these are what's left, I'm still totally happy to wear them.
---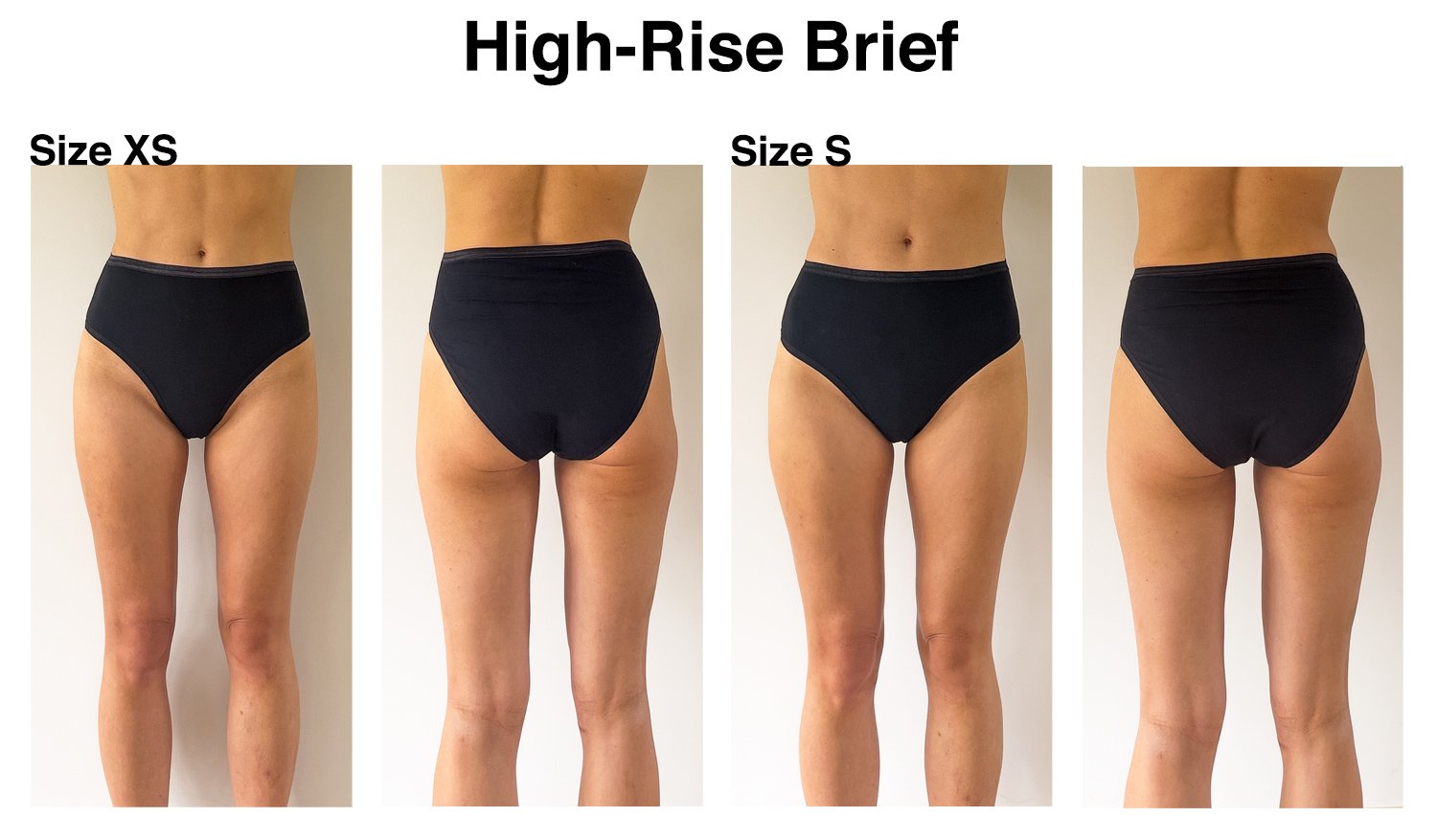 This is THE perfect pair of underwear (ugh, I wanted to use that word that starts with "p" that's a synonym for underwear, but it's so creepy and I refuse to use it even if I love alliteration).
Super comfortable, hugs your tum, doesn't pinch your waist (even in an XS), what more could you want?
---
Sizing TLDR: Size down if you want your underwear to be a little closer, but a size up is perfect for extra space (especially, for period days when you wanna ditch the tampon and use a pad instead — sorry if that was TMI!).
---
Knickey Underwear Lines
I hate wearing "nice" lacy underwear that hide VPLs on a daily basis, so if I can wear a pair of regular underwear, I'm a happy camper.
For this little experiment, I tried my 3 favourite pairs of Knickey's organic cotton underwear: The Low-Rise Thong, Low-Rise Bikini, and High-Rise Brief…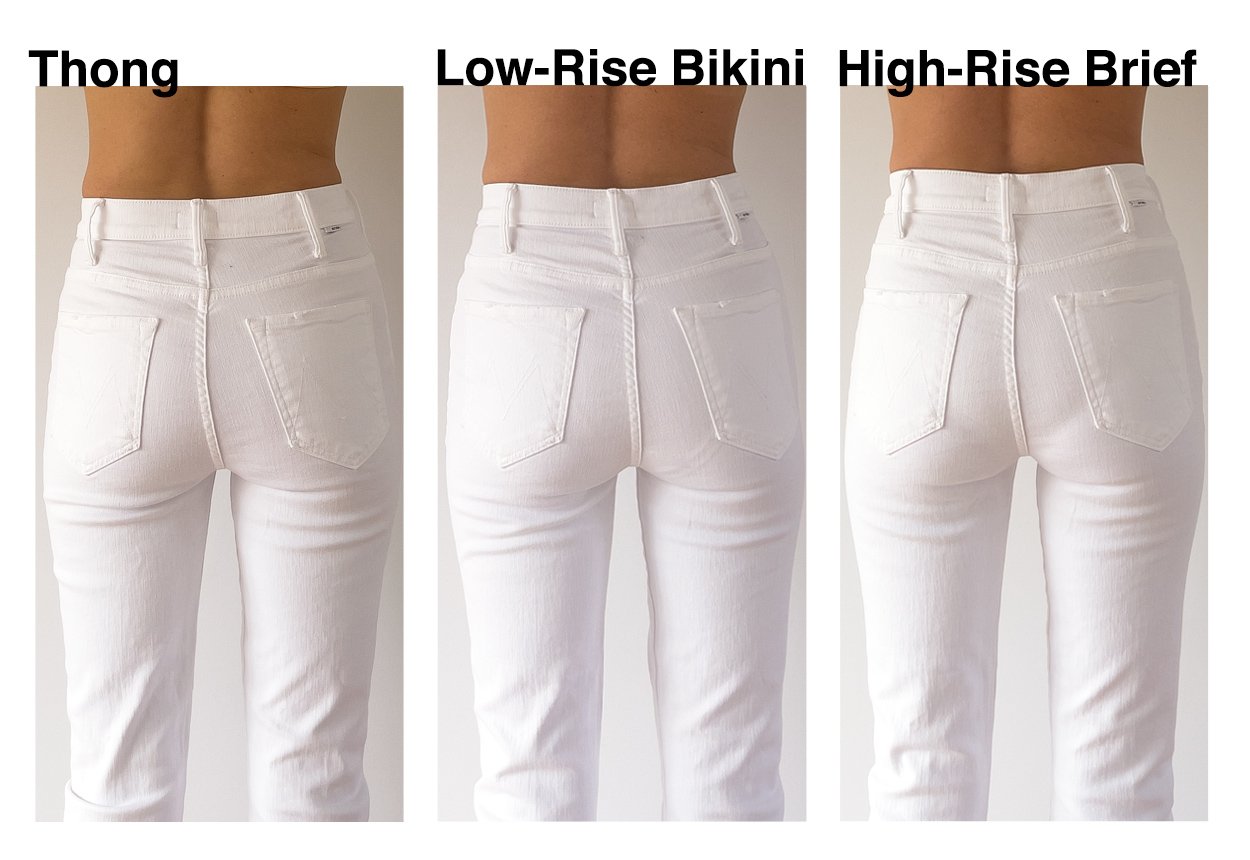 OK, so you can definitely see the High-Rise Brief through the jeans, but the Low-Rise Bikini is surprisingly passable/OK to wear, while the Low-Rise Thong is unsurprisingly totally OK/doesn't show.
Knickey's Low-Rise Thong is, for a thong, surprisingly comfortable though, so I'm happy to wear it with my jeans.
---
Preface
Before we get into this quality section, my criteria for something so simple as cotton underwear is pretty detailed…
-Thick cotton
I don't know about you, but slightly thicker cotton underwear just feels better around your bits.
-Washing machine & dryer friendly
Listen, I'll hand wash and air dry my lacy delicates, but my daily underwear is going in the machine with the rest of my clothes — no exceptions.
-Flattering
Considering they're daily-underwear, this isn't too important, but I'd still like that lil' boost of self-confidence that comes with flattering underwear.
-Comfortable
This is quite important — they have to be comfortable with no elastics pinching into your skin.
-Durable
They have to last quite a few washes — we shouldn't have to "waste" our money buying boring daily underwear more than once a year.
-No obvious branding or details
That means no exterior logos or bows or any kind of "fun," floral, ~feminine~ print. Black or white or skin-tone with an elastic band — is that too much to ask for?
-Price
Close to or under $10 USD a pair, please! When I'm buying more than 7 of one product, I want it to be affordable so I can spend money on things I really want instead (like fancy, fun, and impractical flip flops).
---
Knickey Underwear Quality
-Thick cotton
This is really want made me want to write a review about Knickey underwear…
It's 95% organic cotton (5% elastane) and actually feels like the quality underwear that it is.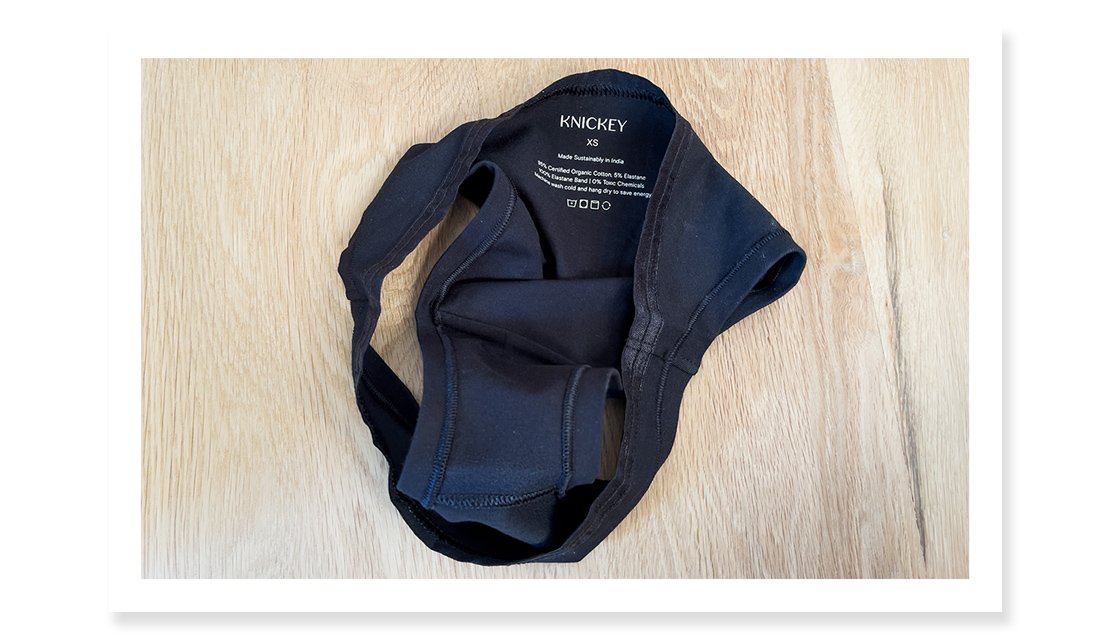 It's so sturdy, yet soft and incredibly comfortable on.
-Washing machine & dryer friendly
Before I felt comfortable telling you about them, I've been independently testing Knickey underwear for over a month.
They've been regularly washed with my other laundry in the machine/cold water and then shoved in the dryer at a regular/mid-temp, and they've totally held up… like, they haven't shrunk or shrivelled or anything like that.
-Flattering
Knickey makes 5 different styles of underwear that flatter all bums, so you can still feel confident fooling around with your significant other in them or just bumming around in 'em watching TV.

-Comfortable
You won't get your knickers in a twist with Knickey's… which is surprising for such sustainable underwear — like, I always think eco-friendly items won't feel good on.
… but Knickey's sustainable underwear are so comfortable — like, even their Low-Rise Thong rivals Hanky Panky's levels of comfort.
There is no pinching at the waist or legs or anything like that, they feel like a slightly thicker, yet soft second skin.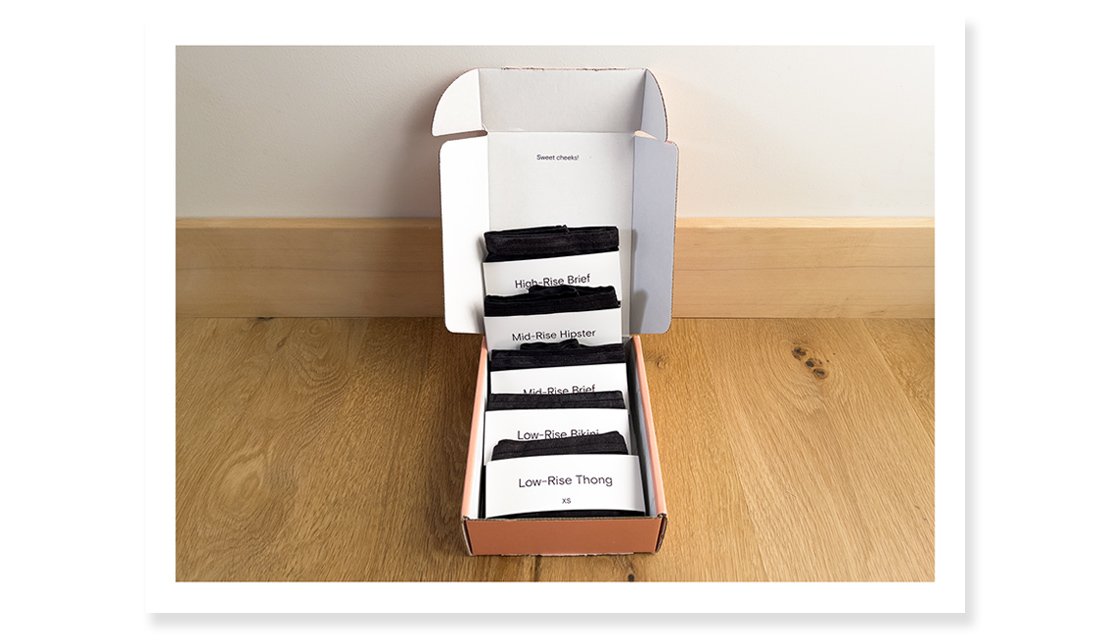 -No obvious branding
No CK adorning your waist, no frills, no bows, just a nice plain band with no branding.
-Price
The rack rate for a pair of Knickey underwear is $14 USD — but who buys just one pair of everyday underwear?
The bundle prices are: 3 pairs for $39 (basically $13/pair), 5 pairs for $65 ($13/pair), 10 pairs for $120 (ostensibly $12/pair), or 20 pairs for $220 (which is essentially $11/pair).
These prices might seem high — especially when I set my budget at $10/pair.
… but, when you consider all of their fair factory practices, organic cotton processes, and that shipping is always carbon-neutral, Knickey makes pretty affordable sustainable underwear.
… and the lengths that Knickey goes to to ensure that their business is all around carbon-neutral (with plans to be Climate Neutral Certified in 2021) is incredibly commendable.
With that type of dedication to factory workers and the environment, I'll happily pay a little more for a well-made and sustainable pair of underwear.
… plus, they have a First Pair Guarantee, so if they aren't for you, you can return them.
---
PROS & CONS
Pros
–Organic cotton: Uses less energy and water than the alternative — I always doubted this claim, but I also kind of believe them when they break down how it's possible so thoroughly… also, it's toxic-free.
–Elastic: Knickey uses recycled nylon for their underwear bands instead of creating new nylon for them.
–Recycling program: Send your old frayed undies from any brand (that you'd otherwise pitch in the garbage) to Knickey and they'll recycle them into insulation, rug pads, or rags— plus, they'll send you a free pair of Knickey underwear with your next order.
–Fair-trade: Their factories are certified to guarantee living wages to their workers.
–Carbon off-set at checkout: Knickey foots the bill on a Carbon Off-Set at checkout so that your order gets to your doorstep in a carbon-neutral fashion. Behind the scenes, they also offset all their emissions during transportation from their supplier overseas and during manufacturing.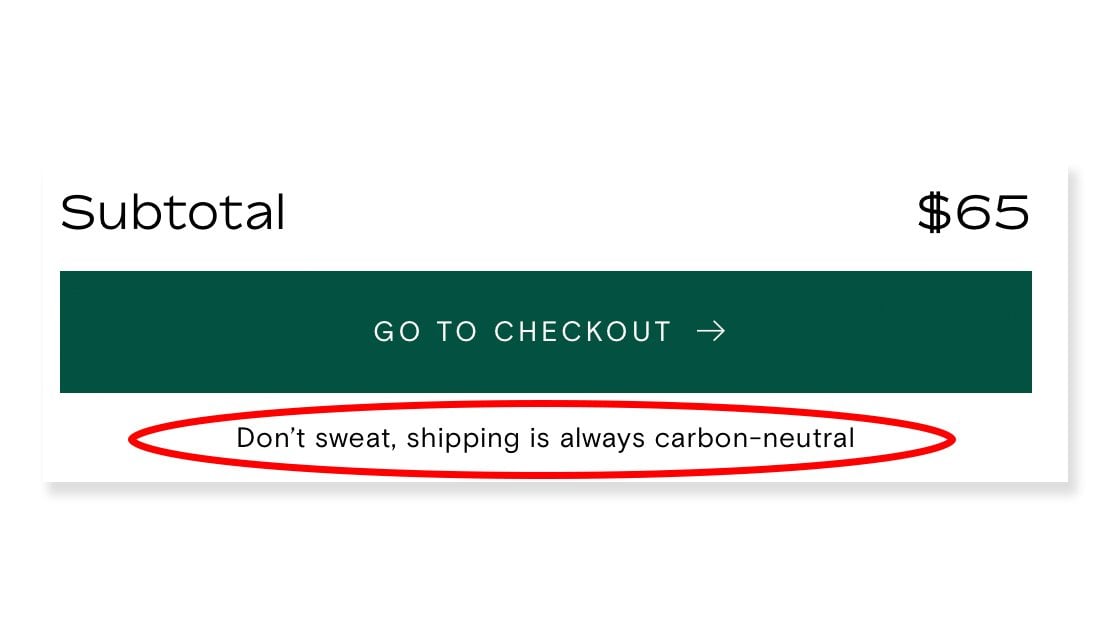 –Extremely eco-friendly & forward thinking: You can read a ton more about all of what I've just written here — other than their comfortable fit, Knickey's commitment to sustainability is what sold me on spending a bit more on a pair of "basic" underwear.
Cons
–In-between sizing: In a lot of these pairs, I could take an XS or an S.
–Elastics may poke out of the bands after washing & drying a lot: Enough said, I think?
---
Knickey's underwear is just simple and comfortable everyday underwear.
… that also happens to be carbon-neutral and sustainable.
If your underwear drawer is in need of a refresh, and if you're OK that the elastics might poke out in the wash/dryer, you should try these knickers.
This review is not paid for or sponsored in any way shape or form, similar to Knickey's underwear, it's all pure & organic.
Knickey underwear is available from Knickey at $14 USD for 1 pair, 3 pairs for $39 ($13/pair or $3 savings), 5 pairs for $65 ($13/pair or $3 savings), 10 pairs for $120 ($12/pair or $20 savings), or 20 pairs for $220 ($11/pair or $60 savings). Free carbon-neutral shipping within the USA is available for orders over $65 USD.

Note: I liked Knickey's underwear so much that I bought them myself and then joined their affiliate program. newinspired uses affiliate links which costs you nothing… but means a lot to me. When you use these links, the money newinspired earns gets reinvested in blog content. Absolutely nothing on newinspired is "gifted" or sponsored, I purchase each item with my own money. Affiliate commissions are used to purchase new items to honestly & thoroughly review. If you found this review helpful, consider using them to support newinspired.
---
You might also be interested in…