Eres swimwear is the kind of swimwear that you I have always dreamed of.
I mean, Eres was the first brand dedicated to swimwear.
… and they're owned by Chanel — so you know their bathing suits have to be pretty luxurious, dreamy, and extra special.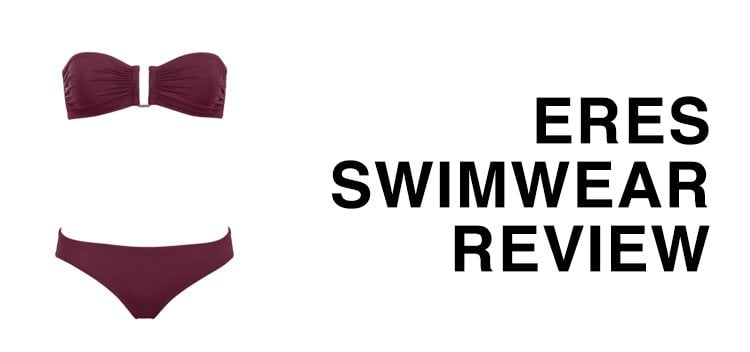 After all my "I wanna be a dream French cool girl" nonsense, it makes sense that Eres would be my ideal swimwear brand.
… but, my Eres obsession has nothing to do with that whole "dream French cool girl" stuff.

Before Jeanne Damas was Jeanne Damas and before Sabina Socol was Sabina Socol, I was desperate for an Eres bathing suit.
… like, for the last 12 years I've wanted an Eres bathing suit.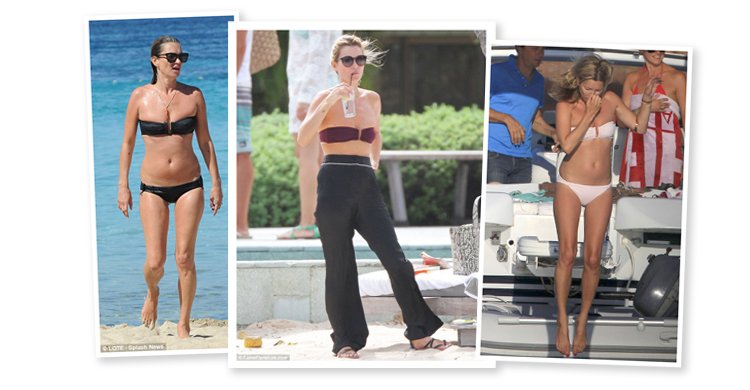 A decade of seeing Kate Moss (my style idol) in Eres swimwear will brainwash you into believing you need one.
During a trip to Milan, I was able to finally buy my dream Eres swimsuit: the Show bandeau top and Scarlett classic bottoms in "Gipset."
… so was it extra special?
Eres Swimwear SIZING
For reference's sake, I'm 5'5.75" and weigh 115-118 lbs.
For comparison's sake, my other swimsuit sizes run below:
–ACACIA, XS or S for tops and small to medium for bottoms
–Matteau, size 1 for top and size 2 for bottoms
–MIKOH, size XS for tops and small to medium for bottoms
My Eres show bandeau is a size FR 38 and the Scarlett bottoms are also a FR 38.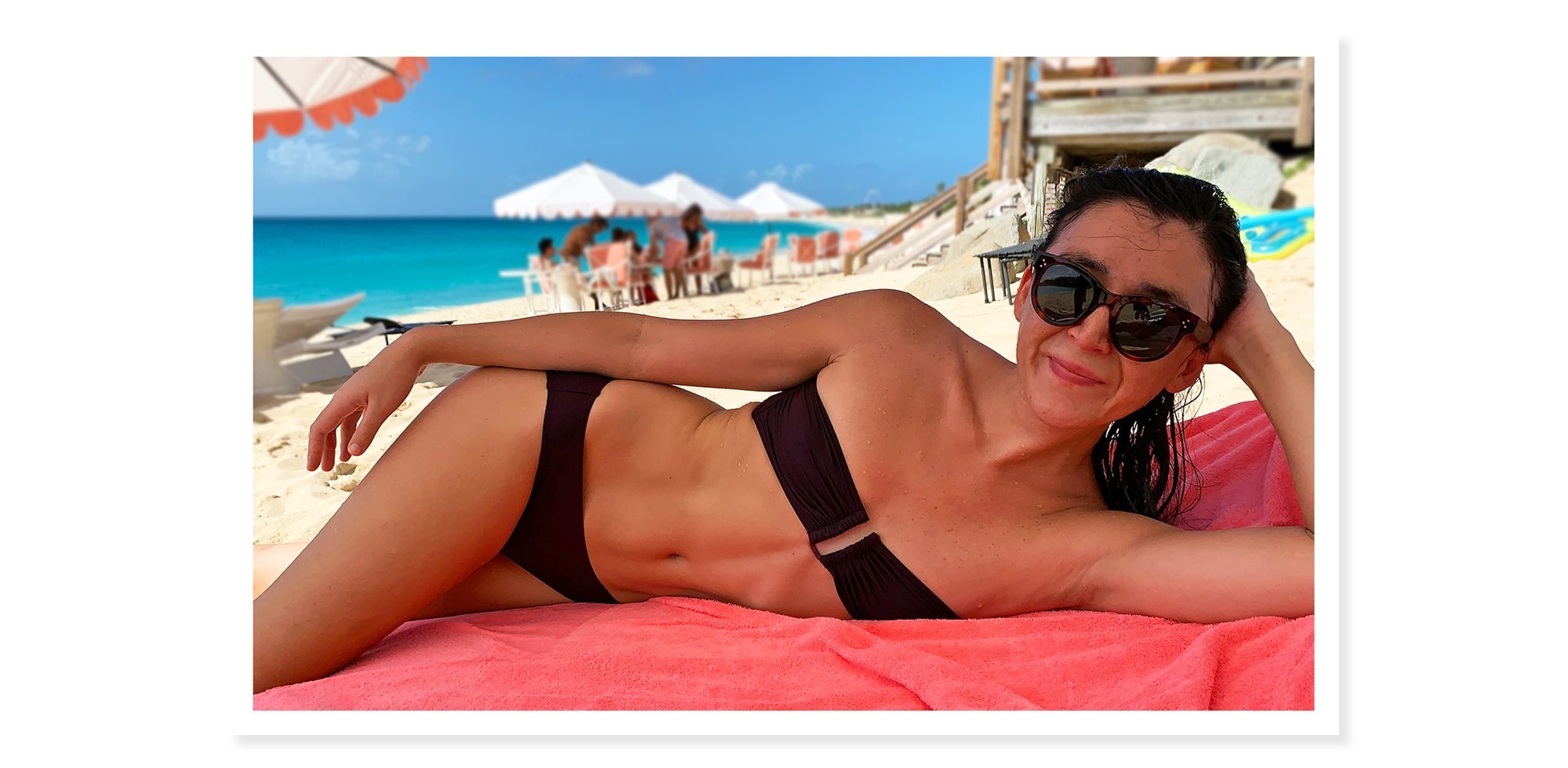 An Eres size FR 38 runs true to a size small.
Normally I recommend sizing down in bathing suit tops and taking your regular size for bottoms, but FR 38 is Eres' smallest size… and FR 40 bottoms are just a bit too big.
The bandeau top fits my smaller chest perfectly.
The Scarlett bottoms are full coverage… perfect for days when you feel sorta shy.
This bathing suit set is sleek, flattering, and everything I always dreamed of.
… until we get into quality.
---
Eres Swimwear Quality
Let's put Eres' Les Essentiels Show bandeau top and Les Essentiels Scarlett bottoms to a middle school "pseudo-scientific lab report" test!
Note: This is just my experience, yours could differ.
Hypothesis
When I got the Show bandeau top, it was riddled with loose threads. I should have checked it upon purchasing, but I was on a "I'm buying my dream bathing suit(!!!)" high — it was only when I got home that I realised.
As a result, I'm going to hypothesize that this bathing suit will not wash well and might not be the best in terms of overall quality.
Materials
-x1 Eres bikini
-x1 Beach
-x1 Pool (saltwater)
Method
1- Bathing suit is to be worn for five trips to the beach or pool.
2- Bathing suit needs to be worn sitting in the sun while damp from either the beach or pool until it naturally dries.
3- Bathing suit needs to come in contact with sand.
(To test how it holds up to sand pilling.)
4- Bathing suit must be hand washed three times in cold water and laid flat to dry on a towel.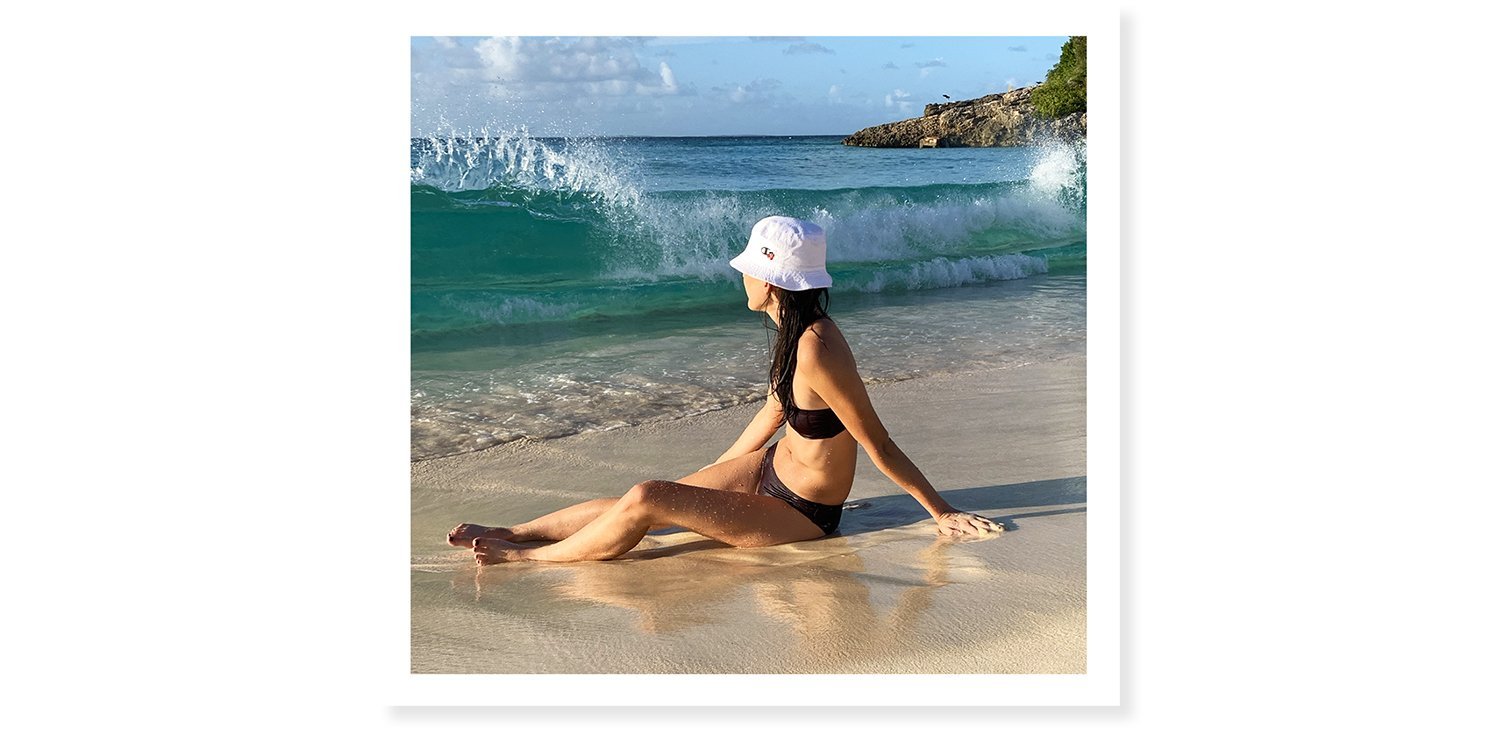 Additional notes:
a- Neutrogena sunscreen will be applied before wearing.
(Important to see how hard it is to avoid getting sunscreen on the bikini.)
Results
My Eres bathing suit bled during each wash. The "Gipset" colour bled and the red "Eres" on the tag also bled onto the white part of the tag.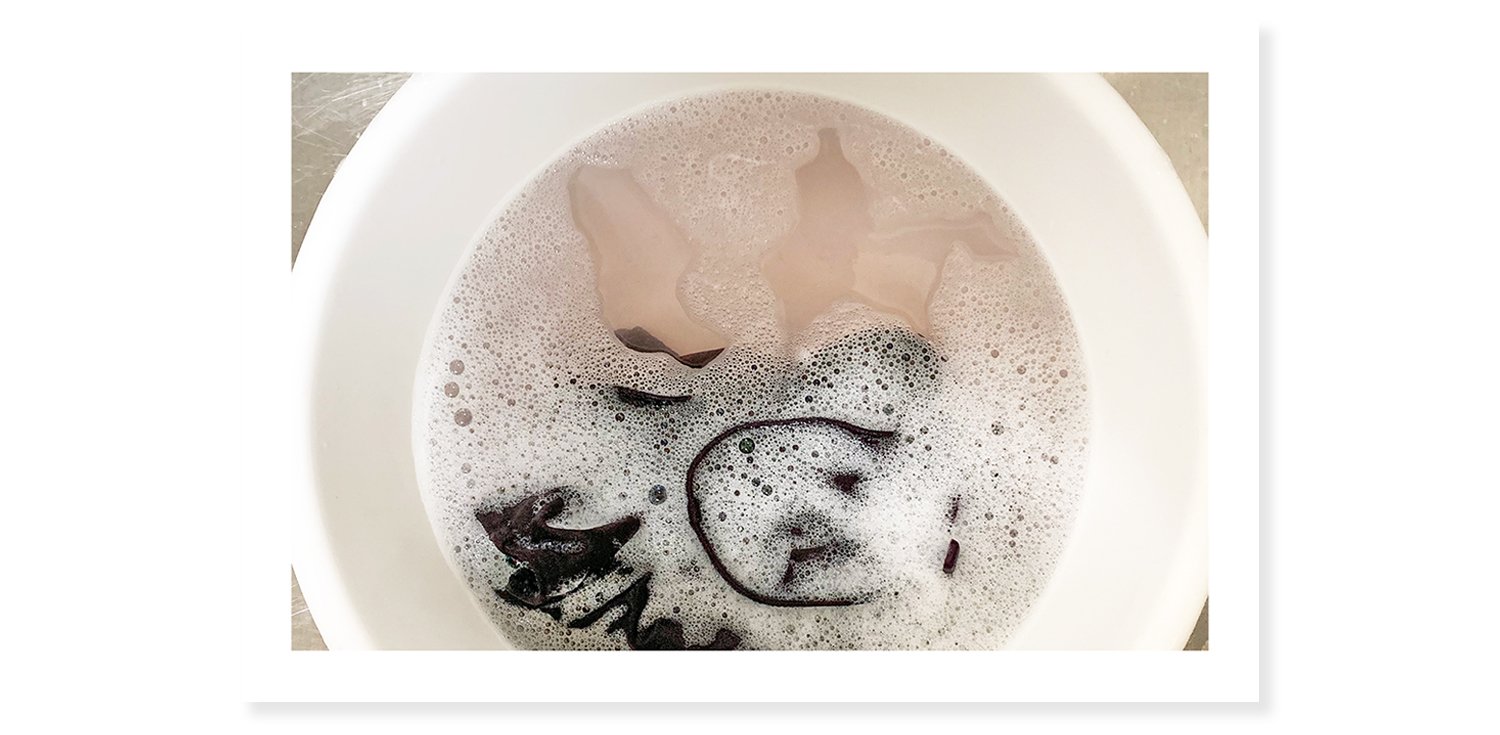 It also bled onto the towel as it air dried.
… at least it did not bleed onto my towel when I got out of the ocean or pool though.
The Show top tricked me into thinking that I needed to get my chest waxed — luckily (or maybe unluckily), it was just a bunch of the loose threads poking out.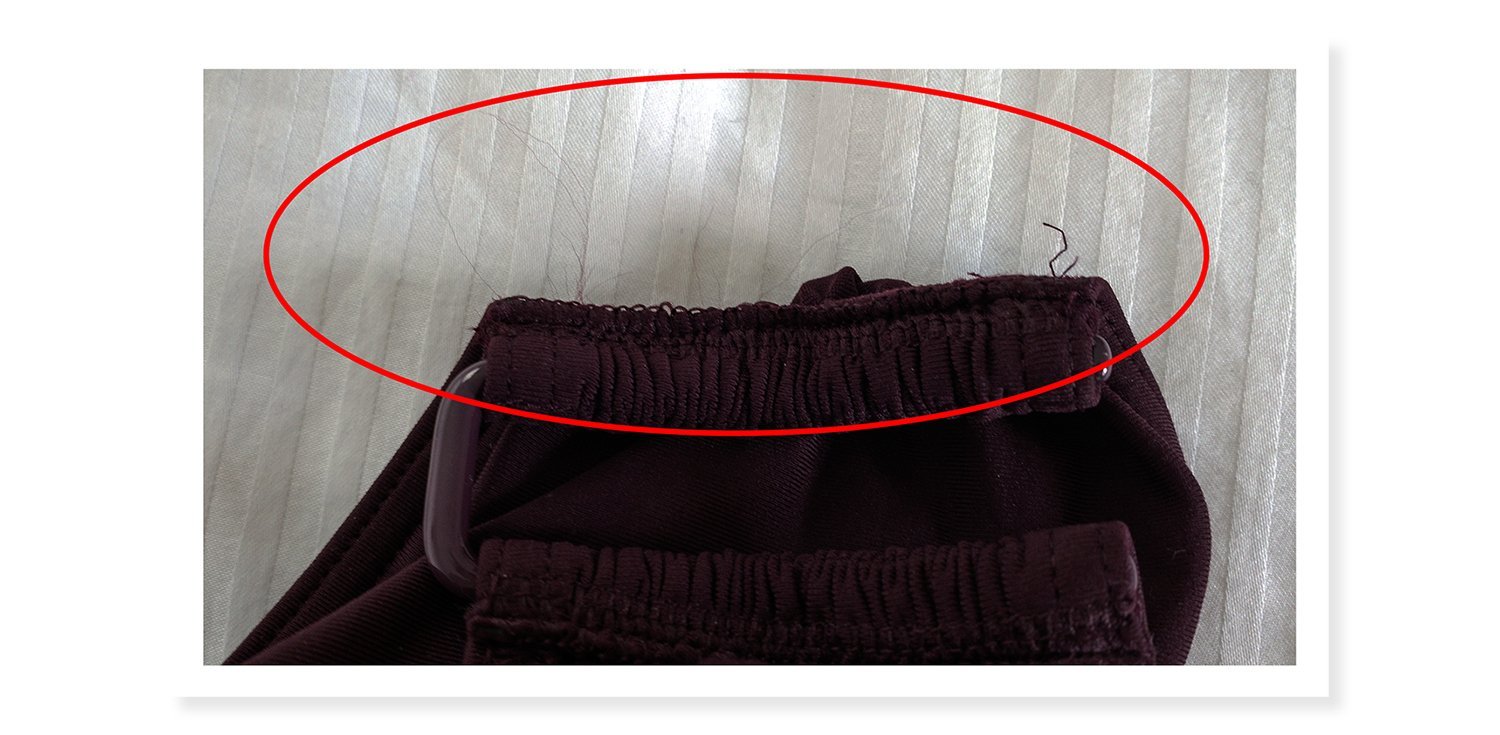 Yes, the loose threads were that long.
Conclusion
I was disappointed that the bathing suit bled during washing… and as a result lost a bit of its deep plum "Gipset" lustre.
The "peau douce" (77% polyamide and 23% elastane) fabric held up well to the sand though — no pilling!
… and the top & bottoms did not slip off while I swam in the ocean or strolled in the surf, so at least that's good too — I guess…
---
Where to to Buy
If you're USA based & purchase your Eres swimsuit at a boutique in Europe, it'll be more affordable.
I bought mine from the Eres boutique in Milan.
The top was €160 and the bottoms were €100, so the total was €260. At the time USD conversion was relatively good, so the set cost $295 USD.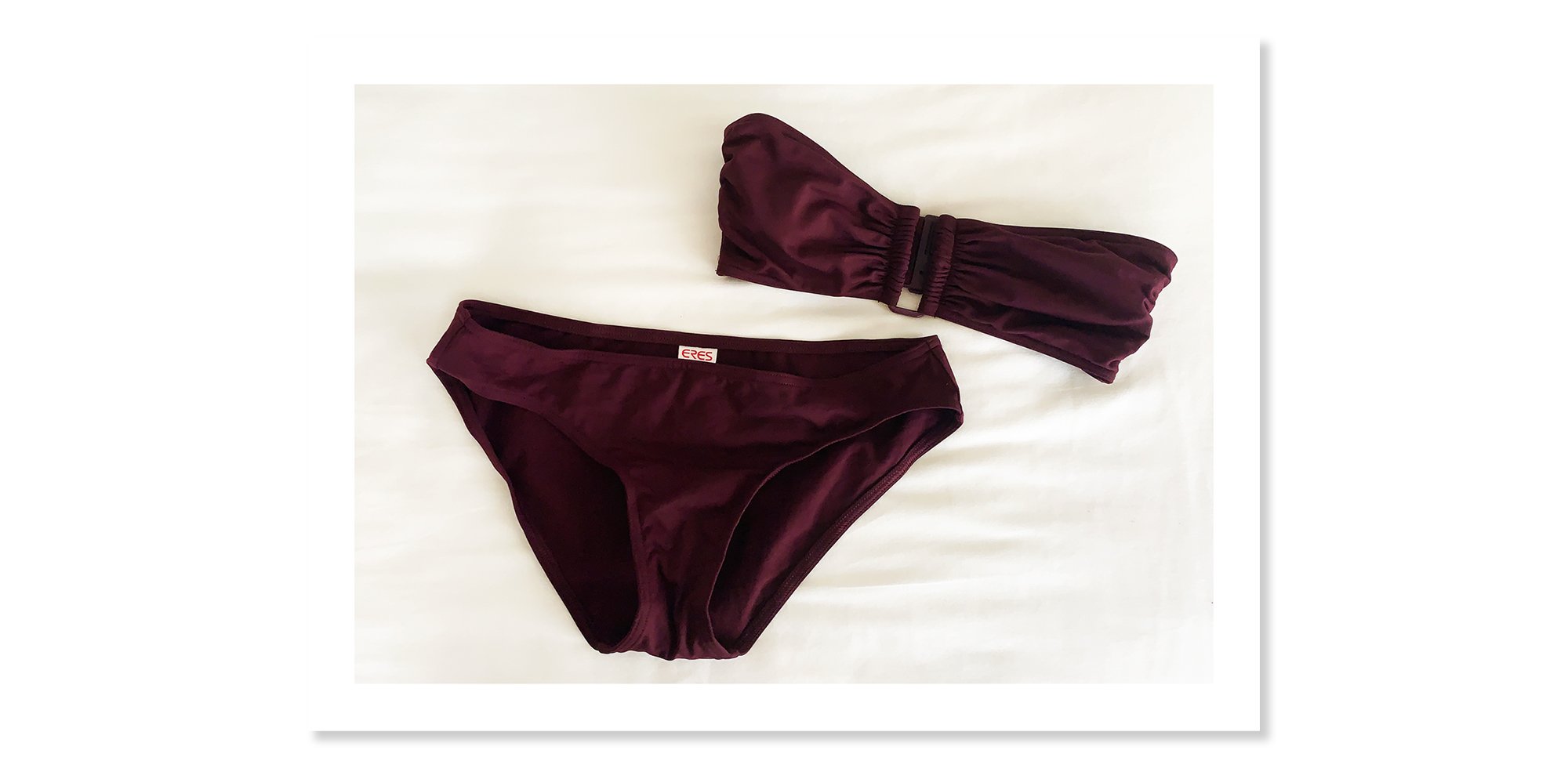 … and I got $29 USD VAT cash back at AMS, so it ultimately cost me $266 USD — roughly $80 USD less than retail.
If you're like "but I don't have a trip abroad planned. I need it now!"
Eres swimwear is available online from Net-a-Porter, MatchesFashion, or the Webster.
… and if you want to find Eres swimwear on sale, check out the Outnet.
---
PROS & CONS
Pros:
–Clasped back: The Show top has a convenient clasped back.
–"Peau douce": 77% polyamide and 23% elastane makes for a (roughly translated) "soft skin" feeling while wearing.
–Flattering: To be fair, a bandeau top looks good on any shape — but for someone who is barely a 32A, a bandeau is especially flattering.
Cons:
–Loose threads
–Repeatedly bled while washing
–Tags: Mine kept accidentally popping out even though I tucked them in — somewhat annoying.
---
While it's a supremely flattering suit, I can't help but feel disappointed — did I get a lemon?
For years and years, I've idolized Eres swimwear — it was my two-piece Holy Grail.
They say, "don't meet your idols."
Between the loose threads and the bleeding while washing & drying…
… in this instance, I think you shouldn't always meet buy your idols.
However, in 2007 I met Kate Moss in an airport washroom (trust me, I know, whoaaa). During that 2 second "omg, I'm such a huge fan, can I have a photo?" exchange, I think you should still meet your idols…
You can find Eres bathing suits online from Net-a-Porter, MatchesFashion, or the Webster.
Note: newinspired uses affiliate links which costs you nothing… but means a lot to me. When you use these links, the money newinspired earns gets reinvested in blog content. Absolutely nothing on newinspired is "gifted," I purchase each item with my own money. Affiliate commissions are used to purchase new items to honestly & thoroughly review. If you found this review helpful, consider using them to support newinspired.
---
YOU MIGHT ALSO BE INTERESTED IN…