It's Friday. More like Fri-yay, amirite? (cringe, awful.)
So the 5th day of Chanel slingback dressing is a summer nighttime outfit… A going out outfit, if you will.
Who better to channel than Lily Aldridge?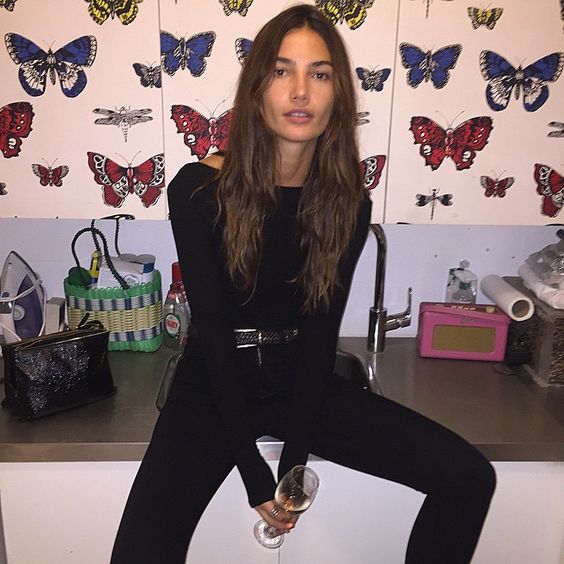 The queen of rock and roll cool (no, actually, her husband is a king (of Leon)), Lily can make an all-black outfit look cooler than cool.
Of course, part of it is the attitude; the frame of mind. That's the absolute key to any of this isn't it though?
But with her in mind, here is my outfit for tonight: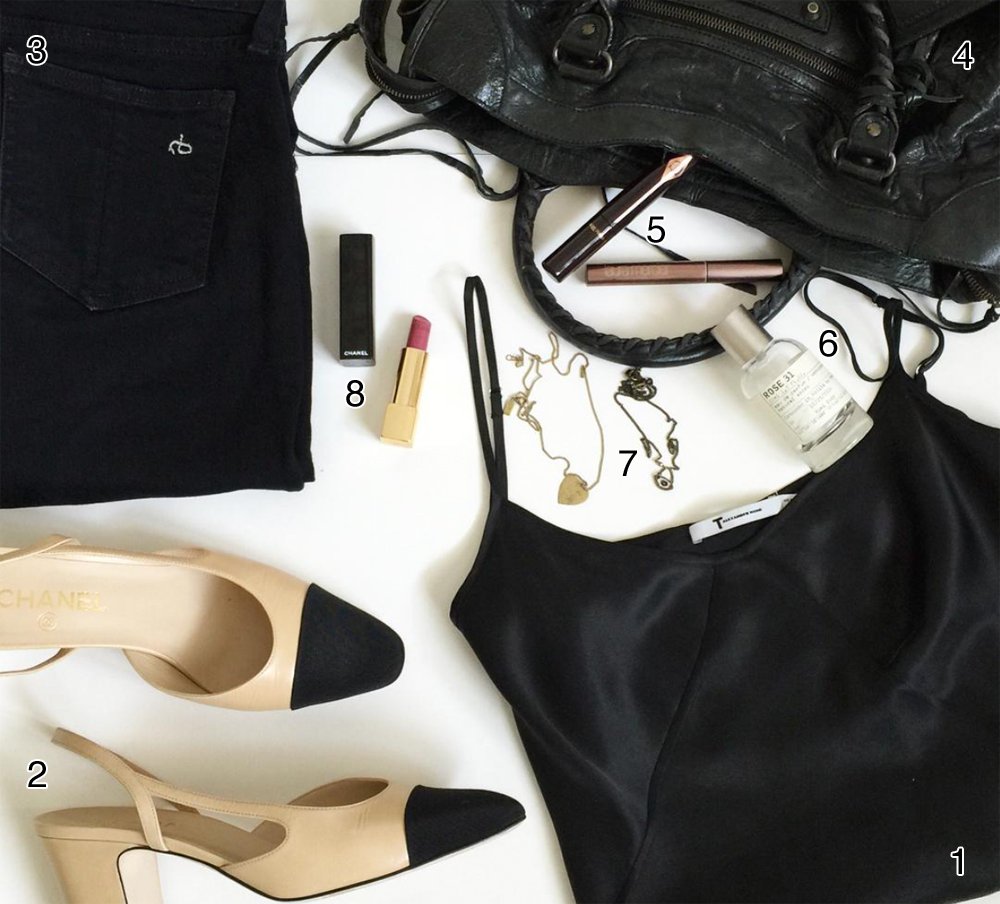 T by Alexander Wang Camisole, urgh, really did not want to say camisole, I hate that word. But it is, and it's silk and has just enough edge for a Friday night.
The Chanel Slingbacks
Rag & Bone Skinny Jeans, in black, naturally. I am brand loyal to Rag & Bone for jeans. But is it me or have they changed their sizing? These pair is TWO sizes smaller than I normally take. Super flattering (both to my ego and how they look), but weird. ANYWAYS,Lily Aldridge did the coolest DIY ad series for them, so they're cool.
Balenciaga Motorcycle Bag, the bag when you want some more attitude to your look. Sure they reached their peak 8 years ago, but the motorcycle bag is still as rock and roll cool.
Charlotte Tilbury Mascara and Laura Mercier Eyebrow Gel, one of my favourite parts of Lily Aldridge is how her makeup (save for Victoria's Secret shoots) is never overdone. Actually, she hardly wears any at all. In fact, I don't think she ever wears makeup. Her face is naturally beautiful. But my eyelashes and brows need some help. The Charlotte Tilbury mascara is unreal. Everything you want a mascara to do, it does. Same goes for the Laura Mercier eyebrow gel.
Le Labo Rose 31, oof, my go-to going out scent. It's so warm and familiar. I love it.
Necklaces, we've talked about it before — Lily Aldridge is amazing at layering necklaces. This is my bad attempt, it's the same one I made on day 3.
Chanel Velvet Allure Lipstick, this is in #47. Probably my favourite lipstick. Lily has been pulling some 90's vibes lately and this light berry Chanel lipstick will compliment that without being too intense…