In the summer, if you're like me, you prioritize ease.
… actually, wait, no matter the season, if you're like me, you prioritize ease.
Pre-everything and post-everything — everything needs to veer towards "easy."
Slip on shoes, machine-washable clothes, hands-free handbags.

Little things like buckling a pair of Mary Jane shoes takes too much time and energy.
So when Citizens of Humanity Marlow Easy Shorts crossed my browsing, I was like, "bingo!"
Are these shorts really "easy" though?
Citizens of Humanity Denim Shorts SIZING
For reference, I'm 5'5.75" and weigh 115-117 lbs.
For comparison, here are some of my other denim shorts sizes:
–Acne Studios denim shorts, size 25
–AGOLDE, size 25
–Levi's 501 shorts, 26
–Re/Done, size 26
-Rag & Bone Mila shorts c. 2010, size 25
My Citizens of Humanity Marlow Easy Shorts, in Seaward, are a size 25.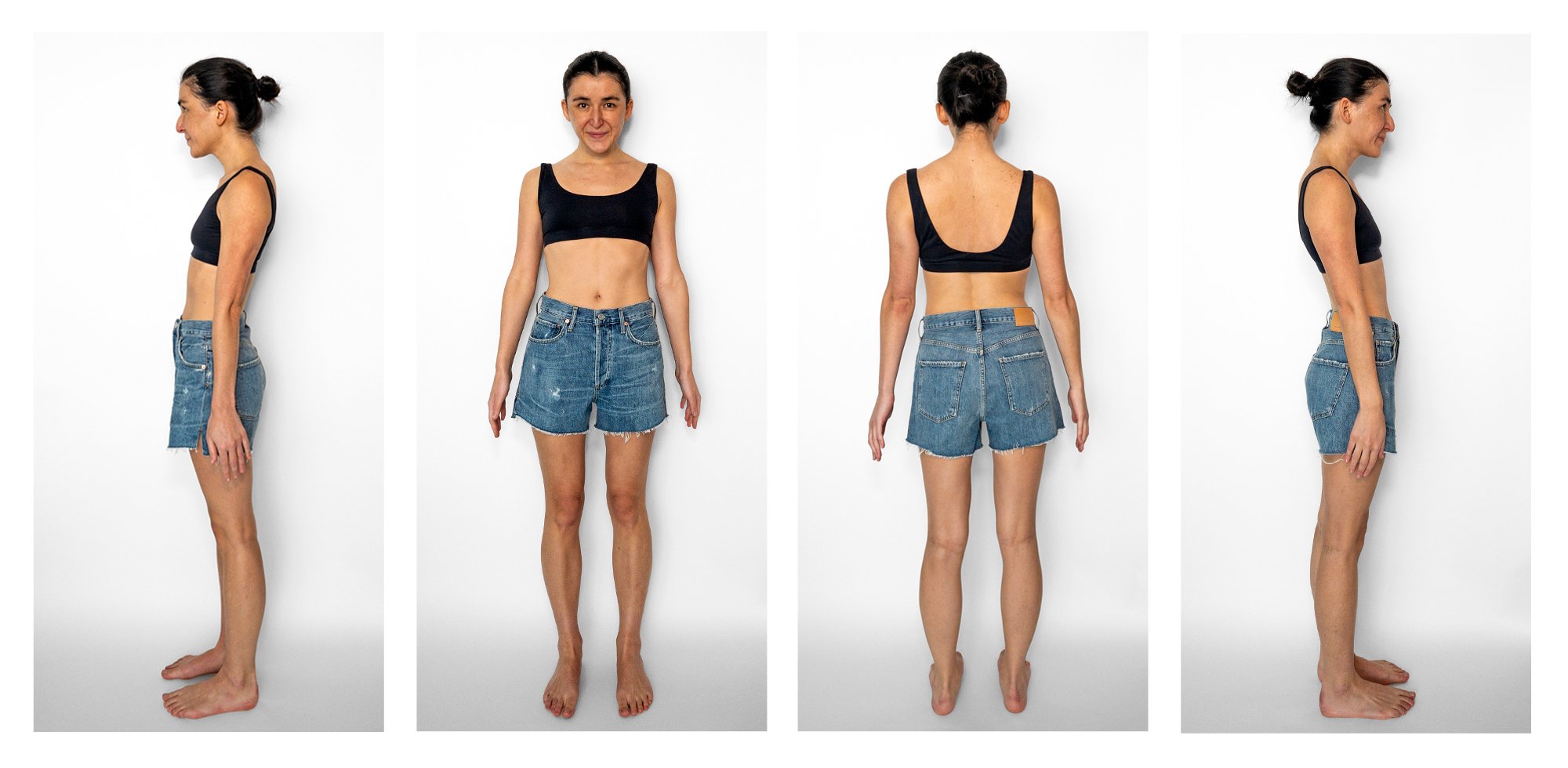 At 100% organic cotton, these denim shorts feel baggy.
The waist is totally fine, but the body of the shorts feel like when you move from a studio apartment to a one-bedroom.
… i.e., massive!
Maybe it's the 11.5" mid-rise.
… or maybe it's the 3.5" inseam (which is 1" more than Levi's 501 denim shorts or .75" larger than AGOLDE's Parker shorts), which makes them longer.
Actually, that's definitely it — these denim shorts are much longer than others.
The longer inseam makes them feel and look baggy.
If you're taller than 5'5.75", these shorts are for you.
… otherwise, in my opinion, they aren't particularly flattering and look quite big on.
---
Citizens of Humanity Shorts QUALITY
Let's put Citizens of Humanity Marlow Easy Shorts to a "pseudo-scientific lab report" test!
For the sake of fun, this denim series is called "The Denim Cut-Off," because we'll go everything you want to know about the wear & tear for this pair of denim cut-offs over a 5-day period.
Note: This is just my experience, yours could differ.
Hypothesis
With any luck, these shorts will be similar to my 100% cotton AGOLDE Parker shorts and look even better after they are washed.
As it stands now, they are extremely soft and feel like they're a lived in & vintage pair of shorts.
… but after they wash, hopefully they will become less perfect looking and more vintage perfect feeling.
Materials
-x1 pair of Citizens of Humanity Marlow Easy Shorts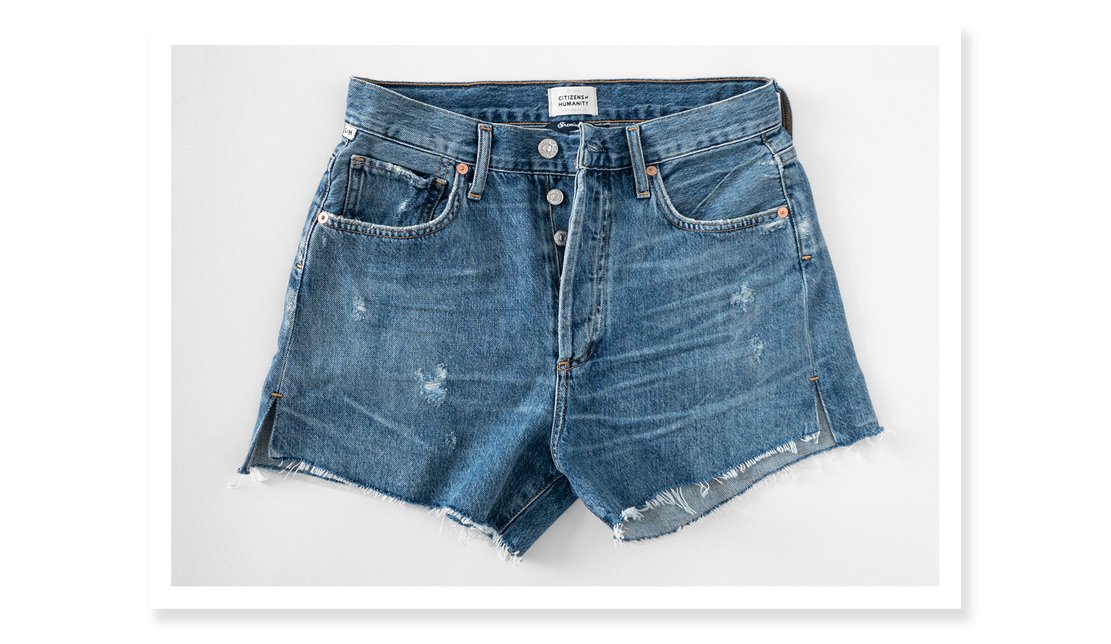 Method
1- Shorts must be worn for 5 days
2- Shorts must be washed at least once and air dried.
Results
After a wash, they fit and look a bit better, but…
There is no easy way to say this:
These shorts looked sublimely stupid when you stand up after sitting.
The split in between the front and the back makes it so that the back part of the shorts stay flat, while the front is rolled up.
… which isn't exactly the lived-in and rolled up look I was hoping for.
Conclusion
Citizens of Humanity's Marlow "Easy" denim shorts would probably be amazing for moms with their kids on the playground who want a more modest denim short or for super-tall and leggy ladies.
On me? Ehhh.
These shorts did not get better after a wash and just, well, felt like basic longer denim shorts from Old Navy.
---
PROS & CONS
Pros
–100% organic cotton: Similar to AGOLDE's Parker shorts, the idea that the cotton is "organic," is just a bonus.
–Lived in feel: Citizens of Humanity Marlow Easy Shorts are marked as "Premium Vintage" on the tag. Although they're 100% cotton, they're so soft.
Cons
–Kinda feel low quality?: Is there such thing as denim shorts being suspiciously soft?
–Length: At 3.5" inseam, these shorts are relatively long for most.
–Not flattering: As a result of the longer inseam and mid-rise (11.5"), these shorts are not flattering on a 5'5.75" person (read: me).
… and for what it's worth, it's not a "Pro" or a "Con" (ok, it is a con for lazy me), but Citizens of Humanity's Marlow Easy Shorts have a button-fly, which makes them not so easy in my opinion, but, whatever.
---
There isn't anything particularly "easy" about these shorts.
Between the awkward fit and button-fly, these shorts are a zipper away from being easy.
Perhaps their other shorts are better but these Marlow "Easy" Shorts are not easy.
Citizens of Humanity Marlow shorts are available from $158 USD at a wide variety of retailers including Nordstrom, Revolve, and Shopbop.
Note: newinspired uses affiliate links which costs you nothing… but means a lot to me. When you use these links, the money newinspired earns gets reinvested in blog content. Absolutely nothing on newinspired is "gifted" or sponsored, I purchase each item with my own money. Affiliate commissions are used to purchase new items to honestly & thoroughly review. If you found this review helpful, consider using them to support newinspired.
---
You might also be interested in…