Saturday: My mum has been adamant that my husband "needs" to go to Jimmy's (a Panamanian institution that's Greek-esque restaurant) before he leaves, so we went for lunch.
My fringe is currently at that annoying growing out phase, so I ended up pinning it back because it just wasn't cooperating.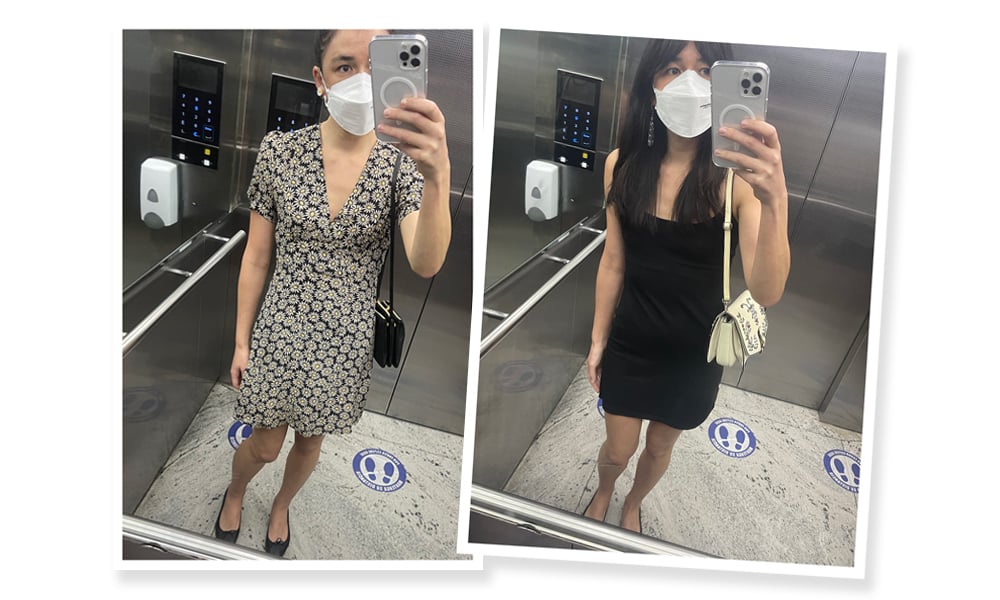 Left: HVN Paula dress with Jenny Walton daisy earrings, Celine Small Trio, and Repetto Cendrillons; Right: Susana Monaco slip dress with Isabel Marant x H&M earrings, Isabel Marant handbag, and Repetto Cendrillons that you can't see.
Monday: Went out to La Vespa (again) for dinner.
Felt like making an effort to look ~nice~ and wore this old Susana Monaco slip dress-esque dress.
I added "esque" to the end of that because a dress made from nylon/spandex isn't what most people (read: me) think of when you say "slip dress."
In any case, it's a low-effort dress that can easily be dressed up or down (you can find it here — I quite like it tbh, it's relatively affordable, and it's held up for the last 6 years!).
Wednesday day: It was unclear if my husband needed a COVID test to go back to the USA, so I went with him to get one just in case.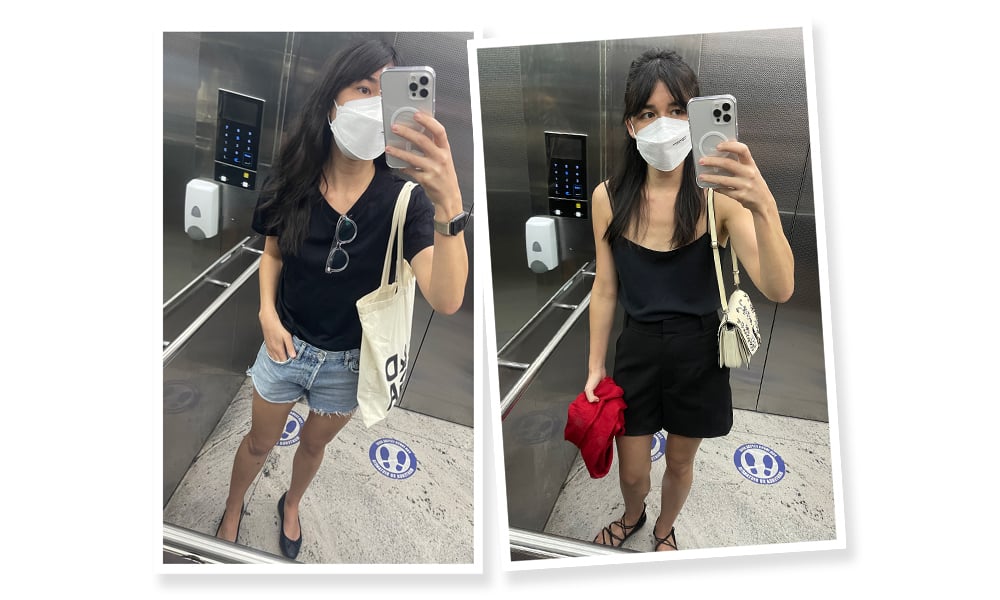 Left: AGOLDE Parker shorts with a Calder Blake t-shirt and Margaux ballet flats; Right: The Row Biggins cami with G. Label shorts, Teva Voya sandals, that CDG cardigan, and an Isabel Marant bag.
Wednesday evening: My husband's last night in Panamá for this "season" (we refer to periods of time like a TV show, in seasons).
This evening we went to Gaucho's, an Argentinian steak house, and I wore all black, plus that red CDG sweater (from the beginning of this season) because of the air conditioning.
He needs to go back to Montana to turn on the irrigation water for the fields so the alfalfa grows and the rental cows (those cows I post aren't ours, they belong to someone else) have food for this coming winter (remember the hay bushels from last fall?)…
Thankful that we both work remote and that I'll see his blue shining eyes soon in ~4 short weeks.
Unsure what this interim period of time should be referred to as — a mini season or writer's strike?
---
Would you also call that dress "slip dress-esque?" Or is it just in my head?