My Converse were because of the Strokes.
Manolo Blahnik BBs? Emmanuelle Alt.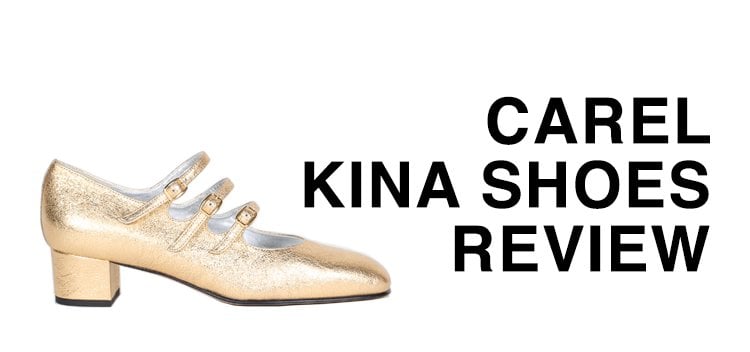 … and my Isabel Marant Dicker boots were 100% influenced by Lily Aldridge.
So it shouldn't surprise anyone that my Carel Kina Mary Jane shoe purchase was heavily influenced by Alexa Chung.

With the little heel and their Mary Jane style, these shoes struck me like a coup de foudre — I had to have them.
… but were they worth over $400 USD?
Carel Kina Shoes SIZING
For comparison, my other shoe sizes run:
-Adidas Stan Smiths, US 8
–Chanel Shoes, FR 39
–Christian Louboutin, IT/EU 39.5
–Golden Goose, IT/EU 39
–Hermès, FR 39
–Isabel Marant, FR 39-40
-Nikes, US 8.5
–Repetto, FR 39.5-40
My Carel Kina shoes are a size 39.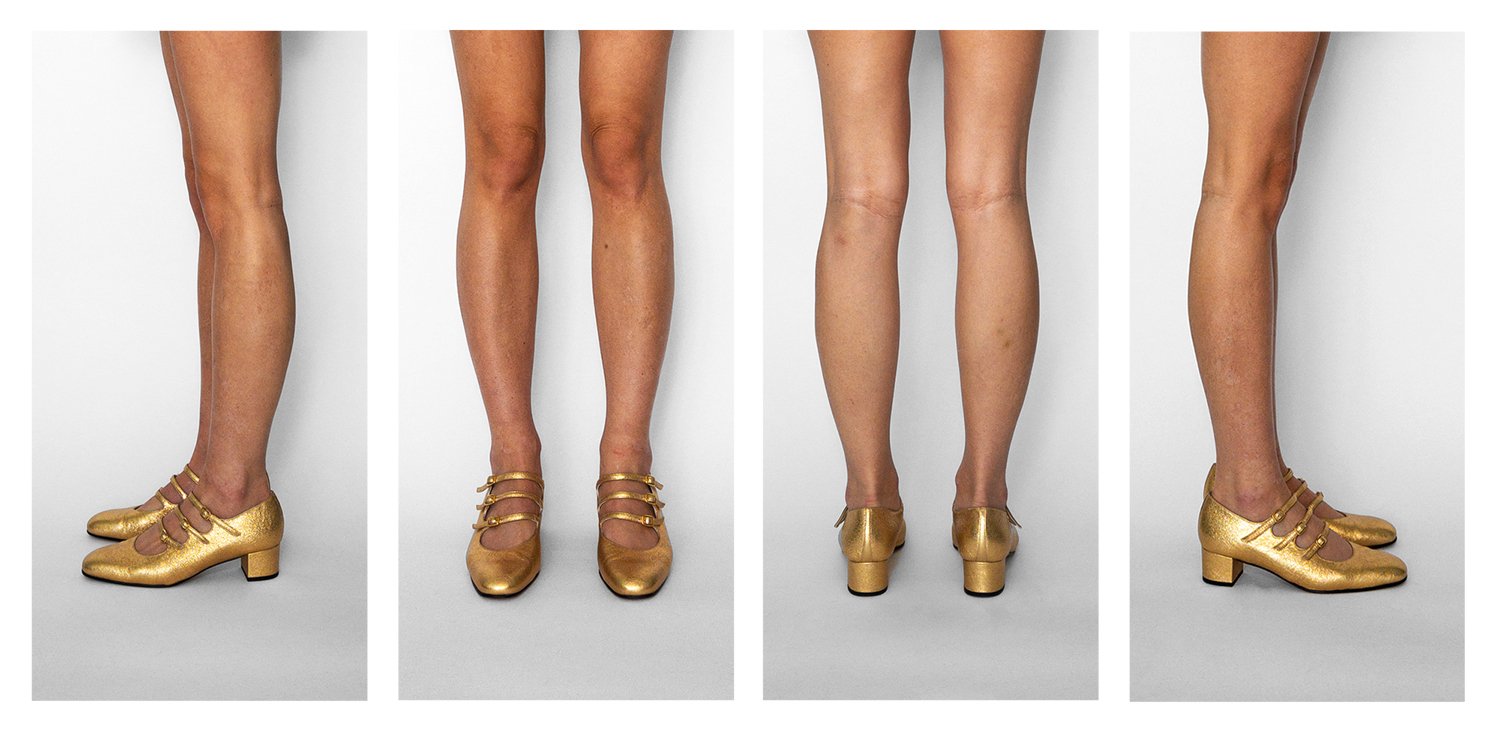 For sizing, Carel says: "To do the conversion add "31" to your US size and you will get your CAREL size for this model. Example: if you are a 6 US take a 37 in this pair (6 +31)."
For that math, I should have taken a 39.5 — my usual US size is 8.5 after all.
… but in an e-mail, they suggested to take half a size down for Kina shoes from that math equation.
To be fair, I got the highest grade on the calculus final exam in grade 12, so either a- I can't do simple math or b- I won't listen.
Confused, like you may be at this point, I just gave up and bought my usual FR & IT/EU size, a 39.
As a result, these shoes fit a pinch big.
… but if you want to wear socks with them à l'Alexa Chung style, then they fit just right.
In any case, they are comfortable in a 39 — no signs of a blister to report.
Update for Half a Size Smaller…
My silver Carel Kina Mary Janes are a size 38.5.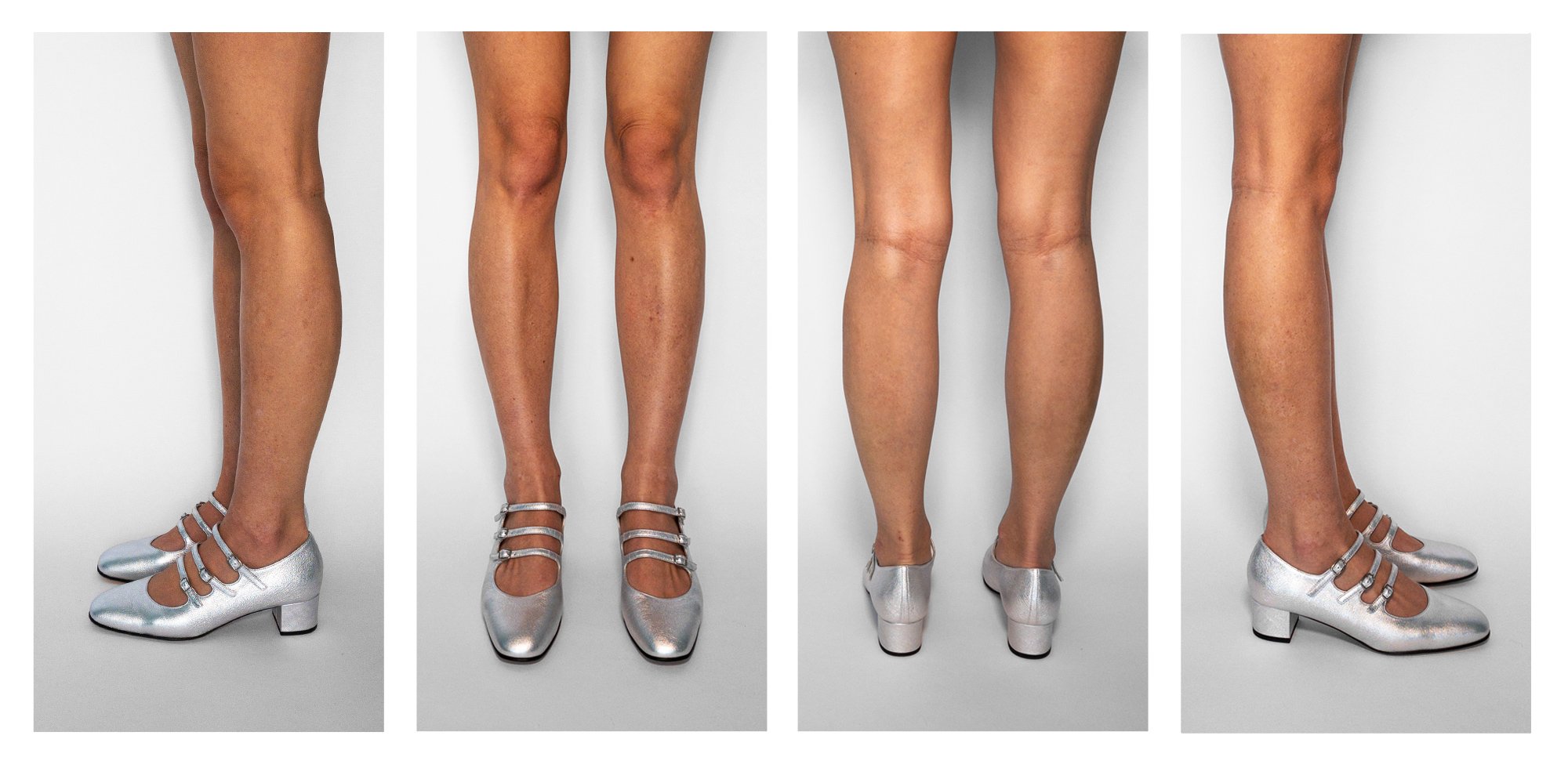 On my left slimmer foot, these fit a lot better — I'd even go so far as to say they're perfect in a 38.5, but…
… on my right bigger foot, a 38.5 gave me a bad blister — and that was after wearing them around my apartment for just one evening (i.e, I didn't walk far).
Basically, if you want more space and definitely don't want to run the risk of blisters, then I'd say to do that confusing math.
---
IMPRESSIONS
Usually Mary Jane shoes have 1 strap.
… but Carel Kina Mary Janes are triple the fun with 3 straps.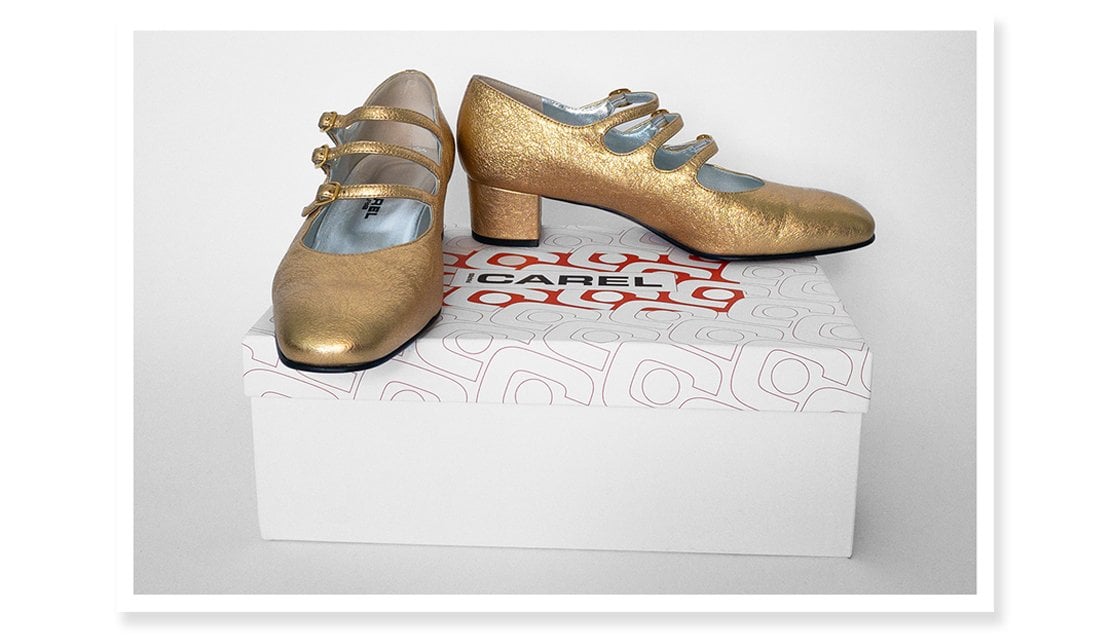 They have a 4 cm heel (1.5 inches), which makes your legs go on forever like Alexa Chung's.
… OK, that's a stretch, but they do help elongate your legs.
In black, white, red, beige, silver, or gold, this simple comfortable shoe from Carel Paris can be worn all day and all night…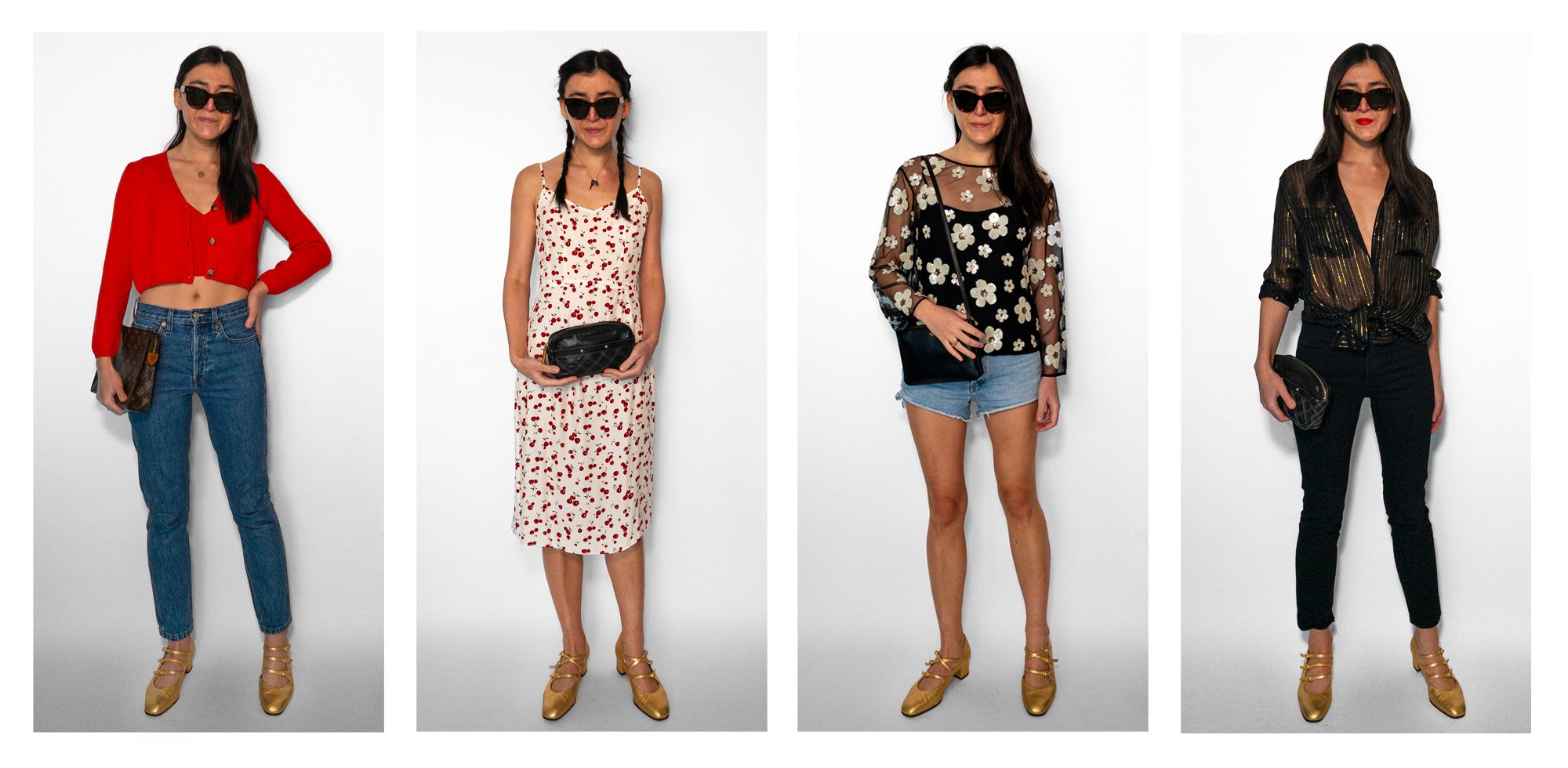 Left to Right: Re/Done jeans with Reformation Tille cardi set, an In God We Trust NYC necklace, and a Louis Vuitton Toiletry bag; HVN Lily dress with a vintage necklace and a Marc Jacobs clutch; AGOLDE Parker shorts with an ALEXACHUNG blouse, vintage ring, and a Celine Small Trio; Rag & Bone cigarette jeans with a Kate Moss x Equipment blouse, and a Marc Jacobs clutch (lipstick is Lisa Eldridge "Velvet Morning."
---
PROS & CONS
Pros
–Mid-heel: The 4cm heel goes a long way to lengthen your legs.
–Cracked gold leather: Not too shiny, not too dull.
–Comfortable: When I shoot photos, or even simply try them on, I can tell that a pair of shoes will give me a blister… these were comfortable right off the bat.
–Buckles are fastened by elastic: The buckles for the straps have elastics on one side to make it more comfortable to walk in/for your foot to move.
–Super cute: It's really hard to deny how great these Carel Paris Mary Janes look.
Cons
–Sizing: Carel sizing isn't standard to any IT/EU or FR sizing… but, if you e-mail them, they do try to help you get your correct size as much as possible.
–Rubber cap: The heel has a rubber cap. I'm not sure if it's worth writing, since my Louboutins also leave red skid marks from the soles, but the black heel cap left marks all over my white seamless.
–No dust bag: For ~$400 USD, it'd be nice if they came with a dust bag.
–Cheap-ish box: Again, for the price, I would have expected a nicer shoe box — am I asking for too much here?
---
You know how they say, "all that glitters isn't gold?"
These shoes are precious and definitely do glitter.
Maybe it's because they're a little big on me.
Maybe it's because I actually wanted silver instead of gold.
Maybe it's the lack of ~nice~ packaging for a relatively expensive shoe.
… but for roughly $400 USD, even though they look so cool on, it's really up to you if you think they're actually "worth it."
Carel shoes are available from carel.fr from €365… when you ship to the USA, the total is €334.17 with shipping. With everything going on right now, they took around 3 weeks to arrive in the USA.
They are also available on 24s.com and Farfetch, where easy shipping & returns are available.
Note: newinspired uses affiliate links which costs you nothing… but means a lot to me. When you use these links, the money newinspired earns gets reinvested in blog content. Absolutely nothing on newinspired is "gifted" or sponsored, I purchase each item with my own money. Affiliate commissions are used to purchase new items to honestly & thoroughly review. If you found this review helpful, consider using them to support newinspired.
---
You might also be interested in…