Somewhere around 2006, I'd imitate those starlets you'd see in US Weekly or inTouch and wear sweatpants out in public — they were Juicy Couture, what do you want from me?
Since the mid-aughts, I've totally stopped wearing sweatpants in public.
… but I still wear them at home — especially lately.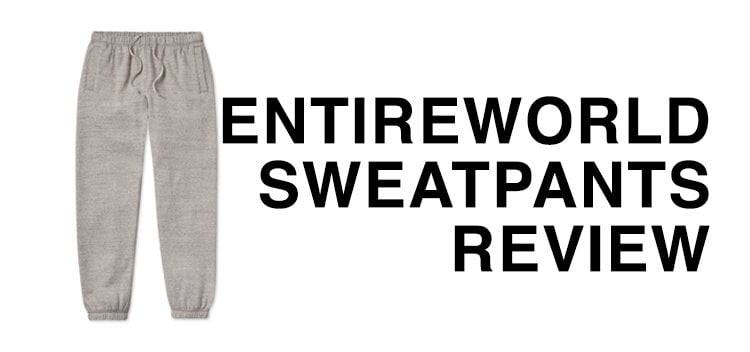 In the later-aughts/early 10's, I was obsessed with Boy by Band of Outsiders — my sister and I would go to Pas de Deux or Opening Ceremony (RIP to both stores) and obsess over how perfectly Jane Birkin & Wes Anderson-y the clothes were.
When Band of Outsiders disbanded (note: it's in operation again, just without Sternberg's magic), Scott Sternberg (founder/Chairman/Creative Director) started something else: Entireworld.

Entireworld, is, basically, all basics.
… and you know what the most basic of all basic clothing is: sweatpants.
Let's get into Entireworld's sweatpants…
Entireworld Sweatpants REVIEW
Entireworld SIZING
For reference's sake, I'm 5'5.75" and weigh 115-117 lbs.
My other sizes run below:
–APC jeans, size 26
–Levi's, size 25
–Lunya, XS
–Rag & Bone jeans, size 24-26 and a size 25 for denim shorts
–Re/Done Original jeans, size 25 (sometimes a 26)
–Reformation, size 25
My Entireworld Type C Version 3 Sweatpants are a size small.
These Entireworld sweatpants are low-rise.
My MIKOH lounge pants, Lunya pajamas, and James Perse shorts are all high-waisted… and I've gotten used to (read: love) the comfort of half my stomach being cradled in my loungewear.
So, it kinda bums me out that this pair are so low.
Otherwise, the fit is fantastic.
Not too loose, but not too tight… these sweatpants fit just right.
The waist (the drawstring is inside, FYI) and cuffs are elasticated, which means that they also fit just right.
---
Entireworld Sweatpants Quality
Let's put Entireworld's Type C Version 3 Sweatpants to a "pseudo-scientific lab report" test!
Note: This is just my experience, yours could differ.
Hypothesis
The tag says that these sweatpants are 100% cotton, but online it says that they're 84.5% organic cotton and 15.5% recycled polyester.
Since they're quite soft and I've noticed a few slight pills — I'm assuming that they do have polyester in them.
So, I'm hypothesizing that, because of the polyester, they'll be more high-maintenance than Paris Hilton in 2006.
Entireworld instructs you not to put them in the dryer, so I'm going to hypothesize that they will get that old wet laundry smell because of how long they'll take to air dry (… you know that smell).
I also think that because of the recycled polyester, they'll pill during normal wear.
… but, I do not think that they will shrink (I'm going to wash 'em in cold on a gentle cycle).
Materials
-x1 Entireworld Type C Version 3 Sweatpants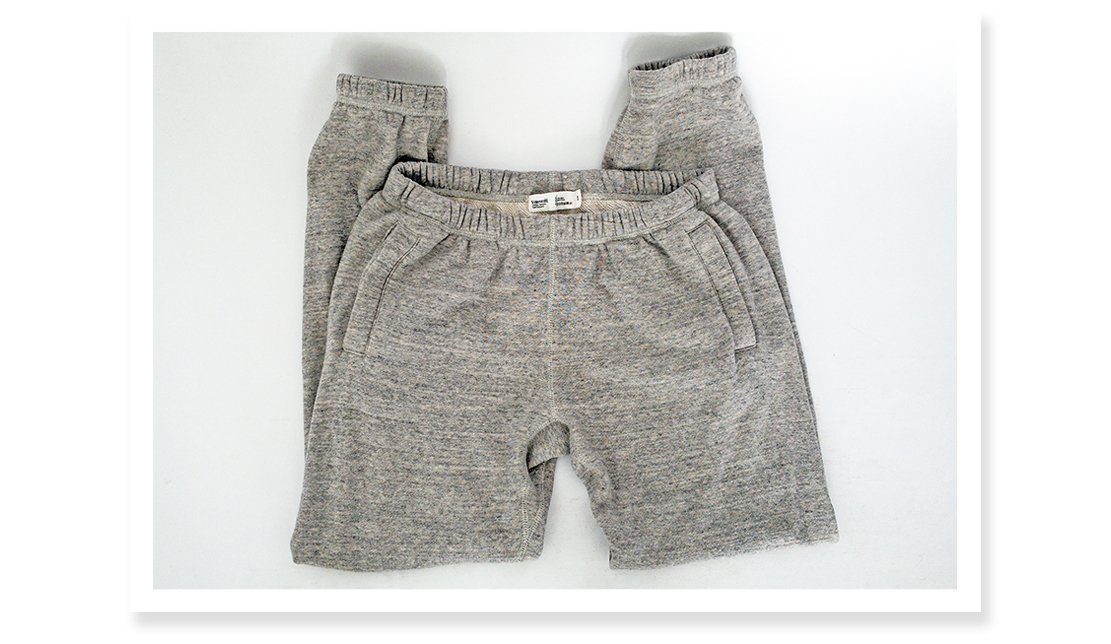 Method
1- Sweatpants must be worn for 7 days for at least 6 hours/day
2- They must be washed at least twice and air dryed
Results
While wearing them around, the inside of the cuffs started to… shed?
The shedding happened before I washed them for the first time and it continued when I wore them again.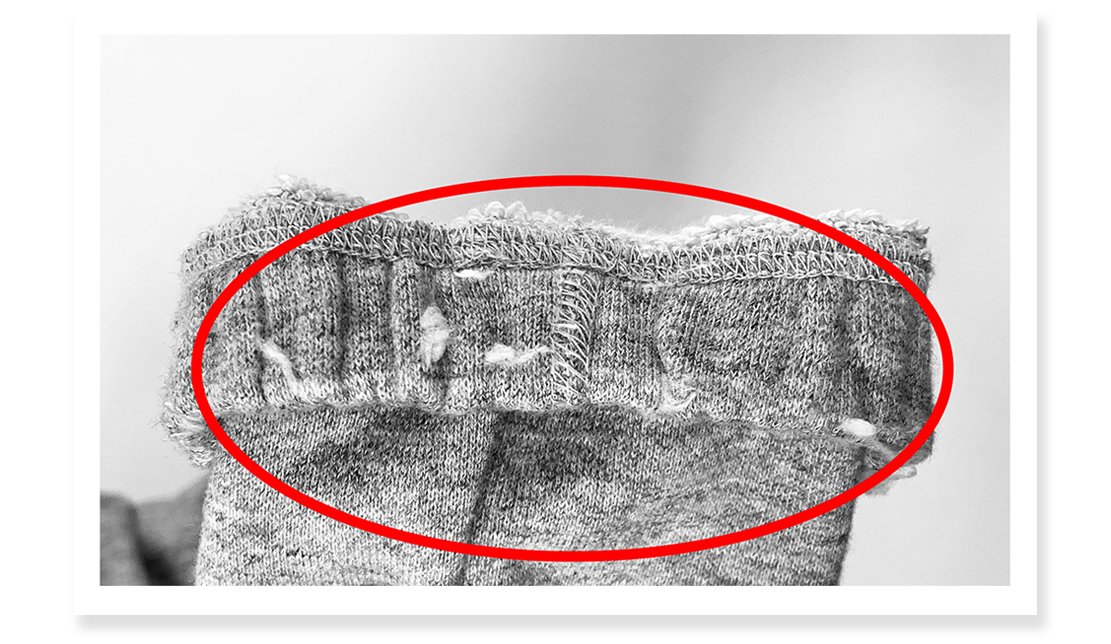 Weird, but not totally horrible because the shedding was on the inside, so it wasn't visible on the outside.
Re: Pilling — they had a few pills when they first arrived, but they pilled a bit more while I wore them.
After I washed them, they pilled more — not like a horrendous amount, but enough to annoy me/warrant saying something.
The pills are most prevalent on the seat of the pants, but they're also on the legs.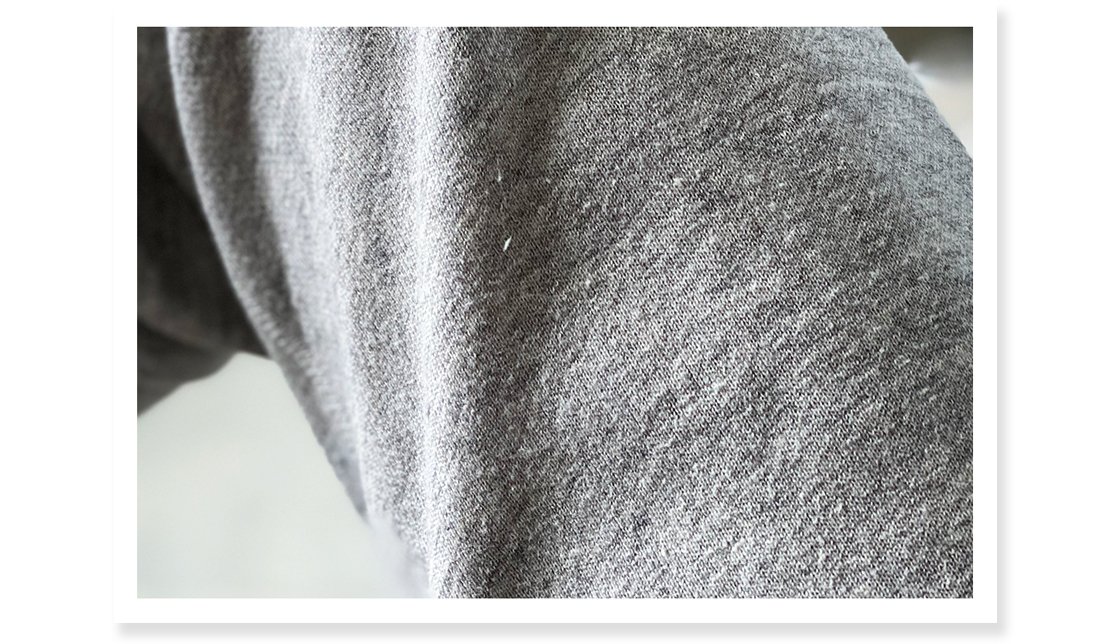 Pilling is an annoying part of clothes that we just have to learn to swallow… but, I feel like for these sweatpants, the pilling process could potentially be delayed if they didn't use polyester.
However, at least they did not shrink (tip: wash in cold on gentle, not warm like they suggest) and they did not get that old wet laundry smell from air drying.
Conclusion
While there's a lot of shedding and pilling, these sweatpants are still so comfortable (despite not being high-waisted).
As long as you go in knowing that you'll have these sweatpants for a max of, like, 2-3 years until you get sick of the pills, then I'd recommend them.
These sweatpants are sooo close to being perfect — if only they'd add a high-waist and remove the polyester…
Me, when I can go outside carefree again.
---
PROS & CONS
Pros
–Super comfortable
–Pockets
–Elastic waist and cuffs
–Not too baggy: This pair are slightly more tailored than a pair from, like, Costco (or Sean John).
–No fleece: Even when I lived in NYC I hated sweatpants that had fleece in them… but now in 30°C/86°F, I avoid fleece like, uhhh, well, let's just say the plague?
–Great customer support: When two extra pieces of clothing in this order didn't make it in the package (my white t-shirt challenge will be missing Entireworld's in it), Daniel gave me a quick refund for them.
Cons
–Low rise: It just feels nicer having your tummy cradled…
–Confusing materials: The tag says 100% cotton, but online it says that they're 84.5% organic cotton and 15.5% recycled polyester… because of the pilling, I'm assuming that the tag is mistaken.
–Pilling & shedding: Even when I followed their "no dryer" instructions, they still lightly pilled when I wore them and even more when I washed them on cold & gentle.
---
Third time's the charm, but these are Entireworld's third version of the type C sweatpants… and, well, they're still not entirely perfect.
Entireworld should venture fo(u)rth with another version though.
If they made 'em a little higher and got rid of the polyester, I'd never take them off — well, maybe in public.
So until then, let Spike Jonze play this review out…
Entireworld Type C Version 3 Sweatpants are available from theEntireworld.com for $88 USD.
---
---
YOU MIGHT ALSO BE INTERESTED IN…