I don't remember how or when I heard about Lunya.
… it was probably during one of my (many) silk slip dress searches.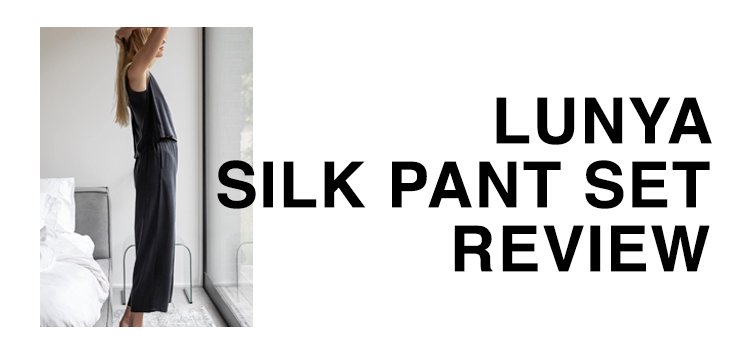 Lunya's thing is high quality pajamas — like high quality nice pajamas.
Every night I just throw on a beat up blink-182 t-shirt to sleep — hoping for dreams where I'm front row at the rock show.
Basically, I'm not really one for nice pajamas… however, silk is one of my favourite fabrics.

… and don't even get me started on silk pants — let alone machine washable silk pants with an elastic waist and side slits.
So, I ordered Lunya's Washable Silk Pant Set in "washed black."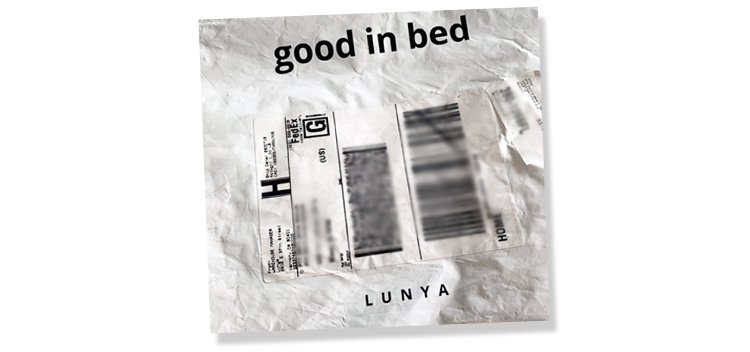 It's like a two in one — sleepwear and streetwear.
Let's review what Lunya's Silk Set is like between the sheets and in the streets.
---
---
LUNYA SIZING
For reference's sake, I'm 5'5.75" and weigh 115-117 lbs.
For comparison, my other sizes run below:
-US 2, in HVN or Reformation
-Small, Rag & Bone T-Shirts
-UK 8, in ALEXACHUNG
-FR 34-36, in Isabel Marant or Rouje
-Size 1, La Perla
My Lunya Silk Set is a size XS.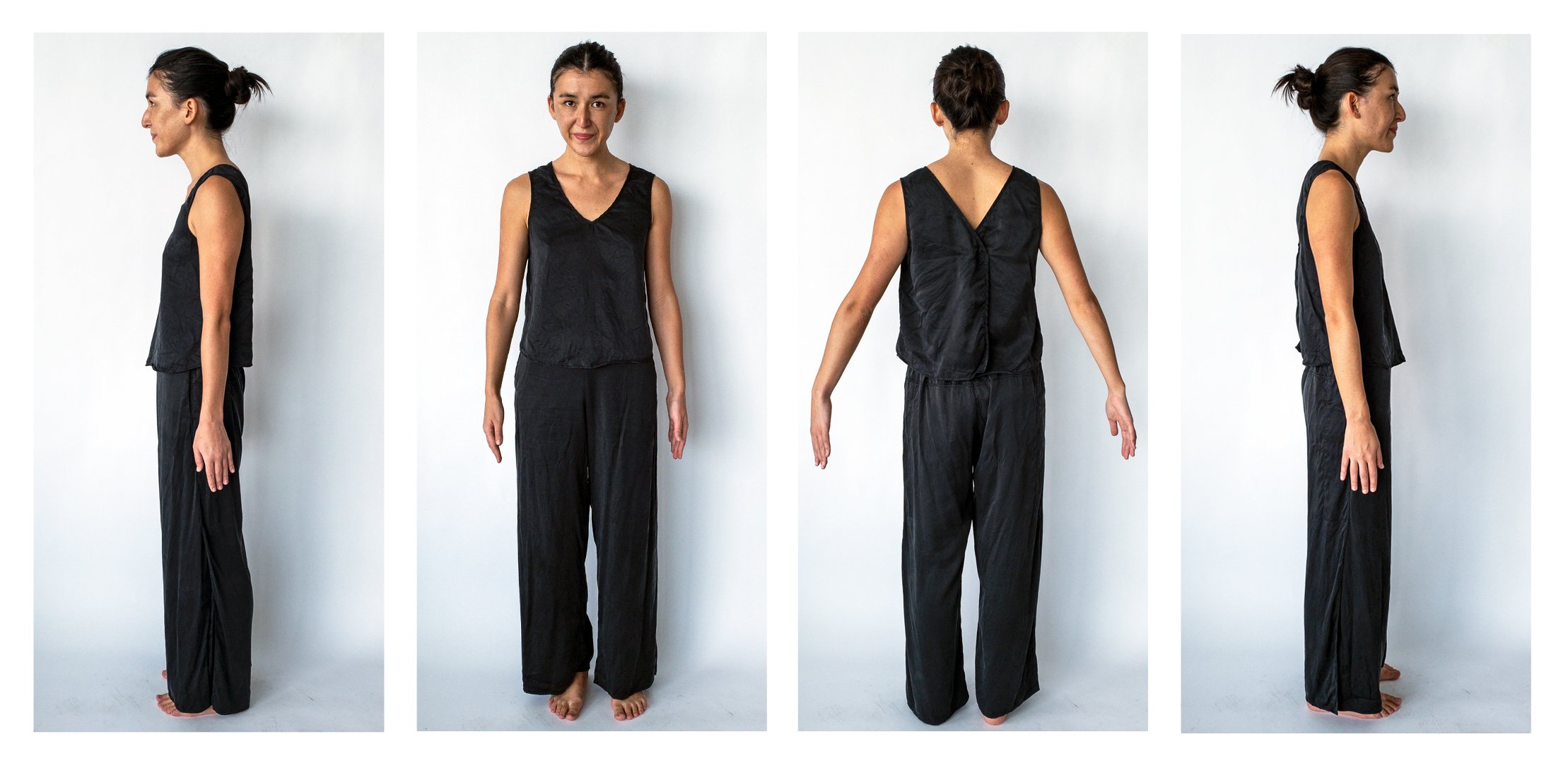 While I sometimes take an XS in Réalisation Par dresses, I totally do not identify as an XS.
… but Lunya recommends to size down if you're between sizes, so I did.
A size small in the bottoms would have been nice, but extra-small works just "okay" — for both the top and bottom.
The XS bottoms are a pinch too long and need to be stretched almost completely to get over my hips..
… while, they can sit comfortably on my waist (with no camel toe nightmare) after a big meal the elastic waist dug in and left a mark (not necessarily a nightmare, but more of an unpleasant dream).
The bottom's side slits though, wow. They're so dramatic and they make the pants so breathable.
The XS top's fit is quite comfortable and flattering.
The back isn't totally closed — it has a stitch across it to keep it somewhat closed.
… but that makes it so much more breathable for hot weather.
---
Lunya Robe Sizing Review
My Lunya Washable Silk Robe is a size XS/S.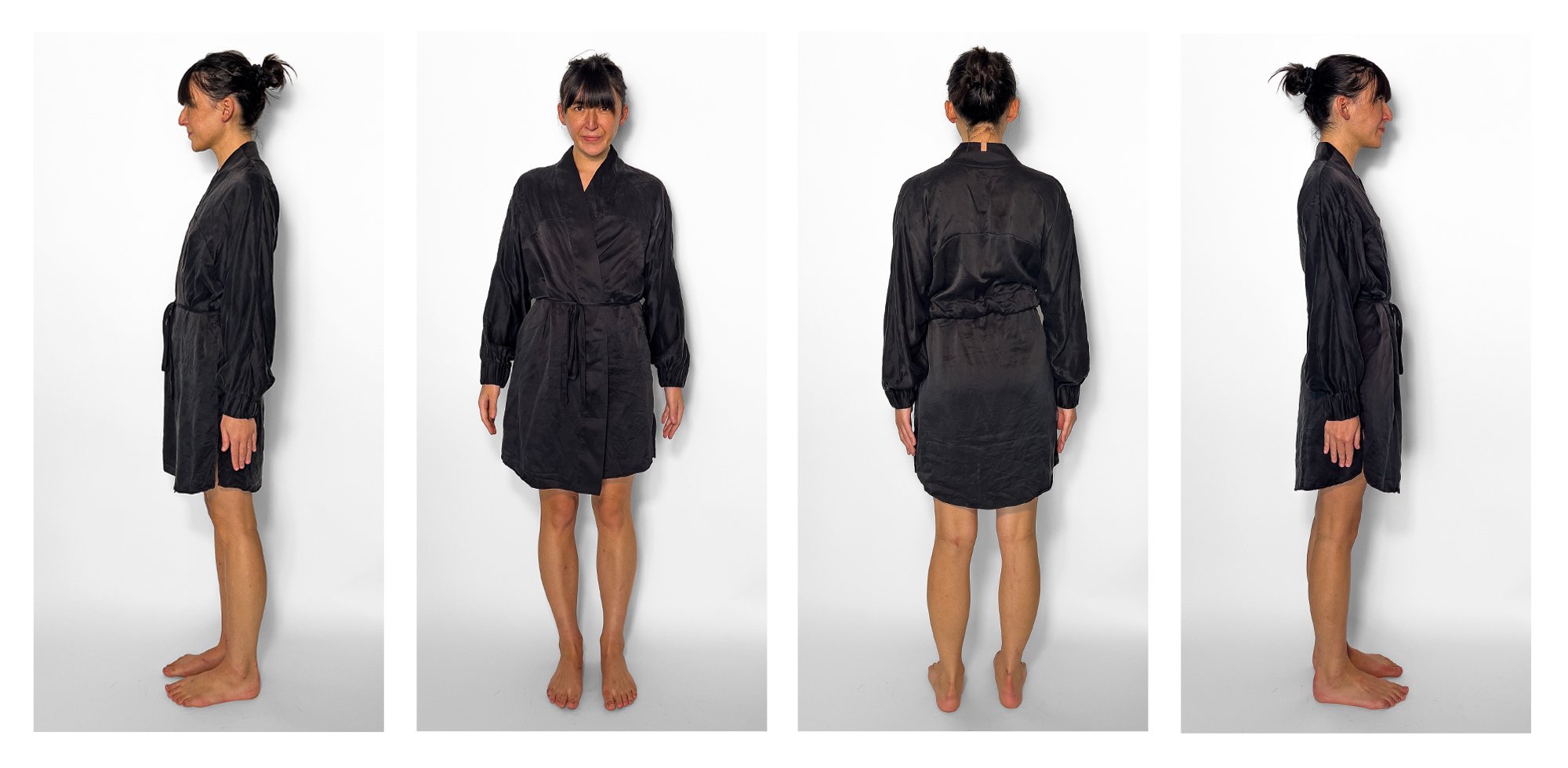 IDK you guys, this robe kinda looks like one of those polyester robes that your hairdresser puts on you while you look at yourself in the mirror and wonder if you've always been this ugly (you are not ugly, don't worry).
Lunya's robe has an interior tie and does not fasten into place from the outside.
… so, t's a totally OK robe, but it doesn't wow me.
---
Lunya Silk Short Set Sizing Review
My Lunya Washable Silk Short Set is a size S.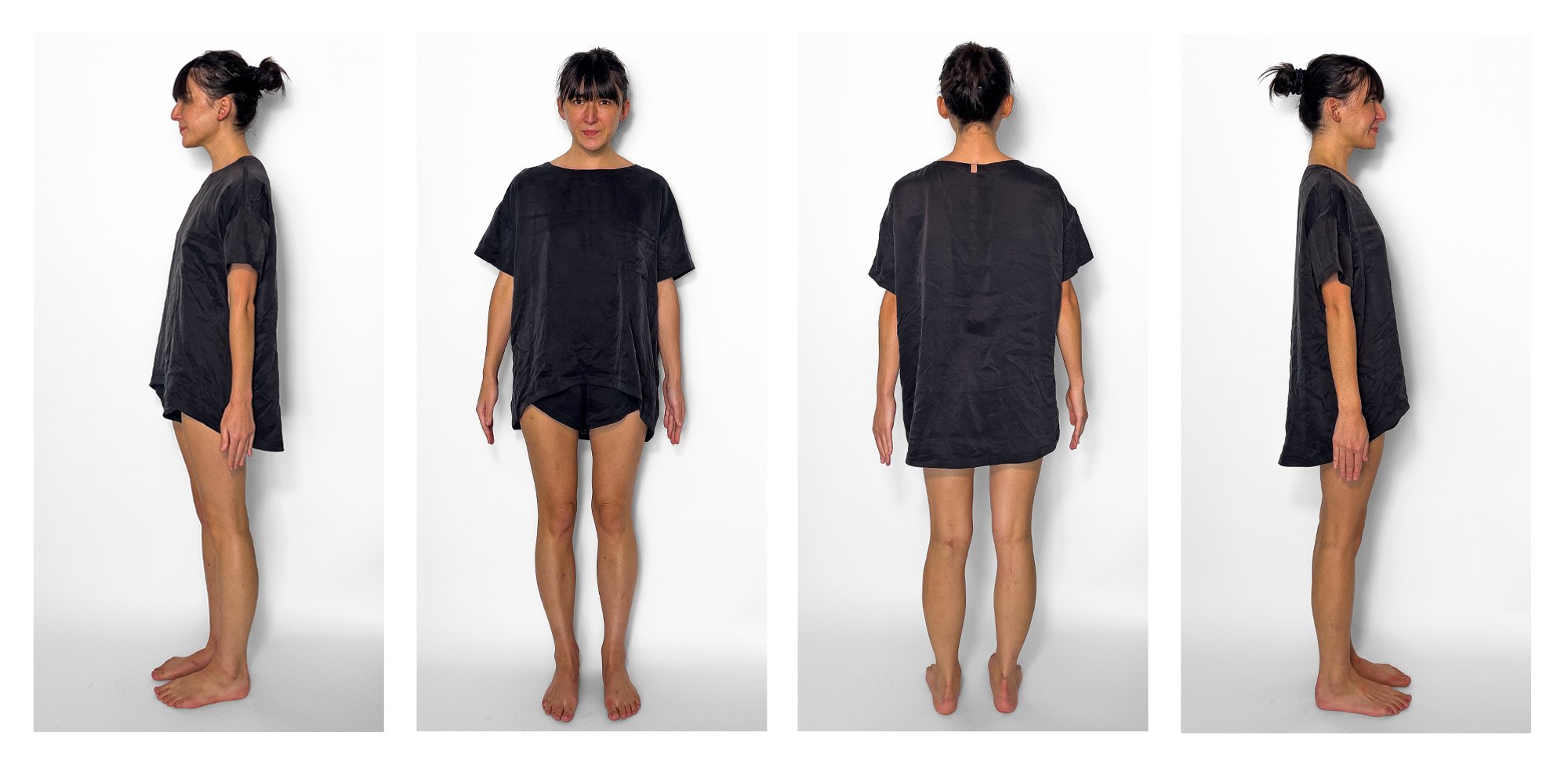 The t-shirt part of this set is marked an XS/S and is extremely generously sized.
A size up from my Lunya silk pants, Lunya's washable silk shorts are even more comfortable and still quite short when you pull them up to your belly button.
Note: Lunya's washable silk shorts do not have pockets in them.
---
Is Lunya Worth It?
Let's put the Lunya Silk Set to a middle school "scientific lab report" test!

Note: This is just my experience, yours could differ.
Hypothesis
According to the built-in reviews on Lunya, the Washable Silk Pant Set has 70 five star reviews.
Those reviews talk about how it's so comfortable, looks great, and is easy to wash.
So, I'm going to hypothesize that it's going to be comfortable, flattering, and will wash well.
Materials
-x1 Lunya Washable Silk Pant Set in "Washed Black"
Method
1- Lunya Silk Set must be worn to sleep for three nights (air conditioning set at 23°C).
2- After three nights, it must be washed on the machine's delicate & cold setting then air dried.
3- Lunya Silk Set must be styled & worn out for three days or nights.
4- It must be re-rewashed after those three "out in public" wears.
Results
I'd recommend hand washing your Lunya silk instead of putting it in the machine.
After I took them out of the machine & they air dried, I noticed a few loose threads — nothing massive, but hand washing would likely have avoided that.
When I first received the pajamas, they had a nice silk crepe feel… after I put them in the machine, they felt more stiff. It took two wears to get them (somewhat) back to their original silk crepe feel.
It was slightly disappointing since my La Perla silk washed well (by hand though) & kept their silky feel immediately after.
If you listen to Lunya's "size down" advice, the pajamas won't be optimally comfortable.
I'd recommend not sizing down for the Silk Set and use your best judgement. If you know that you need/would like more space in either the top or bottom, go for that size instead.
Conclusion
Basically the Silk Pants Set were comfortable (until I had a big meal and the elastic left a mark on my waist), definitely flattering, and washing it was an "ehhh" experience.
In conclusion, between the pockets (yes, there are pockets on the pants(!!!)) and the washability of the Silk Set (nice that you can wash it in the machine), it's all the small things.
They're flattering pajamas, and when you get your size right, they're comfortable, and look great between the sheets and out in the streets…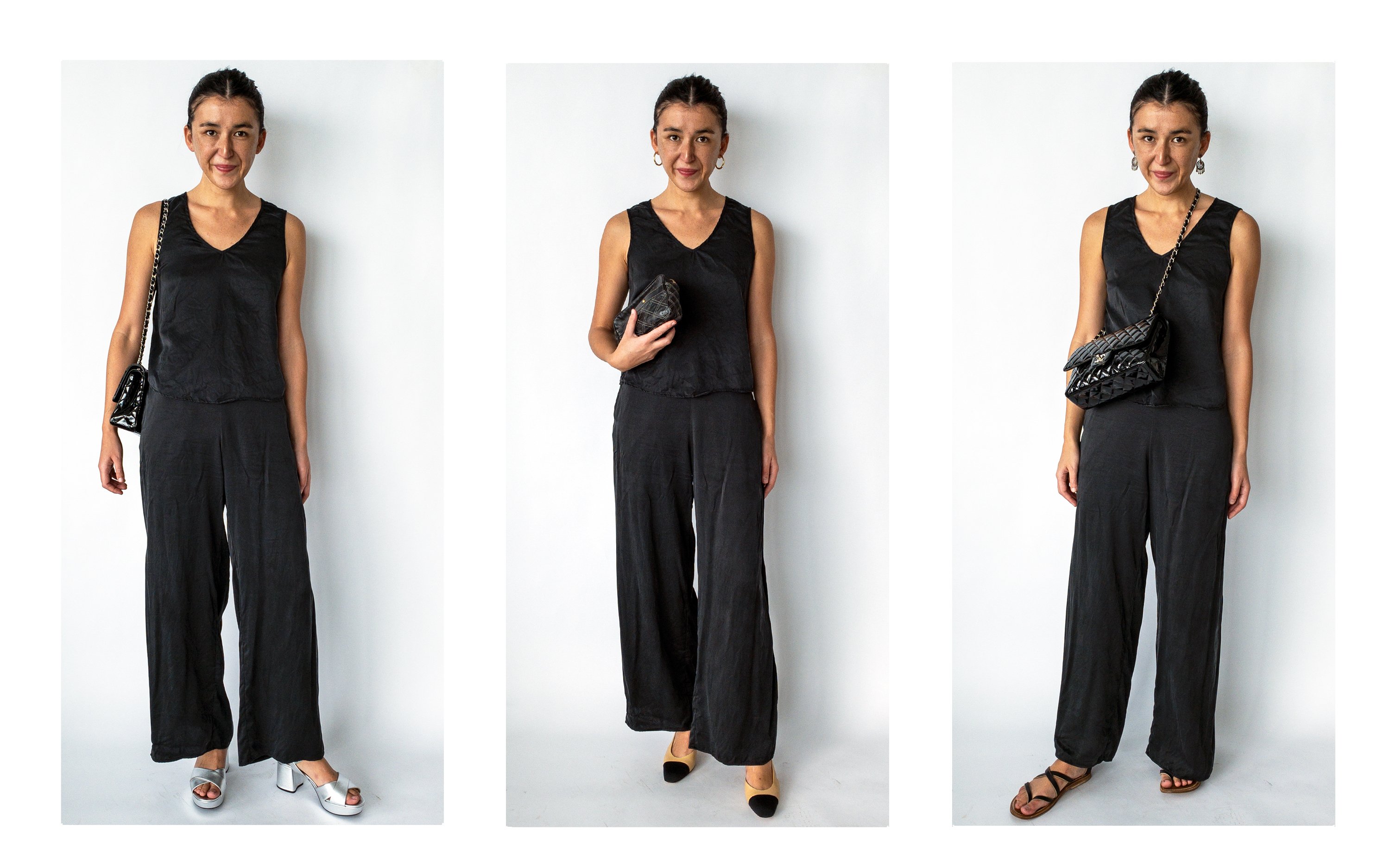 Left to Right: Prada Platform Sandals with a Chanel bag; Jennifer Fisher x Goop hoops with a Marc Jacobs clutch and Chanel Slingbacks; Vintage earrings with a Chanel bag and K. Jacques Epicure sandals.
---
PROS & CONS
Pros
–Machine washable: Yay! One less garment to dry clean!!
–Temperature controlled: It gets really hot in Panamá, but I didn't even notice when I wore it out.
–Pockets: The bottoms have pockets (!!!). For lounging purposes (or going out), this feature is thoroughly thoughtful.
–Convertible: You can totally wear these out and at home.
Cons
–Machine washable: … but I'd recommend hand washing instead.
–Sold as a set: If it wasn't, I probably would have gone with a size small for bottoms and extra-small for the top. As a result of being sold as a set, I found the XS bottoms uncomfortable after a big meal and the elastic band left a mark on my stomach.
---
Like my blink-182 sleep shirt, I'm torn.
If I switch to these "grown up" silk Lunya pajamas, will my rock show dreams end?
Considering how sweet & wearable this Silk Set is, it's worth a wake up from those post-adolescent dreams.
To quote blink-182, "well, I guess this is growing up…!"
Lunya's Washable Silk Pant set is available for $238 USD from Nordstrom, Shopbop, Lunya, among other retailers…
Note: newinspired uses affiliate links which costs you nothing… but means a lot to me. When you use these links, the money newinspired earns gets reinvested in blog content. Absolutely nothing on newinspired is "gifted" or sponsored, I purchase each item with my own money. Affiliate commissions are used to purchase new items to honestly & thoroughly review. If you found this review helpful, consider using them to support newinspired.