To make this Isabel Marant Dicker boots review simple, they have yet to disappoint me.
Isabel Marant Dicker boots first came onto the scene in 2009/2010. I purchased my first pair of Isabel Marant Dicker boots from La Garçonne in 2011. Actually, at first I purchased a pair of Isabel Marant Dicker boots dupe. But the moment I put on the dupes, I knew I needed the real deal.
I am a self-confessed Isabel Marant addict. That sounds silly. And annoying. But it's true — I absolutely adore everything Isabel Marant. I obsessively try to collect her entire SS/13 collection (more on that here and here). But Isabel Marant's Dicker boots were the start for all that. They opened the floodgates and are solely (GET IT) responsible for my personal style — both my summer style and my fall style — today.
Over five years, I've collected three pairs. One is suede taupe (2011), suede black (2012), and the last, a middle-aged-brick red leather (2013). I'm currently waiting for the perfect pair of suede camel Dickers to add to my collection.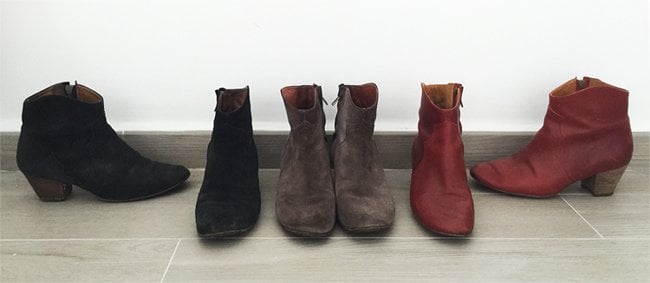 I have never felt more myself in a pair of shoes, let alone a pair of boots. Aside from maybe Charlotte Olympia cat flats. But those are now a bit dated. Come to think of it, I got my cat flats the same year as my first pair of Dickers… I still wear my Dickers, but the cat flats are on the shelf.
Isabel Marant Dicker boots have staying power after five years (or seven years if you count since they came out). That says a lot. You can still dress them up, or dress them down. Wear them in the fall or wear them in the summer. Dickers are the perfect convertible boot that make my summer fashion style that much cooler.
…