We've all ready talked about how I am a goopster.
Wait, "goopster" sounds weird. What I mean to say is, I'm "goopy."
… that's not right either.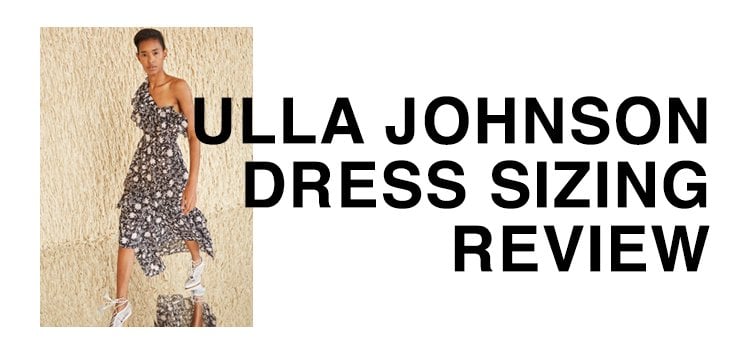 What I actually mean by saying "I'm a goopy goopster" is that I love Gwyneth Paltrow's goop. Now that really doesn't sound right, but whatever.

In any case, I saw this Ulla Johnson print on GP and was obsessed.
The print, "Midnight Floral," is like the perfect laid-back California kinda-bohemian, but kinda not, kinda print.
… then I saw Lisa Bonet wearing Ulla Johnson's Clemente dress in Porter magazine, and was like "whoa."
Let's investigate this $595 USD dress — which I actually paid $160.76 USD for via Barneys Warehouse. Would it have been worth it full price?
Ulla Johnson SIZING
I'm 5'5.75" and weigh 115-117lbs.
To give you a better idea of my sizing:
–HVN or Reformation, US 2 or S
–ALEXACHUNG, UK 8
–Réalisation Par, XS or S
–Rouje, FR 34-36
In Ulla Johnson's Clemente dress I took a US 2, which for all intents and purposes fits perfectly.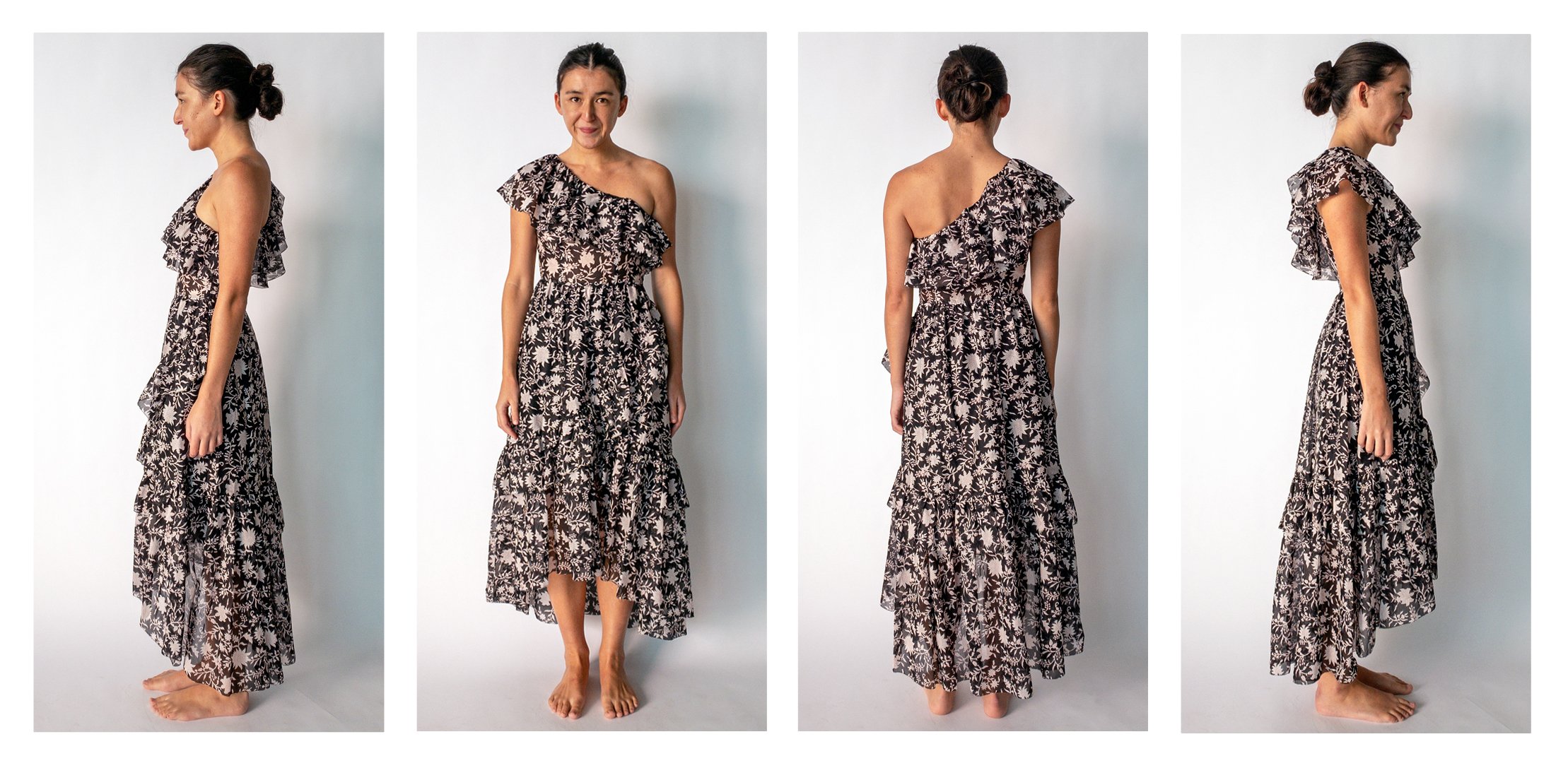 The ruffled over the shoulder style is exceptionally forgiving, while looking exceptionally fashion forward.
Before getting into fashion, Ulla studied women's studies and psychology. These two factors make you consider the impact they had on this carefully designed dress.
The one shoulder gives an illusion where someone can't help but think "she's naked under there…" but like tastefully naked.
… and look at how that silk swirls.
---
IMPRESSIONS
This isn't your normal Rouje Gabin, 55% viscose 45% rayon, throw on any kinda day dress.
Ulla Johnson uses natural fibres that look and feel luxurious.
As a result, her ~fancier~ dresses, aren't the kind of dresses that one (read: me) might feel comfortable wearing everyday.
At 79% cotton and 21% silk (with a 100% cotton lining), they're definitely ~special occasion~ dresses.
… like the kind of dress you wear when you want to look and feel like you're worth $595 a million bucks.
Here's how I wear my Ulla Johnson dress: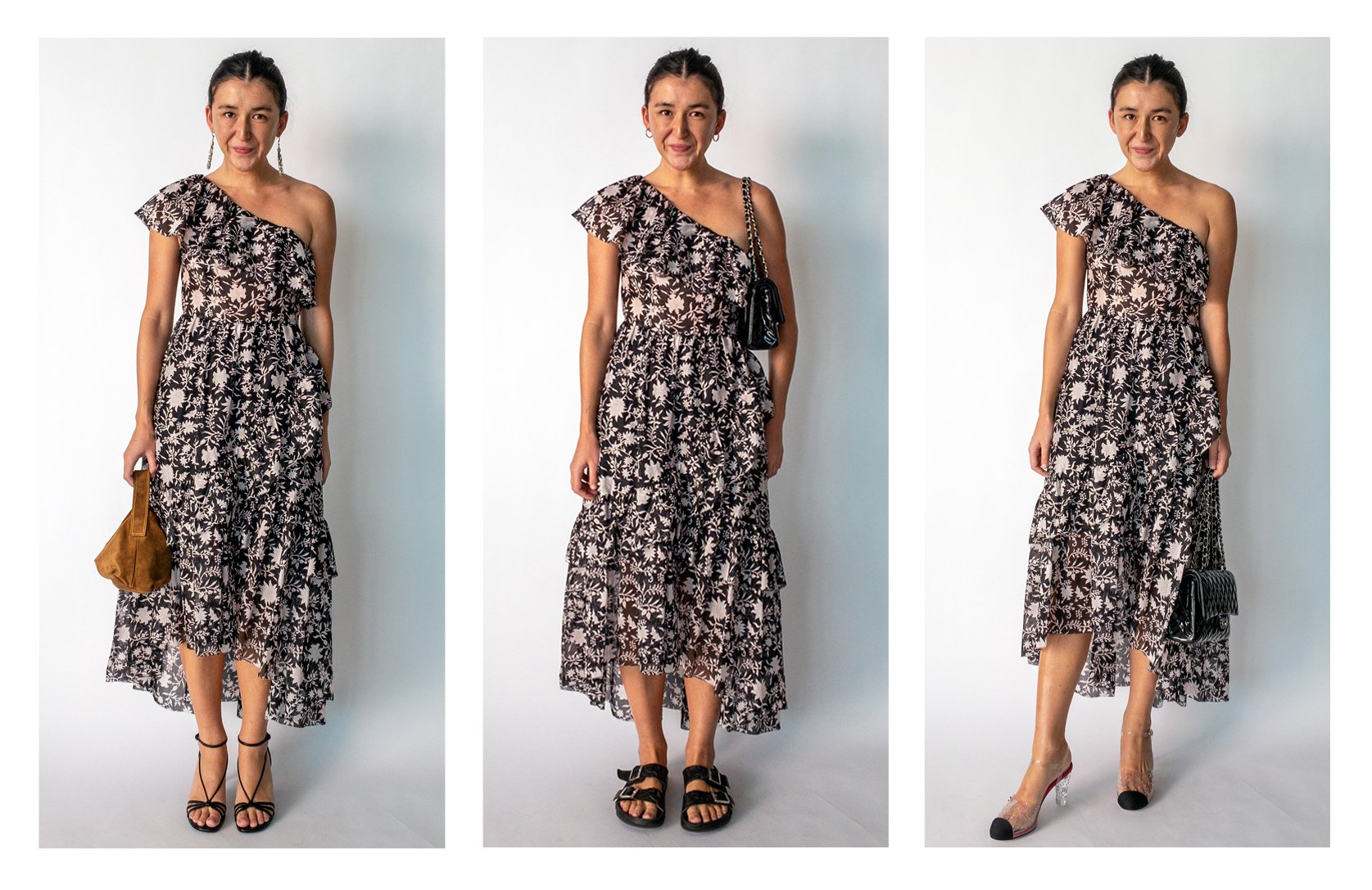 Left to Right: Isabel Marant x HM earrings with a Miu Miu bag and Saint Laurent Kate sandals, David Yurman hoops with a Chanel bag and Isabel Marant sandals, Chanel bag with Chanel Métiers d'Art 2017 shoes.
… but if you don't want to pay $595, what're you supposed to do?
There are loads of secondhand Ulla Johnson dresses listed on the Real Real, so you could also get a great deal there.
… but my best advice is to scour the sale section.
Revolve has a great selection of Ulla Johnson clothes on sale that'll make you look & feel like you're worth it.
---
PROS & CONS
Pros
–Natural Fibres: Both the shell and the lining are made from either a silk & cotton blend or 100% cotton. Most linings in other "contemporary" brands are semi-synthetic.
–Carefully Considered Design
–THE PRINT!
Cons
… my only "con" is that the print was a seasonal print, i.e. not coming back anytime soon.
---
Unlike Gwyneth Paltrow, my blog isn't valued at $250M.
But like Gwyneth Paltrow, I am obsessed with Ulla Johnson.
If my blog ever gets anywhere near a $250M evaluation, you know my closet will be full of these dresses.
… for now though, I'll be waiting over at Revolve for some solid sales.
For best selection of all Ulla Johnson dresses, hit up Moda Operandi, Net-a-Porter, Shopbop, or Revolve (where you can get 10% off your first order).
Note: These are affiliate links which costs you nothing… but means the world to me & newinspired. When you use these links, the money newinspired earns gets reinvested in blog content. Absolutely nothing on newinspired is "gifted," I purchase each item with my own money. Affiliate commissions are used to purchase new items to honestly & thoroughly review. If you find this review helpful, consider using them to support newinspired.
---
YOU MIGHT ALSO BE INTO…