Wednesday: First day in Montreal! I haven't been back to my home city in almost 10 years and things have changed.
Instead of the grocery store or something practical, the first shop I went to was "Holt Renfrew Ogilvy," Montreal's luxury department store…
Ogilvy's used to be a high-end department store on De La Montagne and St. Catherine, now it's Holt Renfrew Ogilvy. Holt Renfrew, which is a chain of luxury department stores in Canada, merged with Ogilvy's and closed their old flagship up the street.
Let me put it this way, Ogilvy's is was to Montreal as Bergdorf's is to NYC.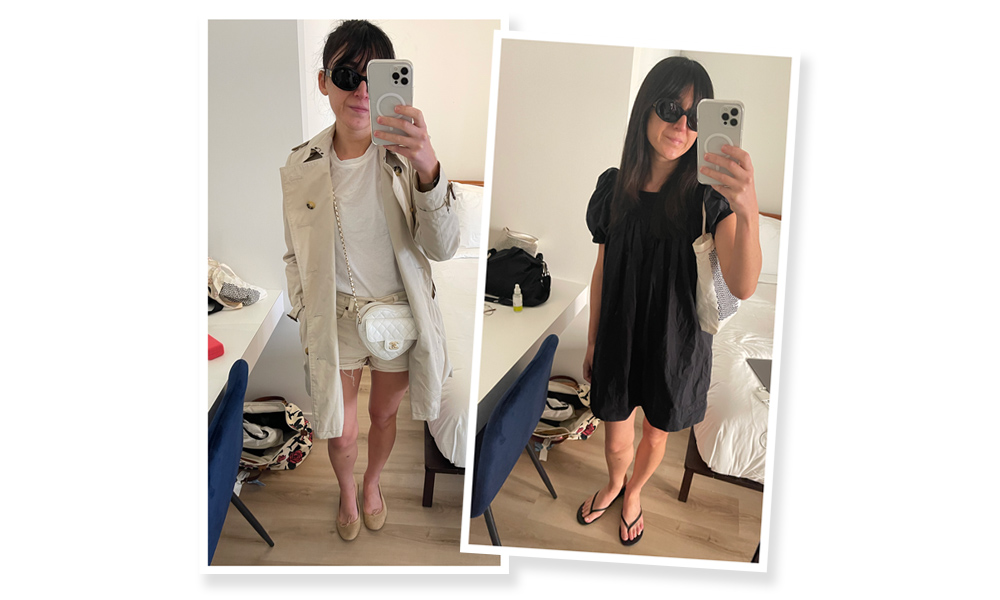 Wednesday, left: My old Burberry trench coat with a James Perse t-shirt, denim shorts, Chanel Heart Bag, and Repetto Cendrillons; Thursday, right: Dôen Earhart dress with Tkees flip flops.
From a business perspective, it makes sense that the parent company (which also owns Selfridges) merged Holt and Ogilvy's, but nostalgically, I hate it.
I miss the bag pipe player at noon/closing, the love birds at the Nicholas Hoare book store (OK, one of them died while I was in high school, but…), that Italian restaurant with spectacular salads in the lower-level, the tartan shopping bags (can you tell the store was founded by a Scottish person?), and the old world of heritage luxury that Ogilvy's represented.
Today, there is nothing that sets Holt Renfrew Ogilvy apart from any other luxury department store in the world — except that the sales associates are very, very, very haughty (save for the beauty SAs).
I wore my Chanel heart bag because I thought it'd be fun and matched my outfit (testing these off-white denim shorts for a review), instead the security guard at the Chanel in-store boutique followed me around the whole time — go figure.
After shopping at many high-end department stores around the world, this was the first time I felt that every sales associate couldn't be bothered to help me find what I was looking for. It was a super unfortunate experience… but, on the bright side my Amex bill was happy!
Thursday: Stayed low during the day and only popped out in a super easy Dôen dress to get a new EpiPen at Jean Coutu.
Friday: Appointment at SSENSE!
You know SSENSE, but did you know it's based out of Montreal? I grew up here and, embarrassingly enough, had never heard about SSENSE (even though I was an APC loving teen) until I moved to New York.
While they have some items to peruse in-store, you make your appointment ahead of time online and select what you want to try on/buy from your wishlist. At your appointment, your "stylist" has all the items unboxed and waiting for you to try on.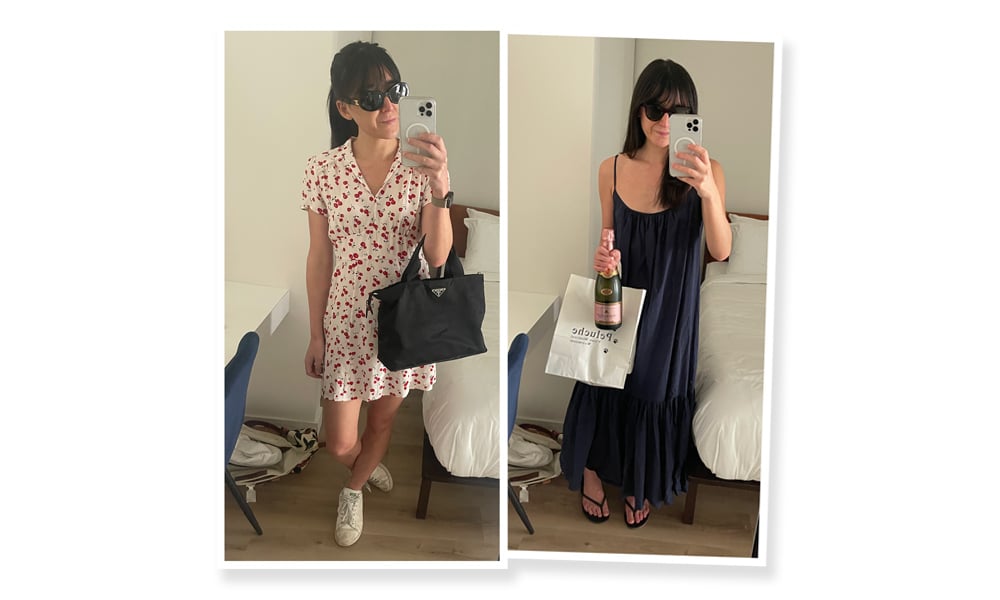 Friday day, left: HVN mini Morgan dress in cherry print with a Prada Nylon tote and Stan Smith sneakers; Friday evening, right: G. Label x Tabitha Simmons dress with Tkees flip flops.
For people who hate shopping in real life, like me, this was an A+ shopping experience.
Since I was trying on boots, I wore Stan Smiths since I needed socks anyways and didn't want to carry them in my bag. This HVN and sneaker combo with the Prada nylon tote reminds me of Behati Prinsloo for some reason… she's still cool, right?
Later, I went out for a picnic dinner in Lachine with my BFF Sheila and finally got to meet her sweet pup Snow — brought her a toy in the shape of a rabbit, which was kind of a twisted gift to give Snow since Sheila and I both had pet bunnies in high school (RIP Samson and Princess Sparkle Muffin).
Saturday: It was my friend Cassandra's birthday… we went out to Ibérica for a lovely dinner with another friend and it was so special to catch up and simply chat the evening away.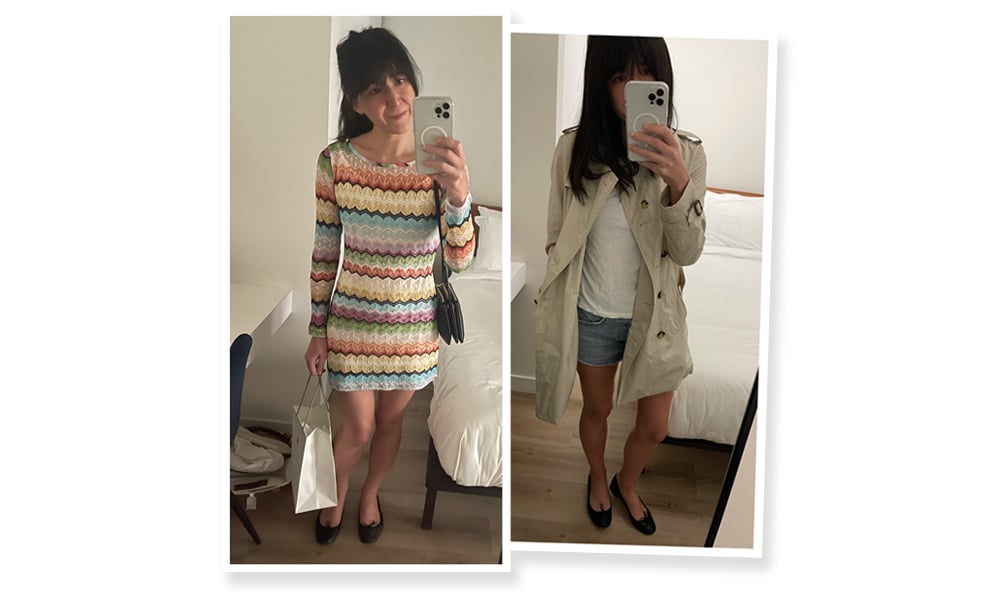 Saturday, left: Missoni dress (remember it from that "Things I would buy" post? My generous sister bought it for me as an early birthday gift!… and it really does work well as a dress with a La Perla slip dress underneath.) with Repetto Cendrillons and a Celine Small Trio; Sunday, right: Burberry trench coat with AGOLDE Parker shorts, a James Perse t-shirt, and Repetto Cendrillons.
Sunday: Drizzly day out, so I'm tucking in to putter around my AirBnb — but first, went to grab a coffee.
---
Have you been to Montreal before?
… or have you left your hometown, then gone back as an adult and were like whoa, everything has changed?
It's kinda tough and now I understand why Thomas Wolfe wrote, "you can't go home again…"