Note:
In recent months, it seems like the Celine Trio bag has been discontinued… however, you can still find it on resale sites like The Luxury Closet, The Real Real, or Vestiaire Collective
.
Personally, I'm in the minority.
While I'm a devout Céline sunglasses wearer, I've never been a huge Phoebe Philo-stan. On the flip side, I am a huge Hedi Slimane fan.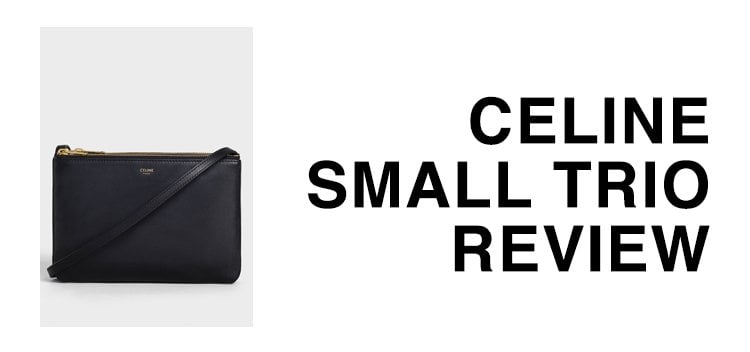 Don't close this review though.
Just because I'm an Hedi girl, doesn't mean that I don't respect the deep impact that Phoebe made and the way she changed women's fashion and personal style.
After all, I'm writing this while wearing statement earrings and Birkenstocks (albeit, Isabel Marant's take on them)… and we all know that was only made possible because of Phoebe.
So, Hedi's Small Trio bag: what's changed?
Let's get into it…
---
To preface this review, I'm going to write "Céline" when I'm referring to Phoebe's Céline and "Celine" when I'm referring to my Trio bag, i.e. Hedi's Celine.
WHY DID I WANT HEDI'S AND NOT PHOEBE'S?
The reason is relatively simple.
To begin with…
Longevity
When the Trio bag first came out in 2011/12 everyone was all over it.
At the time, I considered it, but then thought about how super trendy bags don't really age well.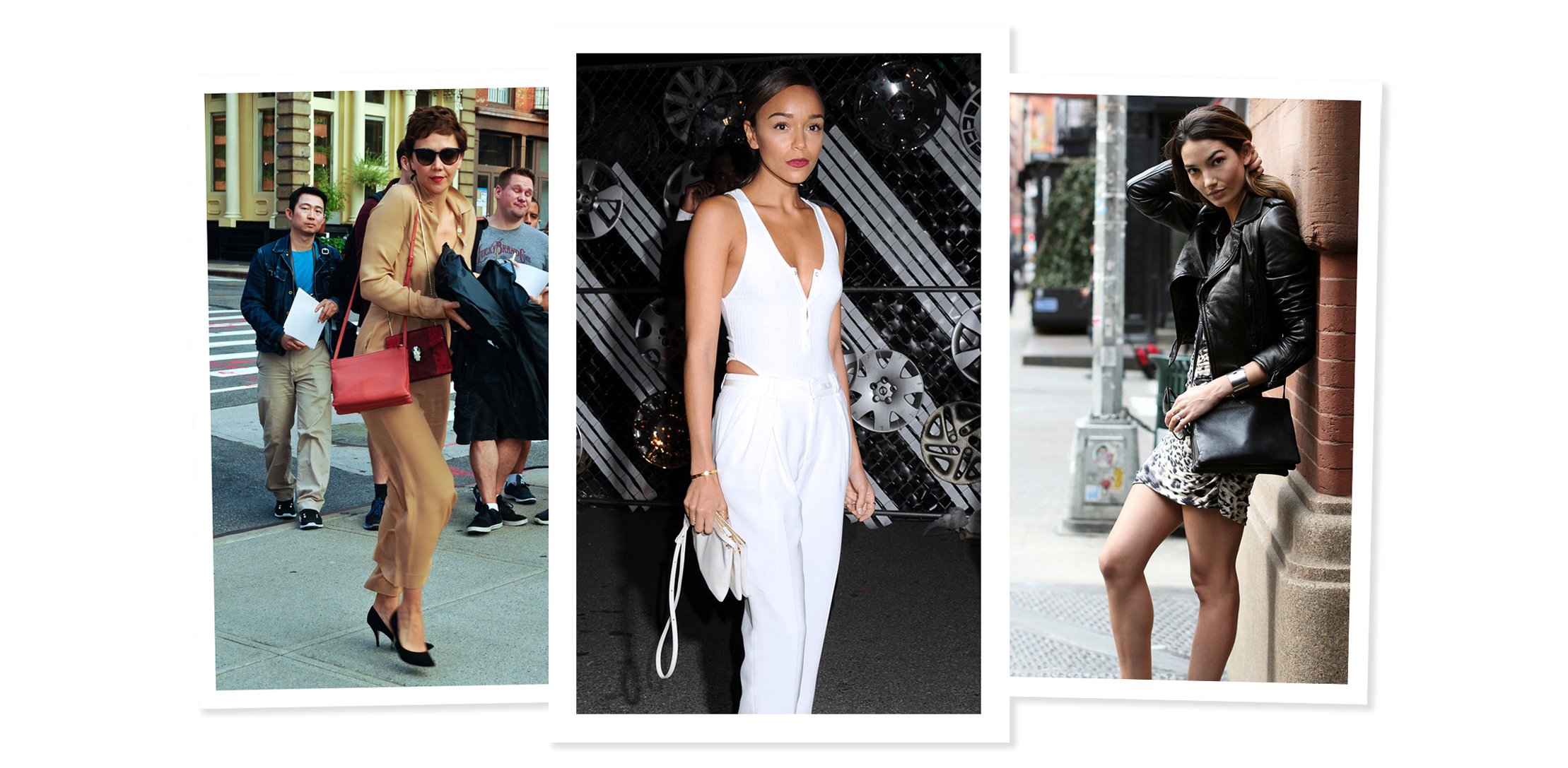 My mind was consumed with "what if this is like the Alexander Wang Diego bag?" The guilt of that purchase is heavier than lugging all those studs around.
Almost 7 years after the Trio came out, it's safe to say that, while yes at one point it was "everywhere," it's definitely a safe classic.
While "safe classic" doesn't sound fun or cool, I've learned that with designer price hikes, it's better to get in while the price is still reasonable.
Now was that time for me.
Prices
Céline's prices had always been huge question marks to me. I only shop online and before Hedi took over, prices were not listed on Celine's website.
They only recently started selling on 24 Sévres, where the small Trio is $1250 USD.
Note: Céline and Celine's Trio bags don't hold a high resale value, so they aren't an "investment" piece. This is good news for those looking for a lower price though.
You can also find them on ReBag, The Luxury Closet, The Real Real, or Vestiaire Collective.
HEDI vs. PHOEBE; WHAT'S DIFFERENT?
LOGO
Parting with the accent aigu was controversial but like with Yves Saint Laurent, Hedi wanted needed to make his mark on the house of Céeline.
This logo change extends to the Trio.
Instead of "Céline" now Hedi's is now "Celine"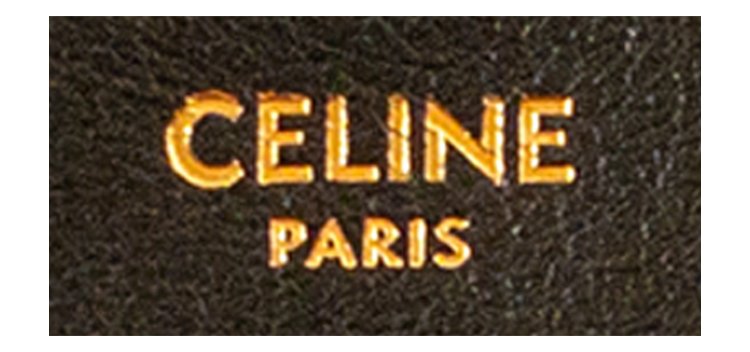 As a statement for the brand, a little accent makes a big change, but aesthetically on the Small Trio it's hardly noticeable.
PULLS
The old Céline Trio had leather pull tabs at the end of the zipper.
The new Trio is simply hardware, no leather.
This changes the overall look of the bag more than a little accent.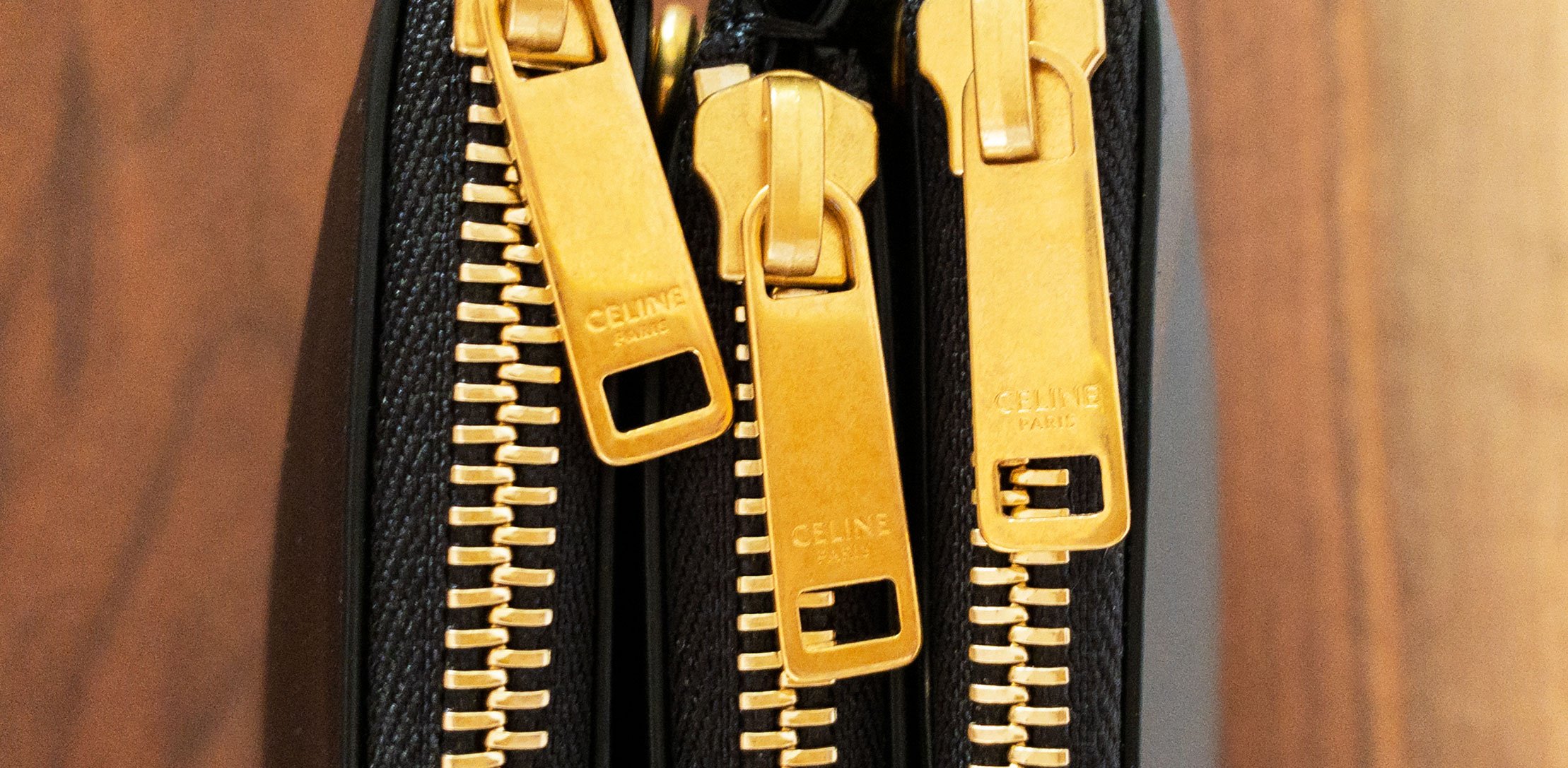 … but full metal hardware is one of Hedi's signature looks — and I'm into anything that adds a little more polish and shine to an outfit.
NO TAG INSIDE
The previous Trio bags had "Céline Paris" embossed on the inside.
Hedi's doesn't.
---
YOU MIGHT ALSO BE INTERESTED IN…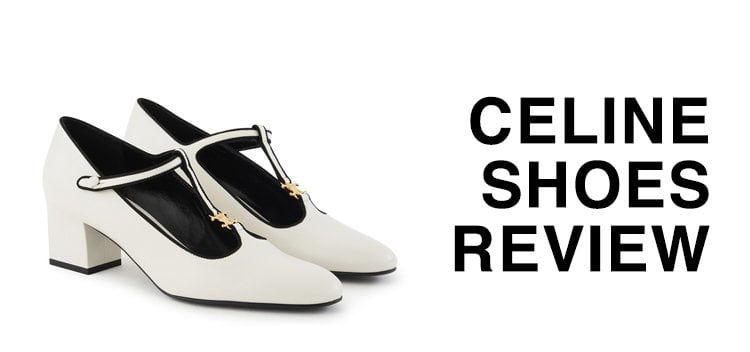 ---
HOW DOES IT FIT & WHAT FITS IN CELINE'S SMALL TRIO
For reference, I'm 5'5.75″ and here's how the straps look at their longest and shortest: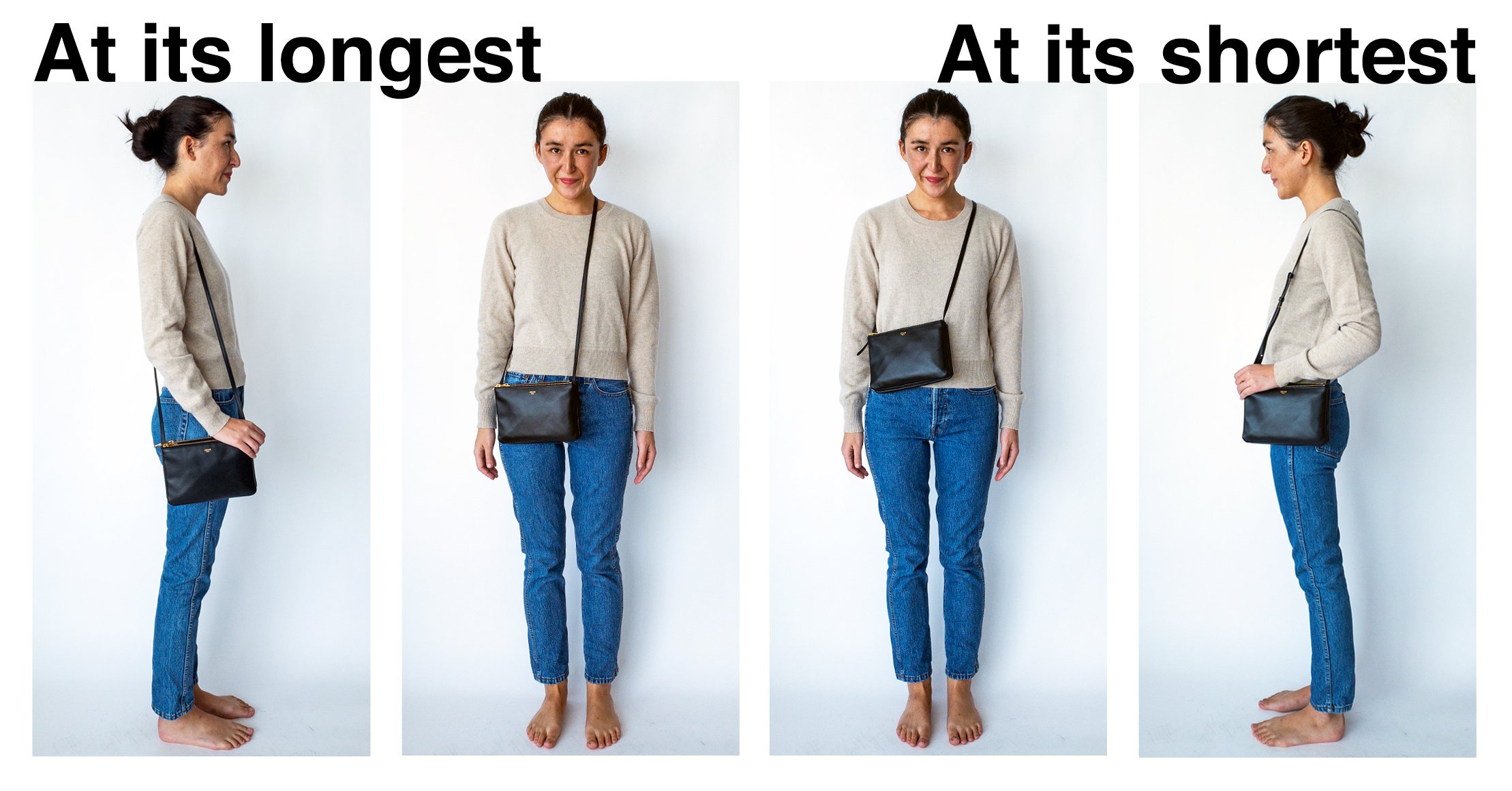 … and for comparison here's how some other bags look on my frame:
–
A.P.C. Mini Demi Lune
–
Chanel Classic Handbags
–
Isabel Marant Maskhia Bag
–
Telfar Shopping Bags
–
The Row Ascot Bag
The exact dimensions for a Small Trio are 9 x 6 x 2 in (22 x 15 x 4 cm). The three pouches are all expandable, but not like super expandable.
… and for what it's worth, it weighs 331.5 grams or 0.73 pounds.
The Trio's strap is (seemingly) delicate, so you shouldn't stuff your bag full to the brim… plus it doesn't look that great when it's totally stretched out.
I only carry what I really need…
So what's in my Small Celine Trio?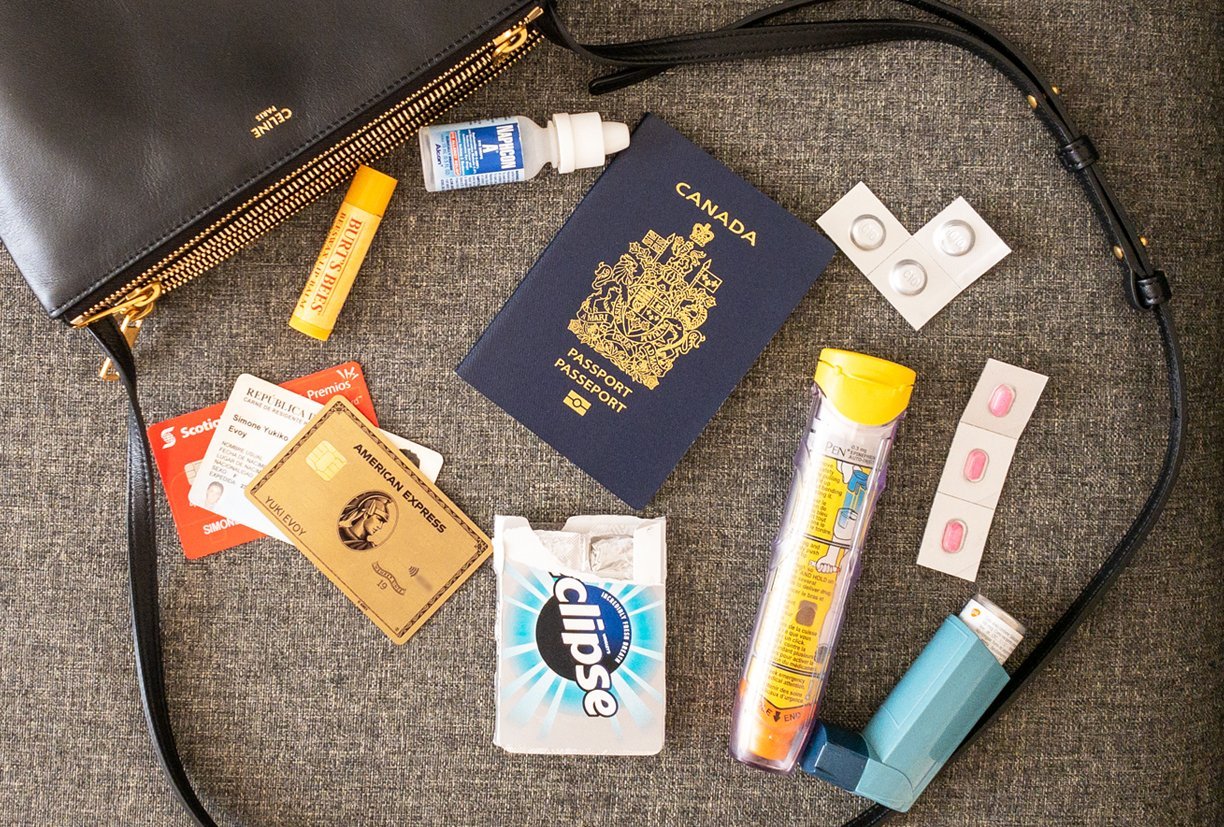 Credit cards, Panama ID card, passport, inhaler, Claritin & Benadryl, Epipen, lip balm, gum, and my cell phone (when I'm not holding it to take a photo of what's in my Trio).
And how do I wear it? Simply…
View this post on Instagram
View this post on Instagram
---
HOW I CHOSE MY BAG
Here's the thing, I didn't choose my Celine trio.
For the last year, every time I'm close to a Celine retailer like Neiman Marcus, I always pause to check out their Small Trio selection.
My boyfriend recently went on a business trip to Singapore & Sydney. I had two "please bring me back" favours: Asian sheet masks and his Quantas pyjamas — basically two things that were either free or super cheap.
When he got in, he brought out the sheet masks, his Quantas pyjamas… and a Celine carrier bag.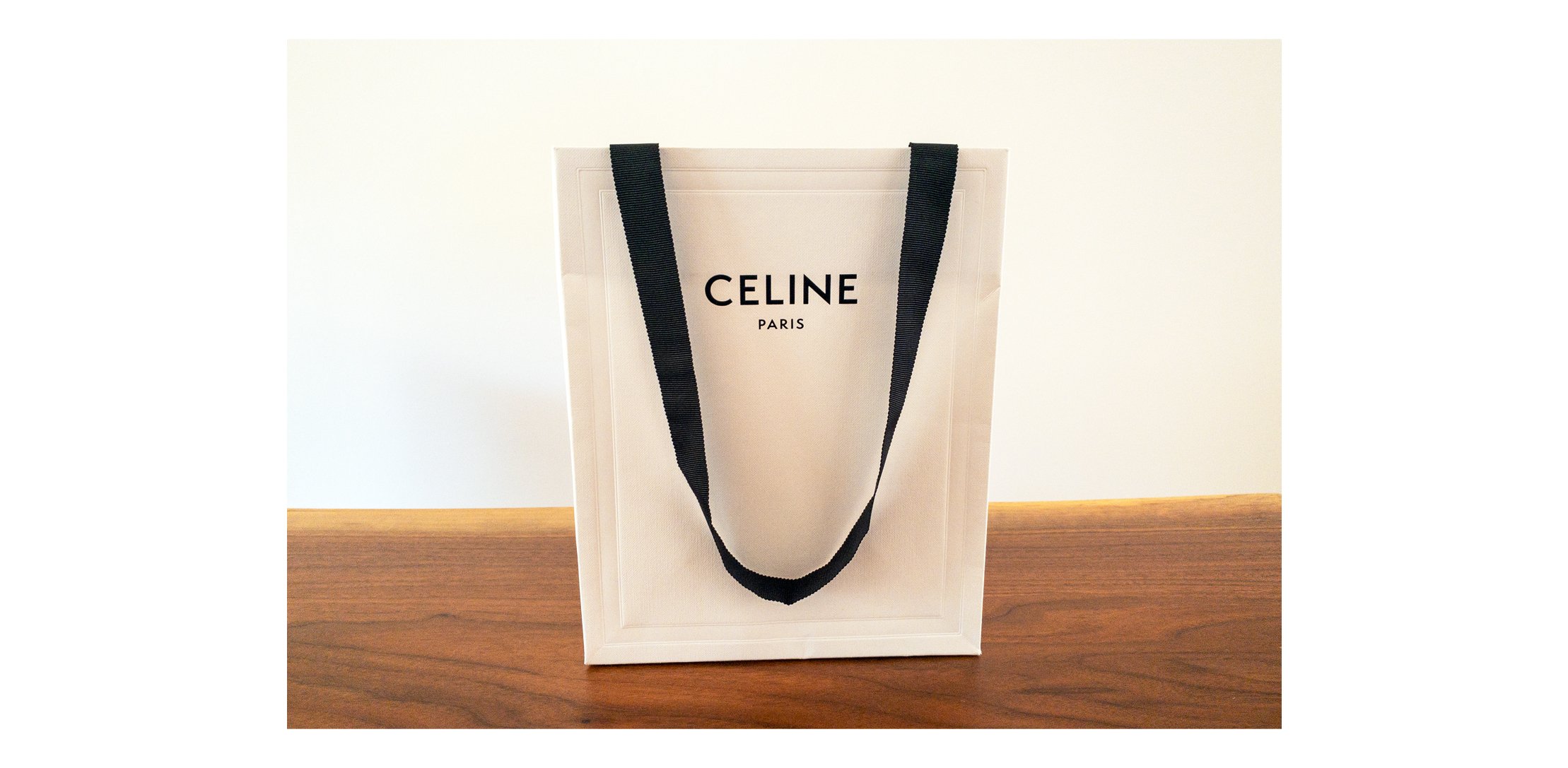 "I know you always look at it and wanted the new one… and you just had your birthday the other week."
Oh, boy… this boy.
"Is it the perfect one you wanted??"
Perfect and just the one I wanted — both the bag and the boy.
---
CELINE TRIO BAG WEAR & TEAR
This Celine Small Trio is made from 100% lambskin leather, which means it's moderately delicate.
The lambskin is supple and soft — so supple that you think your nails might accidentally scratch it (spoiler alert: they won't unless you really dig them).
For some, scratches and worn leather are an understandable drag, but for others (read: me) I see them as telling a story.
… I mean, once I left my Louis Vuitton Speedy outside in a snowstorm so the leather handles would look lived in.
The Trio's zippers easily glide open and shut — no tugging, just smooth zipping.
From each pouch to the strap, the Trio is (obviously) sewn together instead of glued. This (obviously) means that it's a higher quality bag than a replica from a fast fashion store.
The seams lie flat and there aren't any loose threads.
… a month into this bag and I (somehow) got bits of a Crunch bar stuck on my leg, which then melted onto the bag.
My boyfriend's first reaction? He didn't freak out about the chocolate smeared on his white (vegan) leather car seats, but — "did you get it on the bag?"
… I did, but with a makeup remover I was able to buff it out.
Now I'm left wondering if my BF chose black lambskin because he knows my propensity to get food everywhere. Hmmm…
---
PROS & CONS
Pros
–Handsfree Bag: Super nice to be able to sling it across your body.
–Buttery Lambskin: Sooo soft.
–Adjustable Strap: Lets you decide if you want it higher or lower depending on your ~look.~
–Easy To Style: There's something to be said about a bag that you can dress up or down depending on what you're wearing.
–Pouches Are Super Tough to Unbutton: At least you won't worry about them falling off, but…
Cons
–Pouches Are Super Tough to Unbutton: … if you want to just wear one as a pouch, you'll be worried the whole button will accidentally tear off.
–Delicate Strap: It really doesn't look great overstuffed, but at the same time the straps are somewhat delicate so if you did overstuff it, it could run the risk of stressing them.
---
It's been a long minute since I've purchased (or been given as a special gift) a luxury handbag.
The last one was my Chanel medium patent flap, which was a university graduation gift from my parents in 2014.
The Celine Trio is the ideal next step from a flashier bag like that one.
The Trio is subtle, it's luxe and it only noticeably stands out to those who know it.
Now that they're totally discontinued, you can only find them on ReBag, The Luxury Closet, The Real Real, or Vestiaire Collective.
Note: newinspired uses affiliate links which costs you nothing… but means a lot to me. When you use these links, the money newinspired earns gets reinvested in blog content. Absolutely nothing on newinspired is "gifted," I purchase each item with my own money. Affiliate commissions are used to purchase new items to honestly & thoroughly review. If you found this review helpful, consider using them to support newinspired.
---
YOU MIGHT ALSO BE INTERESTED IN…