"Responsible" is a word that gets thrown around much too much once you hit 30.
… but, unlike an extra candle on your birthday cake, "responsibility" is hard to quantify.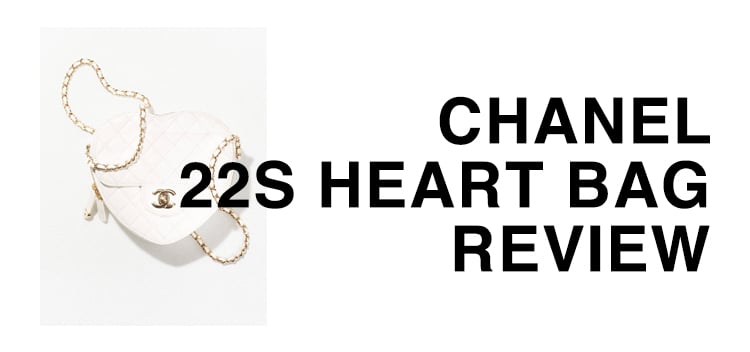 Sure, there are numbers in your 401k plan or Roth IRA account that you can count up, but you can't really measure "responsibility."
It's like, enough with these confusing adult abbreviations, can't we just go back to the 90's?
When we were freewheeling kids who passed folded up "do you like me? Circle yes or no" notes in class and doodled unicorns & hearts in the margins of our notebooks?
My flagrant disregard for responsibility reigned over my desire to be a "responsible" 30-something year old and I bought the 22S Chanel Heart Bag…
---
Chanel Heart Bag Sizing
For reference, I'm 5'5.75."
… and for comparison here's how some other bags look on my frame:
–A.P.C. Mini Demi Lune
–Celine Small Trio
–Chanel Classic Handbags
–Isabel Marant Maskhia Bag
–Telfar Shopping Bags
–The Row Ascot Bag
Here's how the Chanel Heart Bag looks on…
(Note: Chanel has a few different heart bags that are considered Small Leather Goods (SLGs), but only one "handbag" version, which is the one I am showing you.)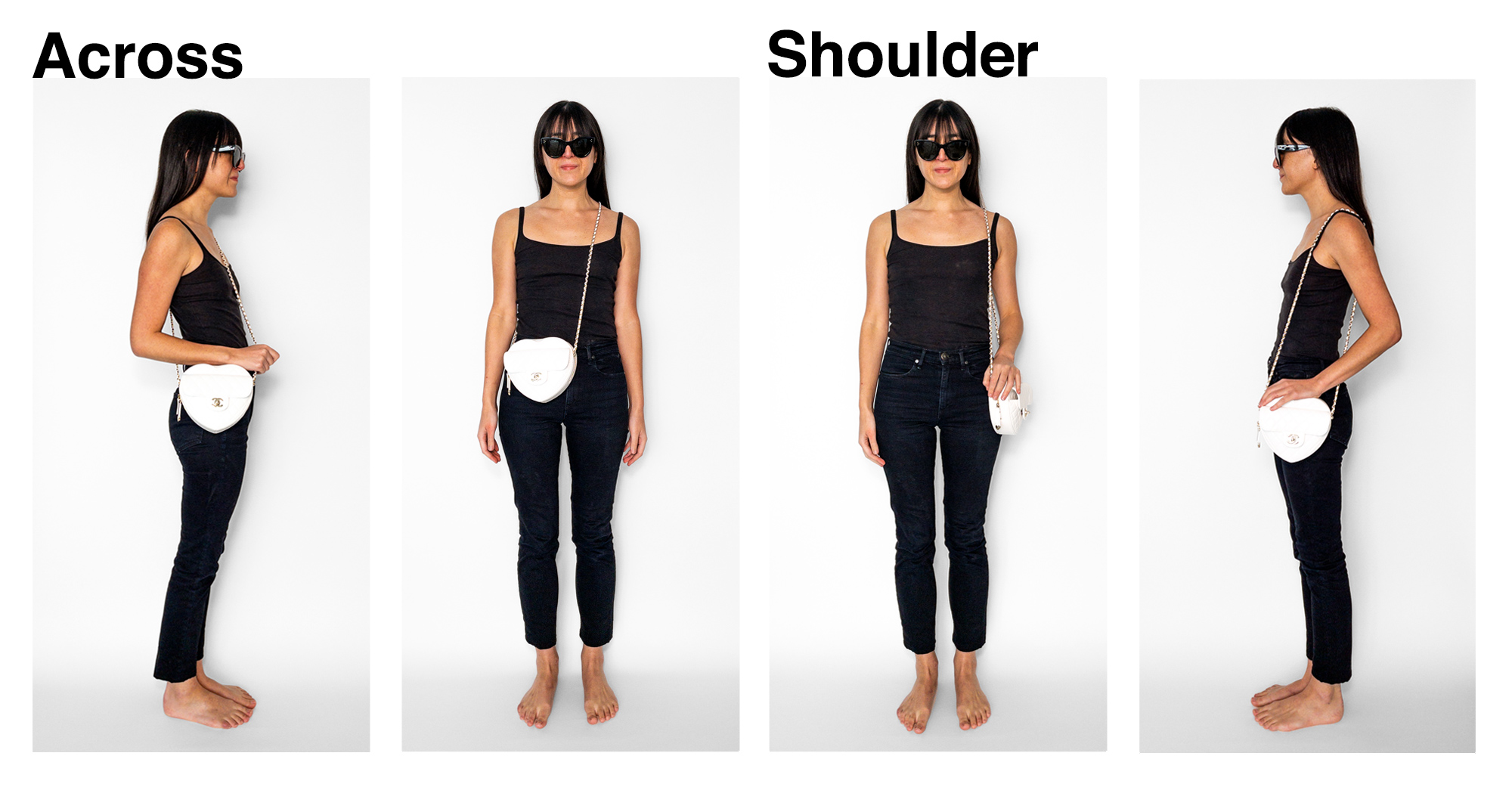 The bag itself has a 20" chain drop and roughly measures 7" at its longest by 7" at its widest with a depth of 2" at its widest point.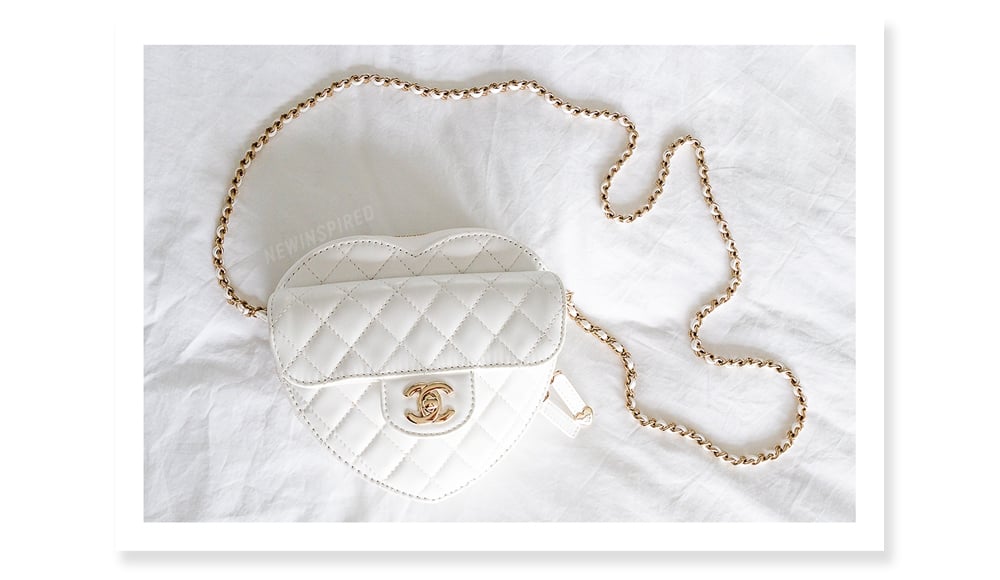 … and does not fit an iPhone 12 Pro Max.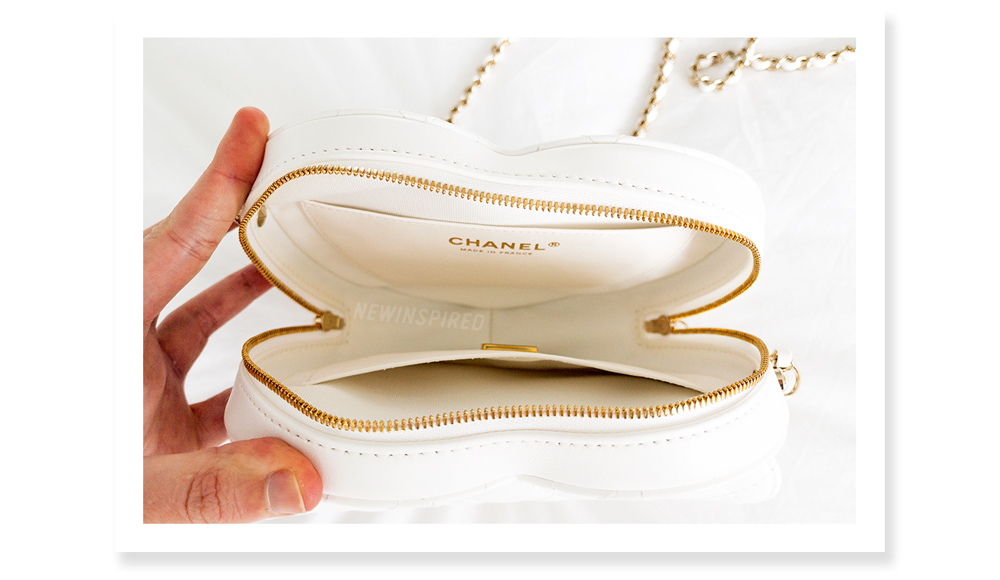 If you're like "OK, if this bag doesn't fit a phone, like, what does it fit???"
Here's what fits in the latest Chanel Heart Bag…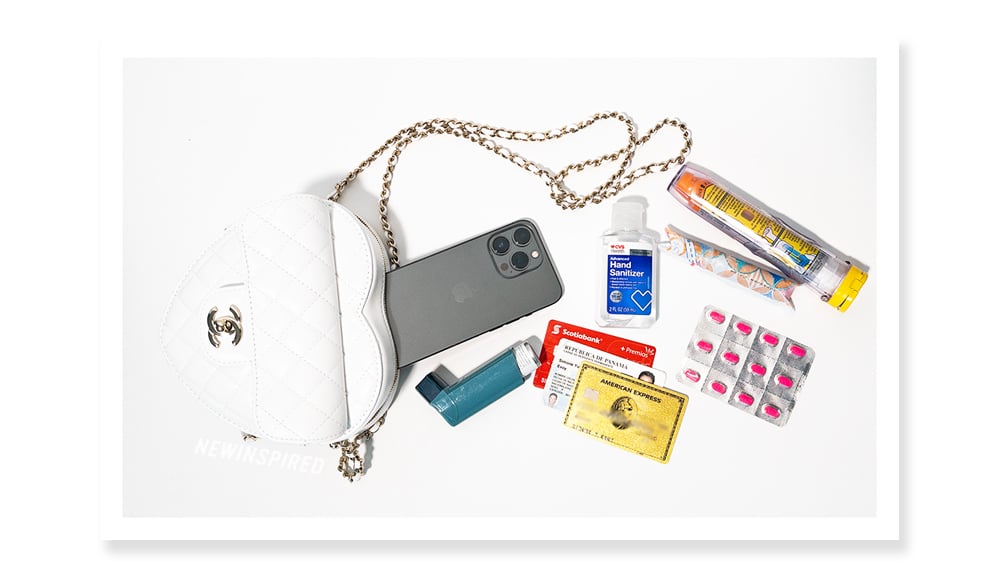 An iPhone 13 Pro (regular, not Max), will fit if you position it diagonally… however eye drops don't fit — and if it's between itchy eyes, my life (inhaler and EpiPen) or hand sanitizer, I choose life and hand sanitizer… and will just have to deal with itchy eyes.
---
Impressions
The thing is, some might think that the new Chanel Heart Bag is too trendy because of the proliferation of posts from Instagram "influencers."
Those posts, while annoying, are likely because it's been close to 30 years since Karl Lagerfeld had Helena Christensen carry the original, and now vintage, Heart Bag in his 1995 Spring/Summer Chanel show, and since Uncle Karl's favourite, Claudia Schiffer, held it (strategically placed) in the following ad campaign.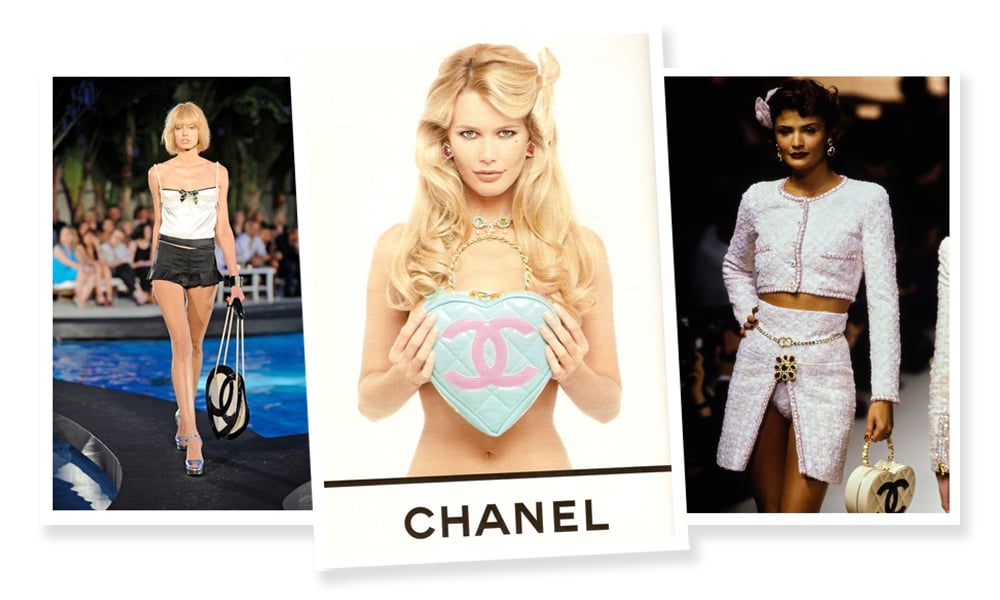 Photos c/o Vogue and Chanel. Left, 09C; Middle & right, 95S
It's also been 13 years from when The Kaiser last sent heart bags down the runway in the 2009 Cruise show.
After over a decade of waiting, it makes sense that Chanel fans' hearts would swell for Virginie Viard's iteration made out of delicate lambskin with a classic Chanel chain.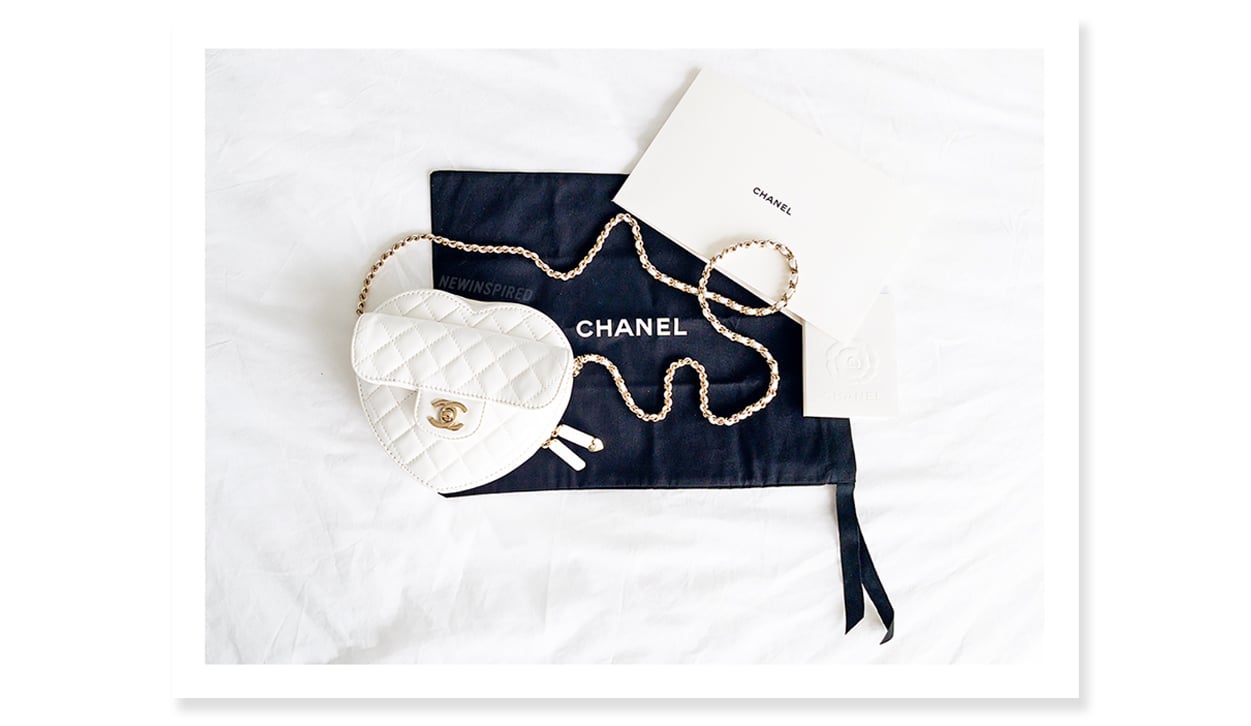 Both of those shows were pre-Instagram and the irritating "influencer" culture… so it kind of makes sense that in today's world, when we see frivolous posts from people who seem to just buy everything for the 'Gram, that we would simply write it off in our minds as just another pointless, and expensive, handbag.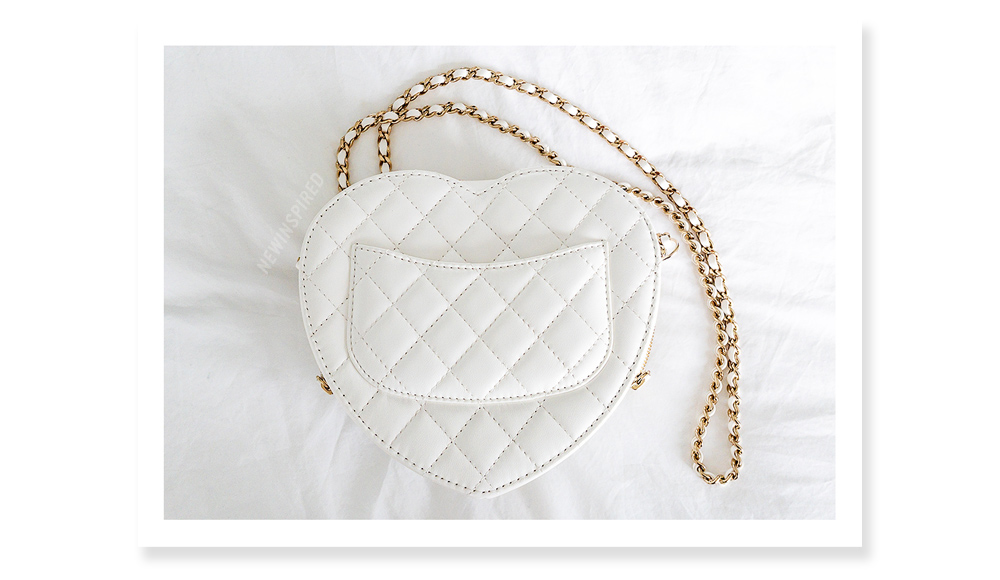 Despite what those posts might lead us to subconsciously think, the 22S Chanel Heart Bag should not be written off so quickly as "trendy…"
1- This bag is not like the Cambon bags (c. 2003) or the Cabas bag (c. 2007): Both equally chic at their time, they were probably the two trendiest bags that Chanel has ever put out — as in, everyone seemed to have them (although, I'm still waiting for the day I can wear my mini Cambon tote (my first Chanel bag in 2005!) and still want a black patent Cabas bag).
2- Love is always in fashion: The Chanel Heart Bag is referred to by Chanel sales associates (SAs) as the "CC in Love" bag, and, you know… love is forever.
3- It basically looks like a Chanel Classic Handbag with its classic quilting, front pocket flap, and back pocket, but in heart shape: And those are always in fashion…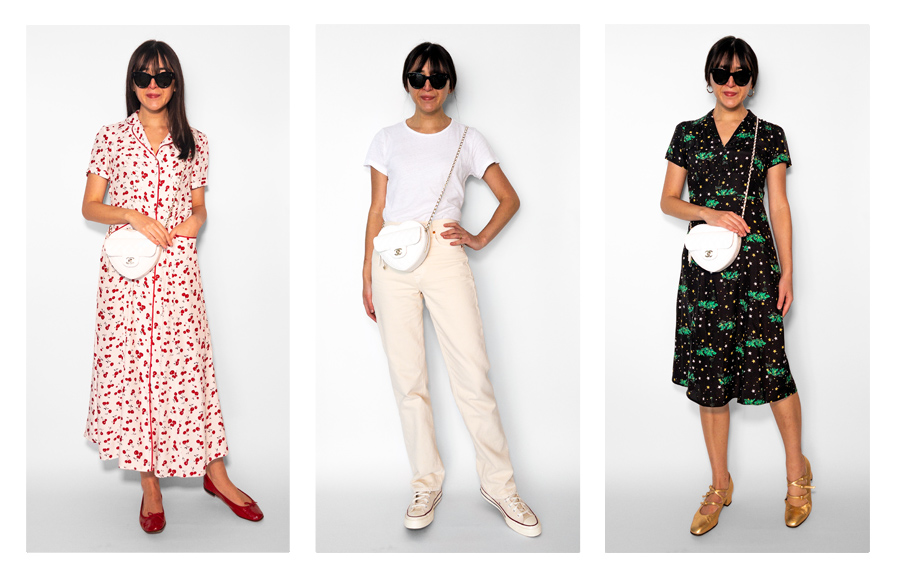 Left to Right: HVN Long Maria dress with Repetto Cendrillons; SLVRLAKE London jeans with a Re/Done t-shirt and Converse; HVN Morgan dress with Jennifer Fisher x Goop hoops and Carel Kina shoes.
---
You might also like…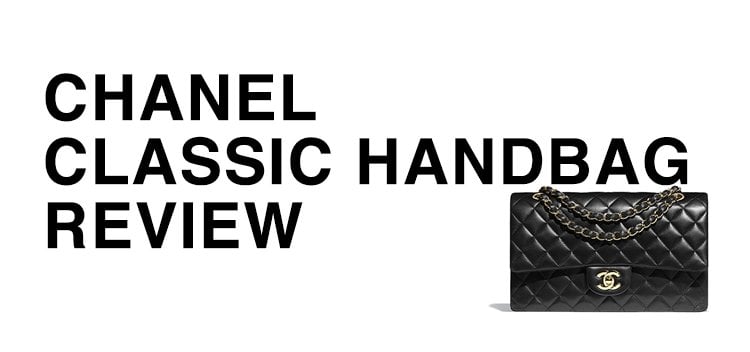 ---
Pros & Cons
Pros
I mean, it's a Chanel bag that's shaped like a heart (that is really cute and could appreciate in value over time even though Chanel put micro heart bag minaudieres on the 22FW runway (NB: in my opinion, bags should never be purchased as an "investment" though)).
Cons
Let me repeat myself, it's a Chanel bag that's shaped like a heart (that doesn't fit an iPhone Max and is honestly a little too expensive for something so cutesy).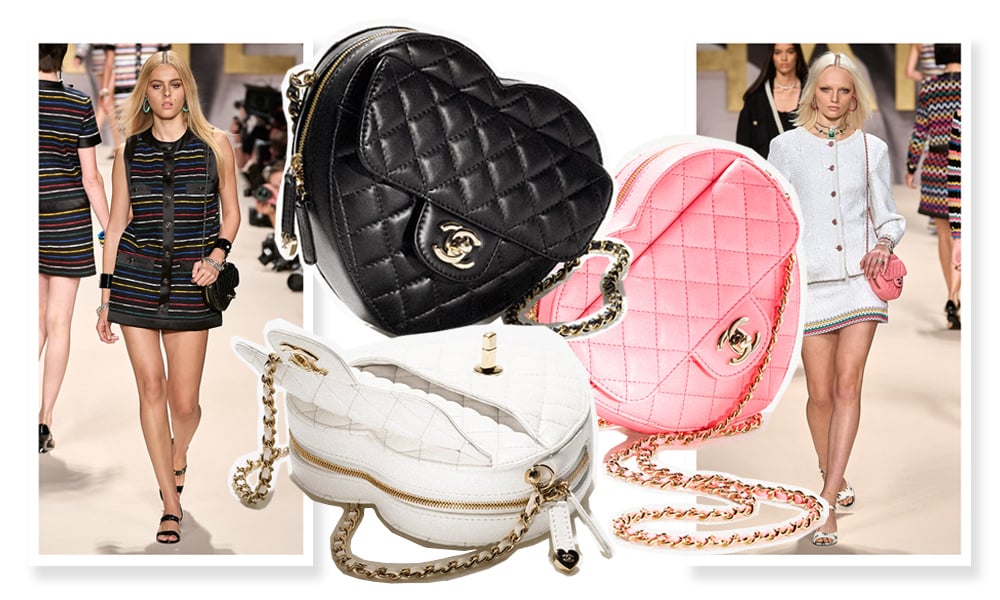 22S photos c/o Vogue and Chanel
---
"Make you do right
Love'll make you do wrong"
-Al Green, "Love and Happiness" (1972)
When I first saw this Chanel Heat Bag sashay down the Spring 2022 runway, it captured my heart and I knew I was going to do "wrong" as soon as I texted my SA to be put on a waitlist for it.
The thing is though, if your eyes are clear, your heart is full (for the bag), then you can't lose (or do wrong by being "irresponsible").
… and you should always follow your heart.
You can potentially find a Chanel Heart Bag from your closest Chanel boutique at a price of $5,500 USD.
Alternatively, here are some other adorable heart bags that'll fill your heart just as much…
Note: newinspired uses affiliate links which costs you nothing… but means a lot to me. When you use these links, the money newinspired earns gets reinvested in blog content. Absolutely nothing on newinspired is "gifted" or sponsored, I purchase each item with my own money. Affiliate commissions are used to purchase new items to honestly & thoroughly review. If you found this review helpful, consider using them to support newinspired.
---
You might also like…