These outfits are from the last 2 weeks ago. This past week I was a little lazy and didn't take any outfit photos — I'll do better this week, I promise!
Saturday: Stayed home all day, but went out for dinner in the evening with Cassandra and Caleb to L'Express.
Ugh, I love French food… from L'Express especially.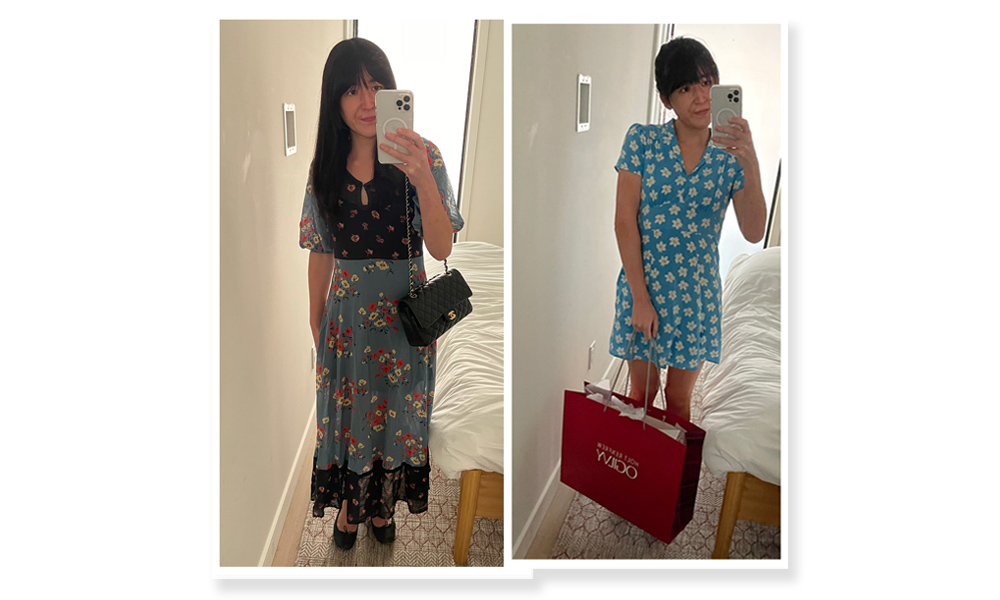 Saturday, left: Kate Moss x Topshop dress with Isabel Marant x H&M earrings (that you can't see), Repetto ballet flats, and a Chanel Classic Handbag; Sunday, right: HVN Mini Morgan dress with flip flops and a tote bag (that's not pictured).
This dress was (apparently) a Thea Porter inspired prototype for the first Kate Moss x Topshop line from 2007, at least according to the eBay seller I bought it from… it's a great Thea Porter knock-off either way.
Sunday: Breakfast with Cass, Sam, and Sam's two little daughters.
Crazy to think that my friends now have their own kids.
Brought her girls a few little gifts, because when I was little, I always appreciated it when my parent's friends thought of me and my sister and brought us a present — so it's fun to do that now for my friends and their children!
Need to mention this (sorry Cass!), Cassandra ordered blueberry pancakes and one of the blueberries somehow exploded on me. Luckily I got most of it out with a Tide To-Go pen, so this HVN dress can remain in rotation for any future breakfasts… but, I'm taking this opportunity to publicly call dibs on not sitting next to Cassandra if/when she orders blueberry pancakes at breakfast again.
Tuesday: Caleb and I had dinner at Park Restaurant in Westmount.
I'm allergic to all fish, so this could have been an ehhh experience for me.
… but the food was out of this world.
The sauce for the chicken gyoza was salty, spicy, and sour… basically everything that you want in an appetizer.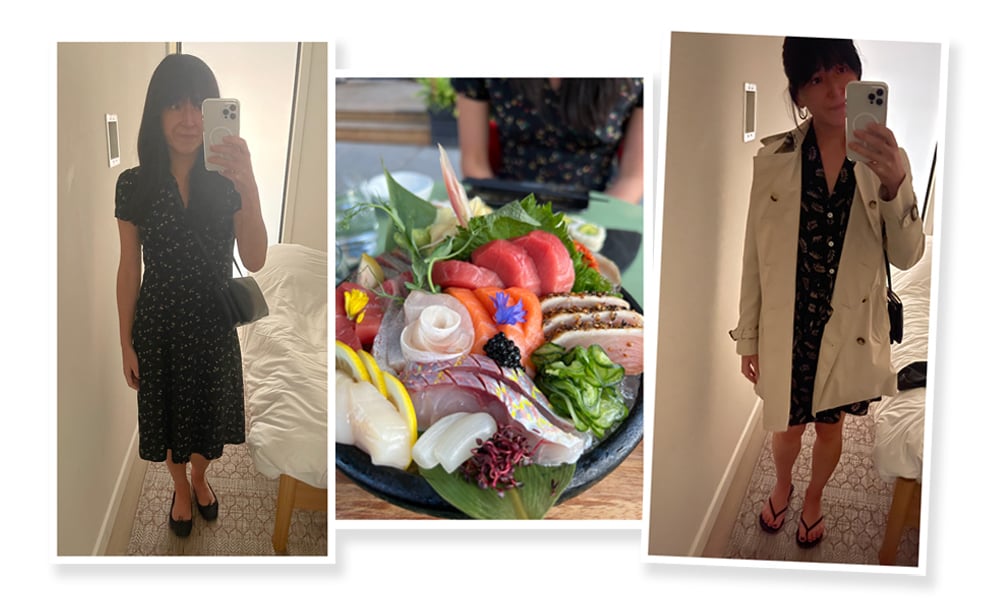 Tuesday, left: HVN Morgan dress with a Celine Small Trio and Repetto ballet flats; Middle: My husband's dinner; Thursday, right: My old trench coat with an HVN Mini Maria dress with a Celine Small Trio (tucked it under my jacket when I left the AirBnb), Jennifer Fisher x Goop hoops, and flip flops.
Caleb ordered, like, half the ocean and said that Park's sushi rivals sushi in Japan, while I say that the filet-mignon nigiri heavily rivals any non-fish nigiri I've had before (however I prefer the wagyu nigiri at Sushi Ran in Sausalito).
Thursday: Rained all day and most of the evening… went to Au Pied Du Cochon for dinner anyways, misjudged the weather, and was heavily annoyed that we didn't call a cab before leaving the AirBnb.
Despite the rain, dinner was as decadent as you would expect.
Wore flip flops because my Stan Smiths keep leaking in the rain…
---
What shoes do you wear when it rains in the summer?
Thinking this could make a solid What To Wear post…