I always wanted to be a Tenenbaum the type of "grown up" who effortlessly waltzes around wherever in high heels.
Hair that's never frizzy (ever!), sky-high heels that are (somehow) so easy to walk over subway grates in, and a chaotic, yet charming, cosmopolitan life — you know what I mean…
Basically, the type of woman that Carry Bradshaw told us we might be.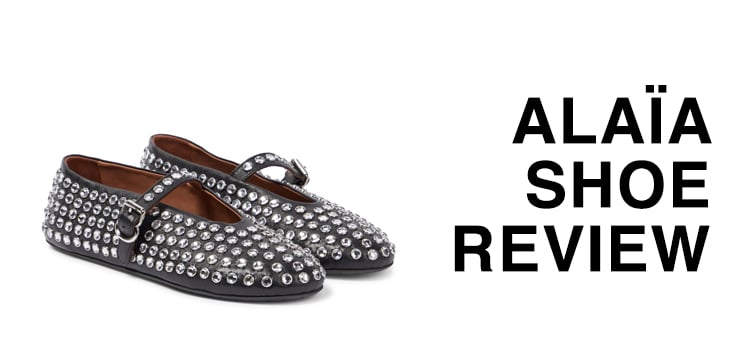 If we're being honest, the hair thing and city life are negligible to me at this point.
The shoes?
The thing is, my closet is loaded with high heels, so at this point, it's a choice — I always seem to revert to flats.
Lately though, I've been worrying if my ballet flats at night thing has been falling, well, flat.
After these crystal strass Alaïa flats though, I don't think they are…
---
Alaia Shoe Sizing
For comparison, my other shoe sizes run:
-Adidas Stan Smiths, US 8
–Chanel Shoes, FR 39
–Christian Louboutin, IT/EU 39.5
–Golden Goose, IT/EU 39
–Hermès, FR 39
–Isabel Marant, FR 39-40
-Miu Miu, IT/EU 39-39.5
-Prada Loafers, IT/EU 39
-Nikes, US 8.5
–Repetto, FR 39.5-40
My Alaïa Strass Ballerina Flat Mary Janes are a size IT/EU 39.5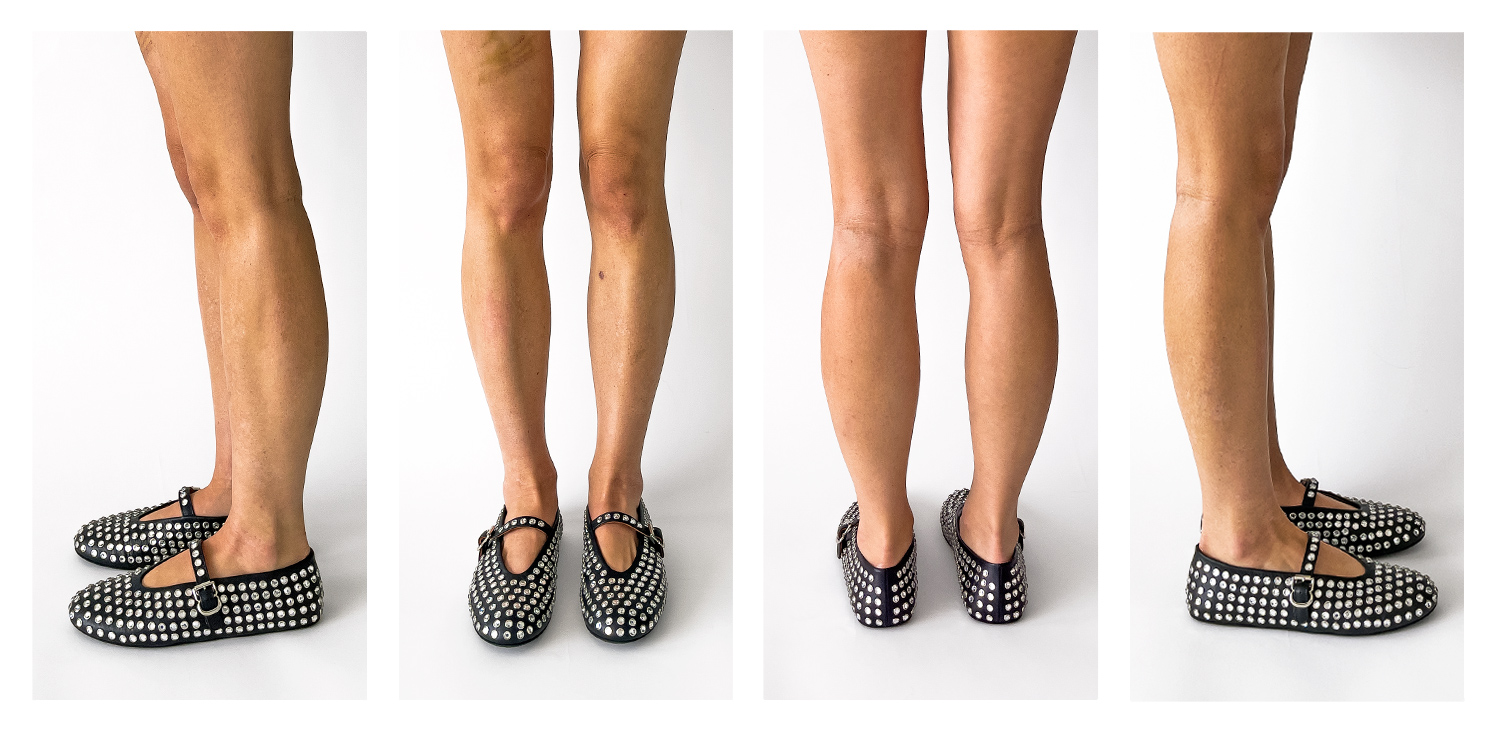 I may have been able to get away with a size 39.
… but, given my feet's propensity to blow up with even a grain of salt, a 39.5 is perfect.
For your pre-ramen life, the buckles allow you to tighten up the fit.
Post-salty food, you can easily let the buckles out.
In general though, no matter how loosely these Alaïa shoes are buckled, your feet won't fall out, since similar to Miu Miu flats, they have the strap across them to keep your foot secure.
---
Similar and Not Sold Out…
---
Impressions
These are the type of shoes that make me wonder why I even wake up at 2am riddled with anxiety that I'm not the high-heel wearing woman that I thought I'd be by 30.
Despite being barely off the ground, these Alaïa flats command all your attention.
To start, they're Mary-Janes — the penultimate subtly stylish "where'd you get those?" sort of shoe.
Then, they have a round toe with an a-line cut that's reminiscent of Japanese Okobo sandals.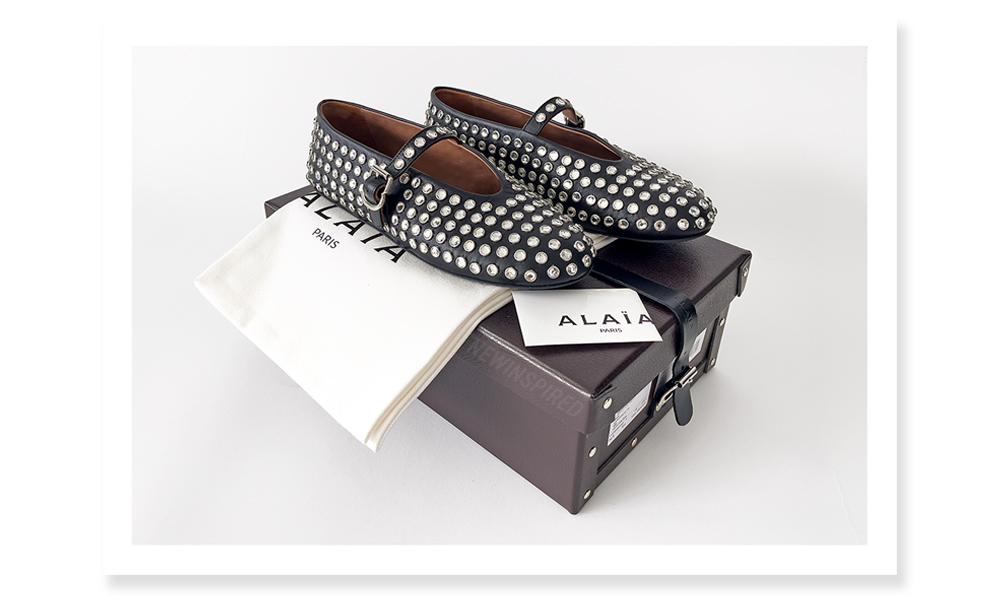 Even compared to a 3.3" glittery pair of Jimmy Choos, these strass laden Alaïa flats are the shiniest pair of shoes that'll make your heart swoon.
All this and they have a rubber sole that's perfect for realistically running from bar to bar bed (let's face it, it's 10:13pm and you're tired of being lit, or extra, or whatever the kids say).
I could go on about how easy these Alaïa ballet flats are to style, but a picture says a thousand words — so, three should get the point across…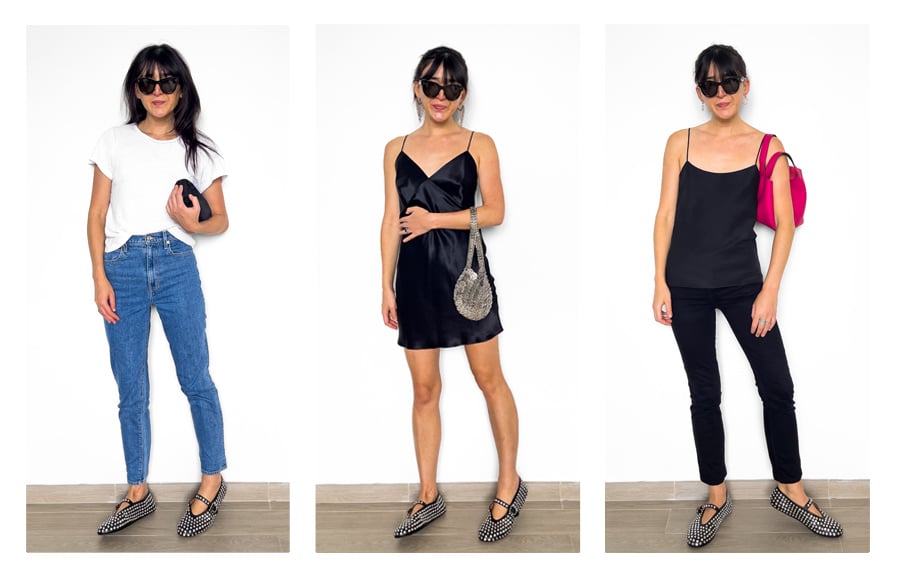 Left to Right: Re/Done x Hanes t-shirt with SLVRLAKE jeans and a Marc Jacobs clutch; Olivia Von Halle slip dress with a David Yurman ring, Isabel Marant earrings, and a Paco Rabanne 1969 Moon Bag; The Row cami with Rag & Bone cigarette jeans, Isabel Marant Nirvana earrings, an assortment of rings, and an Hermès Picotin 18.
---
Pros & Cons
Pros
–Shoe box: With the belted closure, it's even cooler than these shoes.
–Rubber sole: No slippin' or slidin' with this extra grip!
–Beautiful: I mean…
–Stunning: They're gorgeous.
–… no, you don't understand: This is an Alaïa (pair of shoes).
Cons
–Glue: There's some rogue glue around the grommets, but nothing to severely complain about.
---
It doesn't matter what kind of woman you thought (or think!) you should've been by a certain age.
Throw out the DVD box sets, tear up your antiquated magazine mood boards, and for the love of Kate Moss, stop worrying what other people think.
We all have these fantasies, ideas, and projections about what being in your 30's is supposed to look like.
It's about embracing who you are today.
… and if that means that you're shimmering into a room in a pair of sparkling Alaïa flats, then all the better for you.
Note: newinspired uses affiliate links which costs you nothing… but means a lot to me. When you use these links, the money newinspired earns gets reinvested in blog content. Absolutely nothing on newinspired is "gifted" or sponsored, I purchase each item with my own money. Affiliate commissions are used to purchase new items to honestly & thoroughly review. If you found this review helpful, consider using them to support newinspired.
---
You might also like…