Hermès Oran sandals… where to start?
There's the iconic "H" cut-out across the top that makes a dodgy tan line so worth it…
There's that smell of new Italian leather that could get you drunker than a bottle of grappa…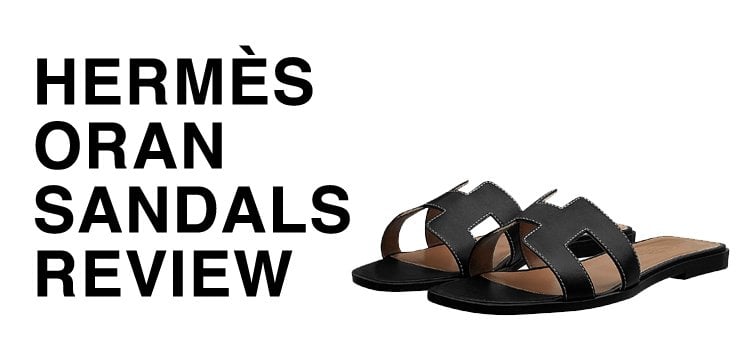 There are all those articles about how they're the "#1 shoe" to wear this summer, every summer…
There are all those reasons and justifications like "…but it's an investment!"
… but if you're reading this it's too late.

You all ready know how dreamy they are.
So let's start with my firsthand experience with Hermès Oran sandals…
HERMÈS ORAN SANDALS REVIEW
HERMÈS ORAN SIZING
I purchased my Hermès Orans in a size FR 39.
Hermès Oran sandals are true to French size. For reference, my standard shoe size is an FR 39 in Isabel Marant, Chanel, or K Jacques. My Manolo Blahnik BBs are a size 39 as well. In Repetto flats or Christian Louboutin heels, I take a FR 39.5.
For American shoes, I'm a size US 8.5 in Nike running shoes and my Adidas Stan Smiths are a US 8.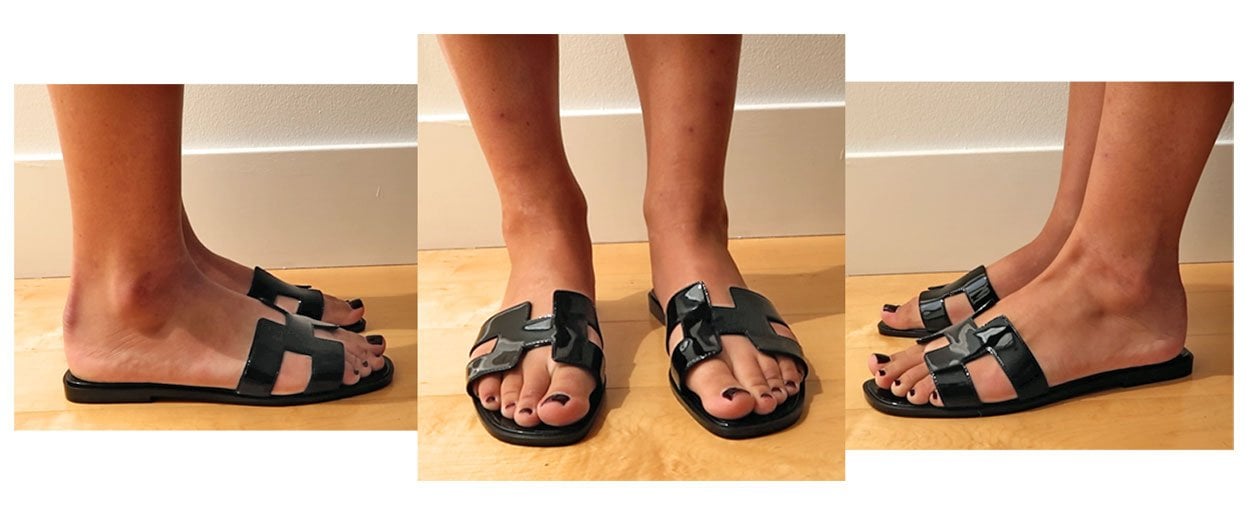 As you can see above, my heel comes right to the slides' end, which (obviously) means that they are indeed a perfect fit.
Hermès Oran sandals come in half sizes, but I stuck to my tried and true FR 39. The sales associate told me that they run a half size small, but after trying on a 39.5 vs 39, I do not believe that's true… perhaps she meant they're a half size smaller than American shoe sizes.
The toe box to the end of the heel of the Oran sandal measures 25.2 cm or 9.9 inches.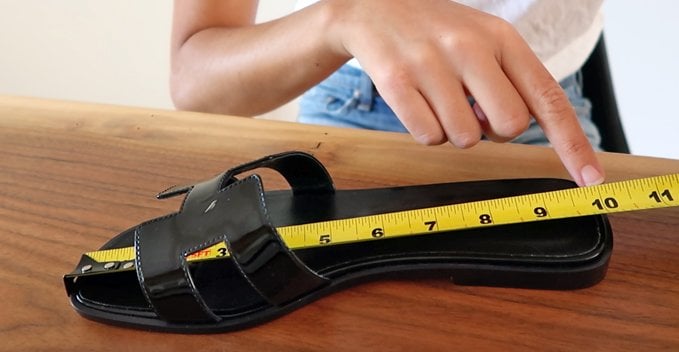 For comparison, the tip of my big toe to the end of my heel measures (roughly) 24.75 cm or 9.75 inches.
Because Hermès Orans are slide sandals, you do not need to adjust your size due to different types of leather. Your main concern should be if your foot reaches either end of the shoe.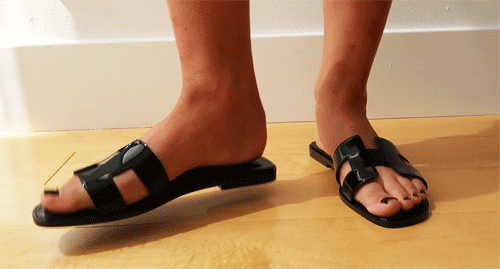 My Orans are in patent leather. I tried on a pair in regular leather and found that patent was the lightest pinch tighter. With that said, I still took a FR 39 in regular vs. patent.
YOU MIGHT ALSO BE INTERESTED IN…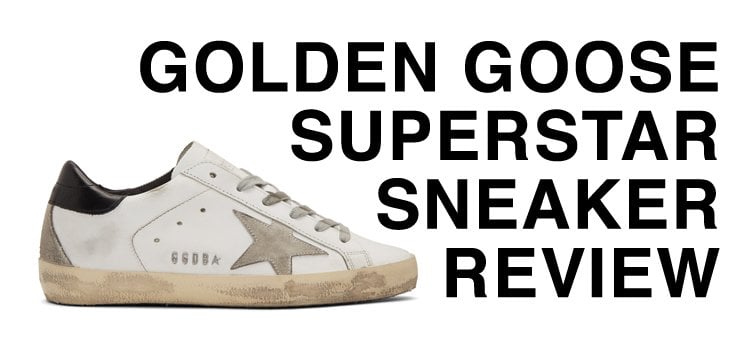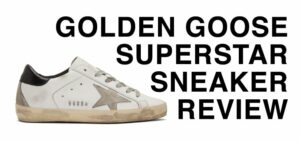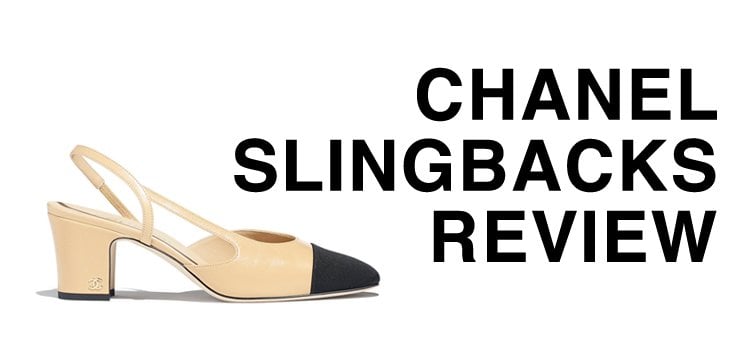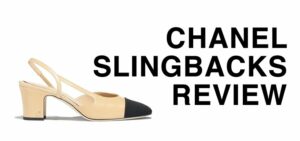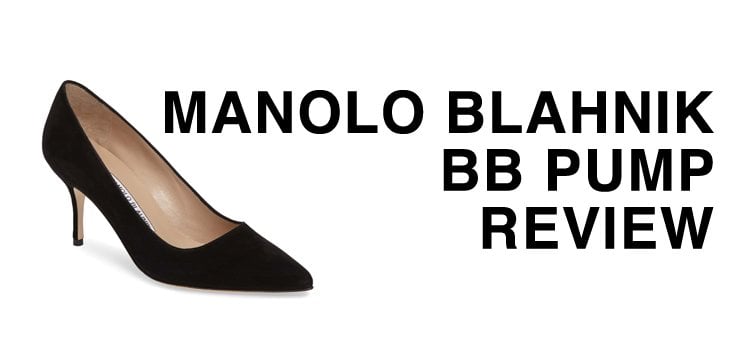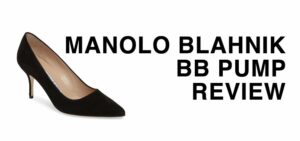 ---
WALKABILITY & COMFORT
Question: Is it weird to put a pair of Hermès sandals on a kitchen scale?
Answer: idk, but I did it anyways.
Hermès Oran sandals weigh 380 grams or 0.83 pounds, vs. a pair of Havaiana rubber slim flip flops which weigh 245 grams or 0.54 pounds.
At less than a pound, the Orans are relatively light. You don't have to worry about feeling weighed down when you wear them.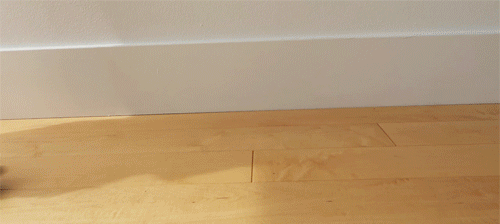 As for walking, they do not have arch support, so long distance walks are not ideal. They are essentially flat sandals with a 0.6 cm or 0.25 inch heel. For moderate walks (>1 mile), they're relatively comfortable.
I haven't experienced any problems with them sliding off while I walk, but I have experienced blisters on the top of my big toe and the side of my foot.
---
HERMÈS ORAN PRICE
Purchased in California, my Oran sandals were $680 USD plus tax. California state tax is 9%, so the total was $741.30 USD.
It could be worth planning this purchase around upcoming travel plans. If you purchase them in a state with lower sales tax, you will, uhhh, save money (duh). If you purchase them in Europe, you will save money by getting your VAT back.
While Hermès Oran sandals have a high price tag, they are worth it.
In any colour or leather you choose, they're a classic.
The "H" cut-out is subtle enough to be slightly in the know-esque. It isn't "in your total face" logomania.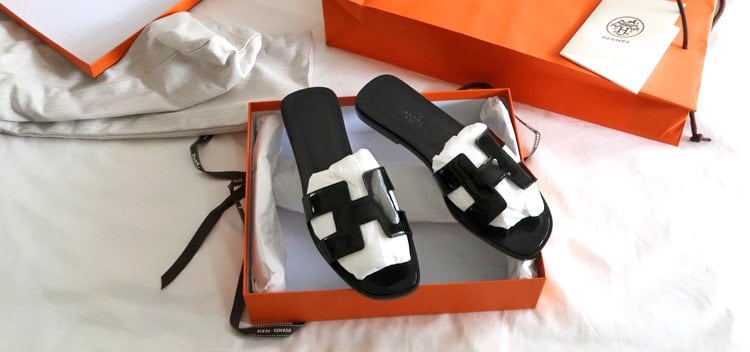 When I think about how much I wear my Chanel ballet flats and how after 10 years I continue to love them as much as the day I bought them, I know the Orans will be the same story.
… and then I think about luxury price increases.
In 2008, Chanel flats were $550 USD vs. $750 USD today, i.e. they've risen by 36%.
In 2008, Oran sandals were $495 USD vs. $680 USD today, i.e. they've risen by 37%.
Price hikes are an unfortunate reality when it comes to luxury shopping. It's better to buy classic luxury items sooner rather than later.
Sometimes folks list their Hermès Orans on Vestiaire Collective or the Real Real.
You can generally find them for less than retail on either of those sites — just make sure that you're totally comfortable that they're authentic first.
While Hermès Orans are worth it…
Here are a few slide sandals that look super similar…
---
HOW I CHOSE WHICH COLOUR TO GET
Initially, I was torn between white or black Orans.
Like clothes, it's important to know what flatters your feet. The white Oran sandals didn't look good on my feet. My feet can bloat badly and generally look shapeless. The white leather did not help them look slimmer.
The "classic" black leather Orans with ecru stitching were beautiful in person, but then I found out that they were available in black patent leather with black stitching…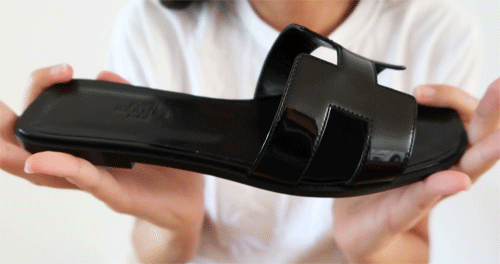 Hermès Oran's black patent leather looks like it was dipped in the shiniest and darkest black nail polish. It's like a glossy piece of black licorice that you can't wait to sink your teeth into… even if you hate black licorice.
Patent leather can be more non-chalant and rock & roll-esque — remember how Kate Moss always wore patent black flats while running around Primrose Hill in 2005?. The shiny leather elevates a casual outfit like a denim shorts & white t-shirt combination, i.e. my uniform.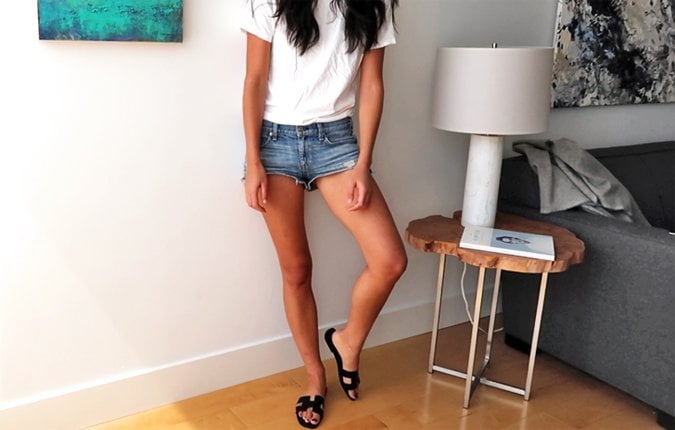 The patent leather ensures a light edge for my current younger years and will still work in 10 years from now.
Not only do they pull my schlubby outfits together, but they also (literally) pull my feet together more than the pair of black regular leather did due to the stiffer nature of patent leather.
All this to say, when the sales associate pulled out the pair of black patent Orans, I was sold… however if she had a leopard print pair, who knows what would have happened.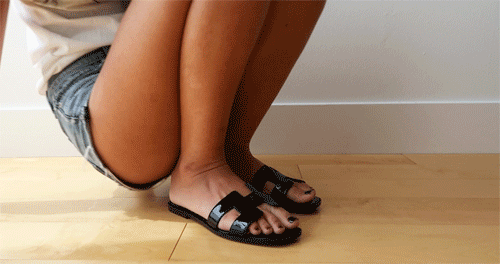 If you love fun colours, don't be afraid to get them. Like Chanel ballet flats, Hermès Oran sandals are available in seasonal colours along with the classics. This means that next season they might not have that colour that you're obsessed with. If you're obsessed with a "non traditional colour," then remember Drake's ever immortal word: YOLO.
---
QUALITY
You worked too hard for that $680 USD to let these slides stay in the box.
Wear them.
Wear them a lot.
Wear them with some caution… but wear them a lot.
With the high price tag comes high quality. These aren't shoes that'll fall apart after one wear. You don't need to be totally precious with them.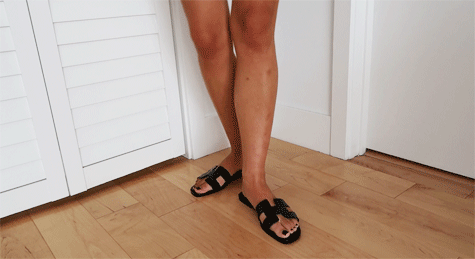 At the same time, while a beat up luxe look is cute, you don't want to run the risk of making them totally unwearable.
Exercise the same caution as you would with regular leather sandals (i.e. they're not waterproof). But keep in mind that the leather won't lose its lustre and the leather soles won't totally break after a few wears… however, if you want to be super careful, you can always get a quality cobbler to add a rubber sole to be safe.
---
PROS & CONS
Pros
–Classic
–Slide On: Apart from rubber flip flops, they have to be the easiest shoe to get on and off.
–Available in Half Sizes: If you're in between sizing and hate that whole "size up for half sizes" thing then you're in luck. Hermès Orans are available in half sizes!
Cons
–Could Be Dodgy Based On Your Feet/Legs: My right leg lightly bends in. I wouldn't say I'm "bow legged," but my legs are slightly not normal. Due to this, the Hermès Orans do not line up perfectly with my right foot. It's safer to try these shoes on in store before you purchase… but this still wasn't enough of a negative to not buy them.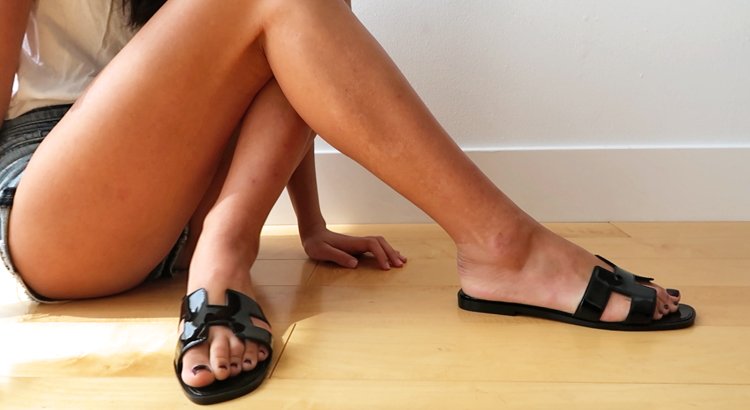 ---
So yeah, there are all those lists and reasons about why you should buy Hermès Oran sandals.
… but the real reason why you should?
Because you love them and will love them for years to come…
I know I love them and will love them for years to come.
Hermès Oran sandals are available from $680 USD on hermes.com or at an Hermès boutique.
If you feel comfortable that they're authentic, you can also save a bit of money by buying these classic sandals on the Real Real.
Feel free to drop me a line in the comments below with any questions!
---
---
Note: newinspired uses affiliate links which costs you nothing… but means a lot to me. When you use these links, the money newinspired earns gets reinvested in blog content. Absolutely nothing on newinspired is "gifted," I purchase each item with my own money. Affiliate commissions are used to purchase new items to honestly & thoroughly review. If you found this review helpful, consider using them to support newinspired.
---
YOU MIGHT ALSO BE INTERESTED IN…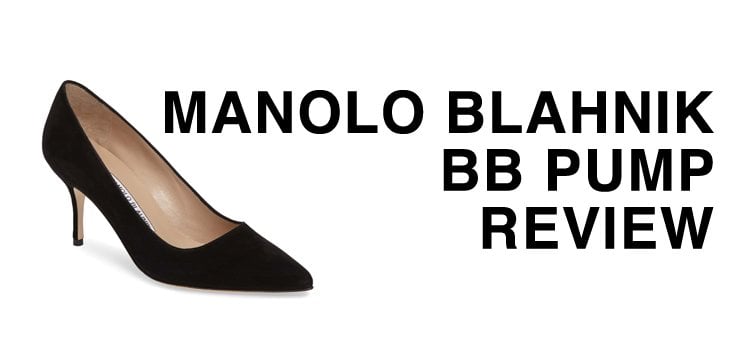 TIPS
-Take your true FR size.
-If you love fun colours, get them… don't be unnecessarily bound by "classic" colours.
-Hermès does phone orders, but keep in mind their return policy is exchanges or store credit only.
Hermès Oran Sandals Review
Adaptability

Comfort

Durability
Details
Adaptability:
Hermès Oran sandals go with anything and everything. You can dress them up or down and they'll fit in anywhere seamlessly.
Comfort:
Super comfortable, but if you need arch support, these shoes might not be the best for you.
Durability:
The Orans are super high quality and will hold up overtime, however they have a leather sole. If you want to make them extra durable, get them resoled by a cobbler with a rubber sole.