It took me 3 years to make my Adidas Stan Smith sneakers look loved (read: distressed).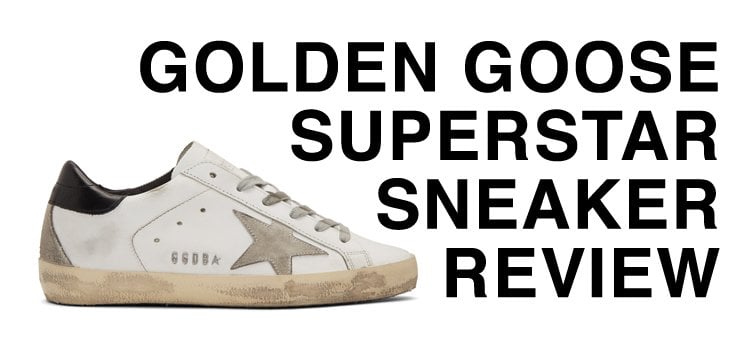 Whereas it took 3 days to get my order and 3 seconds to take my Golden Goose sneakers out of the box and have them look already loved (hint: they're pre-distressed).
… but without those 3 years of loving & wearing, do I still love these sneakers?
---
Golden Goose Sneaker Sizing
For comparison, my other shoe sizes run:
-Adidas Stan Smiths, US 8
–Chanel Shoes, FR 39
–Christian Louboutin, IT/EU 39.5
–Golden Goose, IT/EU 39
–Hermès, FR 39
–Isabel Marant, FR 39-40
-Nikes, US 8.5
–Repetto, FR 39.5-40
My Golden Goose Superstar Sneakers are a size IT 39 and fit me perfectly with a thin sock.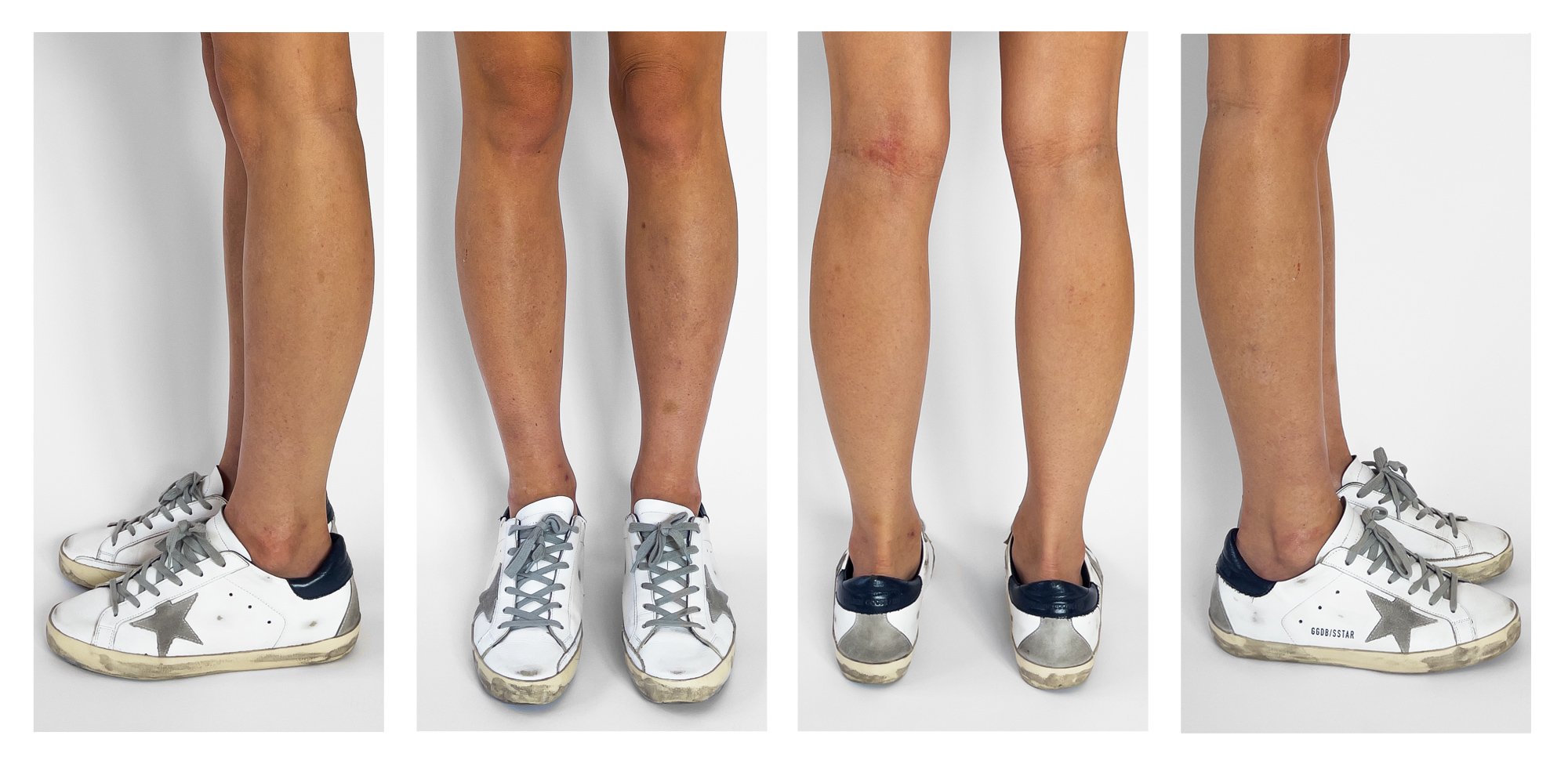 Golden Goose Superstar sneakers run true to European/French size.
… and an older sizing photo for posterity.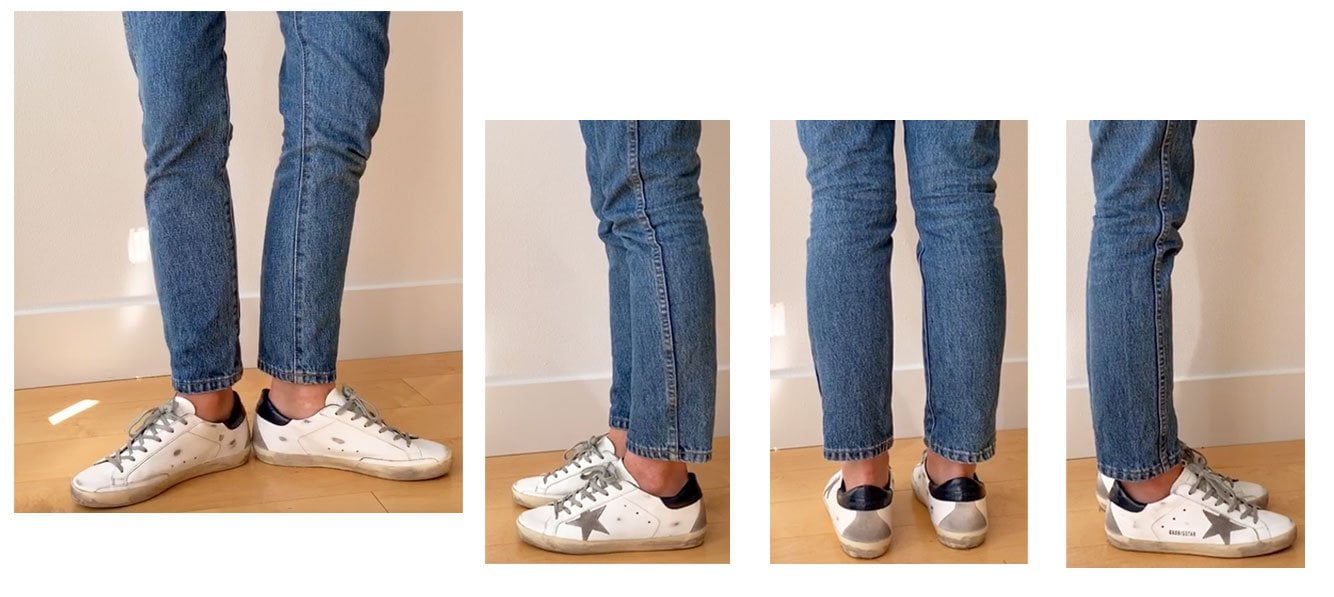 ---
Golden Goose Superstar Sneakers, Comfort, and You
Here's the #1 thing that retailers don't tell you: the Superstar sneakers have a hidden wedge.
The hidden wedge inside is ~1.25".
This is a good thing if you want a little extra height or the support that a wedge can offer….

The wedge heel is comfortable to walk in. It's also removable, so you can easily swap it out for a flat one from Dr. Scholl's if you'd prefer.
The backs of these sneakers have a little cushion, which stops them from digging into the back of your ankle (for what it's worth, the back of Stan Smiths dig into the back of my ankles).
Golden Goose Superstar Sneakers weigh 654 grams or 1.44 lbs vs. Adidas Stan Smiths weigh 649 grams or 1.43 lbs… basically, they're super light for sneakers.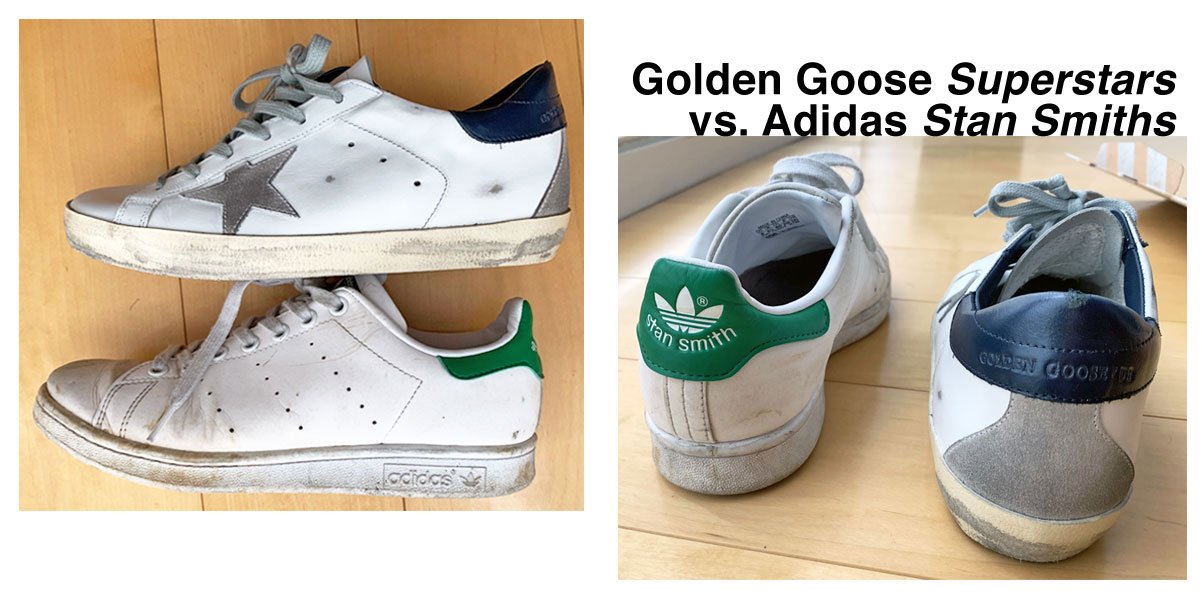 My Golden Goose Superstar sneakers didn't require any break in time because they are all ready pre-distressed.
They are perfectly comfortable to walk in straight out of the box.
---
Wait, These Dirty Sneakers are $495?? What???
To be fair, you can ask that question about anything in the luxury world.
Chanel's version of Stan Smiths are $850. Gucci's version, the Ace, start at $580 and go up to $1250. Saint Laurent's, the Court Classic, are $595.
Golden Goose's sneakers are handmade in Italy.
Those scuffs? Also handmade…
Does that justify the price? Well, only you can decide that.
The only issue I have with how distressed these shoes are is that they tend to wear out a bit fast.
For instance, the sole is lightly scuffed near the heel. That makes them more comfortable to walk in, but it also encourages them to become more worn quicker.
---
How To Wear Golden Goose Sneakers
Like most sneakers, Golden Goose Superstars are incredibly easy to wear…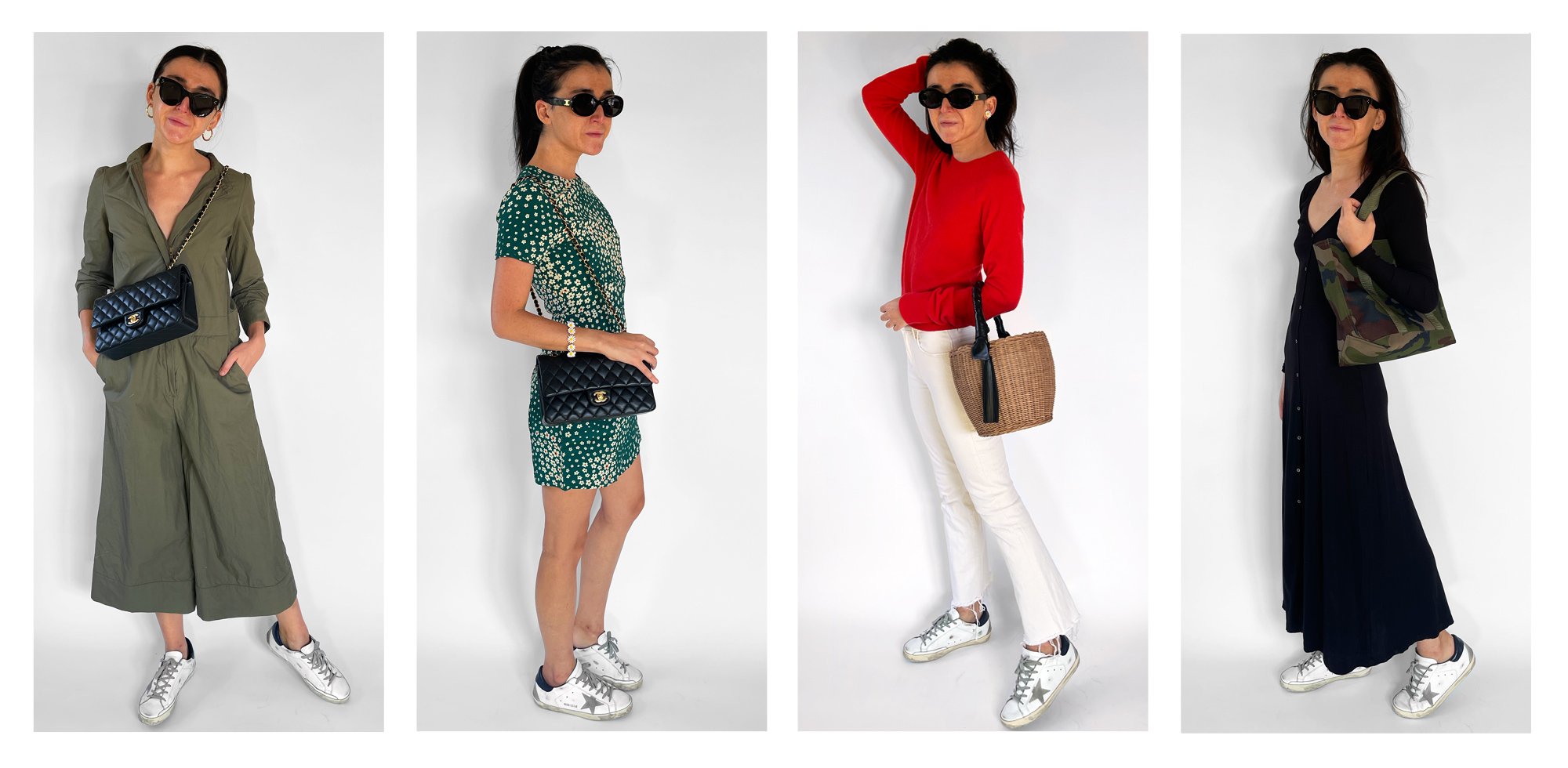 Left to Right: G. Label jumpsuit with Jennifer Fisher x Goop hoops, Celine sunglasses, and a Chanel Classic Handbag; RVCA x Camille Rowe dress with a Jenny Walton Daisy bracelet, Celine sunglasses, and a Chanel Classic Handbag; Kate Moss x Equipment sweater with MOTHER jeans, Celine sunglasses, Jenny Walton Daisy earrings, and a Saint Laurent basket bag; James Perse cardigan dress with a Lands End tote, and Celine sunglasses.
From jeans to maxi dresses, there's something about them (read: the price tag) that make any outfit feel that much more Hamptons-y.
… and as seen on my Instagram.
---
PROS & CONS
Pros
–Wedge Heel: Isabel Marant Bobby sneakers were my jam in 2013, but a totally not obvious wedge? Reallllllly into it. They elongate the leg without anyone being wiser.
–No-to-Small Break-in Period: Basically no blisters right off the bat.
–No Need to Worry About Scuffing up: … because they're already destroyed! OK, but seriously, you don't have to worry about mucking them up too much.
Cons
–Standard Small Socks Show: Yeah a little sock might show. You just need to get a smaller pair.
---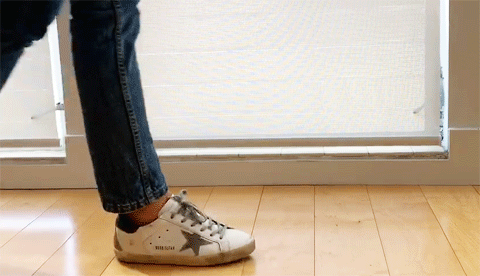 My Adidas Stan Smiths are loaded with memories; "oh that scuff is from when I fell off a chair dancing," or "yeah I dinged the toe when I tripped on the sidewalk, because I was busy watching James Murphy crossing the street…"
Golden Goose Superstar sneakers come pre-distressed, but that doesn't mean I'm not gonna fill them with new memories.
Golden Goose sneakers are available from a lot of retailers, including Bergdorf Goodman, FWRD, Intermix, MyTheresa, Neiman Marcus, Net-a-Porter, Nordstrom, Revolve, Shopbop, and SSENSE from $495 USD.
Note: newinspired uses affiliate links which costs you nothing… but means a lot to me. When you use these links, the money newinspired earns gets reinvested in blog content. Absolutely nothing on newinspired is "gifted" or sponsored, I purchase each item with my own money. Affiliate commissions are used to purchase new items to honestly & thoroughly review. If you found this review helpful, consider using them to support newinspired.
---
How To Get Golden Goose Sneakers On Sale
… like, always on sale – no matter what.