Right now ballet flats seem to be a "new" trend for fashion magazines to cover.
… namely Miu Miu ballet flats.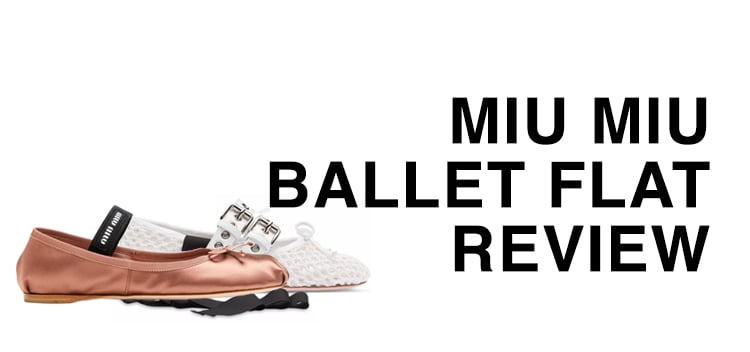 There's something about Miu Miu's (relatively) "ground breaking" micro skirts that launched hundreds (OK, that's a hyperbole) of articles about the item they were paired with:
They aren't the then-classic Miu Miu flats that personified an alternate version of Avril Lavigne's "Sk8er Boi" where, in this story, the punk and ballerina broke the "status quo", fell in love, and had a baby together, thus making the leather Miu Miu ballet flats with faux-punk buckled straps across the foot…
These Miu Miu ballerinas are a simple pair made from satin with an elastic strap with a Miu Miu logo embroidered across the top of your foot.
Miu Miu ballet flats have been on my "to-review" list for over 3 years now…
These articles, as inane as they are, were enough to finally make me break down and order two pairs…
The pair I really admire (the pair with leather straps) and the ones these frivolous fashion magazines keep writing about (the pair that strutted down the runway).
If those ridiculous articles (ballet flats are absolutely not a "trend") also got to you, here's what you need to know about both pairs of Miu Miu ballet flats.
---
Miu Miu Ballet Flat Sizing
For comparison, my other shoe sizes run:
-Adidas Stan Smiths, US 8
–Chanel Shoes, FR 39
–Christian Louboutin, IT/EU 39.5
–Golden Goose, IT/EU 39
–Hermès, FR 39
–Isabel Marant, FR 39-40
-Nikes, US 8.5
–Prada, 39-39.5
–Repetto, FR 39.5-40
Let's get into it…
My Miu Miu Satin Bow Ballerina Flats, in Cacao, are a size IT/EU 39.5.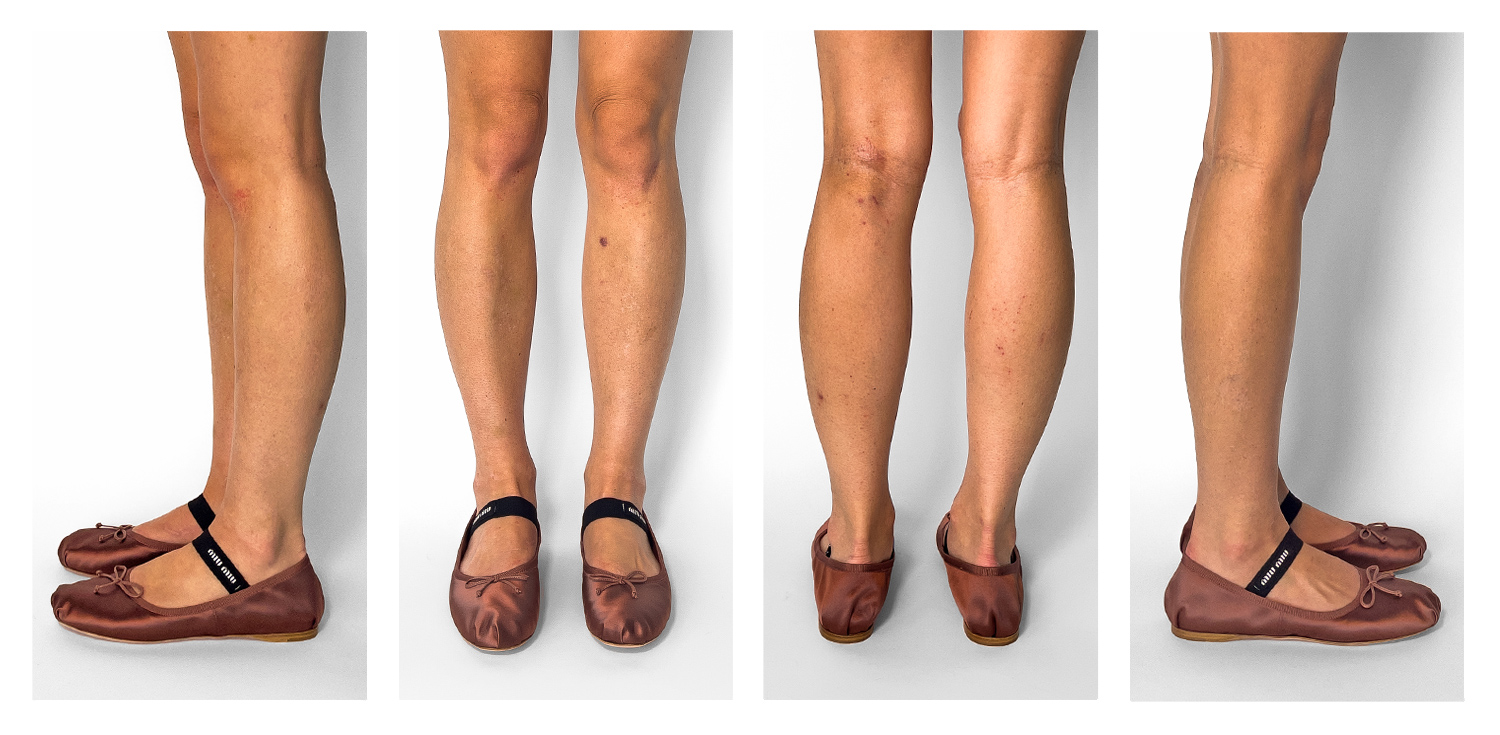 Miu Miu ballet flats are best for folks with slimmer feet.
My feet aren't "wide," but aren't entirely regular either…
In a 39.5 my foot definitely feels tight in the toe box.
The elastic bands on these Miu Miu flats across the foot bridge are not removable (I thought they were).
… and the elastic straps kind of feel weird on your feet, because they go inside of the shoe.
I'd recommend taking a half size up, especially if you have a tennis micro skort handy and want to recreate Miu Miu's runway look with socks.
… but, I dropped out of jazz ballet class when I was 4, so I really don't know if you should wear socks with your ballet flats tbh.
To compare sizing, I also got a pair of Miu Miu Ballerinas, white macrame, with belts in a IT/EU 39.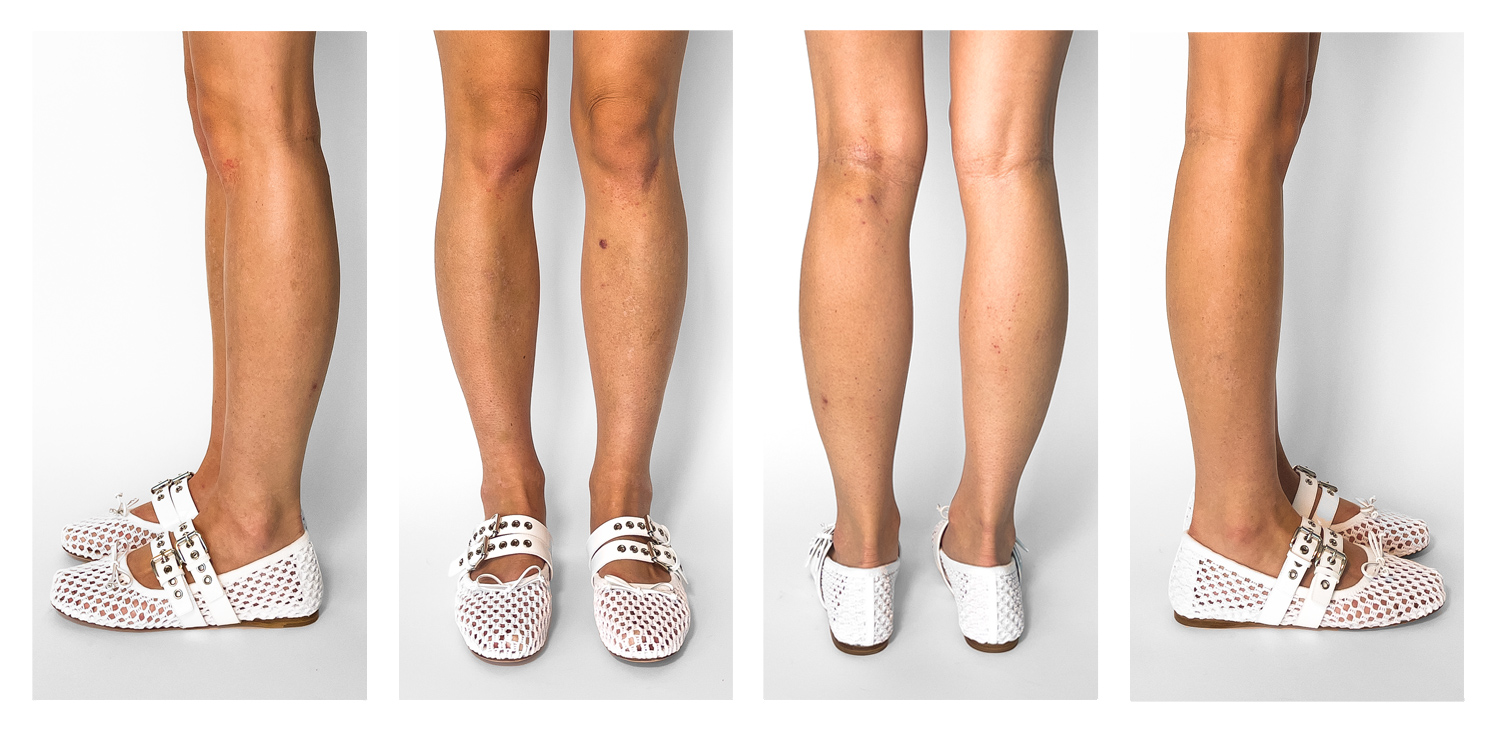 In a IT/EU 39, they're definitely tight all around (not just the toe box), and again, they're pretty narrow.
… and they aren't like Chanel ballet flats that come in a wider size.
You can adjust the buckles to make them a little more accommodating to wider feet, but they will still leave a mark on your feet after wearing.
---
You Might Also Be Into…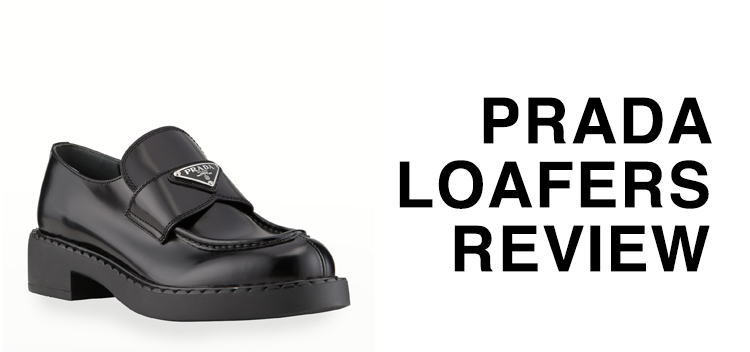 ---
Ballet Flat Breakdown
Let's put these Miu Miu ballerinas to a "pseudo-scientific lab report" analysis!
For the sake of fun, this ballet flat quality series is called the "Ballet Flat Breakdown," because I'm gonna breakdown everything you would wanna know about these ballet flats.
Note: These are my opinions, yours could differ.
1- Heel Height
Just shy of 1cm at 8.0mm.
2-Soles
Leather with a wooden mini heel à la Chanel ballerinas.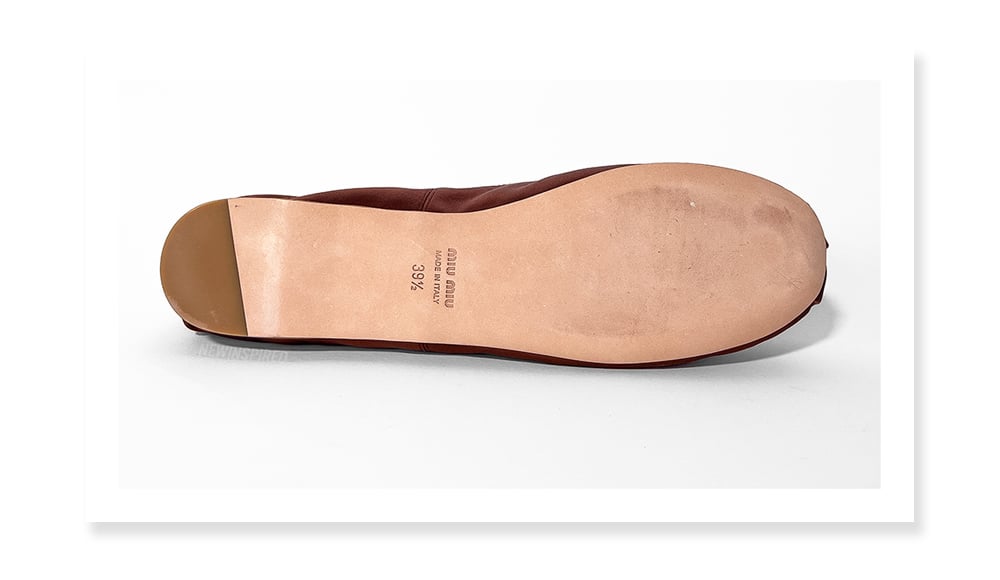 3-Adjustable Bow
Nope, on either pair, they're strictly ornamental.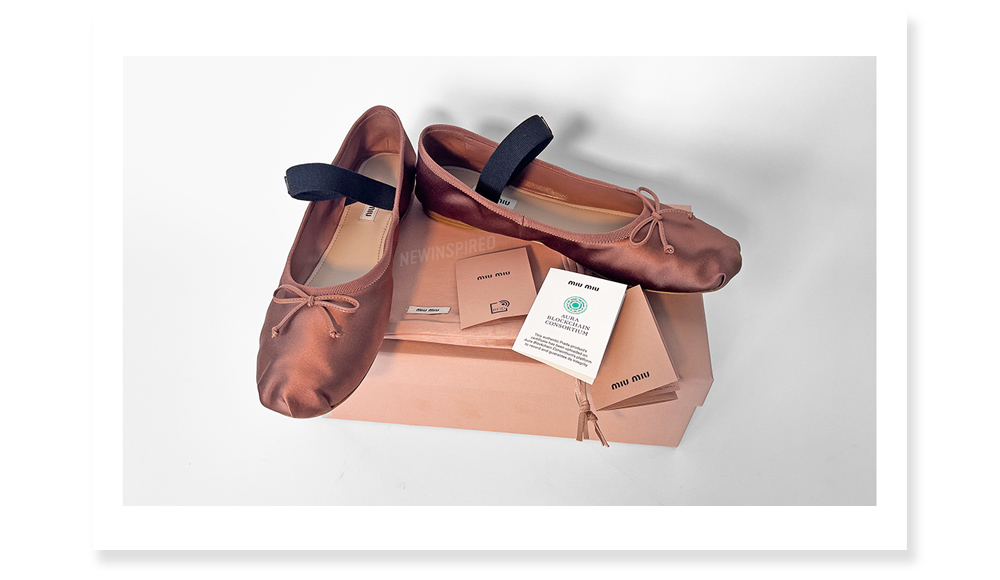 The elastic strap (or leather belts on the belted pair) do the heavy lifting of keeping your foot in the shoe.
4-Toe Cleavage
The prudest ballet flat there ever was…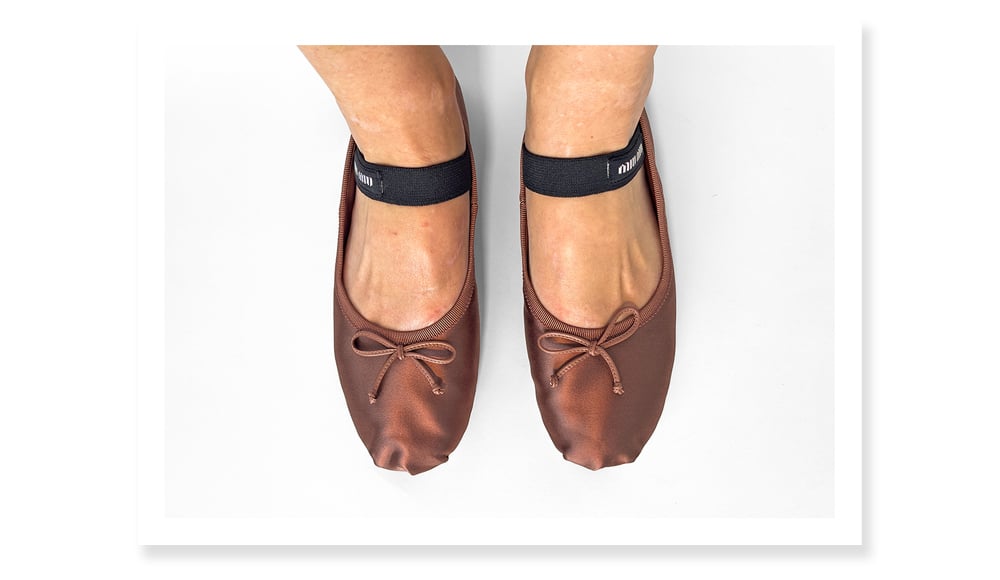 … not even a hint of cleavage.
5- Are They Comfortable or Not?
Not entirely.
When you stack up Miu Miu flats against a pair of Margaux or Chanel ballet flats, they are not nearly as comfortable and leave marks on the top of your toe area.
---
Pros & Cons
Pros
–Two ribbons of each colour: OK, I clearly like the Miu Miu flats with buckles and straps more than the elastic one. If you do too, rest easy in knowing that they come with each colour of ribbons if you don't want to mix and match (like me).
–Different: To be fair, the non-detachable elastic strap and leather straps do add a new perspective to the traditional ballet flat.
Cons
–Satin stains easily: I would not recommend wearing easily stainable satin ballet flats on a daily basis — one side all ready has a stain and I haven't worn them outside the house.
–Fit: Not amazing and, like, they really need a .25 size given that a half size up is much longer yet still tight in the toe box, while a size down is too tight… and that poor fit is an especially big "con" when you take the $950 USD price into consideration.
–Cost: $25 USD more than a pair of Chanel flats… but 100X trendier.
---
The thing is, all these articles that write about ballet flats being the trend of the season are all…
Bogus… baloney… bull… make believe.
Basically, any other word related to bogus that's made up to sell a pair of expensive designer ballet flats.
Buy whatever ballet flat you love the most.
… and just jeté all those articles that say ballet flats are a "new" trend.
Miu Miu ballet flats are available from Bergdorf Goodman, Cettire, Farfetch, Neiman Marcus, and Nordstrom from $950 USD.
Note: newinspired uses affiliate links which costs you nothing… but means a lot to me. When you use these links, the money newinspired earns gets reinvested in blog content. Absolutely nothing on newinspired is "gifted" or sponsored, I purchase each item with my own money. Affiliate commissions are used to purchase new items to honestly & thoroughly review. If you found this review helpful, consider using them to support newinspired.
---
How to Always Get Miu Miu Shoes On Sale…
I saved 10% on my Miu Miu flats, because I bought them via Bergdorf Goodman when cashback was at 10%…
Here's how you can too.