First impression: it's short.
Second impression: it's really short.
Third impression: it's perfect.
Their description of the skirt?
Very stiff canvas that wears in over time. Very short cut, slightly flared. High waist.

A.P.C. clothing is generally pretty "1970's Kindergarten teacher-esque."
… so I didn't think it'd actually be "very short cut…"
---
A.P.C. SKIRT SIZING
For reference's sake, I'm 5'5.75" and weigh 115-117 lbs.
My sizes run below:
–Réalisation Par, XS or S
–Rouje, FR 34-36
–Reformation, US 2 or S
–ALEXACHUNG, UK 8
-Re/Done jeans & Reformation jeans, 25
My A.P.C. denim mini skirt is a size FR 36.
For normal A.P.C. dresses & tops, I'm more comfortable in an FR 38. For A.P.C. jeans, I take a size 26.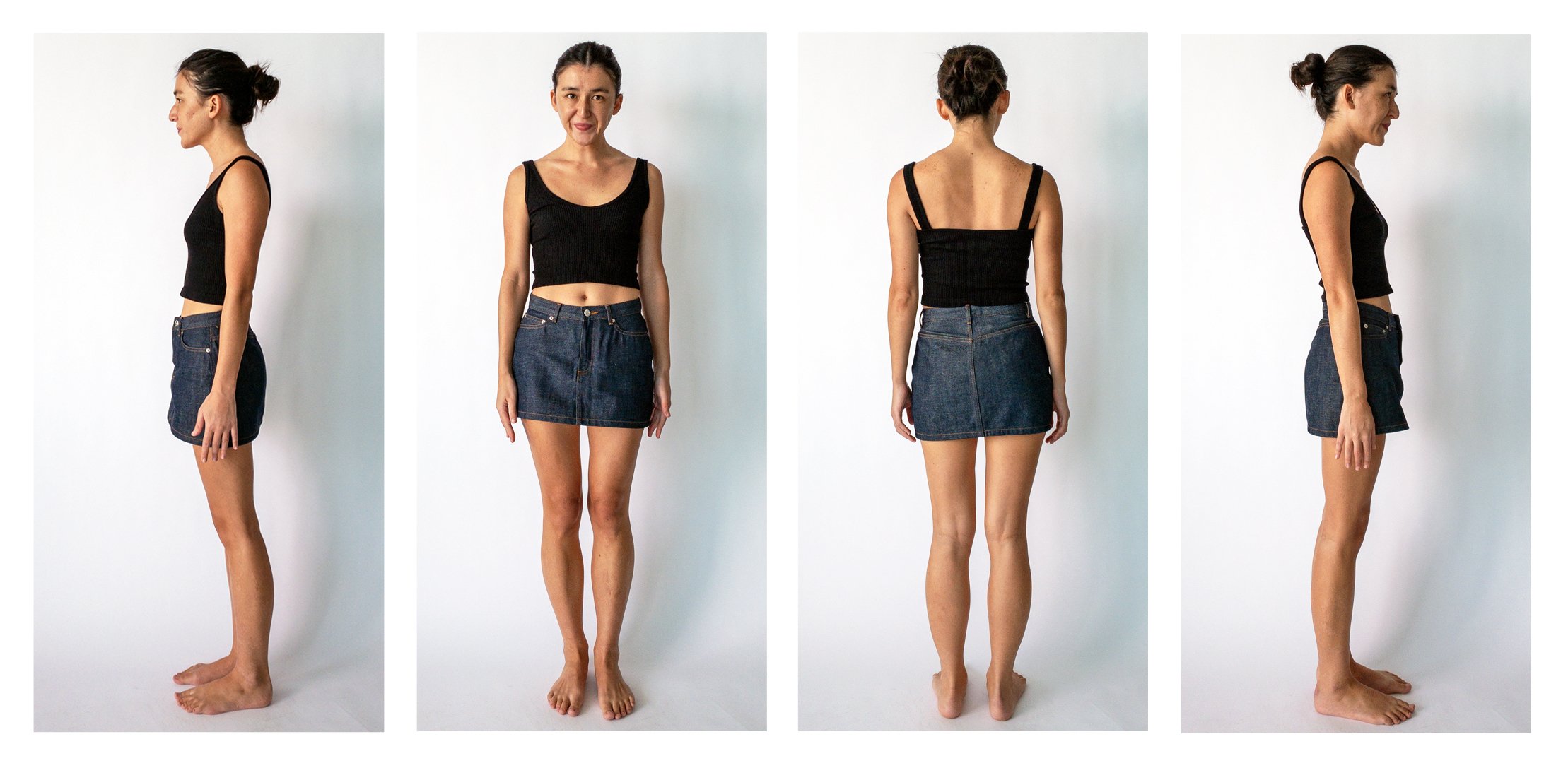 This skirt is made from 100% cotton. It's Japanese raw denim (click here to read more about the difference between raw and "normal"), which means that overtime it will relax and form to my waist/body more.
It sits right at my waist, just below my bellybutton — I wore a crop top just to show you where it sits!
But… if you aren't planning on wearing this mini a ton and don't have time to break it in, just get your normal comfortable size. Raw denim requires a lot of time to break in.
---
IMPRESSIONS
It's such a short skirt that you I need help making your my legs longer.
Because my legs are a little shorter, this A.P.C. denim mini skirt looks best with a mid-heel because of how much a little heel will elongate your leg.
See what I mean? A little heel goes a long way…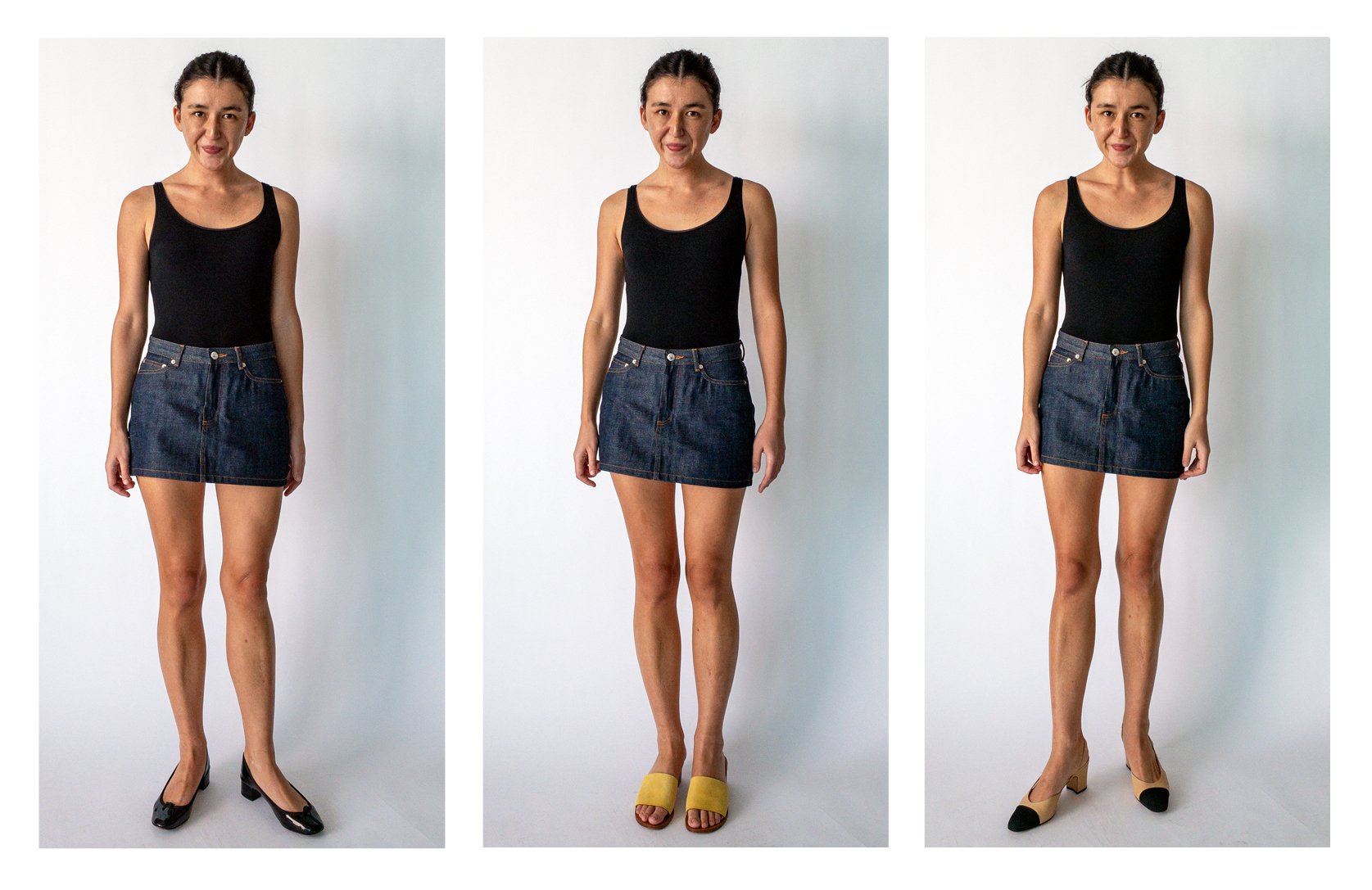 Left to Right: Chanel slingbacks, K. Jacques mules, Repetto Camilles. All worn with a Wolford bodysuit.
How I Wear It Out
As seen on my Instagram…
View this post on Instagram
---
PROS & CONS
Pros
–Price: $120 USD is not a bad price for a mini skirt that will last for as long as this one will. It's a classic style that won't look dated or too young (or too old)… plus it's super high quality…
–Quality: A.P.C. is known for their quality and this skirt is no exception. This review was written in 2016, but in 2019 it is still as solid as when I first bought it.
–Denim Wash: Raw denim is a deep indigo with a beautiful sheen on it. Overtime it will fade though.
–Not Pre-Destructed: No holes, no frayed edges, just a luxe little skirt that can be worn to ~nicer~ places… but also to dive bars.
Cons
–Stiff: For this skirt, A.P.C. uses their signature raw denim… which means this skirt is stiff. When I get up from sitting down, it sticks up, stays up and, well, my underwear goes on display.
–Super Short: If you're over 5'6", you might want to consider just how mini this mini skirt is.
---
A.P.C.'s denim mini skirt is short… but, it's nothing short of perfect.
If you're up for the length and wanna dip your toes into the OG ~French cool girl~ brand, this is where you should start.
Available from Revolve or SSENSE for $135 USD.
Note: These are affiliate links which costs you nothing… but means the world to me & newinspired. When you use these links, the money newinspired earns gets reinvested in blog content. Absolutely nothing on newinspired is "gifted," I purchase each item with my own money. Affiliate commissions are used to purchase new items to honestly & thoroughly review. If you find this review helpful, consider using them to support newinspired.
---
YOU MIGHT ALSO BE INTERESTED IN…