First was the bodysuit.
… then came the cashmere sweater and the button down shirt followed suit.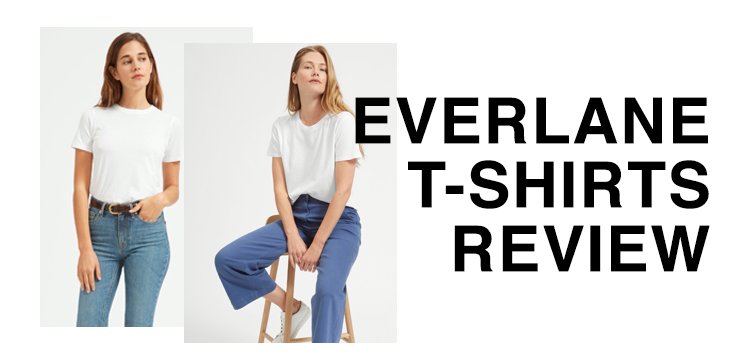 I'd say half of my Everlane clothes have been great.
Considering half these past purchases were great, I was like "what about Everlane's t-shirts?"

… but, also considering that half these past purchases were not great, I was like, "let's try two different styles to be safe."
Here's my review of Everlane's Box Cut Tee and their Cotton Crew…
Everlane T-Shirt SIZING
For reference's sake, I'm 5'5.75" and weigh 115-117 lbs.
My other sizes run below:
-US 2, in HVN or Reformation
-Small, Rag & Bone T-Shirts
-UK 8, in ALEXACHUNG
-FR 34-36, in Isabel Marant or Rouje
So you can judge the t-shirt's opacity, I'm wearing a black bralette underneath… and so you can judge its length, I'm wearing low-rise jeans.
My "Cotton Box-Cut Tee" is a size small.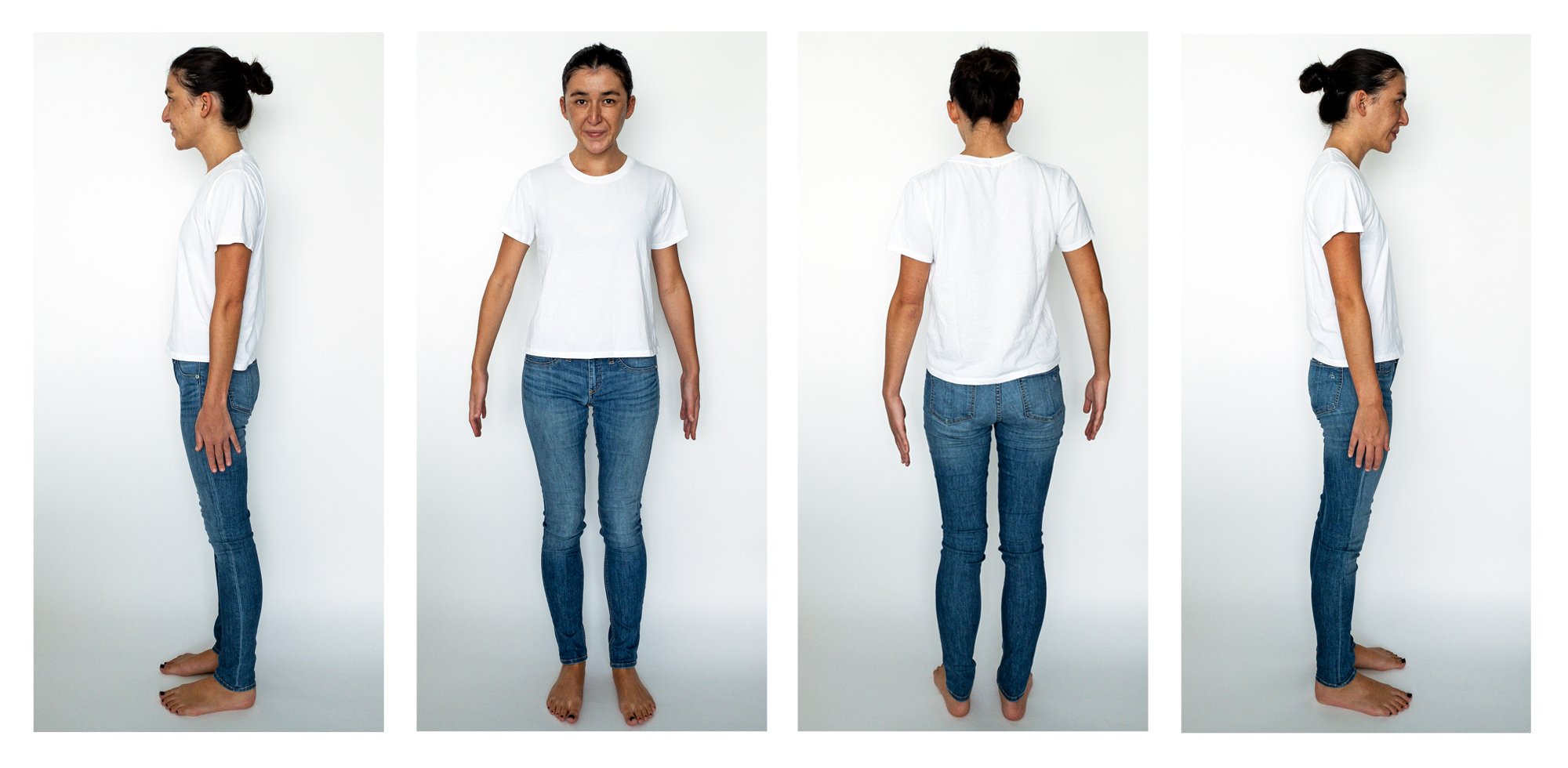 It has a slight crop… and is definitely less fitted and more boxy — it's also relatively opaque.
Everlane suggests sizing down in this t-shirt, but I would say that this t-shirt runs true to size.
So, take your regular t-shirt size in it.
A size small was perfect for this t-shirt. There's plenty of space, yet it doesn't feel too big.
My "The Cotton Crew" is a size medium.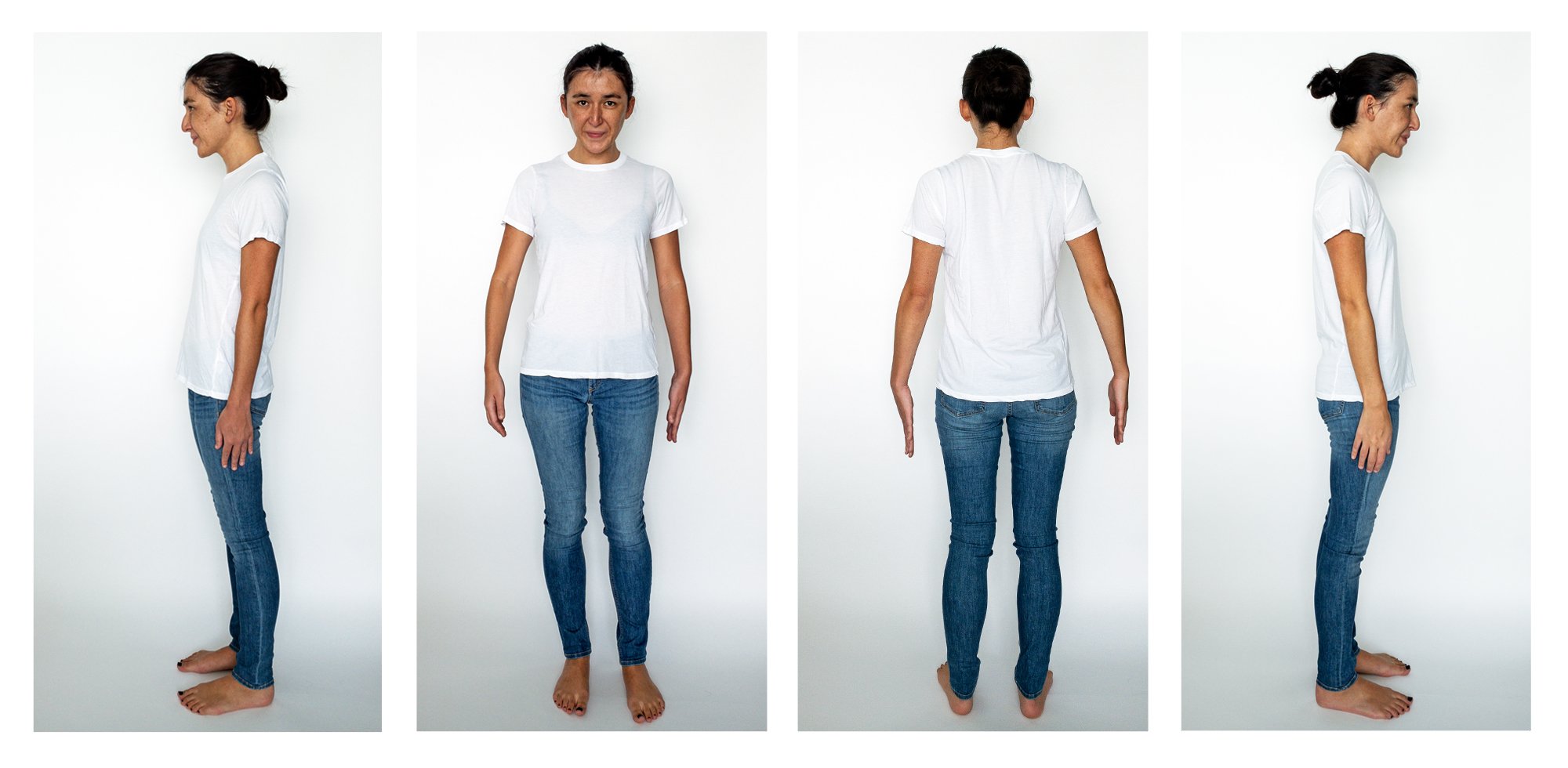 It looked a little tight on the shoulders and near the underarms on the model, so I sized up to a medium in Everlane's Cotton Crew t-shirt.
A medium works a lot better than a size small… but it still feels tight in the shoulders and is relatively sheer (ok, that has nothing to do with sizing though).
While the crew neck also feels a little too tight, the Cotton Crew is just fine in a size medium.
---
Everlane T-Shirt Quality
Let's put Everlane's t-shirts to a "pseudo-scientific lab report" test!
For the sake of fun, this white t-shirt quality series is called the "Tee-Off" — I would score it like a round of golf, but I only make it to the sand traps.
Note: This is just my experience, yours could differ.
Hypothesis
So, this is what Everlane says about each of their t-shirts…
"Boxy perfection. The Cotton Box-Cut Tee is cut with a slightly cropped fit for a relaxed look. Plus, our combed cotton gets softer with every wash."
On initial try on, the Box-Cut tee fits great and is slightly cropped. You could definitely dress it up or down. It feels soft when you first touch it, so I can't imagine it'll get much softer.
… but I'll go ahead and hypothesize that as it gets softer (by wearing or washing), it will start to pill.
"The Cotton Crew Tee is a true gamine classic. This boyish tee features a crew neck and slim short sleeves. The fabric is a lightweight Supima cotton."
It's definitely a true gamine classic kinda cut and considering that Everlane does not mentioning the Cotton Crew getting softer, I'll hypothesize that this tee won't pill… but likely will get softer with washing.

In the Cotton Crew with a beige bralette.
Materials
-x1 Everlane Cotton Crew
-x1 Everlane Box-Cut Tee
-x1 Pair of pants (yoga pants, sweatpants, or whatever).
Method
1- Tee must be worn for at least 5 days
2- Tee must be tucked into pants
(To test for pilling or stretching)
3- Tee must be washed & dried at least once
(… and use Shout any stains)
In the Box-Cut tee with a beige bralette.
Results
Box-Cut Tee: I wore this shirt for a few days more than the challenge warranted and washed it a few more times too… and it was totally fine. A few light pills in the fabric, but nothing massive.
Cotton Crew: So, I made chilli while wearing this shirt… which means, naturally, tomato sauce splattered on it, but it easily came out with a little Shout on it.
I ended up washing it twice in the machine and let it air dry both times — there are only a handful of pills (more than the Box-Cut tee though), but those pills aren't dramatically bad.
The only thing I think is dramatically bad about this t-shirt is the neckline.
Honestly, it's just a little too high and feels more suffocating than your high school boyfriend (ok, that sounds mean, but… I hope you know what I mean and that I also mean well).
In the Cotton Crew with a beige bralette.
Conclusion
In conclusion, while there was moderate pilling, Everlane's t-shirts kept their shape despite multiple washings and didn't shrink.
I wasn't keen on the Cotton Crew's higher (and tbh, tighter) crew neck, but the Box-Cut tee was a perfect relaxed fit.
---
PROS & CONS
Pros
–Quality: They didn't get super loose after wearing and they didn't shrink (I didn't put them in the dryer, but I've heard that you can). The pilling was light and can happen with any t-shirt.
–Cost effective: $30 USD for an ethically made and quality t-shirt is a great deal.
Cons
–Not into the Cotton Crew's fit: I sized up to a medium and it still felt kinda suffocating — maybe "true gamine" kinda cuts just aren't for me though.
In the Box-Cut tee with a beige bralette.
---
If we're keeping score, I'd give the Box-Cut tee full points and the Cotton Crew would get half a mark.
… so, I guess the grand total of my Everlane hits is now 2.5/5.
TLDR: The Cotton Crew is a traditional tee that's kinda ehhh in my books, while the Box-Cut tee is a retro (yet modern) fit that's super flattering.
If you're into them, you can find the Box-Cut Tee and Cotton Crew on Everlane for $30 USD each.

Note: newinspired uses affiliate links which costs you nothing… but means a lot to me. When you use these links, the money newinspired earns gets reinvested in blog content. Absolutely nothing on newinspired is "gifted," I purchase each item with my own money. Affiliate commissions are used to purchase new items to honestly & thoroughly review. If you found this review helpful, consider using them to support newinspired.
---
YOU MIGHT ALSO BE INTERESTED IN…