"For the traveller! Established in 2012 on the Island of Bali. Effortless everyday pieces that are made for chasing the sun #faithfulltravels"
This is Faithfull the Brand's mission statement on Facebook.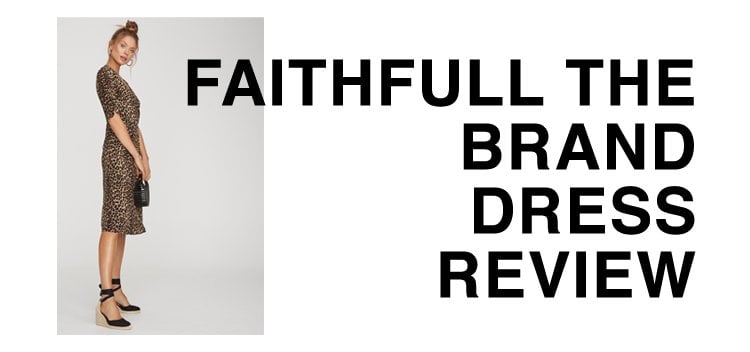 Sure, a lot of brands can say that their clothes are for the wanderlust, but not a lot can walk the talk.

… but when I ordered Faithfull's Anne Marie dress, I didn't realise just how far Faithfull could walk that "for the traveller" talk.
FAITHFULL THE BRAND SIZING
My Anne Marie Faithfull the Brand dress is a size SMALL.
I'm 111-113lbs and 5'5.75". In Reformation dresses I take a US 2, Rouje dresses are a FR 36, and all my best-fitting Réalisation Par dresses are a XS.
Prior to purchasing the Anne Marie, I actually went to a brick & mortar store (Intermix has a great selection) and tried on a few other Faithfull dresses. Their XS was way too tight in the shoulders and body, so I knew that I would need a S.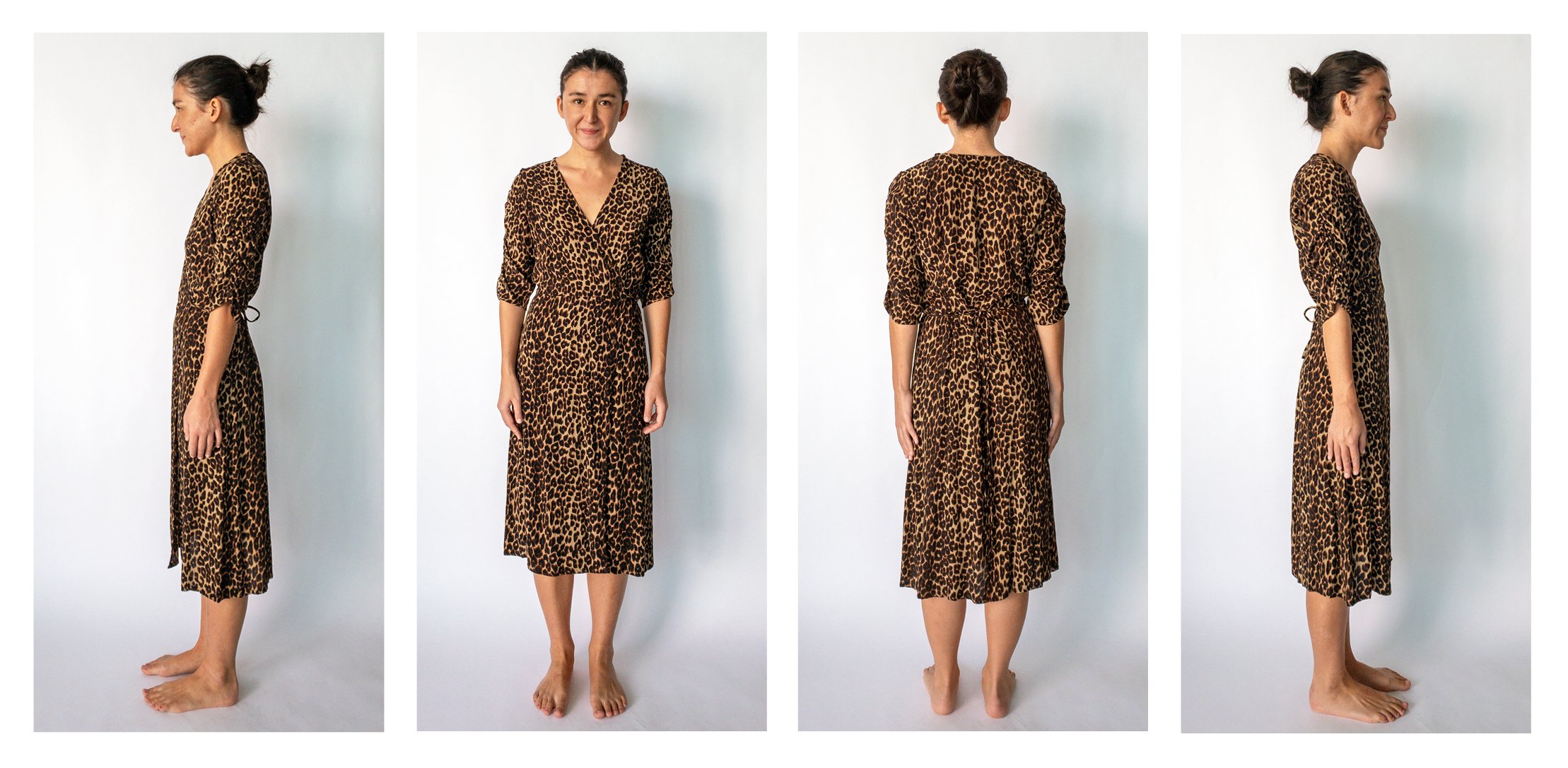 Size SMALL in Faithfull fits like a blend of a FR 36 and FR 38, or simply like a standard US 2.
While it feels a little bigger than some of my other dresses, most noticeably my FR 34 Rouje Gabin dress, the size SMALL affords me way more space.
I can gesticulate wildly (ok, maybe "move my arms comfortably" would be more polite…) and breathe after hogging a plate of nachos (ok, maybe "not feel restricted after a big meal" would be more polite…) which is a nice change from feeling confined in other slim fitting dresses.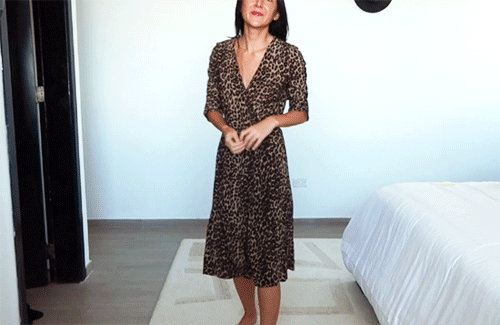 ---
QUALITY
The Anne Marie Faithfull the Brand dress is well-engineered, but the rayon fabric isn't that durable.
Let's examine what I mean by "well-engineered" and "not that durable" closer…
Hook & Eye Closure
The Anne Marie has a hook and eye closure on the chest so that you can close it for some modesty.
A lot of girls complain about how some other brands' dresses dip too deep and they have to sew it shut… Faithfull the Brand's simple addition of a hook & eye closure is genius for this problem.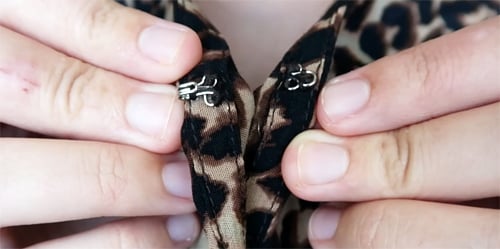 Wrap Effect & Knot
Most wrap dresses have a small knot at the end of the stringtie that goes through the wrap hole. But most of the time it just comes right out when you take it off and you always have to restring it through the hole when you put it back on.
Faithfull adds a bigger knot at the end of their tie so that all you have to do is step through and pull it — you don't have to look for the wrap hole to put it back in every time… if that makes sense.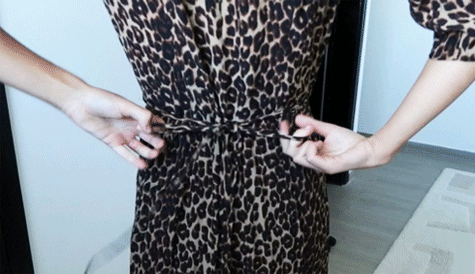 Buttons
The five buttons down the side are sewn so tightly that it's almost a pain to undo. This might sound like a complaint, but too-tight buttons are a good thing. There's no risk to them falling off.
The buttons were sewn so tight that I got lazy and didn't feel like unbuttoning all of them. I thought it'd be a Rouje Lena dress or Réalisation Par Juliet dress situation where I could leave a few done and slip in and out.
I left a few buttons buttoned, tried to shimmy out and in the process I tore the fabric and the button fell off. This brings me to…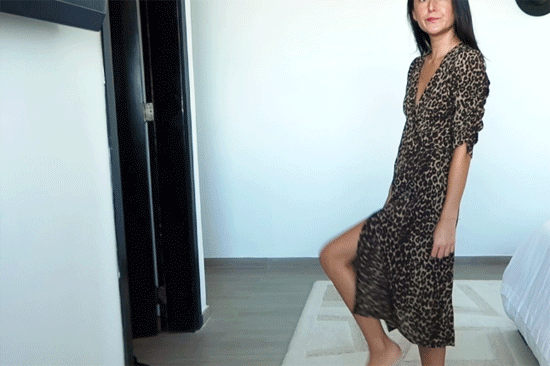 Rayon
Faithfull the Brand's Anne Marie dress is made from 100% Rayon.
Rayon is hand washable, which is great… but the quality is just not there.
For beach coverups that you pop over your head while you pile into the car enroute to the beach, rayon is totally OK. It's an easy fabric that's lightweight and dries fast.
… but for garments that are more streetwear than beachwear, and that have buttons, you need a fabric that's slightly stronger.
---
IMPRESSIONS
Faithfull's clothes are essentially elevated coverups… which is presumably why they use rayon.
How many swimwear brands make coverups that "take you from beach to street?" Basically, all of them… and basically all of them use that incredibly cliché phrase.
With Faithfull's complete attention to detail and ~fashion forward~ styles, their clothes can actually take you from beach to street.
See what I mean?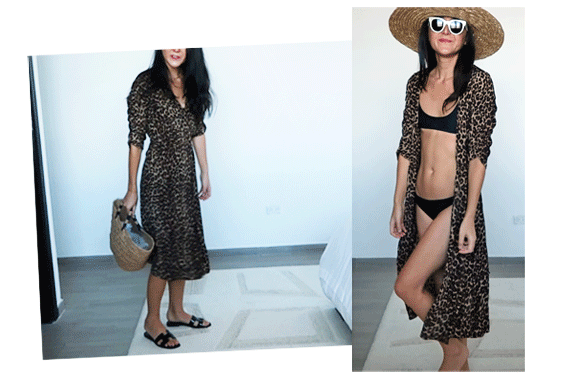 With a hat and a bikini I'm set for the beach… but button it up and throw on my Hermès Orans and I'm ready for dinner!
---
PROS & CONS
Pros
–Bra Friendly
–Chest Modesty Hook and Eye Closure
–Hand Washable
–Buttons: Your dress won't just fly open while walking.
–Sleeve Length: The Anne Marie's sleeves end just at my elbows. This offers a slightly sophisticated look.
Cons
–100% Rayon: Rayon isn't the best quality. If you want to keep it forever, you'll have to be careful.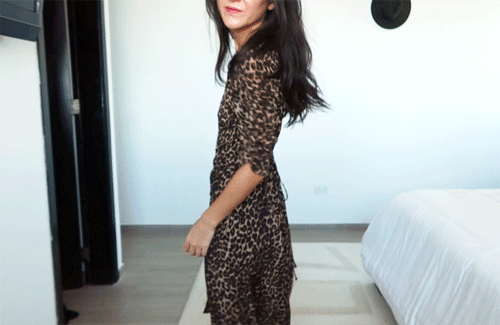 ---
In travels, in clothes, in life in general…
Sometimes you just gotta have a little faith that it'll work out…
… that the dress will fit. That the dress won't rip. That the dress will actually feel like you…!
This Faithfull dress may have ripped, but if you have faith that you'll undo the buttons instead of trying to wedge your way in like me, Faithfull the Brand clothes are available from a wide variety of retailers like Intermix, ShopBop or Revolve, where you can save 10-15% off your first purchase.
Sometimes Faithfull clothing gets listed on the Real Real, where you can save money and the environment by buying it secondhand…
Note: These are affiliate links which costs you nothing… but means the world to me & newinspired. When you use these links, the money newinspired earns gets reinvested in blog content. Absolutely nothing on newinspired is "gifted," I purchase each item with my own money. Affiliate commissions are used to purchase new items to honestly & thoroughly review. If you find this review helpful, consider using them to support newinspired.
YOU MIGHT ALSO BE INTERESTED IN…