The Lena is one of Rouje's newest dresses.
It's a midi-dress with 13 buttons down the front, a frilled collar and capped sleeves. The dress' sweetness is offset by a striking red on black Italian inspired spot print…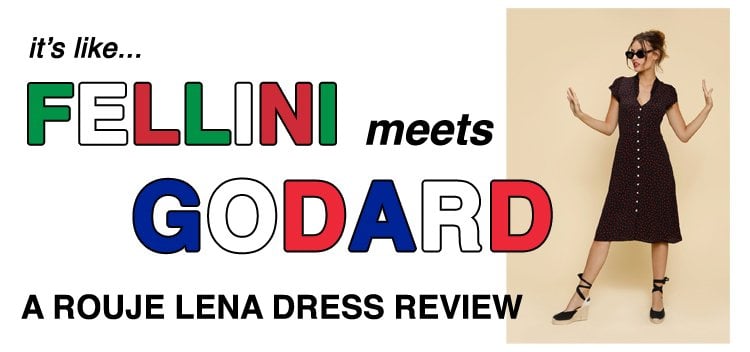 Basically, the Lena is like Jean-Luc Godard meets Fellini. It's a living the sweet life kind of dress that leaves you breathless…
OK, those films are pretty depressing in content. In style though? They're spot on.

But how would the Lena dress, loaded with 1960's Italian and French vibes, work on plain-old-not-European me?
Do I have enough joie de vivre to pull off this dress?
ROUJE LENA DRESS REVIEW
LENA DRESS SIZING
My Lena dress is an FR 36. This is the same size I took in Rouje's Matis dress and a size up from the Gabin dress. It's also my true French clothing size.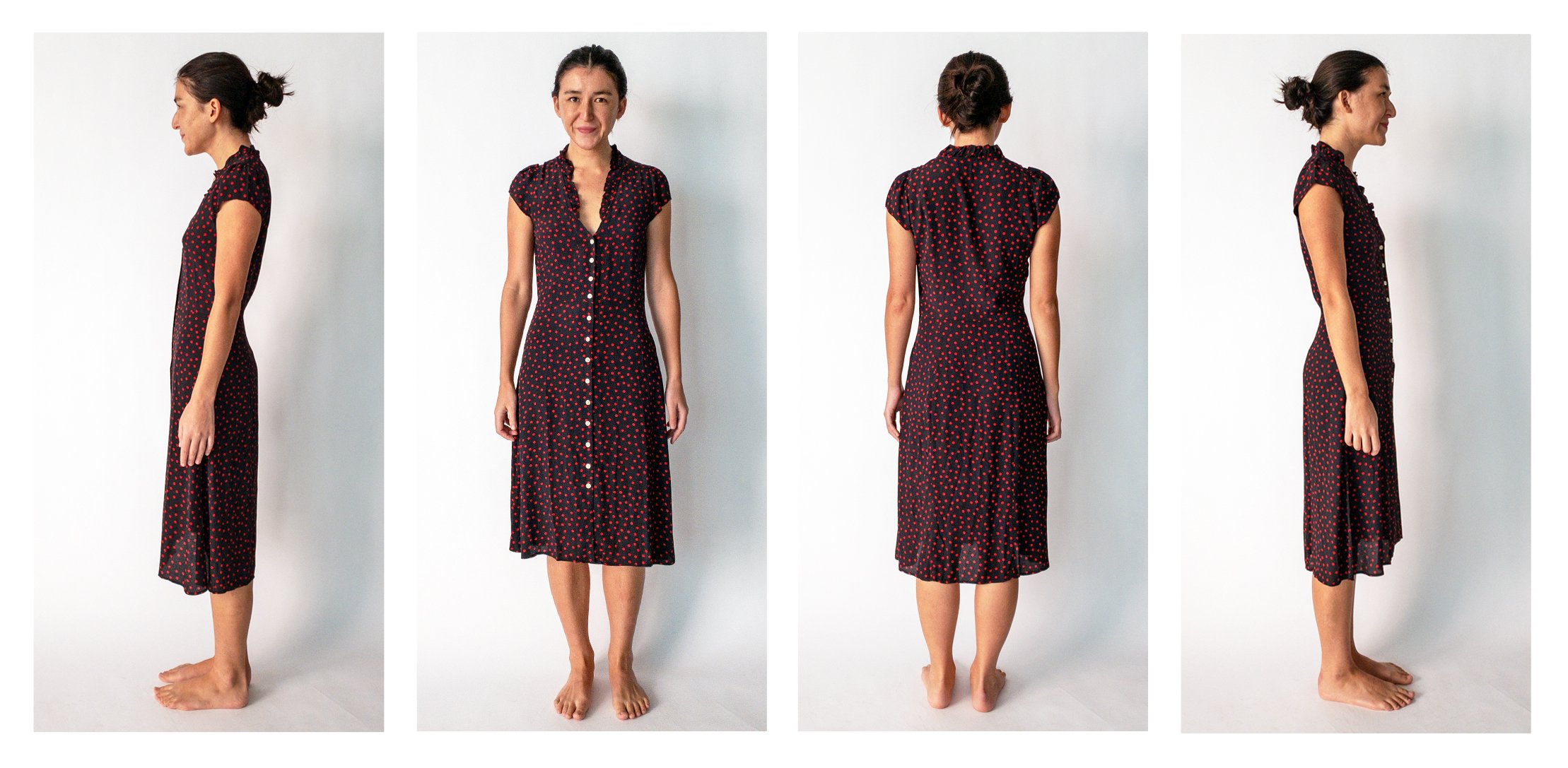 I'm 115-117 lbs and 5'5.75″. I wear an XS or S in Réalisation Par dresses, US 2 in Reformation, or a UK 8-10. You can find a ton of my other size reviews here.
For the Lena, FR 36 is perfect.
It skims my body and isn't too tight or too loose anywhere.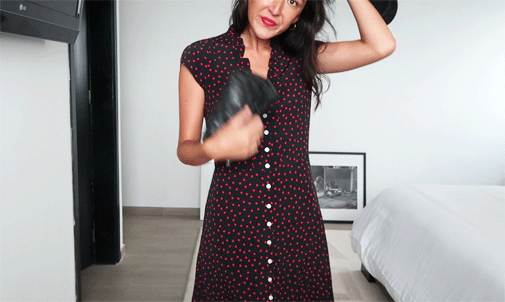 IMPRESSIONS
If this dress had been out when the second season of Master of None was filming, you know that Francesca would wear it.
It's retro, but still contemporary. It's seductive, but still subtle…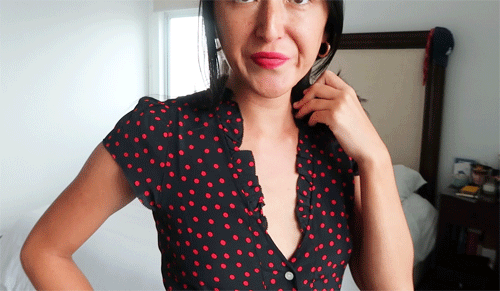 It's the dress that I'll be reaching for dates this summer… or for parties where I know there'll be a tall, dark, and handsome boy.
This is the dress you wear when you want to look sweet and alluring at the same time. You wear it when you want to talk about la Nouvelle Vague until the candles are a puddle of wax. You wear it when you want to look like the brainy beauty that you are.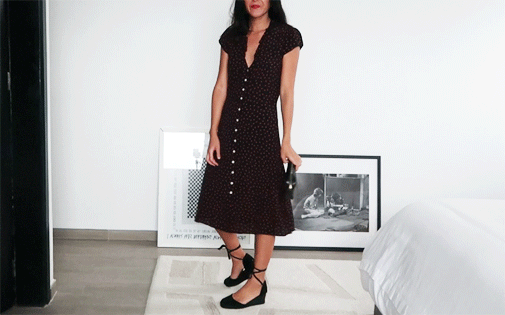 PROS & CONS
Pros
–Sleeves: Capped sleeves are just the best.
–Ruffles: The ruffles along the collar add a certain jeunesse feel to it that are offset by…
–The Red Polka Dot Print: The polka dot is one of the best prints because it's so convertible. It can go from a casual dive bar to any type of wedding… and these red dots on a black background add an inherent Italian sexiness.
–Length: Where the red polka dots add allure, the midi-length balances it so the dress isn't in your face.
–Buttons: There isn't a zip at the back, so you would think that every time you wear it you have to unbutton and rebutton all 13 buttons. False! I can get in and out with just the top six buttons undone.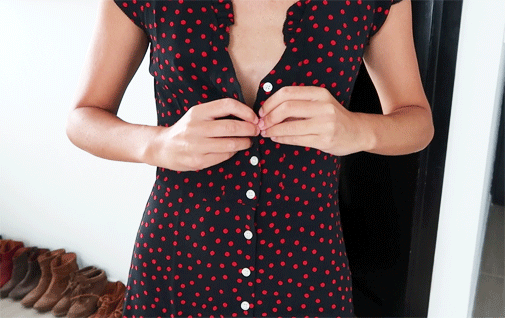 Cons
–100% Viscose: The Lena is 100% viscose and costs $195 USD. $195 is a lot (in my books, at least) for a semi-synthetic fabric. Semi-synthetic fabrics aren't as long lasting as natural fibres.
Unlike Rouje's Matis or Gabin dress, the Lena is not bra friendly. For me, the v-neck comes down to the bottom of my sternum, so a bra shows if I wear one with it. I don't consider this a total con though because I don't really need one with it anyways.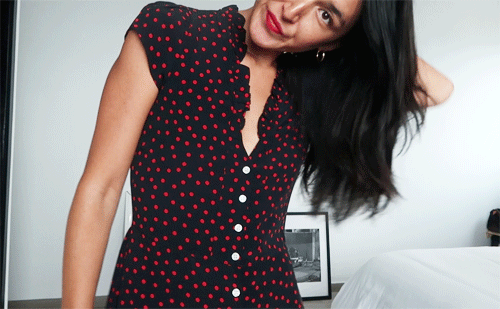 Allora, I don't look exactly like Anouk Aimée or Jean Seberg in this dress…
… but I'm my own character, and the Lena matches my character's wardrobe perfectly.
The Lena is available for $195 USD exclusively from Rouje.
Rouje clothes sometimes get listed on The Real Real. You can score a sold out piece and get $25 off your first purchase.
(This is an affiliate link, but I've shopped with the Real Real many times and would recommend them even if it wasn't.)
YES, THERE'S MORE…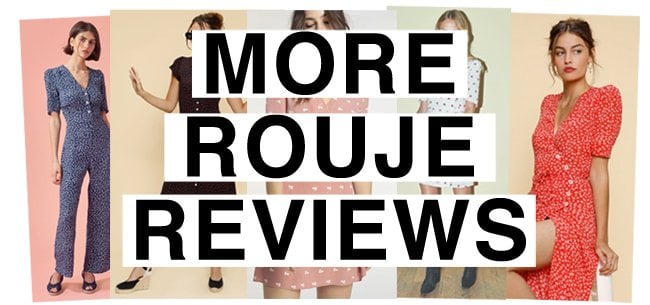 TIPS
-Rouje dresses actually sell out, so if you love something, get it fast.
-Rouje does not do flash discount codes, however they have sales during normal seasonal sale times… but most pieces are gone by then.
Oh, and here's a gratuitous photo of Jeanne Damas herself in the Lena…