Who doesn't love a good nap?
… and I don't mean the kind of nap that you accidentally stumble upon.
Bad night's sleep with a chaotic day, so you do a quick yoga practice and accidentally fall asleep in savasana.
Sure, it does the job, but you're in tight spandex and lying on the ground.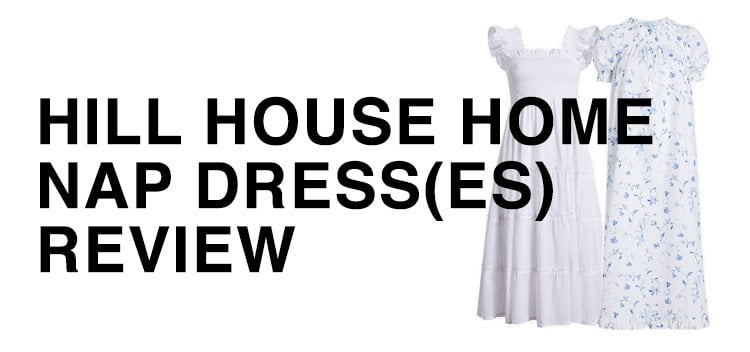 … I'm talking about the kind of pre-planned nap where you gather up your favourite blanky, arrange your bed pillows on the couch, turn on a Hallmark made-for-TV movie (here's looking at you, October Kiss!), and settle into an afternoon slumber.

Yes, that is a good nap.
When I saw that Hill House Home (purveyor of fine linens) were making "nap dresses," I snapped out of a post-does-the-job nap and ordered 2 to compare sizing…
Hill House Home Nap Dress SIZING
For reference, I'm 5'5.75" and weigh 115-117 lbs.
For comparison, here are some sizes I normally take:
-US 2, in HVN or Reformation
-UK 8, in ALEXACHUNG
-FR 34-36, in Isabel Marant or Rouje
… and in t-shirts, I (generally) take a size small and my Lunya silk pyjama set is XS.
To show you the opacity of these nap dresses, I'm wearing black underwear…
Ellie Nap Dress Sizing Review
In Hill House Home's Ellie nap dress, I ordered a size S.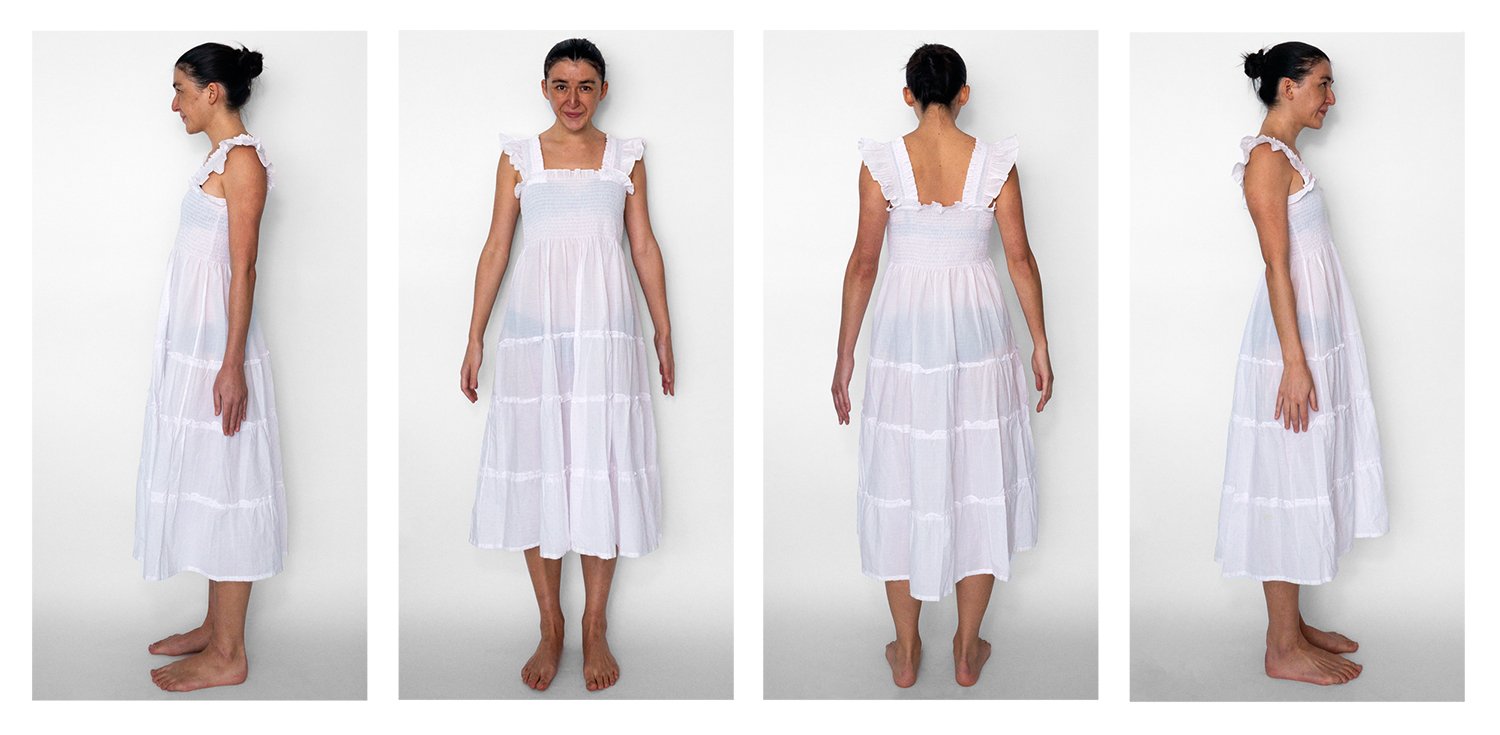 Swiss dots are a greater weakness than Swiss chocolate to me, so the Ellie nap dress is in their semi-sheer colourway of white/pink Swiss dots.
In the sizing photo, you can see how much black underwear shows.
This dress is so sheer.
… but so sweet and it's comfortable.
Shown with nude underwear and nip covers (caramel & size 1, if you were curious).
With skin tone underwear, you can only slightly see it.
Without a bra, you can see nipples through it.
You can see the straps through the ruched top, which shows how sheer even the stretchy top is.
… but a size small is totally fine and is plenty spacious.
Note: The Ellie nap dress may stretch out while wearing. The elasticated smocking in the bodice has stretched out on mine after wearing it. So either size down, or when it does that, throw it in the wash — it should help fix it.
Caroline Nap Dress Sizing Review
In Hill House Home's Caroline nap dress, I bought a size XS.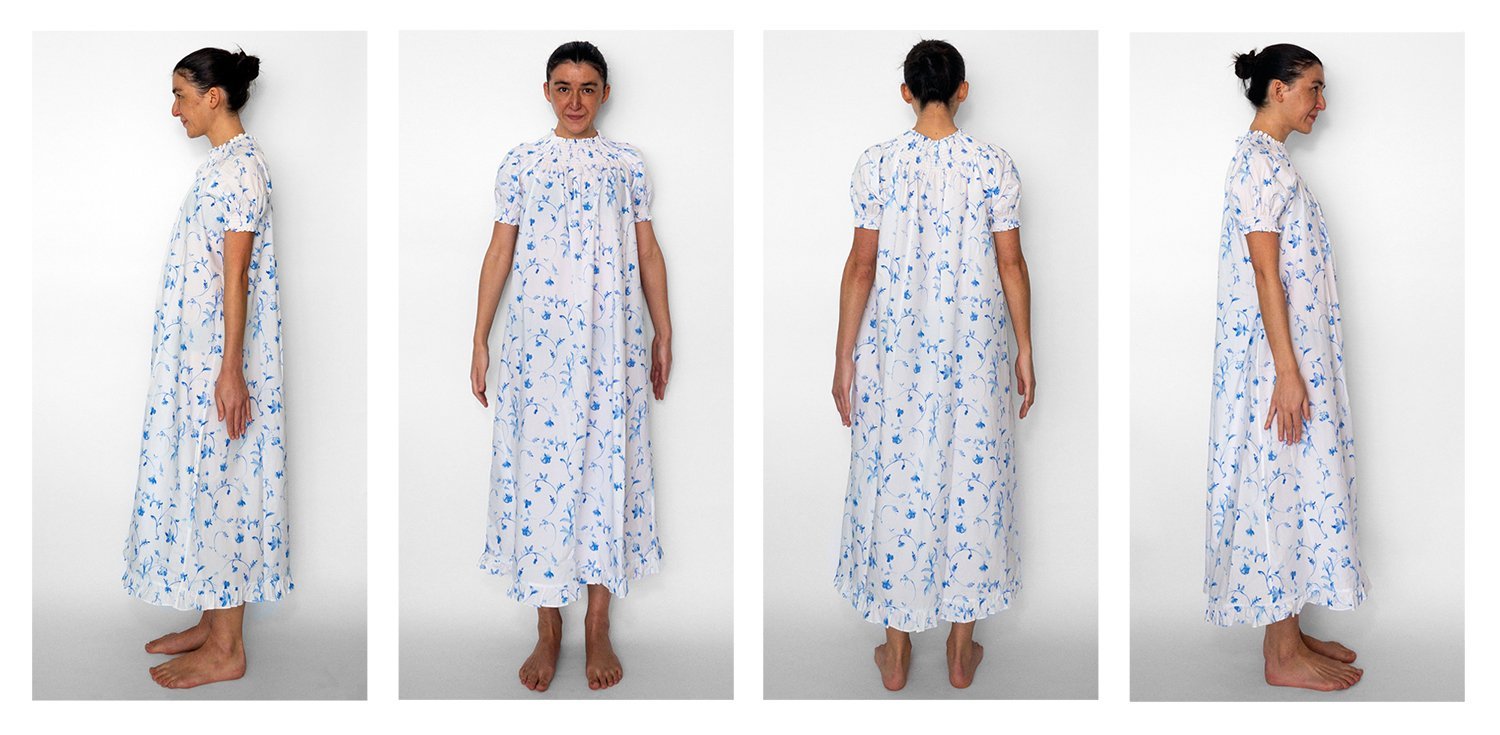 The Caroline nap dress is in a new opaque print, "Blue Botanical."
While less sheer than the swiss dots, it's still somewhat semi-sheer.
In the photos, you can make out a hint of the black underwear.
This one is size smaller than the Ellie dress, but I don't notice it.
If you're like me and between two sizes, it won't make a massive difference if you size up or down tbh.
Either way, the capped sleeves (and body of this nap dress) don't feel tight at all.
FWIW, these prints feel like they're made of a brushed sateen cotton, similar to Hill House Home's sheets.
---
Is a Nap Dress Worth It?
Let's put Hill House Home's Nap Dress to a middle school "pseudo-scientific lab report" test!
Note: This is just my experience, yours could differ.
Hypothesis
During a nap, I hypothesize that it'll be a little tougher to relax in this dress.
Due to its high neckline and not as flowy body, getting comfortable will take a little effort.
I don't think that there will be any issues with the dress shrinking during the wash though.
Materials
-x1 Hill House Home Caroline nap dress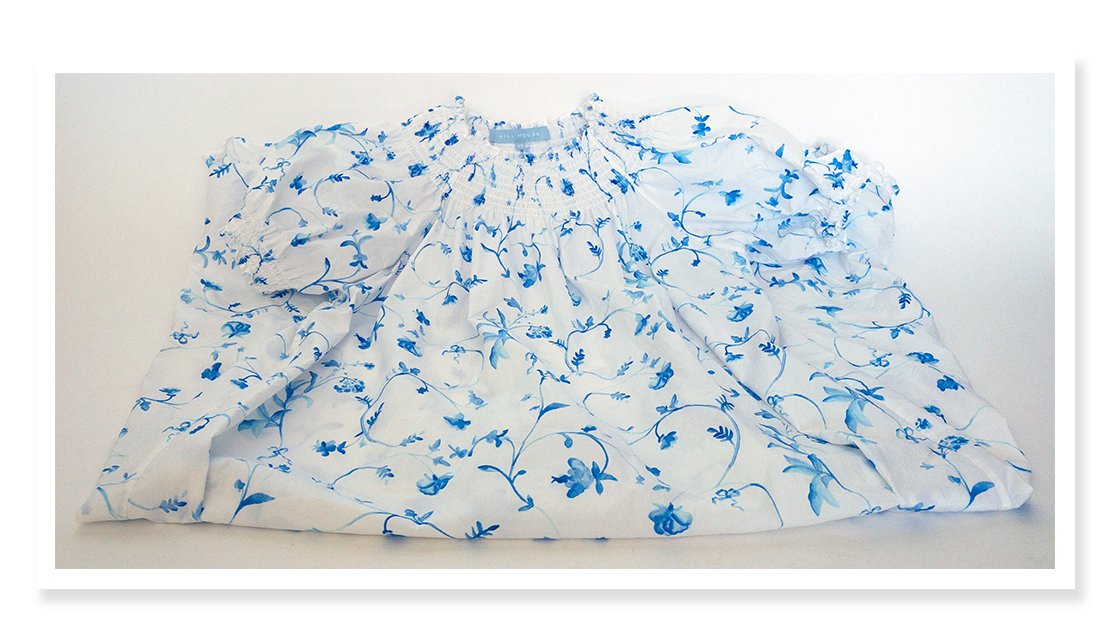 Note: This is an admittedly poor photo that looks like the blue may have bled — it didn't.
Method
1- Nap Dress must be worn for 5 days between 10:00am to 5:00pm.
2- Nap Dress must be washed.
Wash cold on gentle and then air dry.
Results
The journey of wearing the nap dress on Day 1 was smooth.
My biggest complaint was that the high neckline felt somewhat annoying on my neck.
… but the biggest bonus was being able to sit in the sun, feel cool in it (due to the cotton), and not have to worry about my shoulders or back burning.
On Day 2 of wearing, the morning after my mum and I drank too much red wine (and I threw up), I took a nap in it. Maybe it was just me being tired, but getting comfortable in it was a breeze and I was asleep before the main love interest in the movie was even introduced.
Later on though, I spilled Kraft Dinner on my nap dress. Considering that I have spilled KD on my clothes many times in my life, I took the dress off to deal with it in the morning.
Day 3 and the remnants of my hungover dinner didn't disappear, unlike my headache.
It took my mum scrubbing with a mix of Vel dish soap and Oxi Clean over & over and washing it on a normal washing machine setting, to turn that faux-cheddar stain into a distant memory (along with the Hill House Home tag that fell off in the process).
Conclusion
This nap dress looked totally fine after its multiple washes, did not shrink, and the blue also didn't bleed.
While irritating on my neck, I don't attribute that to its size (remember, it's an XS).
… and if it also bothers you, while it's slightly impractical to actually wear like this, its stretchy ruched neckline does allow you to pull it off your neck and around your shoulders. To be honest, wearing it like this will impede your ability to fully move your arms and could get in the way of your day to day business (like drinking wine or eating mac & cheese).
However after a third wash, the neckline has relaxed and no longer feels suffocating.
All in all, the Hill House Home Caroline nap dress held up well to the scrubbing, multiple washes, and air drying — the tag falling off was simply a casualty of my carelessness.
---
PROS & CONS
Pros
–Mostly cotton: The Ellie dress has some polyester in it to make the sleeves and top stretch, but the Caroline is 100% cotton… either way, they're both machine washable.
–Length: Superb for lazy days when even shaving your legs feels like too much hassle. They're not too long though, so you likely won't trip over them.
Cons
–Neckline: OK, this is for the Caroline, but the neckline is kind of annoying/irritating on your neck before you have to wash it 3 times. Like I said before, you can move it down, however it really does limit your arm movements (and feels impractical) when you wear it around your shoulders.
–Could use pockets: Why don't brands (ahem, Sleeper too!) put pockets on lounge/nap dresses?!… like even if I'm just hanging around my house, it's nice to have pockets to put your phone or Kleenex or whatever in. Some of the new versions have pockets now, so don't mind this point.
–Sheer: It's tough to argue that even the "opaque" print isn't slightly sheer.
---
In my oldest sweatpants and beaten up band t-shirts, no matter what I wear, a pre-planned afternoon nap will always be an indulgence.
… but, Hill House Home's nap dresses take that luxury to the next level.
If you are good at taking out stains before they set and cool with nips showing (or get one of their new darker prints), these are the nap dresses for you.
Hill House Home Nap Dresses are available exclusively from their site starting at $100 USD.
If you use my code, you can get $20 off your first order, just wait a few seconds for a popup to show that asks for your e-mail to sign up for their list — if you order just one, this saving is better than their 10% discount for your email, but if you order 2, sign up to their e-mails for 10% off.
Note: Absolutely nothing on newinspired is "gifted" or sponsored, I purchase each item with my own money. If you use my code, I might get 20% off my next order though.
---
You might also be interested in…