OK, I know, I know, I know… Flip flops, UGH gross.
Flip flops have a stigma.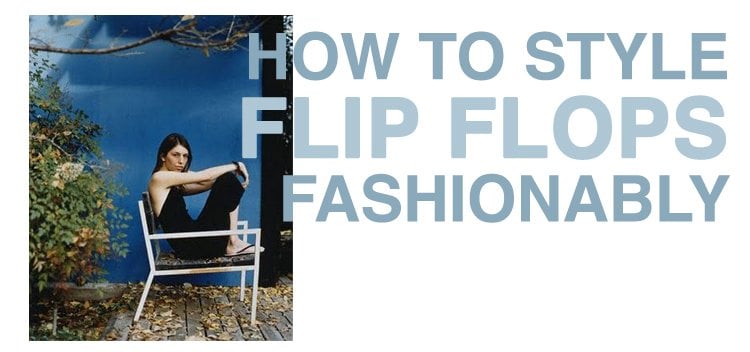 They just aren't a pulled together outfit kinda shoe.
While they don't seem fashionable, flip flops are practical for rainy summer weather and lazy days… and they totally can be fashionable if you stop overthinking it.

Mary-Kate and Ashley Olsen have become my unsung hero for cool flip flop outfits — did you even realise that they wear flip flops relatively regularly (and in NYC to boot)?
Did you realise that Carolyn Bessette-Kennedy wore flip flops too?… Even when she wasn't in the Vineyard.
Did Kate Moss' vacation flip flop outfits slip past your Pinterst perusing? Maybe you also overlooked some of her 90's flip flops outfits?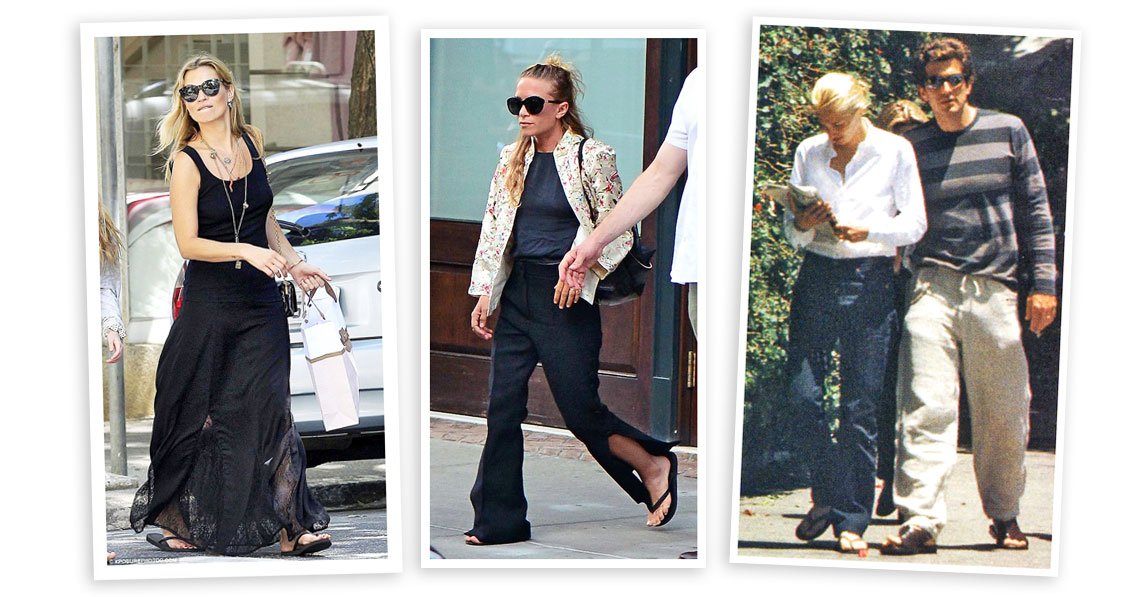 Perhaps I'm justifying my flip flop wearing, but these women clearly understand/stood that flip flops can look good.
Their penchant for flip flops flew under the radar because of how they style them.
Flip flops, when styled properly, can just disappear. When styled correctly, they can even add a nonchalant vibe to an outfit.
---
How To Style Flip Flops Fashionably
1- Keep your outfit monochrome or painstakingly simple so that the flip flops just blend in.
2- Keep the focus on the upper half of your outfit (e.g. earrings, necklaces, cool bag, etc…).
3- Long pants or flared pants look really cool… but skinny jeans with flip flops work really well together too.
4- Slim leather flip flops will pull your outfit together more than thick rubber ones.
5- Get a pedicure/paint your toes — this could just be me, but painted toes make feet look a lot better.
Note: The flip flops featured in these outfits are TKEES, you can find my full review on them here.
DAY OUTFITS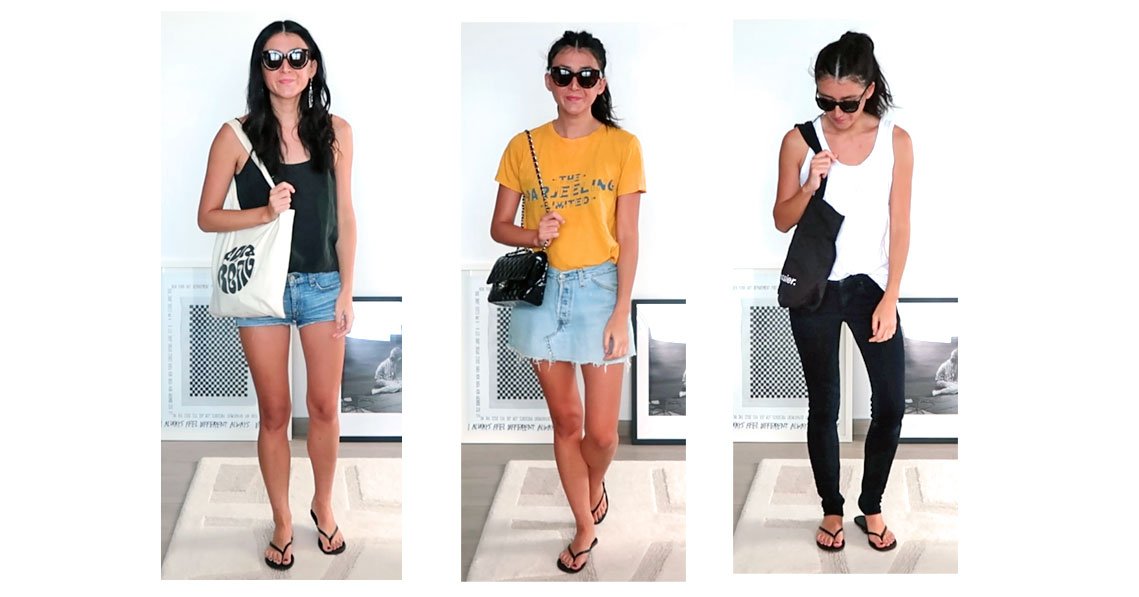 Left to Right…
1- The silk tank top and subtly luxe-but-cool earrings help elevate the flip flops.
2- This is so 90's/early 00's, but the Chanel bag adds some class.
3- Off-duty model wearing flip flops kind of look. Super simple, but super comfortable and relatively stylish without looking like you tried.
NIGHT OUTFITS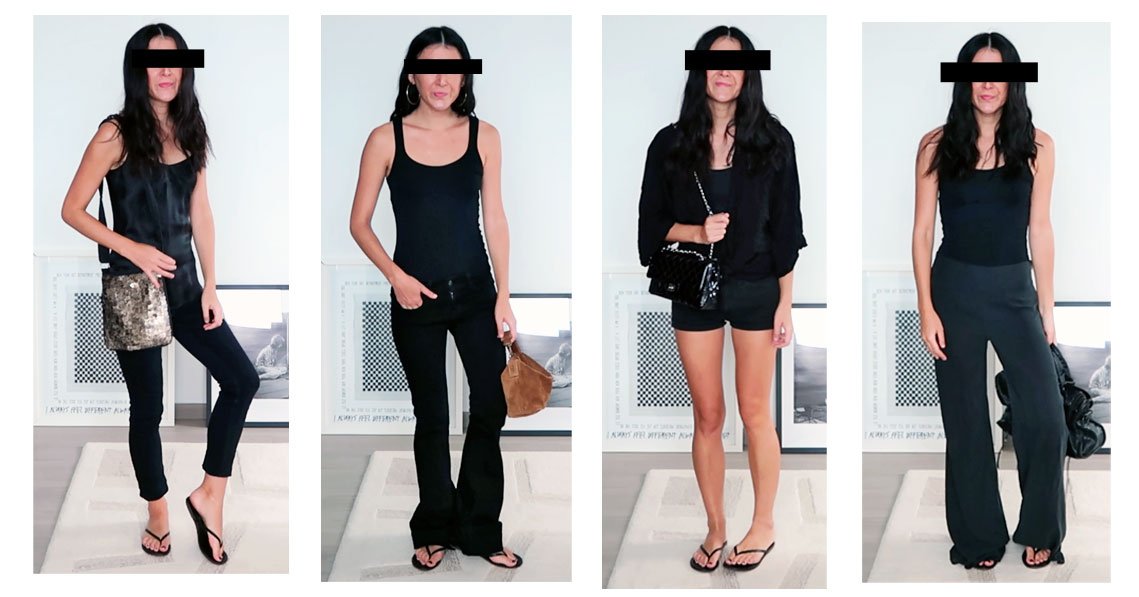 Left to Right…
1- This is the "Kate Moss on a yacht in St. Barths" outfit. Very simple, but add a satin silk top and a jazzy vintage bag and it's cool.
2- Flared jeans (these are J Brand Lovestory) add a 70's feel to flip flops.
3- Black denim shorts and a black kimono allow black flip flops to just blend in — the power of monochrome!
4- Silk palazzo pants totally hide flip flops, while giving off a relaxed vibe. Keep the rest of the outfit pulled together with a simple & tight black tank top to look more put together.
---
CHOOSING FASHIONABLE & STYLISH FLIP FLOPS FOR THE SUMMER
1- It's safest to go with black or skin tone flip flops.
2- Decide if you want to go leather for more of a put together look (note: this isn't rain proof) or…
3- Do you want a more casual look with thicker rubber flip flops (note: rain friendly)?
---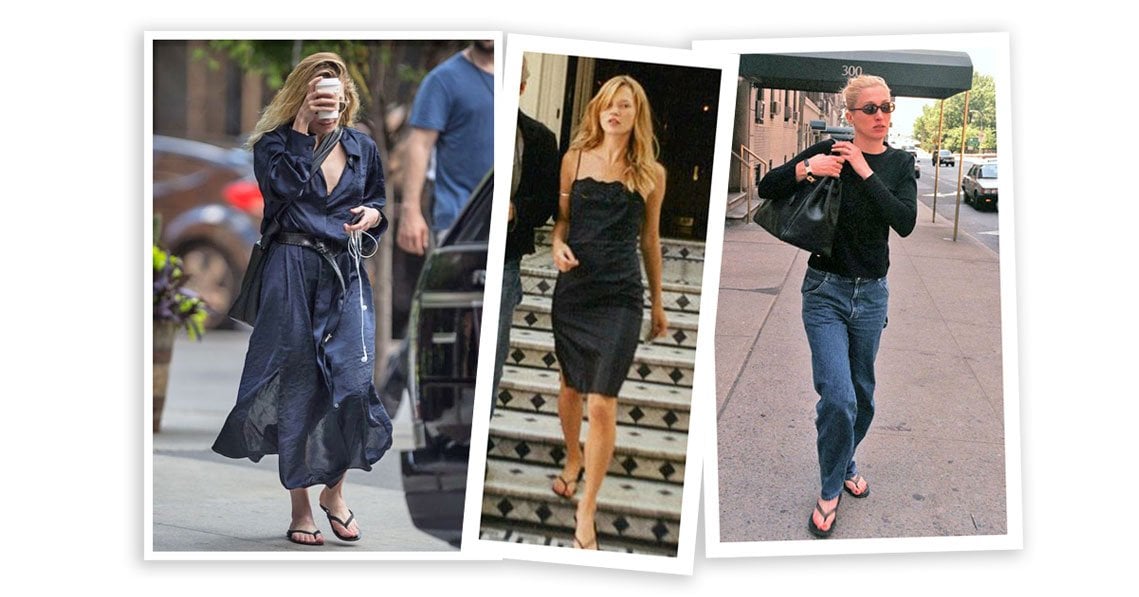 Whatever you do, don't overthink your flip flop looks.
Overthinking an outfit in general isn't good and overthinking a flip flop outfit just adds insult to injury.
Let's be real, flip flops insinuate that you don't care. And not caring is cool, right?
If I've learned anything, caring is cool… but for the sake of flip flop outfits, just don't care.
So don't care, throw 'em on, and say "I don't care because at least I'm not ruining my expensive sandals in the rain!"
Note: newinspired uses affiliate links which costs you nothing… but means a lot to me. When you use these links, the money newinspired earns gets reinvested in blog content. Absolutely nothing on newinspired is "gifted," I purchase each item with my own money. Affiliate commissions are used to purchase new items to honestly & thoroughly review. If you found this review helpful, consider using them to support newinspired.
---
---
YOU MIGHT ALSO BE INTERESTED IN…