Knee high boots are tough to buy.
… at least I think they are.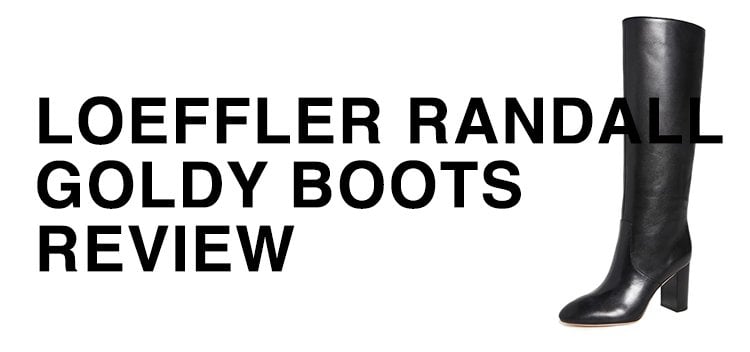 This is probably why, other than my Isabel Marant Denvee boots, I've never really bought a pair.
There's never really been a pair that stepped up to the plate — despite how much I've always want some knee high boots.

… until I saw Loeffler Randall's Goldy Boots.
Intrigued by the style, yet hesitant at the price ($695 USD for a contemporary brand), I bought them and here's the deal with sizing and quality…
Loeffler Randall Boots SIZING
For comparison, my other shoe sizes run:
-Adidas Stan Smiths, US 8
–Chanel Shoes, FR 39
–Christian Louboutin, IT/EU 39.5
–Golden Goose, IT/EU 39
–Hermès, FR 39
–Isabel Marant, FR 39-40
-Nikes, US 8.5
–Repetto, FR 39.5-40
My Loeffler Randall Goldy boots, in Black, are a size US 8.5.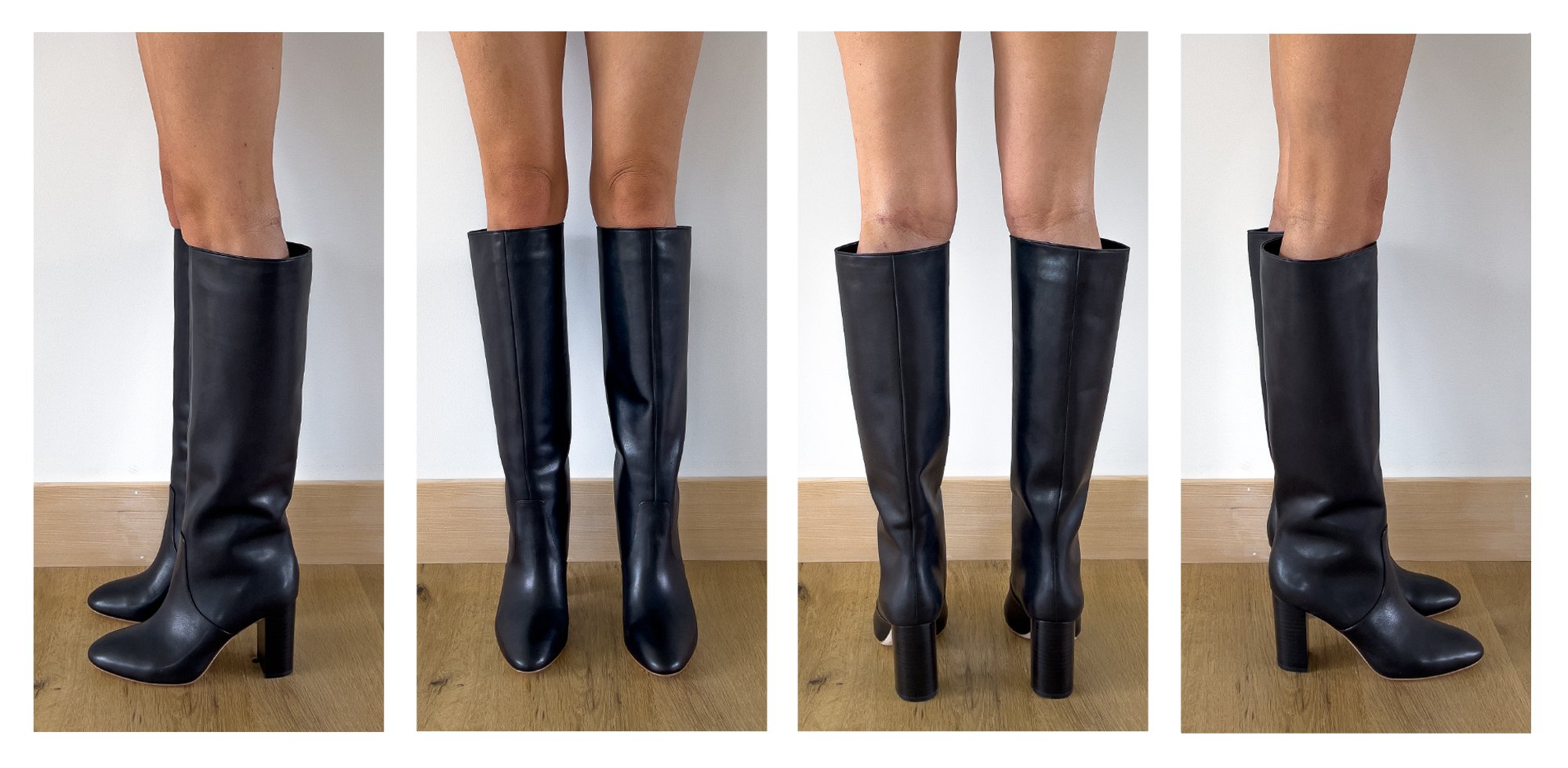 Loeffler Randall shoes fit true to US sizing.
The toe area feels like it could be a little tight, so keep that in mind if you have wider feet.
… but, I would still say that they fit true to size.
I can easily pull them on (no zipper!) with a pair of regular Hanes socks.
At 3.5," with no platform, these boots are suspiciously easy to walk in.
Right out of the box, these Loeffler Randall shoes are comfortable.
… and are flattering for any leg shape due to the large space in the leather shaft.
---
IMPRESSIONS
Loeffler Randall's Goldy boots look perfect.
The tall leather shaft, almond toe, and 3.5" heel.
There's just something about them though that kind of feels, I don't know…
Cheap.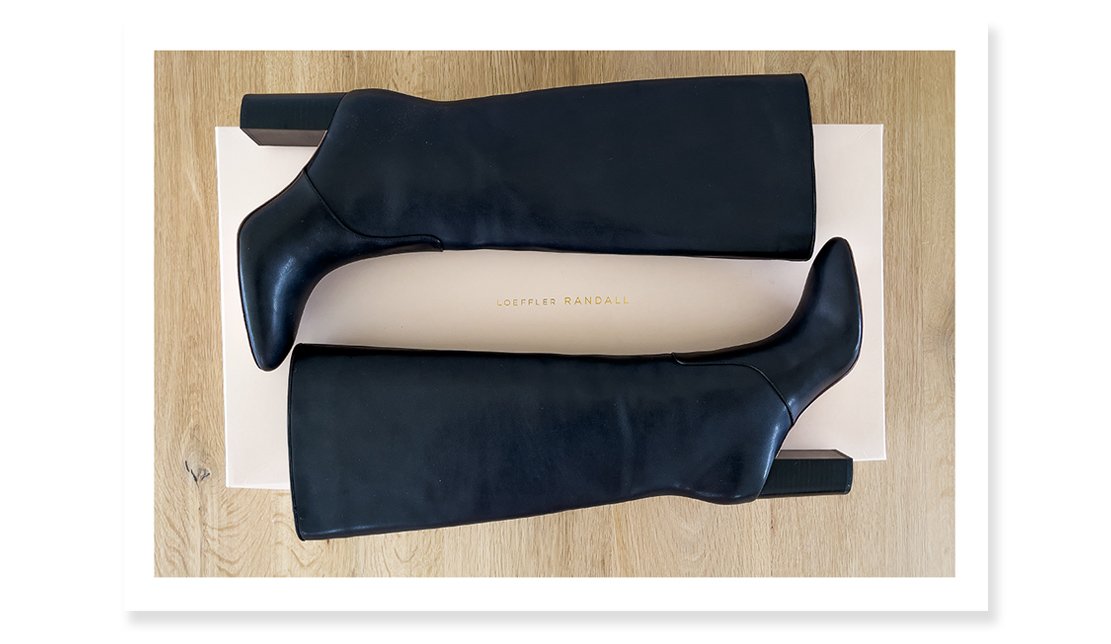 … and it's not the price.
Could it be that there's no zipper?
That the soles don't feel super cushiony?
Not to weight shame them, but they're relatively light at ~485 grams for each boot?
My other knee high boots, the Isabel Marant Denvees, weigh ~570 grams each.
Is it that my standards are higher than the 3.5" heel?
Either way, these boots just physically feel, well, not entirely worth $695 USD tbh.
For their aesthetic though?
Maybe they're worth it…
---
PROS & CONS
Pros
–Comfortable: No blisters and the 3.5" heel feels like nothing.
–No glue: Despite an overall feeling of "cheapness," there's no glue on the boot to moan about.
–Option to add an amount to charity at checkout: It's a feature that's so simple, yet so impactful, to add.
Cons
–No dust bags: Customer service let me know, "we eliminated dust bags to reduce our impact on the earth and to create a more sustainable brand. We recommend storing in the box your boots came in to protect them." Dust bags aren't really the cornerstone of what makes a brand sustainable or not. Factories/manufacturing processes, leather dyes, and leather sourcing is. When you spend $695 USD for a pair of shoes, a dust bag shouldn't be too much to ask for.
–No zip for a tighter fit: They're loose, but I guess it's so that the Goldy boots will fit more leg sizes?
–Made in China: OK, listen, I normally don't care where my designer items are made, but normally high-quality leather items are made somewhere in Europe — not China. It's totally possible that China now produces high-quality leather goods, but, $695 feels like a "Made In Italy" kinda price to me… At least the factory is female owned & operated and approved by their "Expert Advisor," Dr. Kannan Muthu, though?
–Vague environmental claims: "Many of our boots are made from Tuscan leather tanned with natural tannins, and the byproducts of the tanning process are recycled for agricultural use…" but no specifics on which boots.
---
Maybe it's that they didn't come with a dust bag, despite being close to $1,000 USD.
Maybe it's that the first time I ordered these boots from Shopbop, they sent them to me in a non-branded box.
… or maybe it says something that a bird got stuck in my garage and decided to defecate on the Loeffler Randall shoe box.
Either way, while these boots are beautiful superficially, they just remind me of Pete (after refusing to fly the coop garage for 48 hours, yeah, I named the bird) and the chirps that oddly sounds like, "cheap, cheap, cheap…"
Loeffler Randall boots & shoes are available from a wide variety of retailers including Net-a-Porter, Nordstrom, Shopbop, and from Loeffler Randall direct where you can save 15% off your first order by signing up for their emails.
Note: newinspired uses affiliate links which costs you nothing… but means a lot to me. When you use these links, the money newinspired earns gets reinvested in blog content. Absolutely nothing on newinspired is "gifted" or sponsored, I purchase each item with my own money. Affiliate commissions are used to purchase new items to honestly & thoroughly review. If you found this review helpful, consider using them to support newinspired.
---
You might also be interested in…