After the lightly disappointing Naomi skirt, I took a break from Réalisation Par.
… and then my eBay alert dinged: the Kate dress in red polka dot was just listed.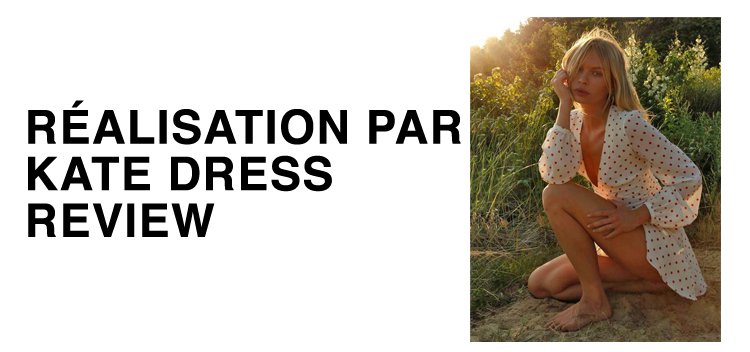 There's something so sweetly and slightly seductive about a white dress with red polka dots. I've been trying to find the Kate dress and Rouje's Gabin in white with red polka dots, but hadn't had any luck.

So when Réalisation Par's Kate dress was listed — oh, boy.
My other Réalisation Par dresses are mainly a size extra-small, but this Kate was in a small.
When my $100 offer was accepted, I started to worry… would it be too big like my size small Ozzie dress?
Réalisation Par Kate Dress REVIEW
RÉALISATION PAR KATE SIZING
This Kate dress is a size small, a size up from most of my Réalisation Par dresses.
For what it's worth, I'm 5'5.75" and currently weigh 116-118 lbs.
The body, chest, and length are like Réalisation Par's Luella dress, but the long sleeves make it similar to their Violette.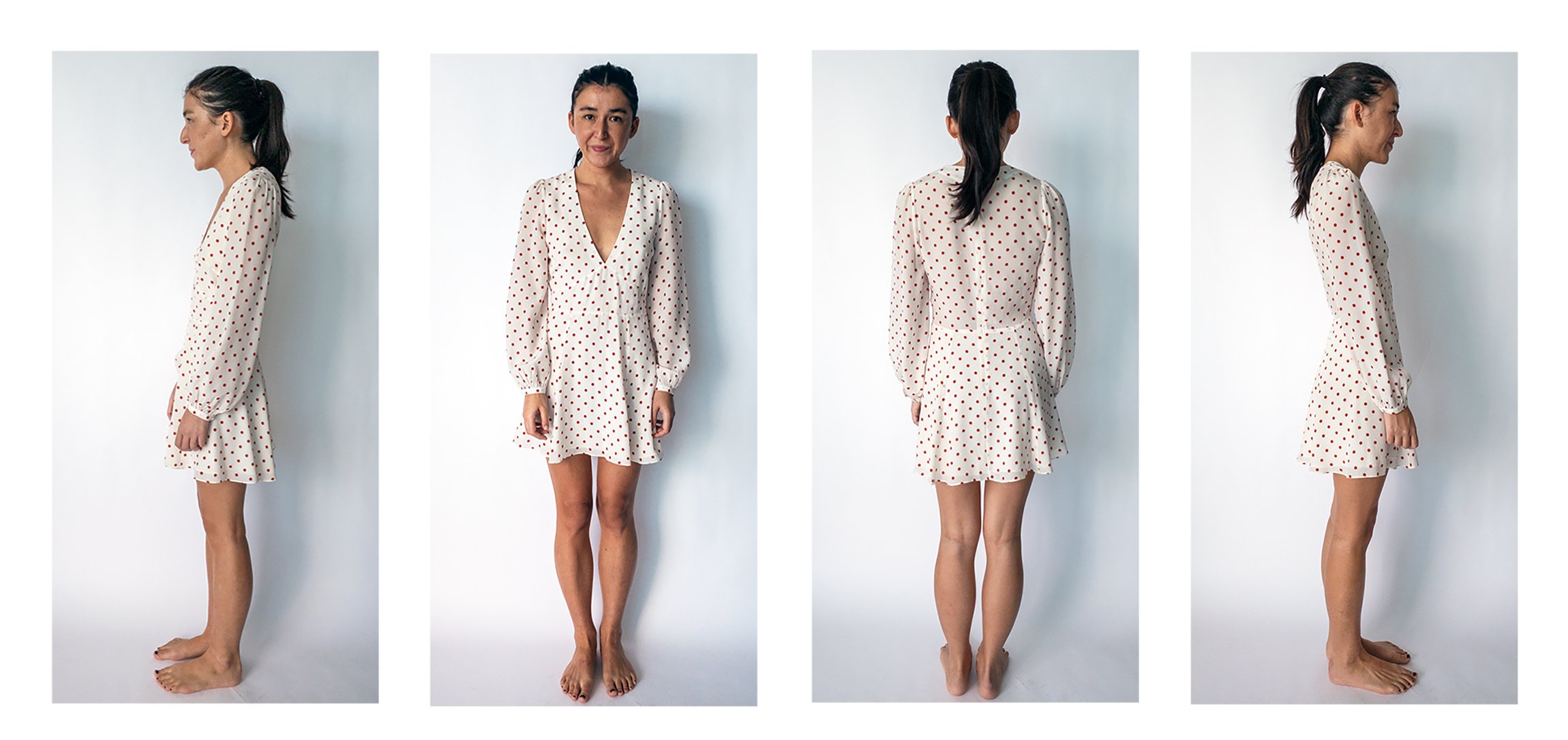 My XS Luella fits like a glove, but my XS Violette is kinda tight under the arms.
A size small in the Kate dress wasn't too bad considering how perfectly the XS Luella fits and how a size small allows for more arm space.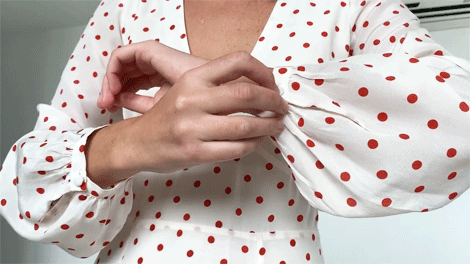 The size small Kate is a bit big in the chest, but it isn't the worst. It's nothing like my S Ozzie dress, which I definitely had to get taken in.
Looking for Something Similar To The Kate?…
Here are a few dresses that look super similar to the Kate, but in different prints…

---
RÉALISATION PAR ON EBAY
Right now Réalisation Par "dupes" (read: knock offs) are a dime a dozen and they've basically infiltrated eBay.
So here's the main thing: if the price is too good (like $30 USD) and they have a lot in stock, there's a reason — it's likely a knock off.
Even though their Naomi skirt disappointed me, I still appreciate Réalisation Par's prints and how they've designed these dresses so well (ex. super long zippers so you can easily get in/out). Because of that, personally, I wouldn't purchase a dupe.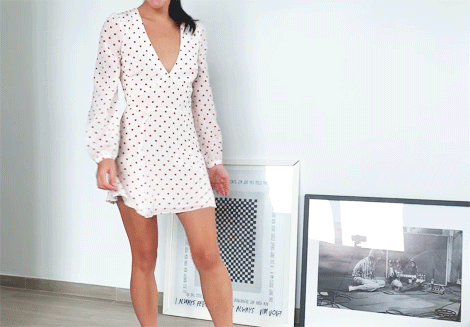 Instead look for dresses from eBay sellers who have photos of the actual dress and whose account has a positive track record.
Unfortunately, you can still get duped. This Kate dress was listed as having "no visible stains." There were four.
I should have messaged the seller before and specifically asked to make 100% sure.
So, I started a return via eBay and asked for a partial return. I still value this dress, but I certainly don't value it $100 worth when it is littered with stains.
The seller and I reached a $25 refund agreement. In the end, although the stains soiled my excitement, I'm fine with paying $75 for the Kate.
---
PROS & CONS
Pros
–100% Silk: Ohhh, I love natural fabrics. They just feel and look better.
–Billowy Sleeves: So romantic
–Super Sweet: Self explanatory — it's just really sweet.
Cons
–Top Is Not Lined: The Luella is lined, however for the Kate they skipped the extra layer of fabric on top.
---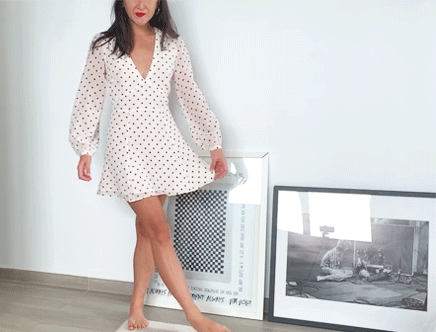 Out of all the contemporary "Instagram" brands, Réalisation Par has some of the best prints.
The florals dance like the first day of spring, the animal prints pull you in like a wild jungle, while the polka dots push you onto the disco dance floor.
In the ever immortal words of Radiohead, true love waits.
So if Réalisation Par discontinued a print you loved, set an eBay alert and start the waiting game.
The Kate dress is available in 3 prints on RéalisationPar.com for $195 USD.
You might also be able to find it on the Real Real, where you could save money and the environment by buying it second hand.
If you have any questions, feel free to follow me on Instagram and send me a DM!
---
---
Note: newinspired uses affiliate links which costs you nothing… but means a lot to me. When you use these links, the money newinspired earns gets reinvested in blog content. Absolutely nothing on newinspired is "gifted," I purchase each item with my own money. Affiliate commissions are used to purchase new items to honestly & thoroughly review. If you found this review helpful, consider using them to support newinspired.
---