It's summer where I am…
Gone are the days of thunder & lightning and here to stay (for the next 3 months) is the sunshine.
While the weather is perfect, I can't help but feel a cloud.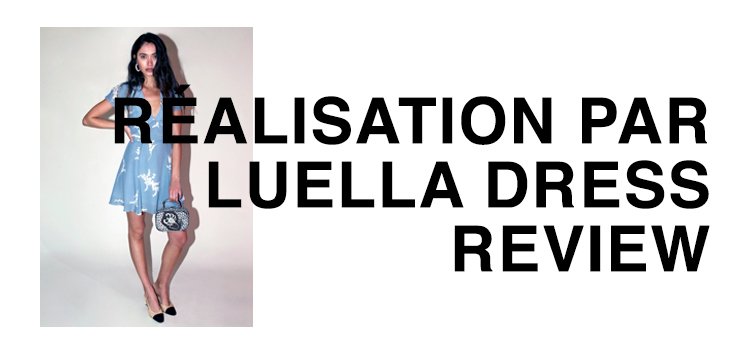 Just before summer started, I got ghosted by a guy who I thought was for réal. He said he'd changed since the last time we dated and I believed him. Our summer was supposed to be full of day trips to black sand beaches and aimless & endless weekend drives around the countryside… he said so and I believed him. Again.

To make up for my heartache, I've taken to retail therapy. I hate that term, but seriously, I've been non-stop shopping in an effort to distract myself. Clearly, it hasn't worked.

Along with an absurd amount of Ouai products and an Ozzie dress in "Poison Ivy," I purchased Réalisation Par's Luella dress in Summer Loving Blue.
Coincidentally, it's the same one that Lana Del Rey wore while crooning about, well, summer time sadness…
---
LUELLA SIZING
After my first two Réalisation Par dresses (my first Ozzie and then the Christy) were too big, I learned my lesson: size down!
I'm almost always a UK8 or FR36 (US 2 in Reformation dresses) and my Luella dress is an extra-small (XS), like my new XS Ozzie. It fits perfectly and tightly in the bodice!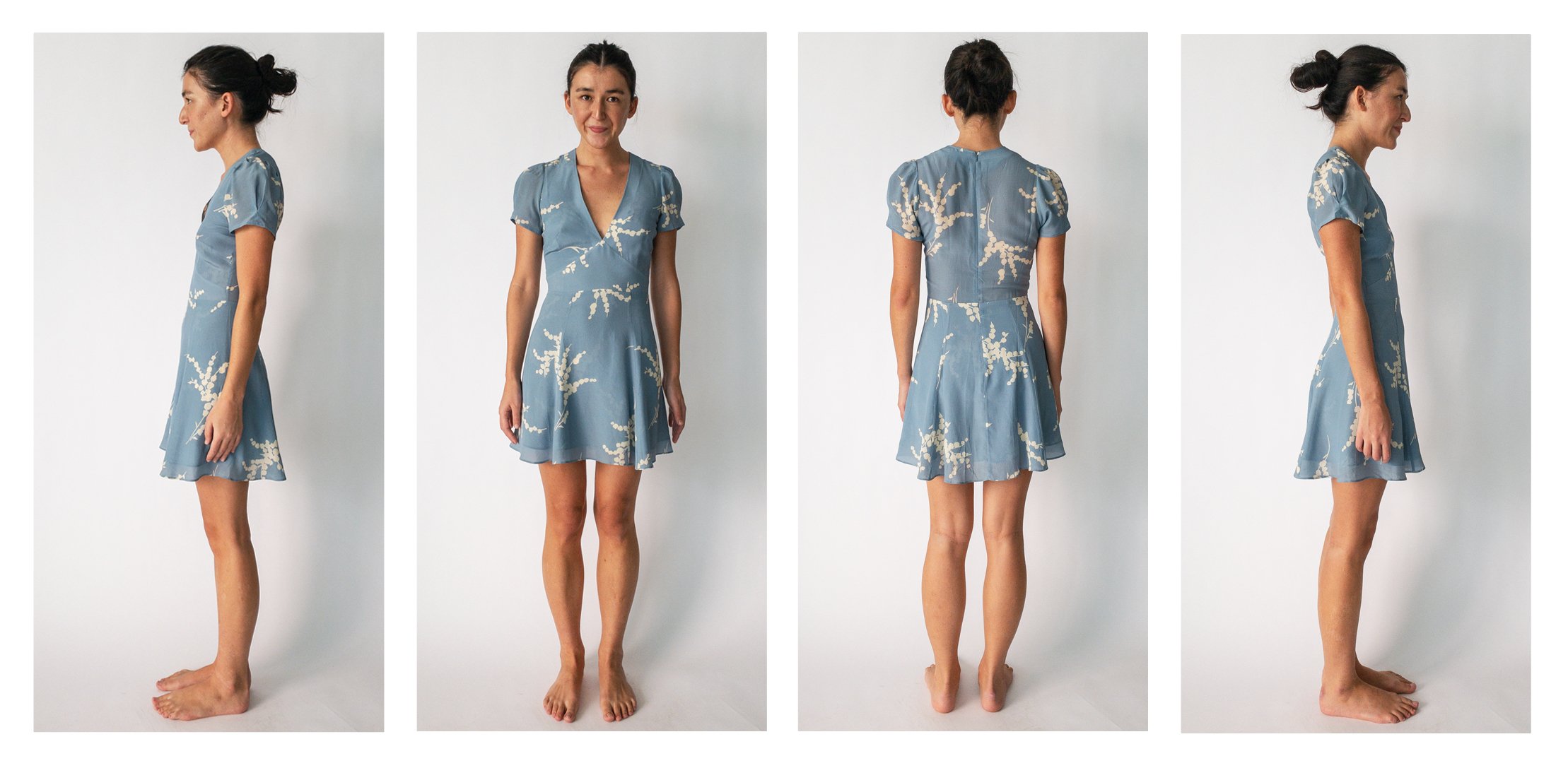 Réalisation Par writes…
"It [the Luella dress] is made with silk crepe which has a more draped affect than the structured silk used in the Ozzie. As there is more movement in The Luella fabric it may feel like a slightly larger fit than the Ozzie."
I don't agree with this. The Luella does not feel larger. If anything, the Luella feels a pinch tighter. It works well for me, although I could see it being too tight on someone who the XS Ozzie is already tight on.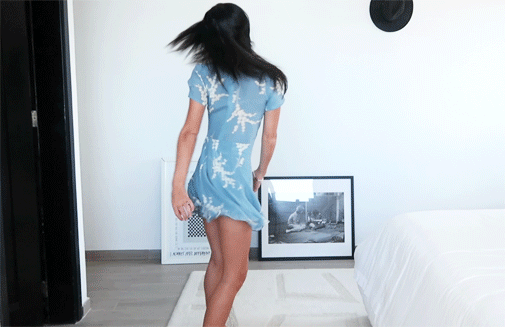 The Luella is silk crepe. This means it falls differently than the Ozzie. The Luella is less forgiving, e.g. my stomach shows after I've had a big pizza. Not so adorable.
At the same time, because it's silk crepe, that means that the skirt swirls more than the Ozzie. That is more adorable.
---
PROS & CONS
Pros
– Light and skimming skirt
– 100% silk crepe
– The top (and bottom) is lined, so no fear of ~shadows.~
– Capped sleeves, I love them compared to the ruched sleeves on the Ozzie.
– Cute
– Playful
– Adorable
… do you see where I'm going with this? It's just the sweetest.
Cons
– None
You should also be aware that this dress, like most of Réalisation Par's dresses, is not bra friendly. This isn't a con for me though because since the top is tight it keeps things up.
---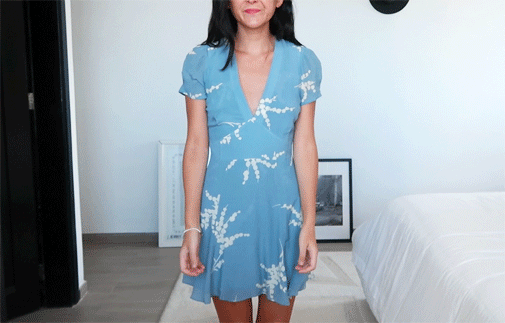 Sometimes, I still miss him.
Sometimes, I still wonder what could have been.
… and sometimes, that's OK.
Because sometimes, when I (try to) do my hair like a Ouai girl and slip on my Luella dress, I start to feel like my confident self again.
To modify that Marilyn Monroe quote that's on every girl's Tinder bio:
"If you can't handle me at my worst in my old denim shorts and sneakers, then you sure as hell don't deserve me at my best in my Réalisation Par dress."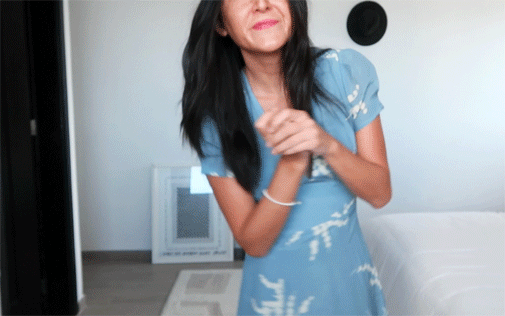 Réalisation Par's Luella dress makes you feel like you're at your best… oh, and it doesn't even stain when your new Tinder date spills his G&T on you.
You might also be able to find it on the Real Real, where you could save money and the environment by buying it second hand.
Here are a few dresses that look quite similar..
If you have any questions, feel free to follow me on Instagram and send me a DM!
---
Note: newinspired uses affiliate links which costs you nothing… but means a lot to me. When you use these links, the money newinspired earns gets reinvested in blog content. Absolutely nothing on newinspired is "gifted," I purchase each item with my own money. Affiliate commissions are used to purchase new items to honestly & thoroughly review. If you found this review helpful, consider using them to support newinspired.
---
MORE RÉALISATION PAR REVIEWS…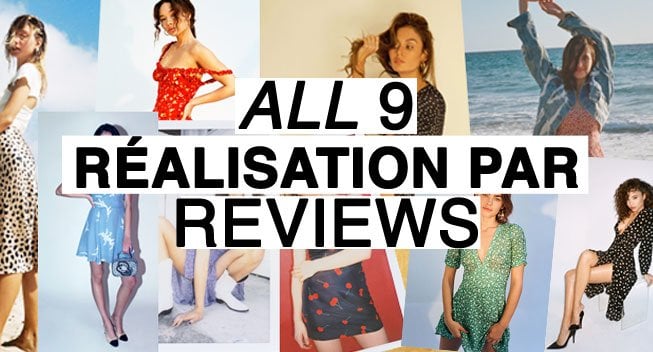 TIPS
-Take your normal Réalisation Par size.
-Réalisation Par return process can be a bit dodgy, here's what to expect.