I bought a second Réalisation Par dress. It was a total impulse purchase. I logged on and saw they added the Christy dress in a new print. Who couldn't resist a sweet cherry print?… me, that's who. Am I regretting it? To be honest, I can't decide, so let's review the pros & cons together.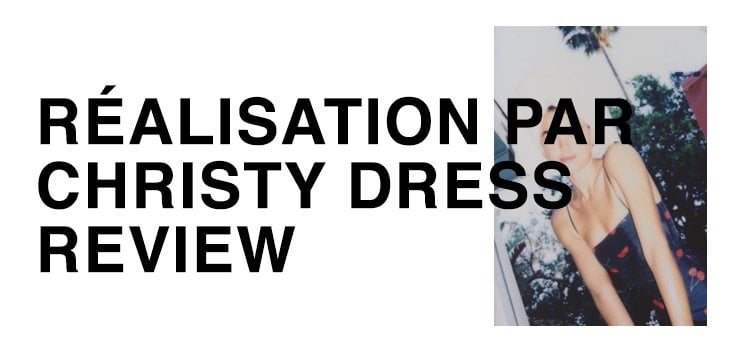 Your new favourite dress with a cherry on top! The Christy is just about as perfect as a dress can get. Which was our dream. A dress that you could wear to breakfast and lunch and dinner. A dress you could wear on a date but also meet the parents in.
This is Réalisation Par's official description of the Christy dress.
I have one note about that description: I would never ever EVER meet a boy's parents wearing this dress.
This dress is not for the faint of heart. It's short. It's strappy. It's silky.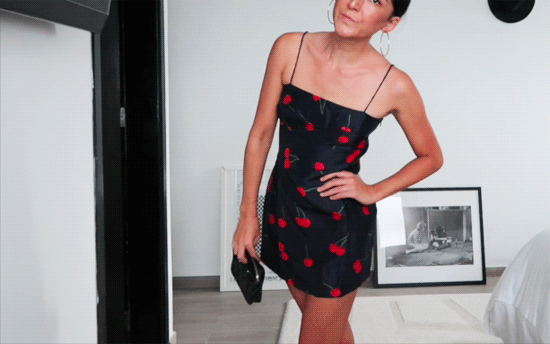 ---
SIZING

For reference's sake, I'm 5'5.75" and weigh 115-117 lbs.
My other sizes run below:
-US 2, in HVN or Reformation
-Small, Rag & Bone T-Shirts
-UK 8, in ALEXACHUNG
-FR 34-36, in Isabel Marant or Rouje
… and you can find my other Réalisation Par reviews here.
My Christy is a size SMALL. For this dress, I took time to get out the measuring tape and actually read their sizing chart.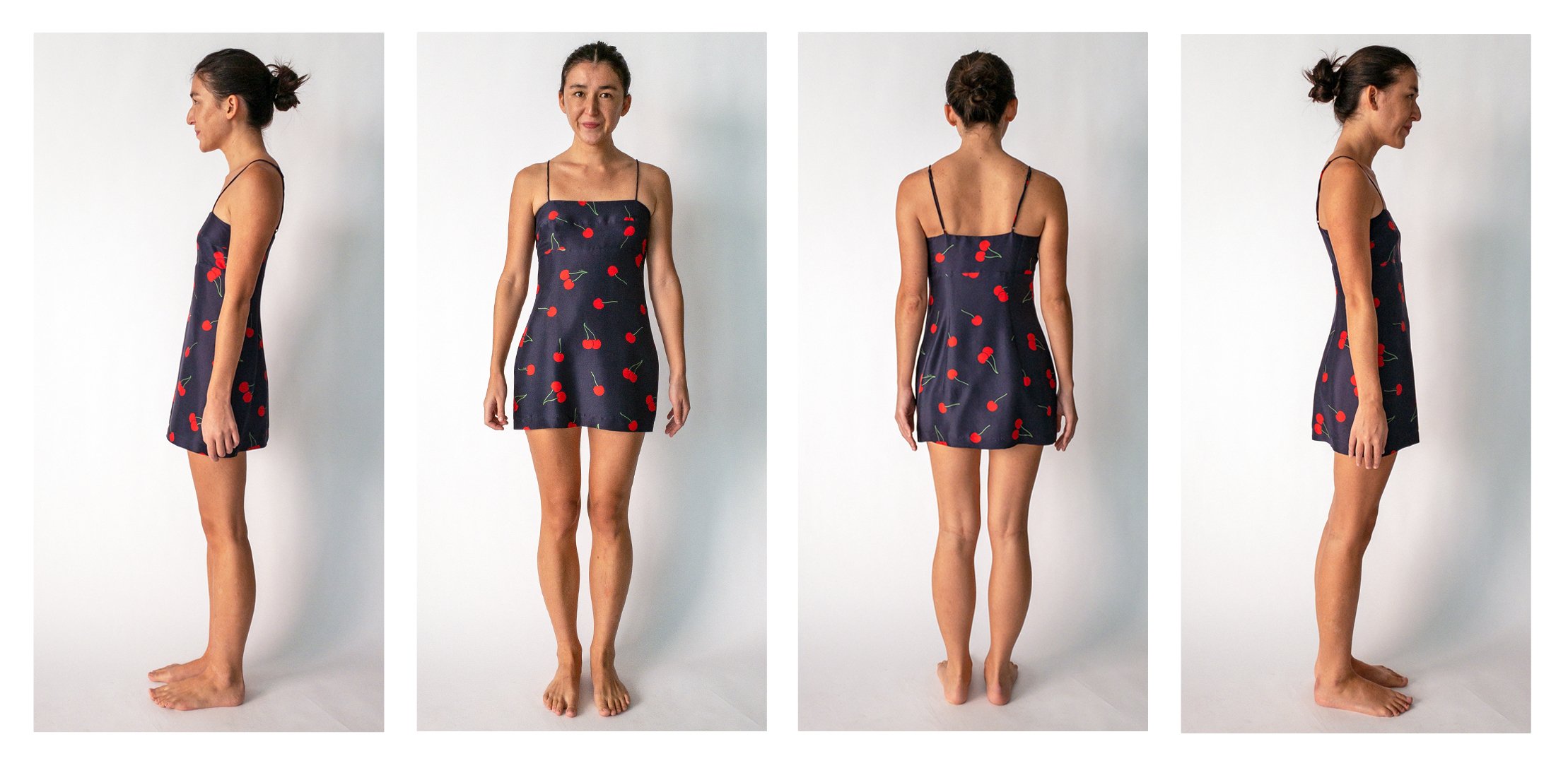 Technically, this dress was supposed to fit me PERFECTLY. Theoretically, the bust is a pinch loose and my hips are swimming in it.
The size small Christy's dimensions are below in bold vs mine:
Bust: 81 cm vs. 79 cm for me
Waist: 72 cm vs. 71 cm for me
Hip: 97 cm vs. 90 cm for me
I love Réalisation Par and their garment quality is so amazing, but their sizing runs a little wonky.
Am I just the worst at choosing sizes when it comes to Réalisation Par? What gives?
Luckily, the straps do. That's the saving grace here.
They're adjustable and when I make them super short: the chest and waist get tighter. Unfortunately it also makes the overall length shorter (obviously) and does nothing to make the hips tighter. Which means absolutely no bending over and no leaning dramatically on the bar (you know when there aren't any stools and you really just feel like sitting so you dramatically lean on it? ya that).
When the straps are super short, the size SMALL works. But I am self-concious that my thighs & hips look big due to it being so short.
Looking for Something Similar, but Different?
---
HOW TO WEAR RÉALISATION PAR'S CHRISTY DRESS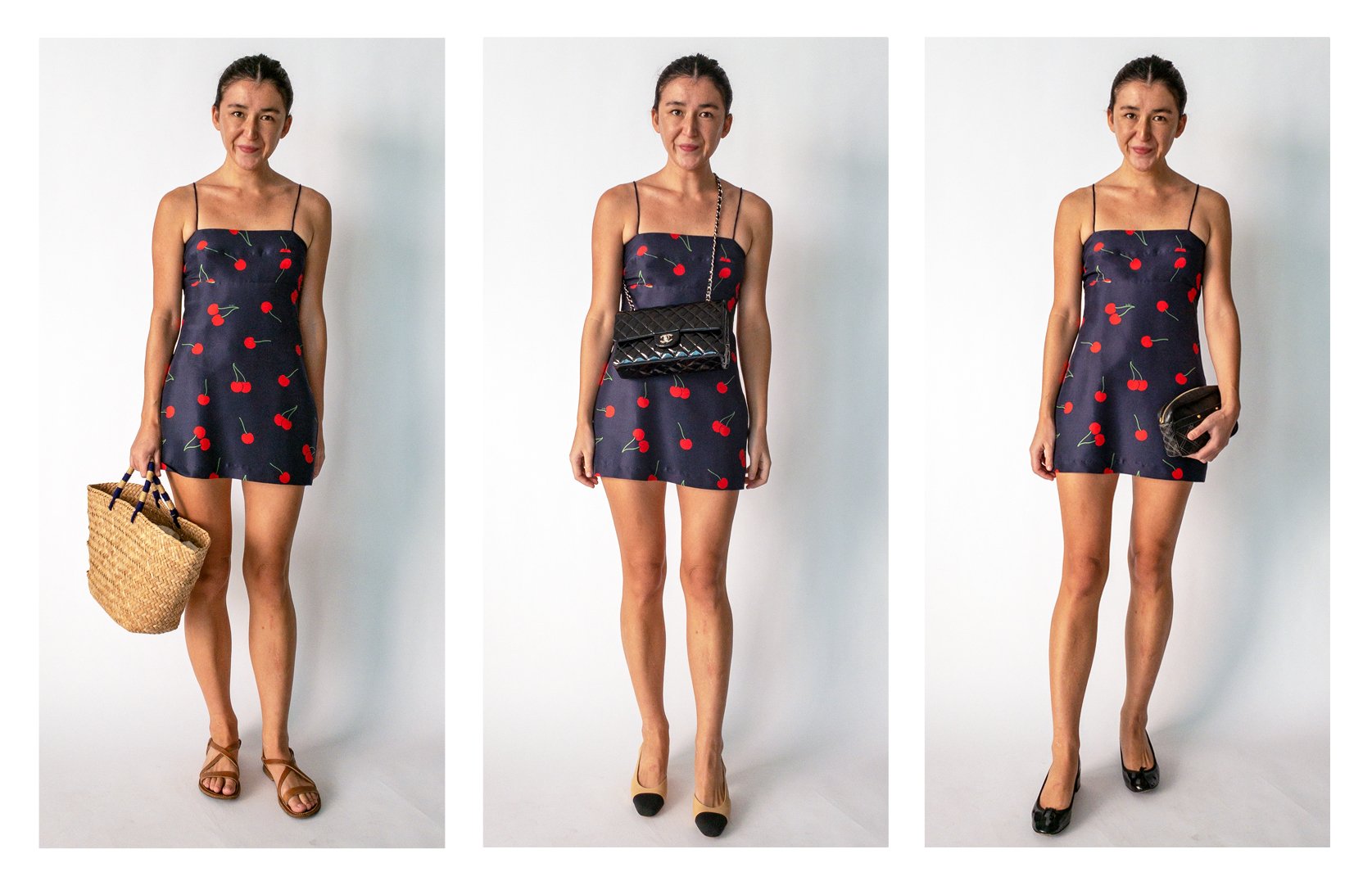 The Christy dress is more of a "nighttime" kind of dress, but you can still wear it during the day if you brighten it up with a straw bag and a pair of tan sandals.

Left to Right: K. Jacques sandals with a KAYU straw tote, Chanel bag with Chanel slingbacks, Repetto Camilles with a Marc Jacobs clutch.
… with that said, it shines at night. Accent it with patent accessories and shoes with a mid-heel to elongate your legs.
---
PROS & CONS

Pros:
-100% silk
-Adjustable straps
-Strapless bra friendly, although you don't need one
-Quick shipping (my order came within a week)
Cons:
-Borders on being too short
---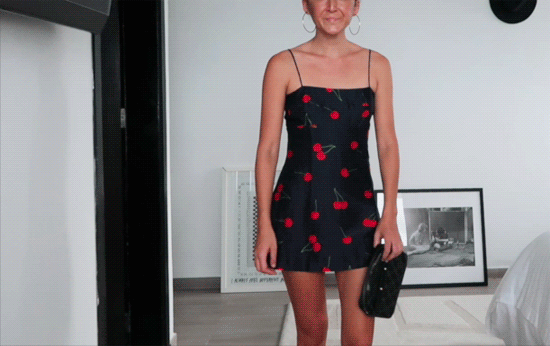 I'm still going back and forth if I love it or hate it. I can't make up my mind if the cut is actually super awkward or if it actually looks good… but…
If you're into it…
This is an EXCUSE ME PAY ATTENTION TO ME kind of dress.
A hot dang kind of dress… a "boy, bye" kind of dress… an unapologetically totally feeling myself kind of dress.
… and everyone could use that kind of dress.
What do you think about the Christy?
Réalisation Par's Christy dress is available on their website in cherry print, black, or ivory from $175 USD
You might also be able to find it on the Real Real or Vestiaire Collective, where you could save money and the environment by buying it second hand.
Similar, but Different Dresses
If you have any questions, feel free to follow me on Instagram and send me a DM!
Note: newinspired uses affiliate links which costs you nothing… but means a lot to me. When you use these links, the money newinspired earns gets reinvested in blog content. Absolutely nothing on newinspired is "gifted," I purchase each item with my own money. Affiliate commissions are used to purchase new items to honestly & thoroughly review. If you found this review helpful, consider using them to support newinspired.
---
MORE RÉALISATION PAR REVIEWS…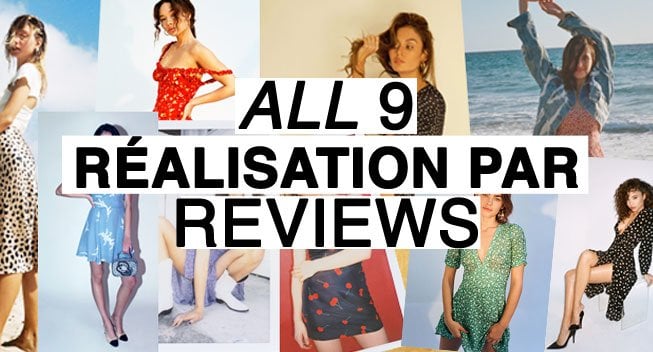 TIPS
-Take your normal Réalisation Par size for a closer fit, if you have a larger chest though, you might want to size up.
-Réalisation Par return process can be a bit long, here's what to expect.