"They took us a year to perfect, but the wait is worth it! With a classic 70's sweatsuit and a 90's Sharon Stone in our minds, we worked hard to get this duo to be the perfect pair. The pants should make you feel like you want to get up and hit that reformer, pound the pavement or make a Sunday casual look, something you could cross over into an everyday go-to. Post sweat session, the top is there to match you back to feeling a little bit like that perfect LA leisure, meets NY Carolyn Bessette-Kennedy off-duty. We love them, and cannot WAIT for you to take your Réal sweatsuit from travel chic to cosy cutie. Introducing – Réal Sweats. Designed to be sized up or down to suit your mood and level of leisure."
-Réalisation Par's product description for their Réal Sweatpants & Shirt
This description reads like a whole deli's worth of baloney — you're telling me that it took Réalisation Par one whole year to design sweatpants?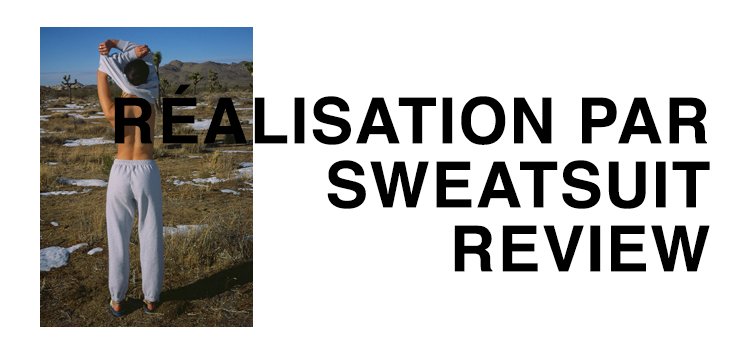 Plus, I've never seen a 90's Sharon Stone wearing sweatpants in photos or film and I've read enough JFK Jr. memoirs to know that sweatpants were not a staple in Carolyn Bessette-Kennedy's wardrobe.

One of the only times Carolyn Bessette-Kennedy wore sweatpants in public, she was aggressively bawling out John John outside of Central Park.
… and there is nothing "NY off-duty" leisure about yelling at your partner like that in public or private.
Why is Réalisation Par bringing up my least favourite memory/outfit/photo of CBK???
Anyways, I'm still stay-at-home and while I wear jeans some days to feel more "normal," I wanted to try out Réalisation Par's sweatpants.
Will I be able to get a "Réal sweat" on and alleviate some of my own anger towards that description?
Réalisation Par Sweatpants & Sweatshirt SIZING
For reference, I'm 5'5.75" and weigh 115-117 lbs.
For comparison, here are some sizes I normally take:
-US 2, in HVN or Reformation
-Small, Rag & Bone T-Shirts
-UK 8, in ALEXACHUNG
-FR 34-36, in Isabel Marant or Rouje
… and my Réalisation Par dresses are mostly a size XS (they're a little tight though, as I've gotten older and gained a pinch of weight!).
My Réalisation Par sweatpants are a size small.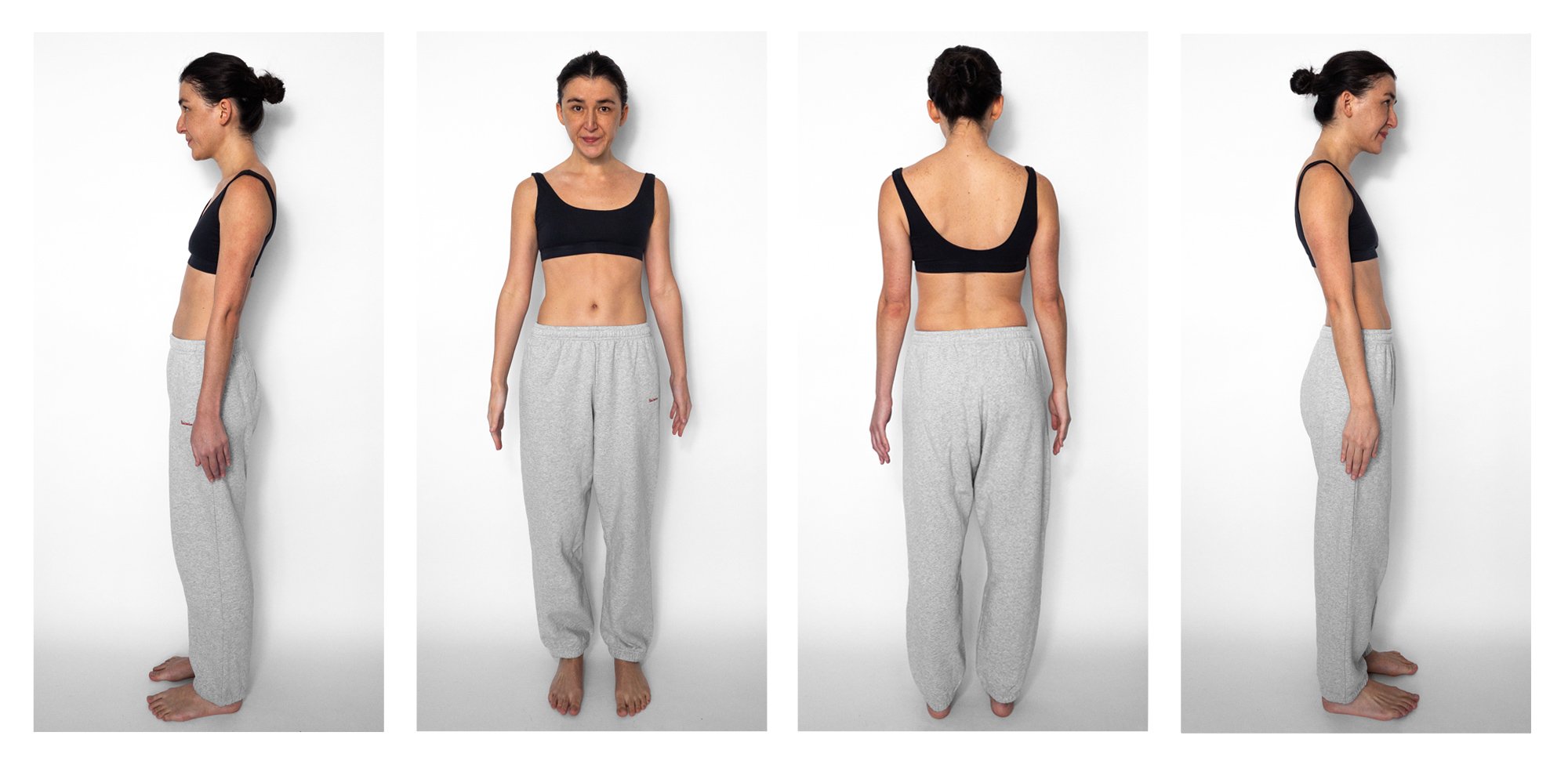 Réalisation Par's sweatpants are more of a midi-rise compared to Entireworld's sweatpants (I'm gonna bring these ones up a lot, so buckle up!).
I wish that I could wax poetic about how great these sweatpants look on… but, like, they're sweatpants.
Entireworld's sweatpants seemed entirely more flattering — likely because Entireworld's cut is slightly closer… and the elastic pant cuffs are tighter.
The elastic cuffs on Réalisation Par's are quite loose and don't cuff your ankles.
They did add a way to adjust the fit around your waist with a hidden drawstring…
… but to me, that feels like a waste of design time, because they could have spent that time figuring out how to add a different feature:
POCKETS
Réalisation Par's sweatpants do not have POCKETS.
I don't understand how they claim to have spent a year designing these sweatpants, but they did not put pockets on them — I know they said "pocketless for a more flattering fit," but that sounds like such a load of over processed oops-we-forgot meat.
The matching Réalisation Par sweatshirt is a size medium.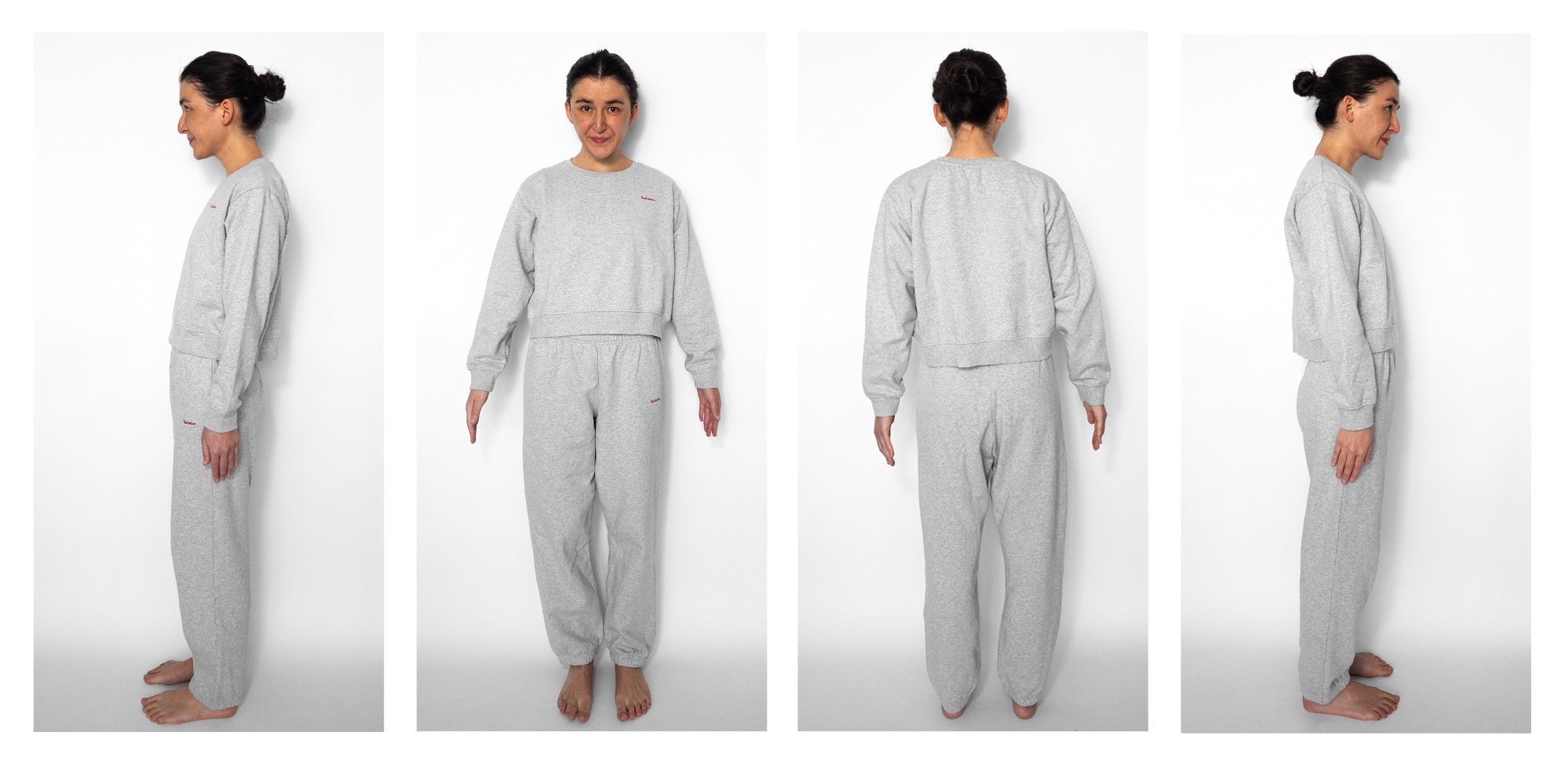 In a size medium, it lands at the top of my hip bones.
It's definitely still a little cropped, but it's totally fine.
---
Réalisation Par Sweatpants Quality
Let's put Réalisation Par's sweatpants to a "pseudo-scientific lab report" test!
Note: This is just my experience, yours could differ.
Hypothesis
(Note: I'm not testing the sweatshirt, because it's so similar to the sweatpants and I'll overheat wearing a fleece combo for 7 days.)
With the polyester in them (they're 80% cotton & 20% polyester), Réalistion Par's sweatpants will undoubtedly pill at some point.
It's just like with my Entireworld sweatpants (84.5% organic cotton & 15.5% recycled polyester) — they pilled, a lot.
I'll also hypothesize that I'll get Réal tired, Réal fast, that they don't have pockets.
Materials
-x1 Réalisation Par sweatpants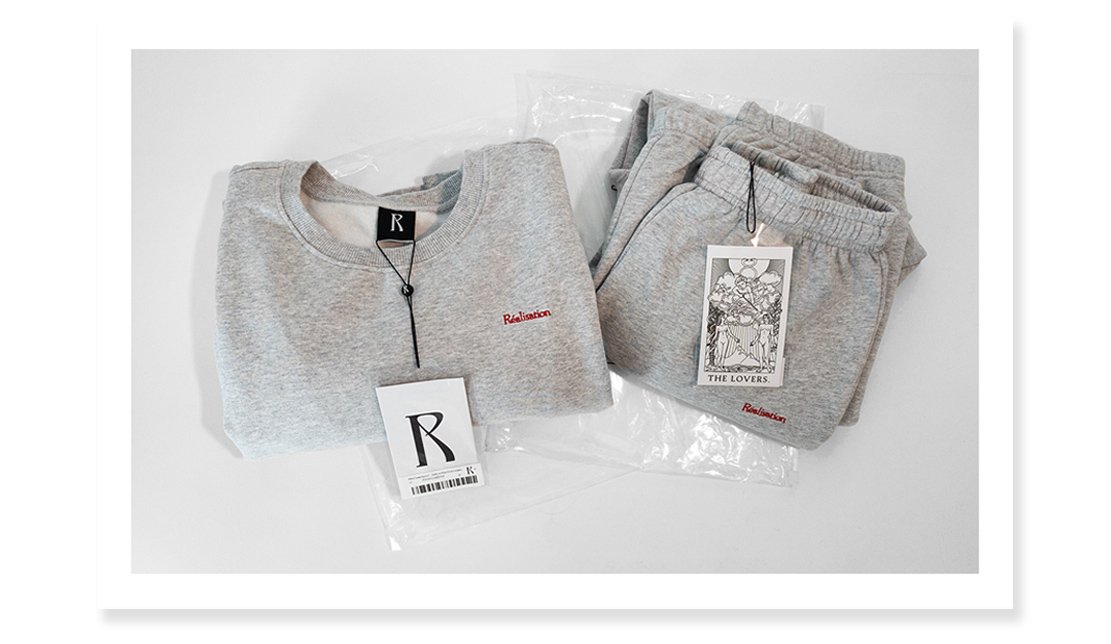 Method
1- Sweatpants must be worn for 7 days for at least 6 hours/day
2- They must be washed at least 3 times and air dryed
Results
I kept trying to put my hands in my pockets while wearing Réalisation Par's sweatpants.
They say that they're "pocketless for a more flattering fit," but these are sweatpants we're talking about.
… they're never going to be flattering — plus, pockets don't add bulk to your hips!
Poorly designed pockets add bulk to your hips, but decently designed pockets blend into your hips (see: Entireworld's or, like, any yoga pants with side pockets).
Walking up the stairs with a lot of stuff in my hands, I needed somewhere to put my phone & AirPods. I ended up spilling my glass of water while balancing everything in my hands & arms.
Sitting on the couch and allergies make my nose dribble, where's my tissue? Oh right, it's rolled up in my sleeve because I HAVE NOWHERE TO PUT THINGS IN THESE SWEATPANTS!
Pocketless rant aside, these sweatpants hardly pilled.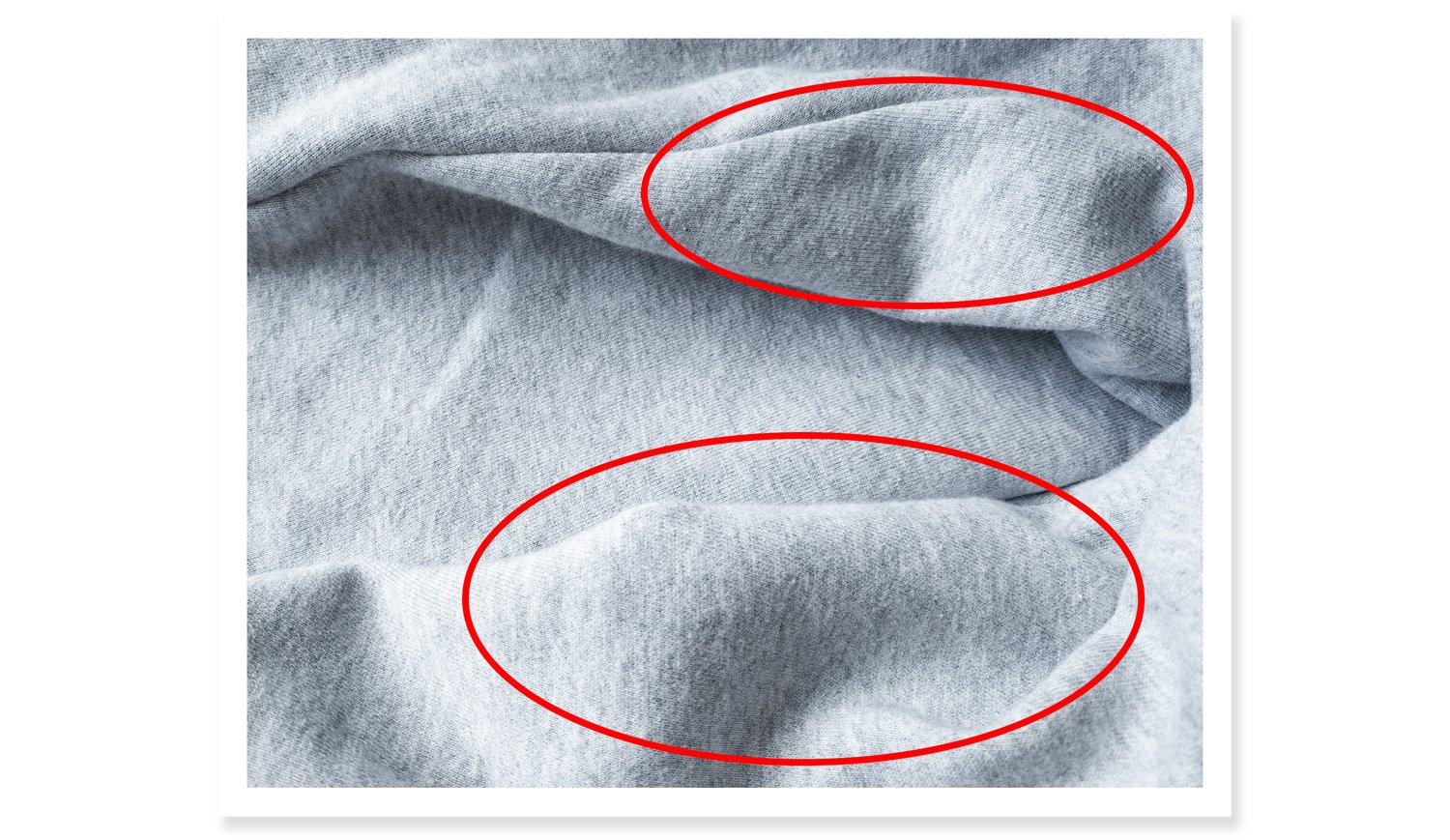 No matter how many carpets I sat on while watching this year's Academy Awards movies (warning, the Father will emotionally destroy you) or however much I vigorously rubbed my hands on them (enough to start a small fire, tbh) — they barely pilled.
Most of the pilling is around the bum and back-thigh area.
Conclusion
Maybe it was because I desperately wanted Réalisation Par's sweatpants to pill so I could tell a cautionary tale.
… or maybe it's just because they didn't use recycled polyester like Entireworld.
… or maybe it's simply because they struck the right balance of cotton & polyester (and that's what took them a whole year!).
Either way, I was wrong and Réalisation Par's sweatpants barely pilled after 3 washes and air-drying.
… but for what it's worth, I still got absurdly annoyed that they do not have pockets.
---
PROS & CONS
Pros
–Hidden drawstring in the sweatpants: You can make the fit tighter if you want. FWIW, I leave the drawstring undone.
–Haven't pilled: Much to my chagrin, these sweatpants barely pilled.
Cons
–No pockets: Are you kidding me? Is this a joke?? They worked a YEAR on their sweatpants… and they don't have pockets???
–Fleece lined: It hasn't pilled or anything, but, idk, I just hate fleece.
–Mid-rise: Still would rather sweatpants that are high-rise.
… side note: I did not get a free canvas tote like I did for most of my previous Réalisation Par purchases.
---
On transatlantic flights to bodega runs at 2:30am, for all that is good and Holy in this world, please do not wear sweatpants outside of your home.
I do not care if your sweatpants are pilled or not or from Sean John, Costco, or Réalisation Par.
This is not the 90's — you are not Sharon Stone.
(If she even was ever photographed in sweatpants in the 90's — do you think they were confusing her with Julia Roberts? Cos Julia wore them often…)
This is not the 90's — you are not Carolyn Bessette-Kennedy.
(Even if only wore them like once in public.)
We've been through a lot this past year and you owe it to yourself to do what you want… and that could mean wearing real clothes again.
If you want to wear sweatpants outside, then, sure, wear makes you happy!… but, consider looking at Mo first for styling inspiration.
Mo is one of the only people who makes sweatpants (joggers in her case, she's British) look like "real" clothing.
Réalisation Par sweatpants & sweatshirts are available from realisationpar.com for $85 USD.
Alternatively, you can sometimes find Réalisation Par clothes at the Real Real or Vestiaire Collective for significantly less.
Also, if you have links to photos of Sharon Stone wearing sweatpants in the 90's, please send them my way.
I feel like there's a scene in Casino where she's wearing them with fur, but she's not, I checked.
Note: newinspired uses affiliate links which costs you nothing… but means a lot to me. When you use these links, the money newinspired earns gets reinvested in blog content. Absolutely nothing on newinspired is "gifted" or sponsored, I purchase each item with my own money. Affiliate commissions are used to purchase new items to honestly & thoroughly review. If you found this review helpful, consider using them to support newinspired.
---
You might also be interested in…