Gucci Princetown loafers have been on my lust list (totally different from a "wish list") forever now.
Every few months, I'd go to the Gucci store to try them on… and every time their bulkiness made me look super, uhhh, squat.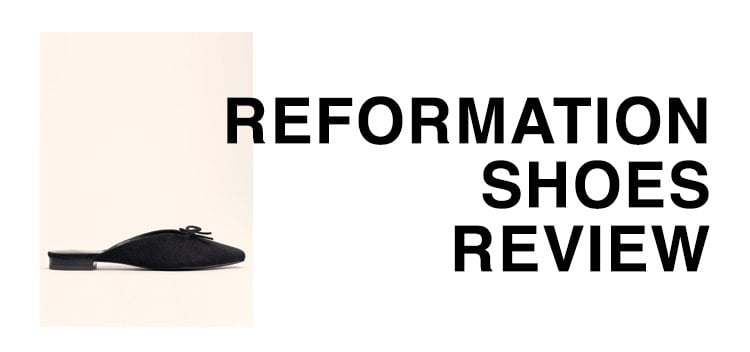 Basically, like most people, what drew me in was my desire for a closed-toe summer shoe that I could just slip on and not have to worry about a pedicure in order to wear.
… like just a simple slip on shoe — nothing too "normcore," nothing too "bloggery" and obviously nothing too ridiculous. Literally, just a slip on shoe.
… then Reformation put out their shoe collection.

They somehow read my mind and had a backless ballet flat, the Belle.
Were my summer shoe prayers answered?
Reformation Shoe SIZING
My standard shoe sizes run below:
-Adidas Stan Smiths, US 8
–Chanel Shoes, FR 39
–Christian Louboutin, IT/EU 39.5
–Golden Goose, IT/EU 39
–Hermès, FR 39
–Isabel Marant, FR 39-40
-Nikes, US 8.5
–Repetto, FR 39.5
Since I'm generally a US 8/8.5 in sneakers, and my US size 8 Tkees flip flops were a bit too small, I went ahead with the US8.5 (kinda surprising, but great that they do half sizes).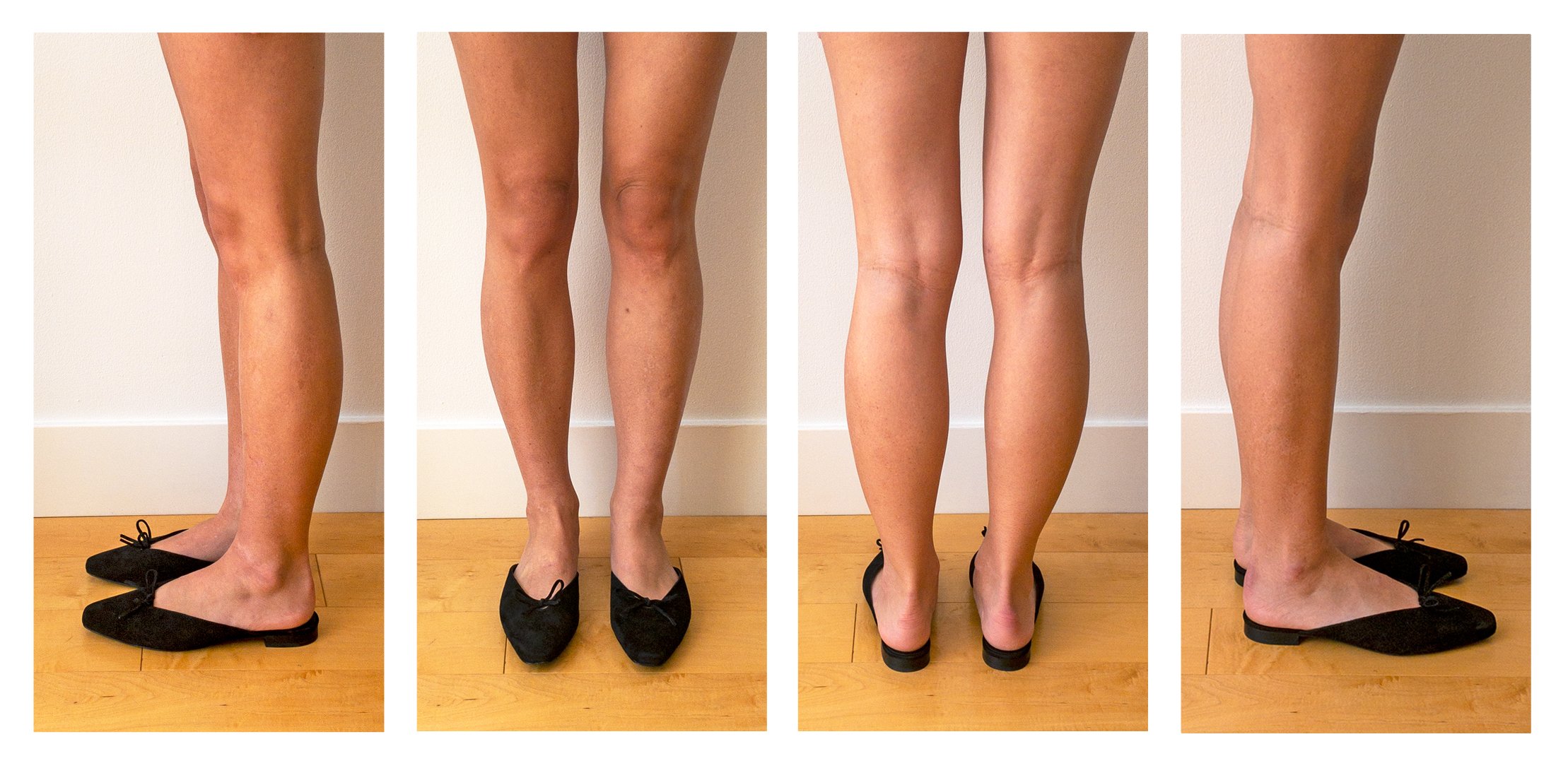 Reformation's size 8.5 fits true to US shoe sizing.
According to Reformation's shoe size chart, they recommend that a size 8.5 = 9.69 IN.
… but I wasn't sure if that meant like your foot should measure 9.69 IN or the shoe measures 9.69 IN.
To clarify, this Belle flat measures 11.25 IN and my barefoot measures 9.25 IN.
So I have no idea where they got 9.69 IN from…
Basically, just take your true US shoe size and ignore the FR & EU/IT shoe sizing comparisons.
Like their clothing size charts, Reformation's shoe sizing chart is not that useful.
---
IMPRESSIONS
What I Wanted From A Pair of "Easy" Summer Shoes…
Slip On Style ✅
I don't want to spend half my summer bending over to lace up a pair of espadrilles.
Not Bulky ✅
Like those Gucci loafers added bulk to my feet & legs, my ideal summer shoe is light and doesn't add any weight.
Comfortable ❌✅
While the click clack of a backless shoe can be annoying, these shoes are still comfortable… just avoid lots of stairs. The extra padding makes them extra comfortable too… however, blisters can & will occur.
… basically, these shoes should make getting dressed a lot easier… kind of like this: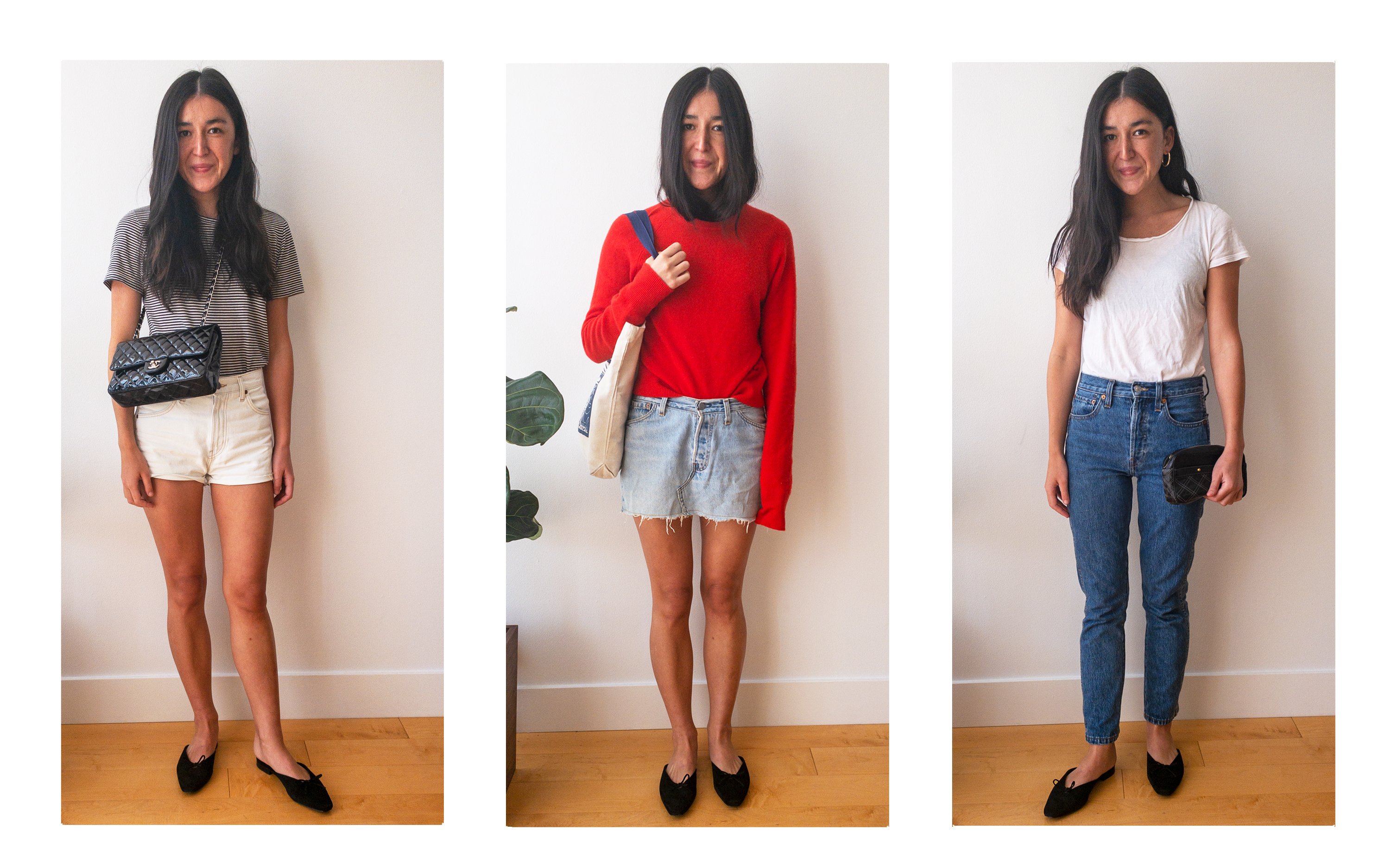 Left to Right: Calder Blake Rampling T-Shirt with Re/Done denim shorts and a Chanel bag, Kate Moss x Equipment sweater with a What Goes Around Comes Around Levi's denim skirt and a tote, Rockins White T-Shirt with Goop x Jennifer Fisher Hoops and Re/Done Jeans and a Marc Jacobs clutch.
… and another outfit, from my Instagram in my ALEXACHUNG dress (review about the OG cool girl's clothing line here)…
---
QUALITY
Reformation's main MO is to reduce their carbon footprint.
Instead of vegan leather, they've opted to use animal leathers and instead reduce their emissions by using more sustainable tanning processes.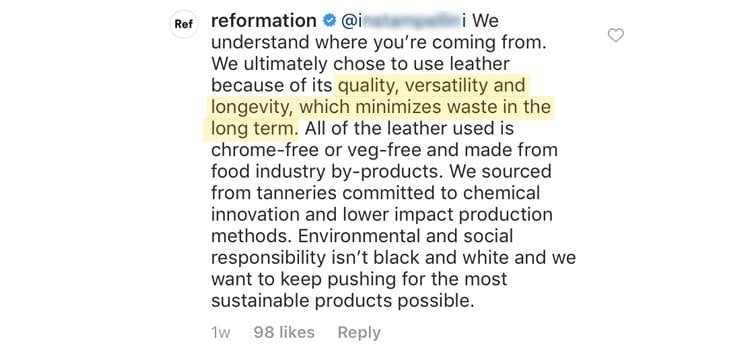 The way they see it is that they'd rather make a durable shoe with "real" leather than craft a shoe out of vegan leather which you'd have to replace in a year's time.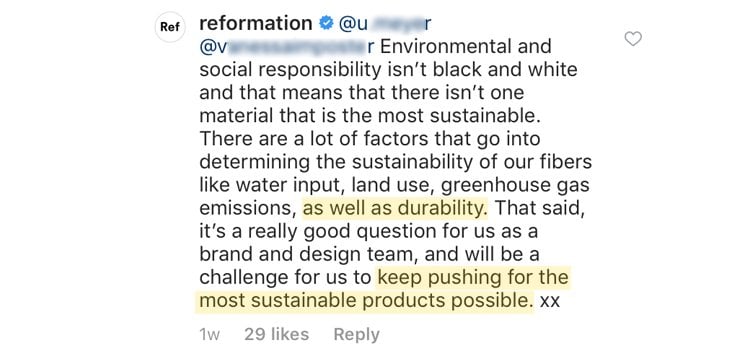 If the Ref uses real leather so that your shoes will last longer and you won't have to replace them so quickly (really bad for the environment), I'm ok with it.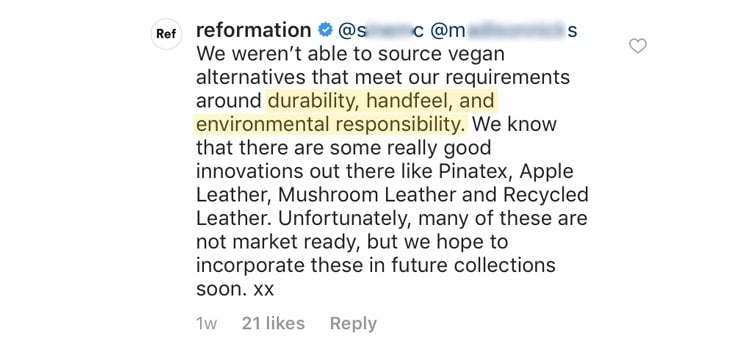 For vegans, it is frustrating though. I understand that… and so does the Reformation — apparently they're monitoring suitable leather alternatives for the future. So, fingers crossed!
… while I've only had my shoes for a few weeks now, I can attest to the quality of how comfortable they are… except if you walk long distances in them, then welcome to Blister City!
---
PROS & CONS
Pros
–More Sustainable: Reformation says their shoes "save an average of 52% CO2 emissions, 70% water and 65% waste compared to most shoes bought in the US."
–Reasonable Prices: Prices run $128 USD to $218 USD, not too bad for a pair of 100% leather shoes.
–Half-Sizes: Perfect for those of us who are in between sizes.
–Well Padded: The insole is super comfortable with extra padding that makes walking even more comfortable.
Cons
–No Dust Bag: They arrived a little scuffed from the box and had a bit of the recycled cardboard box's bits on them — kinda a bummer, but it's their first shoe collection, so maybe packaging will get better.
–Long Toe: Considering the structure of the shoe, it'd be tough to design this style of slip on ballet flat without it. Manolo Blahnik's Ballerimu have a long toe and so do Staud's Gina Mules. I would still prefer a slightly shorter toe box though.
---
With my summer shoe prayers answered, I'm ready to start this season on the right foot.
This summer, I won't get tangled in a clunky pair of Birkenstocks or fumble to lace up a pair of espadrilles.
Reformation's Belle flats mean that you can put your best foot forward all summer long… actually, I have a feeling I'll be wearing these whatever the season is.
The debut shoe collection is available from $128 USD exclusively from Reformation… and apparently shoes will be making it to their retail stores soon.
Note: newinspired uses affiliate links which costs you nothing… but means a lot to me. When you use these links, the money newinspired earns gets reinvested in blog content. Absolutely nothing on newinspired is "gifted," I purchase each item with my own money. Affiliate commissions are used to purchase new items to honestly & thoroughly review. If you found this review helpful, consider using them to support newinspired.
---
YOU MIGHT ALSO BE INTERESTED IN…