There's a lot to write about the Kardashians.
… like, I have a ton of thoughts about each sister and their momager.
I mean, who doesn't agree with, "the devil works hard, but Kris always works harder?"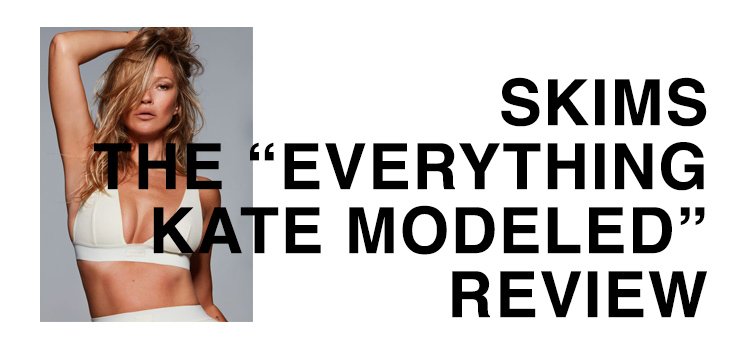 … but, as an ardent Kate Moss fan, I have even more thoughts about Kate's SKIMS ads.
The main thought? OMG, KATE!!! (Followed by a lot of heart-eye emojis and flame emojis.)

Obsessed with Kate and endlessly fascinated by the Kardashians, I ordered (most of) the pieces that Kate Moss wore in her SKIMS campaign.
I wanted to see if Kim's SKIMS is worth it for someone who definitely does not have the Kardashian sisters' or Kate's shape and what SKIMS quality is actually like…
SKIMS "Whatever Kate Moss Wore in the Ads" SIZING & Thoughts
For reference, I'm 5'5.75" and weigh 115-117 lbs.
I give this information because some folks may find it helpful.
For comparison, here are some sizes I normally take:
-US 2, in HVN or Reformation
-Small, in T-Shirts
-UK 6-10, in ALEXACHUNG or RAEY
-FR 34-38, in Isabel Marant or Rouje
SKIMS Cotton Rib Plunge Bralette and Brief Sizing
My Cotton Rib Plunge bralette is a size S, while the matching Cotton Rib Briefs are a size S — both in Bone.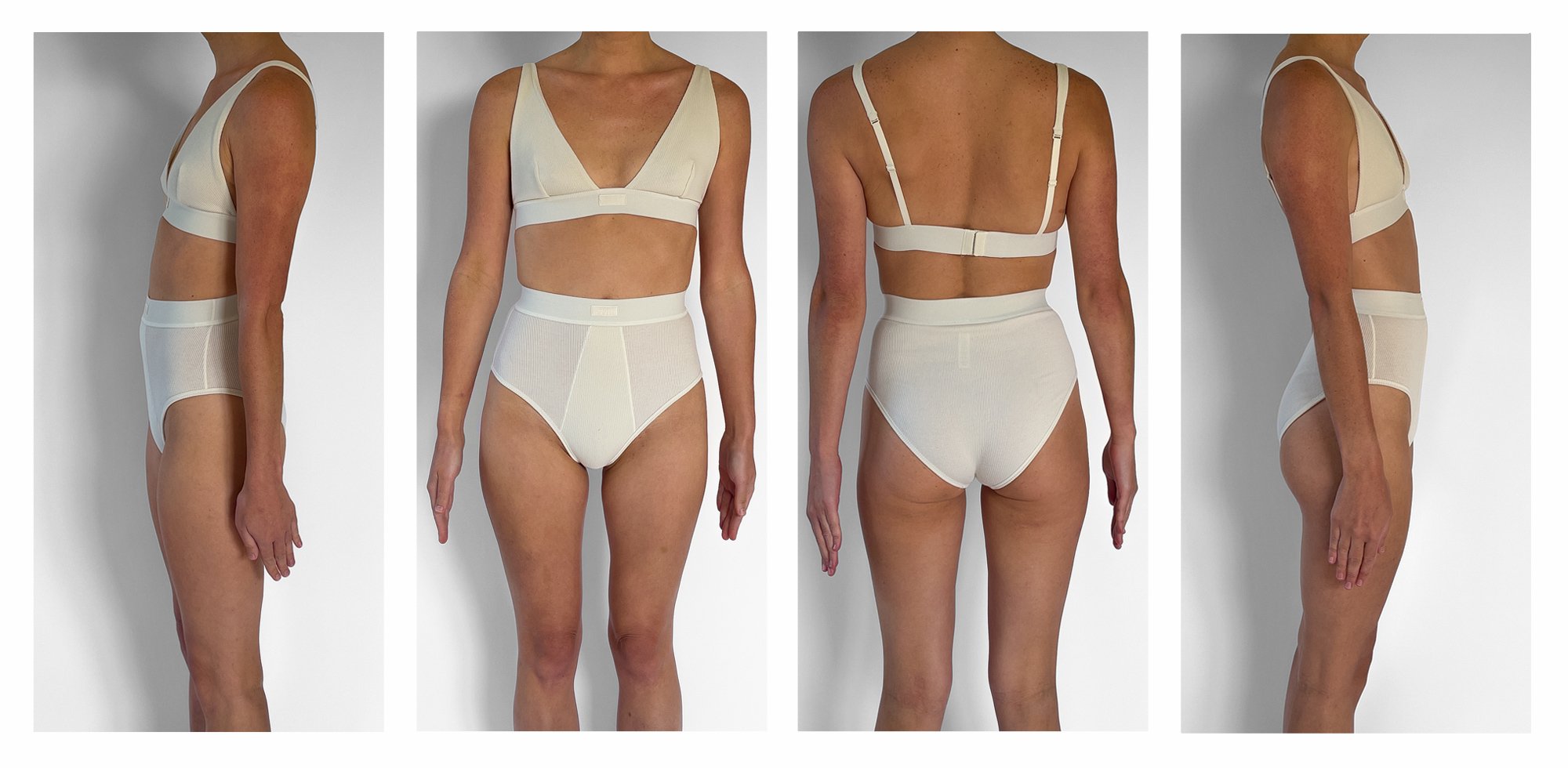 The first thought when I tried on the bralette was: "Is there anything Kim Kardashian can't do?"
Like, this bralette doesn't show any of my armpit fat and most importantly…
In an S, it still lifts up my chest.
… yet there is absolutely no pinching at the straps or band (OK, maybe there's a little fat spillage over, BUT I wanted it tight…)
View this post on Instagram
The matching briefs are so comfortable and fit perfectly in a size S.
The briefs look suspiciously sexy when paired with the bralette — or even when worn alone for that matter.
Rating: 10/10 for both… like, I really can't get over the briefs.
---
SKIMS Cotton Rib Legging Sizing
I ordered SKIMS' Cotton Rib Legging, in Soot, in a size S and the Cotton Rib Plunge bralette in an XS.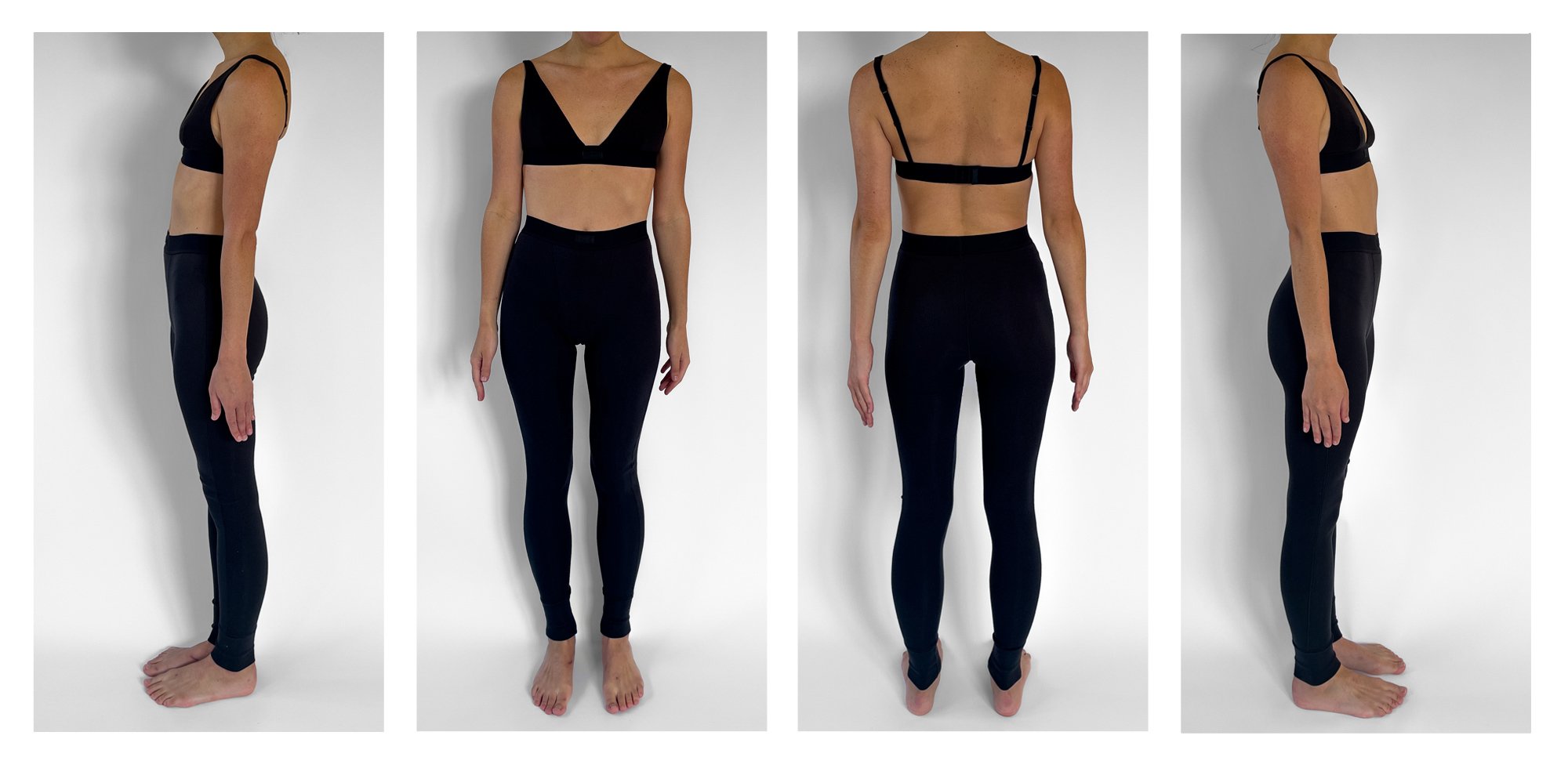 These leggings are long.
In Kate's photo, they're pulled up high, so I assumed that's what you have to do.
… but, they gave me a camel toe, even though I had the Fits Everybody Thong on underneath.
View this post on Instagram
SKIMS' leggings are still absurdly comfortable though — there's something about the combination of ribbed cotton and high rise that feels like your legs & abdomen are being cradled.
In an XS (a size smaller than the Bone one), the Cotton Plunge bralette lifts up my smaller chest slightly more.
… yet there is absolutely no pinching at the straps or band (OK, maybe there's a little more fat spillage over, but, I'll take it for a more amplified chest.)
Rating: 7.5/10, for the leggings due to the camel toe and the inside tag being uncomfortable/digging into my back too much… but 10/10, again, for the Cotton Plunge Bralette in XS.
---
SKIMS Fits Everybody Triangle Bralette and Fits Everybody Cheeky Brief in Onyx
My Fits Everybody Triangle Bralette is a size XS and the matching Fits Everybody Cheeky Briefs are a size XS as well… and they're both in Onyx.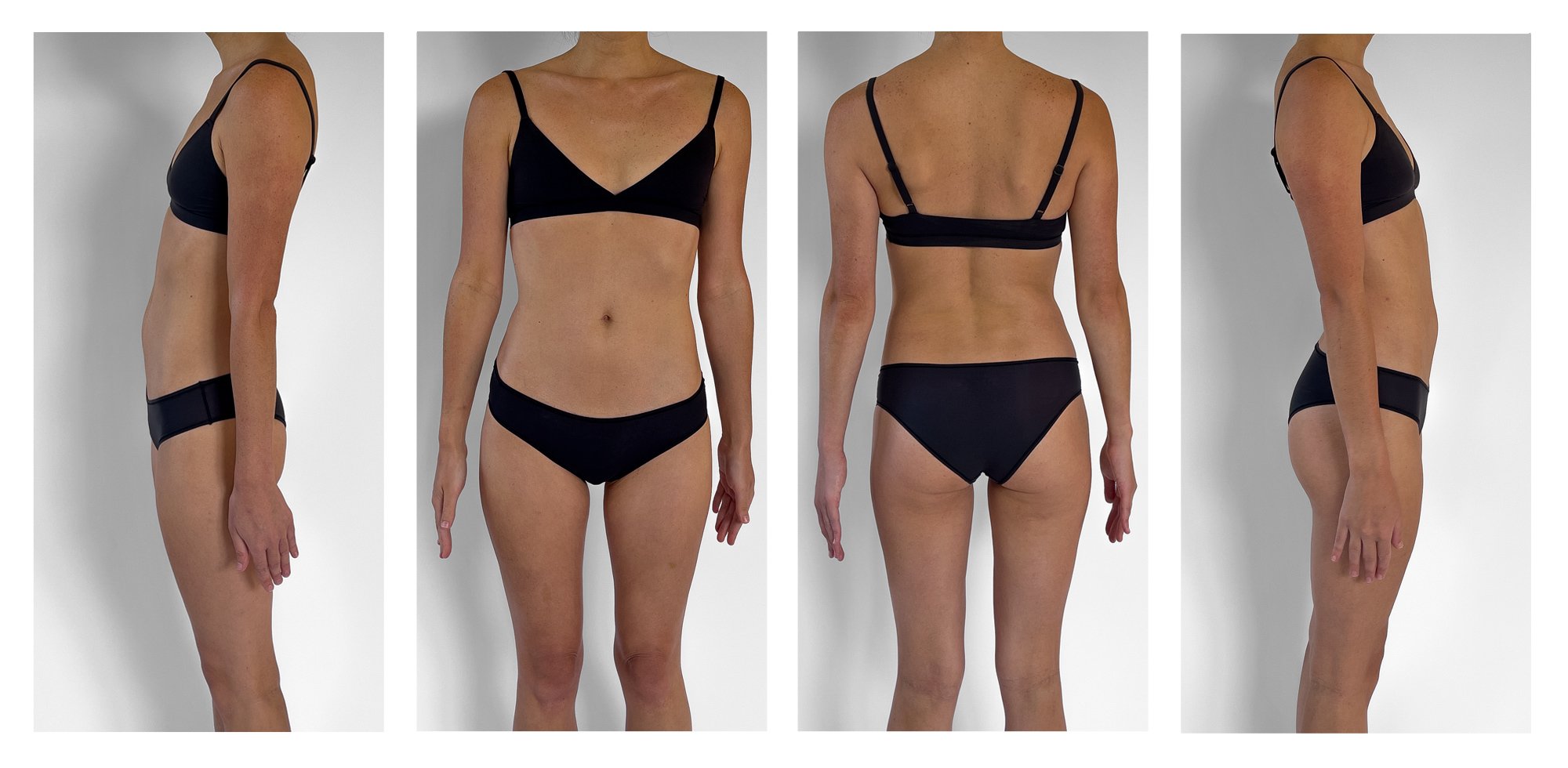 In an XS, SKIM's Fits Everybody Triangle Bralette is a little too tight tbh.
… like after a couple of hours, it starts to feel a little constraining because this one does not have adjustable widths.
(Note: The 2.0 version, with adjustable widths is great in an XS.)
View this post on Instagram
As for the Fits Everybody Cheeky Briefs, I appreciate the cotton gusset, but I'm just not someone who likes Nylon/Spandex as the base for their underwear (you know that thinner silkier feel that some underwear have?).
Rating: 5/10 — although, if you like that silkier feel for underwear, then you'd like these.
View this post on Instagram
---
SKIMS Fits Everybody Long Sleeve Crew Neck Bodysuit SIZING
The Fits Everybody Long Sleeve Crew Neck Bodysuit, in Ochre, that I ordered is a size S.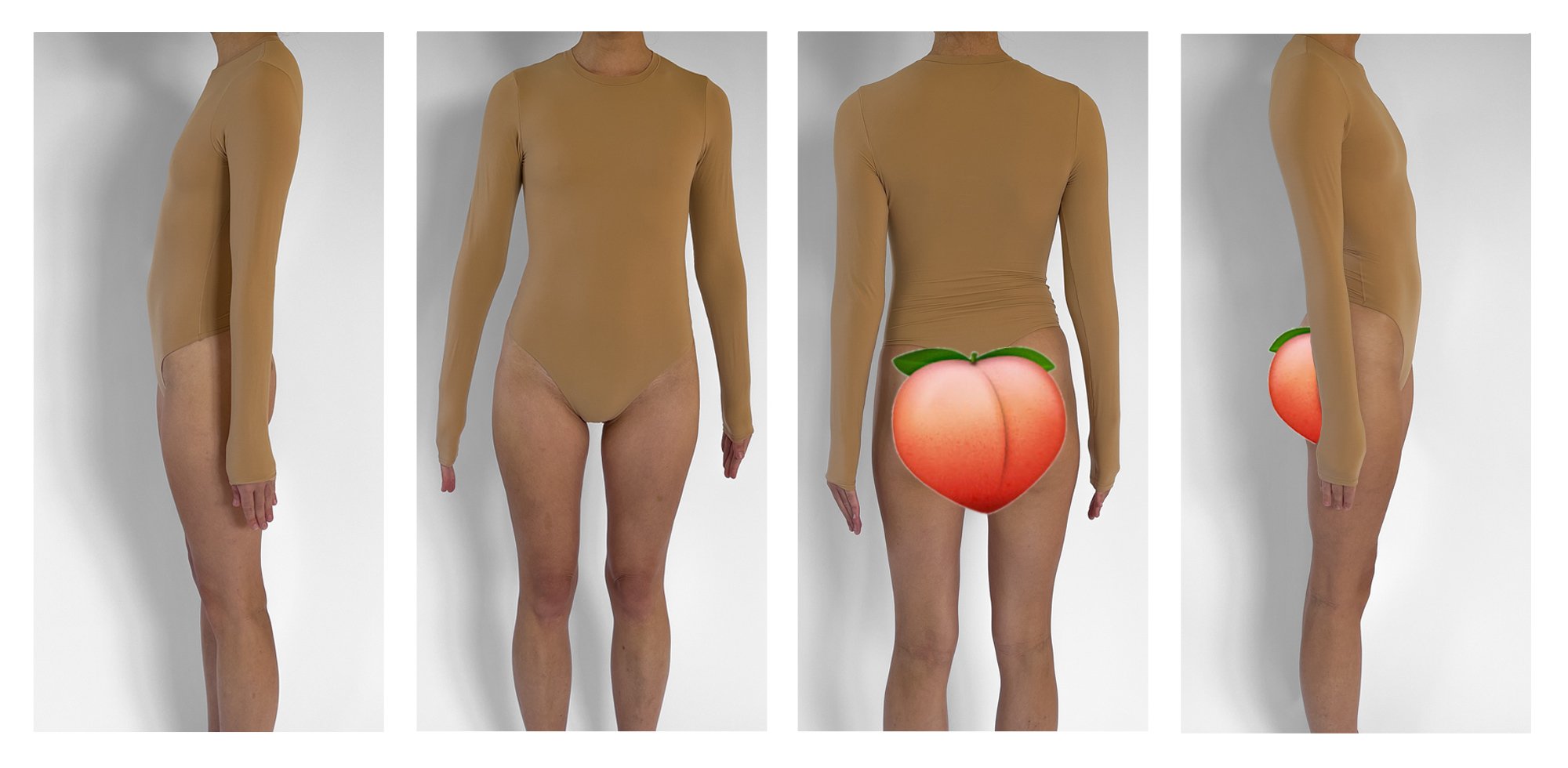 You will have to wear proper underwear with it as there isn't a cotton gusset (it's snaps at the gusset), but SKIMS' Fits Everybody Long Sleeve Crew Neck Body Suit (phew, that's a mouthful) fits pretty true to size in a size S.
View this post on Instagram
Swipe to slide #3 to see Kate in it.
It comes in a wide variety of neutral/skin tone colours, so it'd be particularly great to pair with a skirt that also has some neutrals going on.
Rating: 9/10 — minus one point, because the arms are quite long.
---
SKIMS Core Control Made Me Curious
OK, Kate Moss didn't wear this in the ads, but…
As I've gotten older, I have a stubborn stomach pooch — maybe you do too, or maybe you're lucky and don't… but, no matter how little or well I eat, I can't get rid of it.
It's not a big deal and it's totally normal (I think at least), but it still annoys me.
… so I ordered SKIMS Core Control Brief in an XXS/XS.
This works better if I show you a before/after photo in a slip dress where my stubborn stomach pooch, uhhh, pooches out the most.
Here's the before & after with SKIMS Core Control Briefs…
It's subtle, but it makes a difference.
See how it smooths out my lower belly?
Maybe it's just in my head, but I truly do think that SKIMS' Core Control Briefs makes a difference.
Rating: 10/10
---
PROS & CONS
Pros
–Bras have 3 hook & eye closures: Most have 2, so thank you again Kim!
–Bras have 4 adjustable widths: Most have 3, so thank you Kim.
(Note: I'm comparing that against my Calvin Klein bras and Stella McCartney bralettes)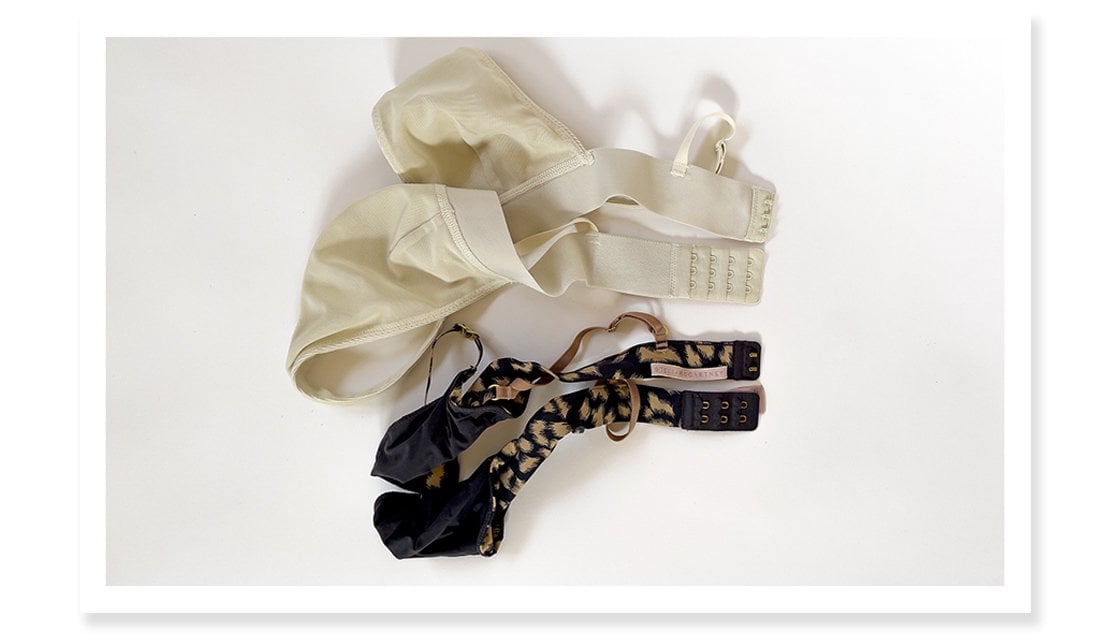 –Comfortable: So comfortable.
–Affordable prices: Kim could charge a lot more for these well-made undergarments, but is keeping it attainable for the rest of us with underwear bundle prices of 3 for $36 (that's $12/piece).
–Compostable packaging: This may be the bare minimum, considering how much carbon the Kardashians must burn through flying private everywhere and the shipping of the garments from China, but I still appreciate that instead of plastic (there's a joke here somewhere about plastic surgery), the clothes come in compostable bags.
Cons
None.
Although, OK, there are a few loose threads. However, these garments are so comfortable and make me feel confident that I'm willing to overlook them.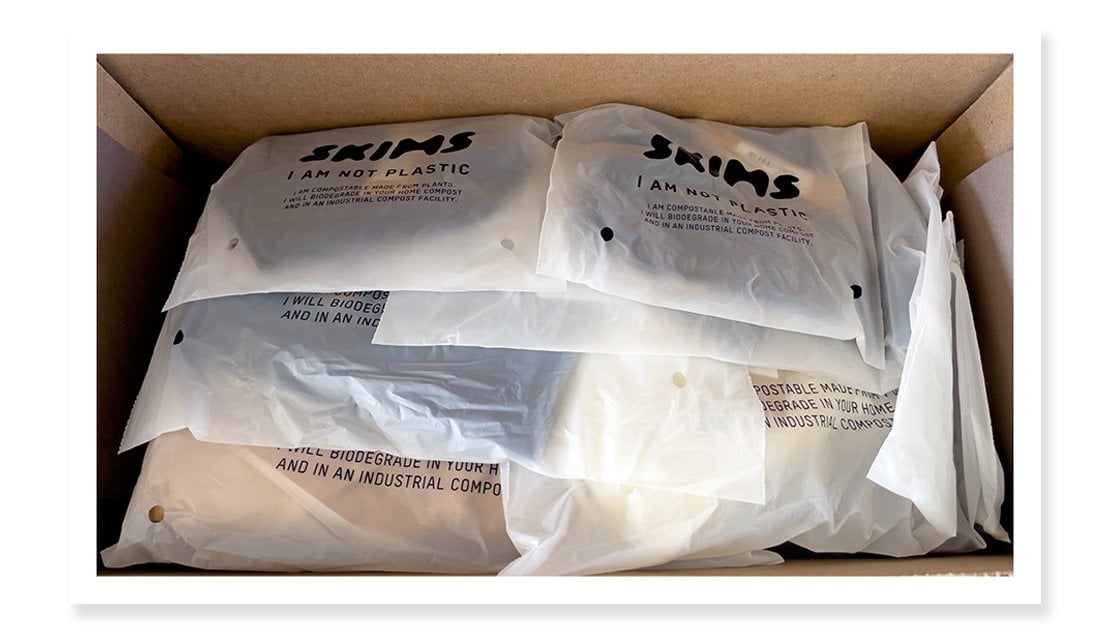 ---
"Kim, there's people that are dying."
-Kourtney Kardashian, season six/episode 12 of Keeping Up With the Kardashians
Whatever your opinion may be about the previous administration, Kim Kardashian (and her team) have done a lot of noble work with their 90 Days to Freedom campaign.
Kim's using her platform to help Black people and others who were wrongly incarcerated or put in jail for non-violent offences.
… and at the same time, she's managed to create SKIMS.
So, I guess the lesson here is, "don't cry over a lost diamond earring (that your other sister will find in 2 minutes)" — instead, change the world for the better by doing things like advocating for criminal justice reform to creating a line of underpinnings that make people feel great in.
SKIMS is available from Net-A-Porter, Nordstrom, SKIMS, or SSENSE from $18 USD.
If you order directly from SKIMS, you are able to bundle underwear at 3 for $36 USD.
For more on Kim's good-doings, check out this NYT profile.
Note: newinspired uses affiliate links which costs you nothing… but means a lot to me. When you use these links, the money newinspired earns gets reinvested in blog content. Absolutely nothing on newinspired is "gifted" or sponsored, I purchase each item with my own money. Affiliate commissions are used to purchase new items to honestly & thoroughly review. If you found this review helpful, consider using them to support newinspired.
---
YOU MIGHT ALSO BE INTERESTED IN…