MatchesFashion is arguably the best luxury fashion retailer.
They ship quickly and reliably, have an incredible selection of classic and up and coming designers.
They even have a loyalty program and and what's basically an in-house clothing label, RAEY.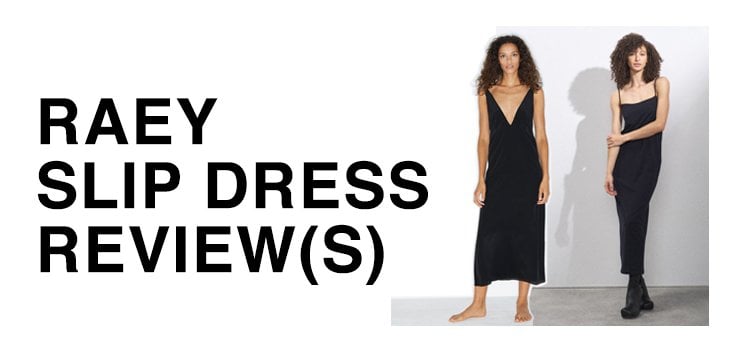 … basically, nothing slips past Matches.
With Matches' propensity for detail in all aspects of their business, RAEY grabbed my attention.

Can a brand that's made exclusively for Matches, uhhh, match the retailer's level of detail?
RAEY Clothing SIZING
For reference, I'm 5'5.75" and weigh 115-117 lbs.
For comparison, here are some sizes I normally take:
-US 2, in HVN or Reformation
-Small, in T-Shirts
-UK 6-10, in ALEXACHUNG or Kate Moss Topshop
-FR 34-38, in Isabel Marant or Rouje
My RAEY Bust-cup silk crepe de Chine slip dress is a size UK 8.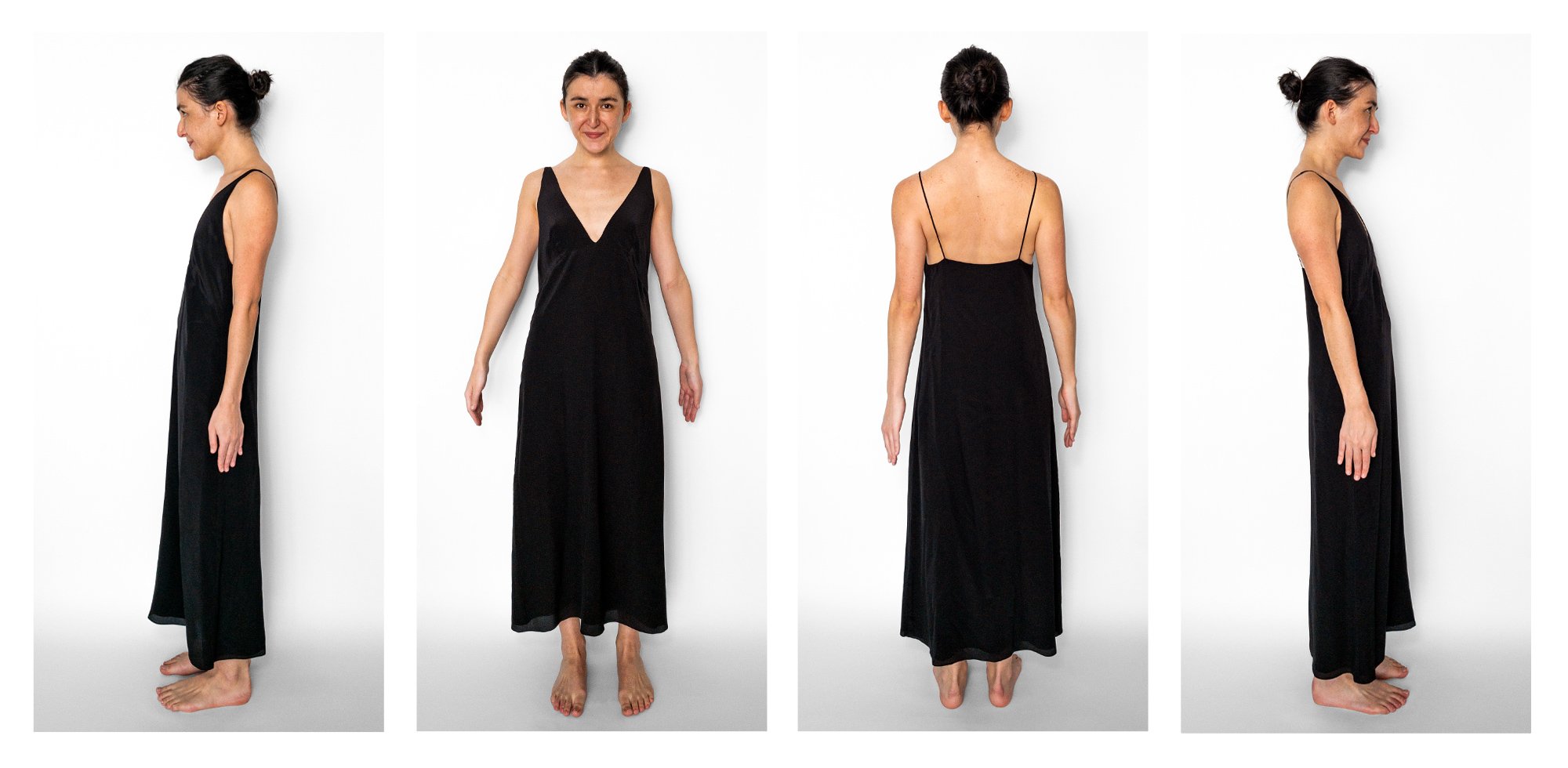 The fit is (unsurprisingly) perfect.
Despite what size charts may say, a UK 8 is definitely comparable to a US 2.
RAEY's Bust-cup silk crepe de Chine slip dress is lined, so there are 2 layers of silk between you and the dress.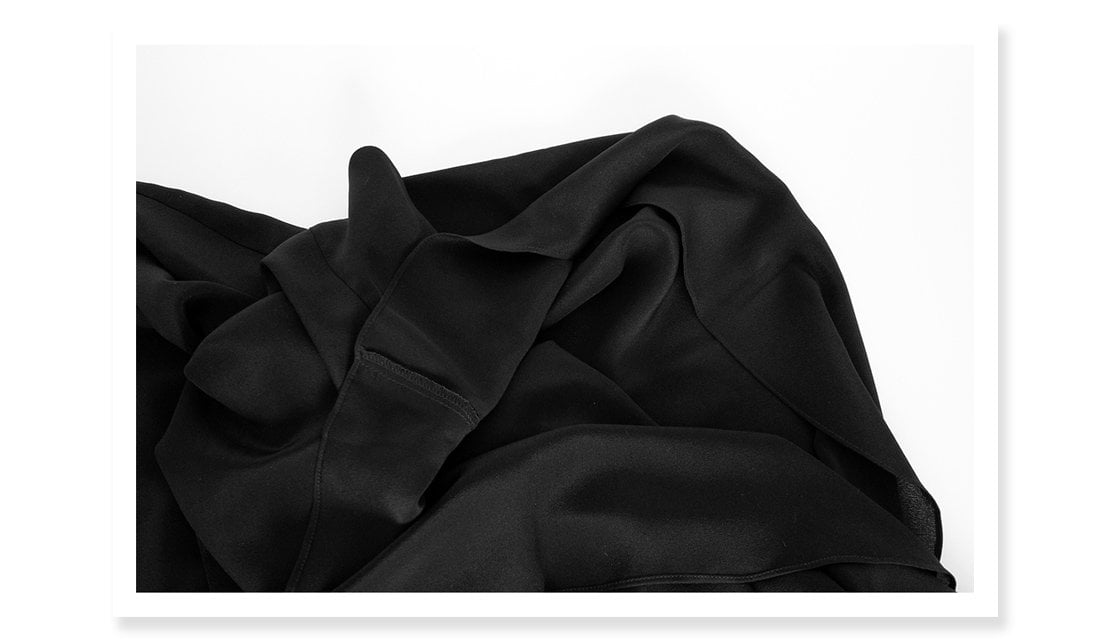 This dress is elegant, yet can also look casual — it's the definition of day-to-night.
It's also so flattering for flatter chests (like mine!).
… meanwhile, my RAEY Square-neck cotton-blend jersey slip dress is a UK 6.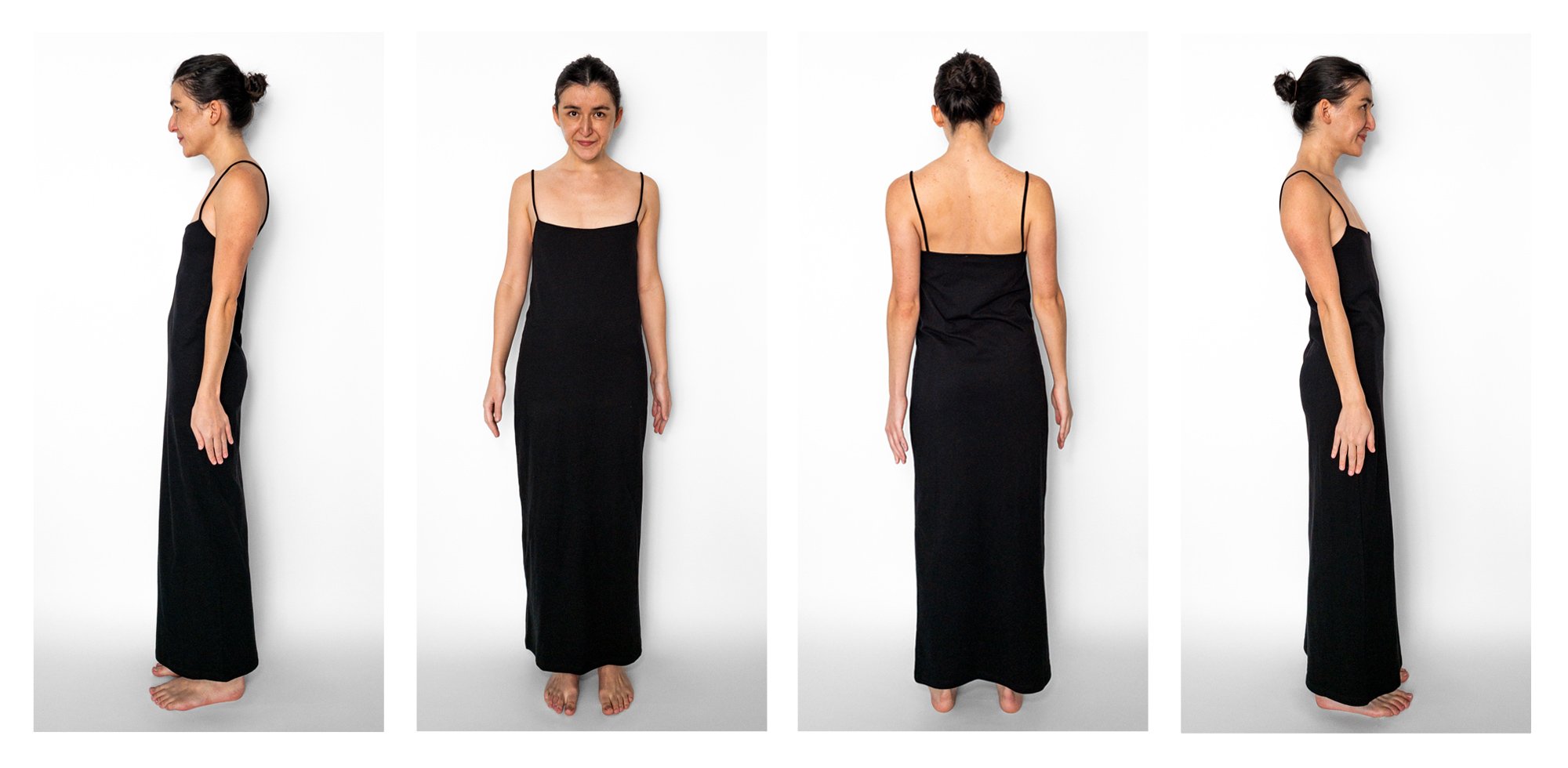 Sizing down to a UK 6 felt risky, but with the material in mind (cotton & cashmere) I thought it would be fine.
… and it is totally fine in a UK 6.
The square-neck comes just to the top of my nips, which means that if your chest is flatter, you do have to be careful about nip-slips.
There's a built-in bra-like thing…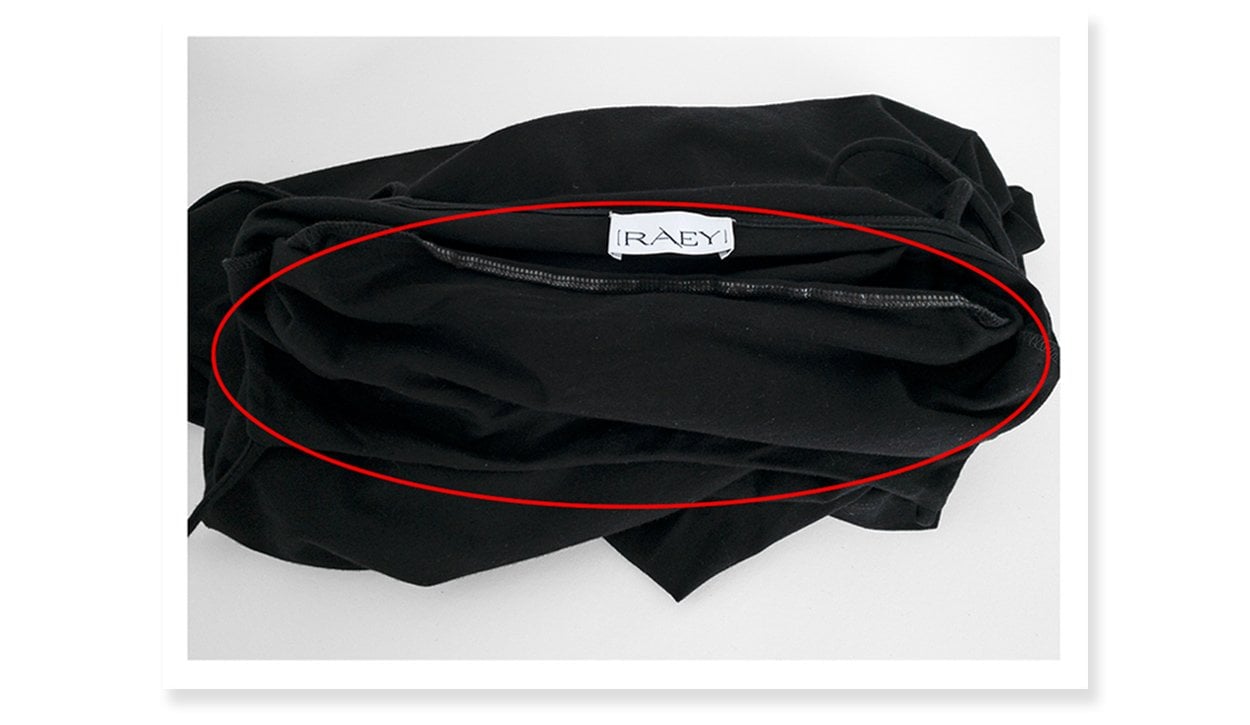 This dress would look fantastic on someone who is curvier.
The body has plenty of space…
… while the simple elegant straps let the dress stand on its own.
While the length is perfect, because there are no slits on the dress, it is a little tough to walk in.
---
Slip Dress Showdown
Let's put RAEY's slip dresses to a "pseudo-scientific lab report" analysis!
For the sake of fun, this slip dress is called the "Slip Dress Showdown." I'm gonna list everything you wanna know about this slip dress so no detail slips by you before buying.
Note: These are my opinions, yours could differ.
1- Armpit bulge? Yes or No?
With both dresses, you can adjust them on your body so your armpit-area is hidden.
So, no armpit bulge.
2- Can you wear a bra?
Yes and no.
RAEY's Bust-cup silk crepe de Chine slip dress is not bra friendly. You can opt for nipple covers though — for what it's worth, I quite like Bristol 6's.
… but, RAEY's Square-neck cotton-blend jersey slip dress is strapless bra friendly.
3- Adjustable straps?
No.
Both of these RAEY slip dresses do not have adjustable straps.
The lack of adjustable straps makes the Square-Neck slip dress prone to nip-slips, but is totally fine for the Bust-Cup.
… however, this one from RAEY does have adjustable straps.
4- Material thickness/feel
This is where I feel like it's important to bring up the price…
Let's keep in mind that the RAEY Bust-Cup crepe Chine slip is $195 USD, while the RAEY Square-Neck slip is $80 USD (!!!).
The material for the Bust-Cup slip feels, well, like crepe silk — slightly textured silk. It has a silk-crepe lining underneath and is undoubtedly worth $195 USD.
… while the $80 Square-Neck slip is 85% cotton, 15% cashmere, and feels supremely comfortable for such a form-fitting slip dress.
5- Just how bias cut it is?
Neither of these slip dresses are bias cut.
… but, that's totally OK, because they still look great on…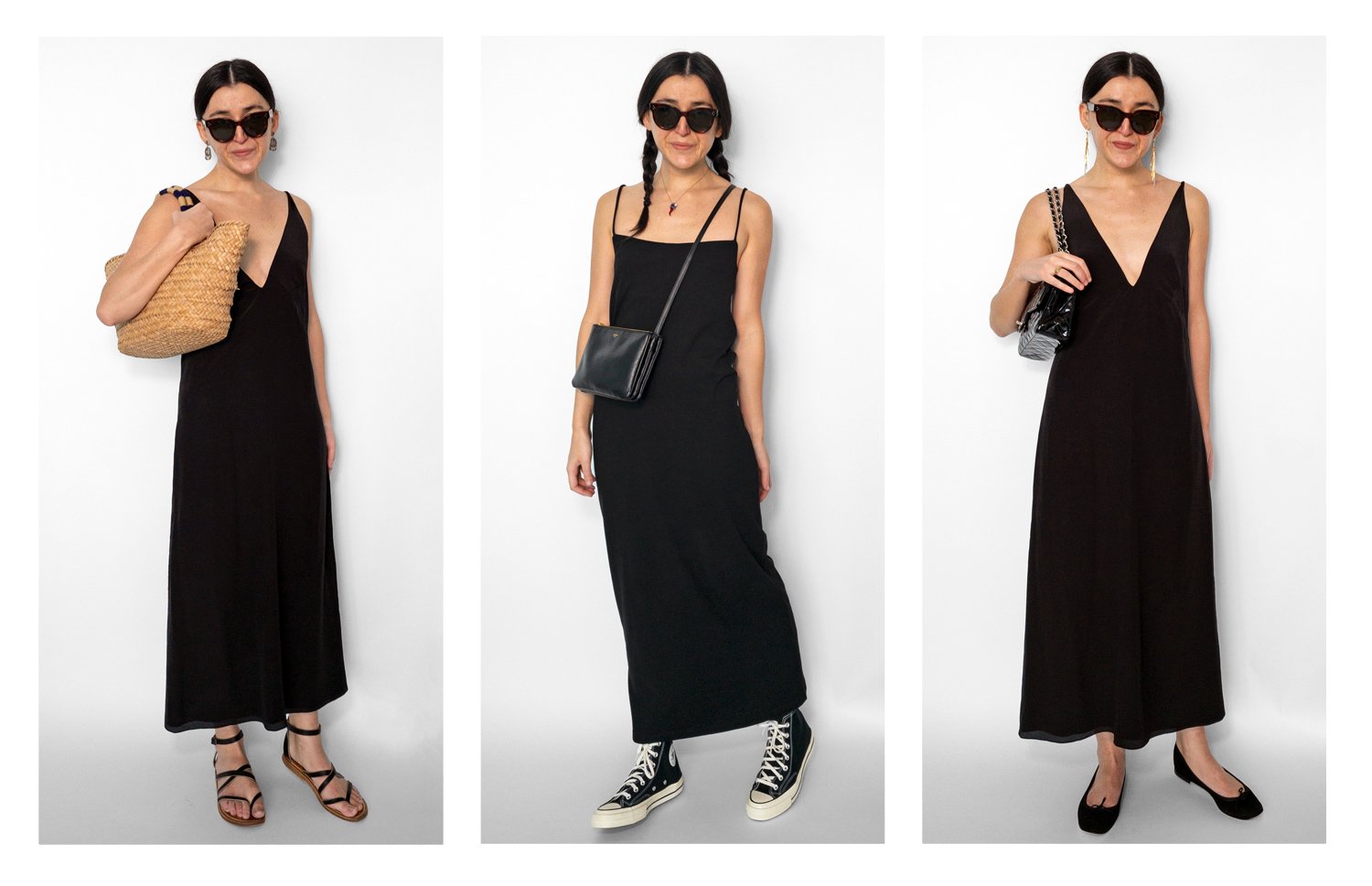 Left to Right: RAEY Bust-cup silk crepe de Chine slip dress with K. Jacques Epicure sandals, vintage earrings, and a Kayu straw bag; RAEY Square-neck cotton-blend jersey slip dress with Converse sneakers, a vintage necklace, and a Celine Small Trio; RAEY Bust-cup silk crepe de Chine slip dress with Repetto Cendrillon ballet flats, Isabel Marant Gold Swung earrings, and a Chanel Classic Handbag.
---
PROS & CONS
Pros
–Affordable: These slips are so well made and they're under $200 USD.
–Luxurious: The Square Neck slip is 85% cotton & 15% cashmere, while the Bust Cup slip is 100% silk… so both slips are a combination of my favourite luxurious fabrics.
–Flattering: No shape-wear required — these dresses will flatter any shape.
Cons
–No adjustable straps: This was a let down, but they do offer some with adjustable straps if you're keen on having more control on strap length.
---
For the price, material, and quality of construction, RAEY has more than matched my expectations of what Matches' in-house brand would deliver.
RAEY offers the same level of quality, care, and design in their garments to shoppers… only at a much more affordable price.
The simple lines, fashion-forward styles, and androgynous aesthetic make RAEY and Matches a match made in sartorial heaven.
RAEY slip dresses are available exclusively on MatchesFashion from $80 USD.
You can also get 15% off your first order by using my link.
Note: newinspired uses affiliate links which costs you nothing… but means a lot to me. When you use these links, the money newinspired earns gets reinvested in blog content. Absolutely nothing on newinspired is "gifted" or sponsored, I purchase each item with my own money. Affiliate commissions are used to purchase new items to honestly & thoroughly review. If you found this review helpful, consider using them to support newinspired.
---
You might also be interested in…