The Holy Closet Trinity: White t-shirt, battered denim shorts, and a black silk slip dress.
… there is nothing in this world that's easier or more fun to wear than any of those three pieces. But there's nothing in your closet that's harder to find than that perfect one.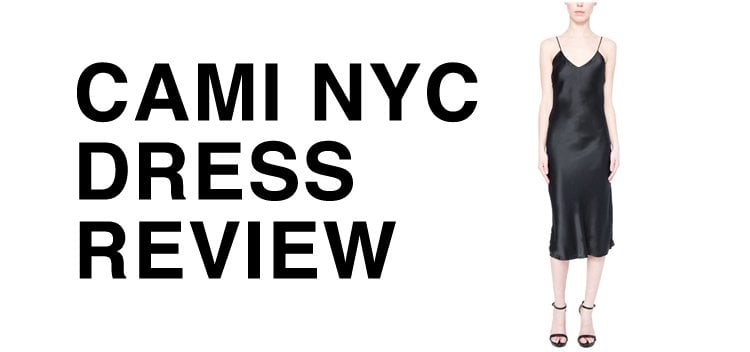 On my never ending quest for the slip, I stumbled on CAMI NYC.

Samantha Steen created this brand when she was on her quest for the perfect cami.
Beloved by ~celebrities~ and ~bloggers~, I got lured in by their "take 20% off" Labour day sale. Next thing I knew, I hit the check out button on CAMI NYC's Raven dress.
If their tank tops are the best, then their slips must be as well… right?
But $268 USD (before sale) for a slip dress? What was I thinking?
CAMI NYC SIZING
For reference's sake, I'm 5'5.75" and weigh 115-117 lbs.
For comparison, my other sizes run below:
-US 2, in HVN or Reformation
-Small, Rag & Bone T-Shirts
-UK 8, in ALEXACHUNG
-FR 34-36, in Isabel Marant or Rouje
-La Perla slips, size 1
… while my Equipment slips are a size small.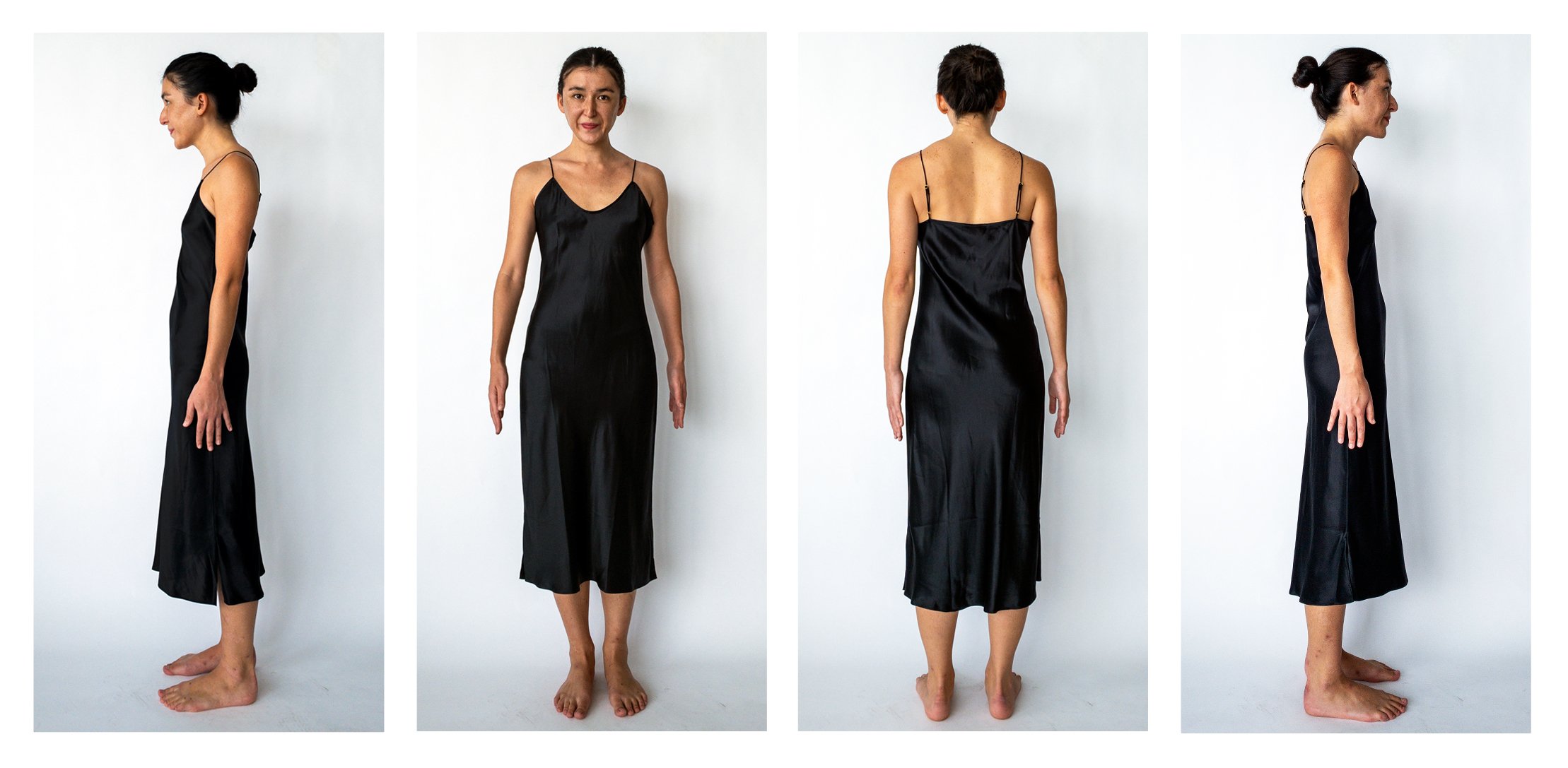 My CAMI NYC Raven dress is a size small.
The Raven dress is bias cut, which means that it's cut to hug your waist/hips/bum (like Réalisation Par's inescapable Naomi skirt), jean size is also important. So, in Rag & Bone I take a size 24-25, in Re/Dones I'm a 25, and my A.P.C. skirt is a FR 36 while their jeans are a size 26.
CAMI NYC says that their sizes generally convert to: XS (0-2), S (4), M (6), L (8-10)
I agree with their size chart, but would also note that S fits 2… albeit, for a smaller size 2, a S is slightly looser.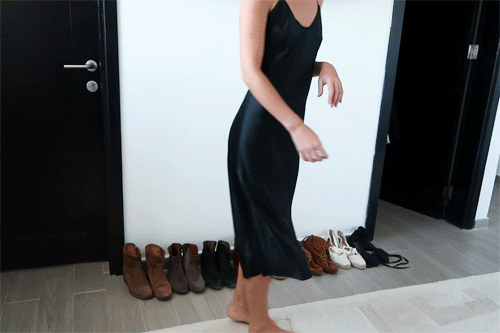 This dress skims my body like only silk charmeuse can… The bias gently hugs my lower half… I can slip in and out of it with ease. It's basically perfect… until we get to the chest.
CAMI NYC was so close to creating the perfect slip dress until we got to the chest.
It balloons out on the sides… which is great if you've got a large chest, but me? I'm barely a 32A. So the material on the side is just hanging and flapping around.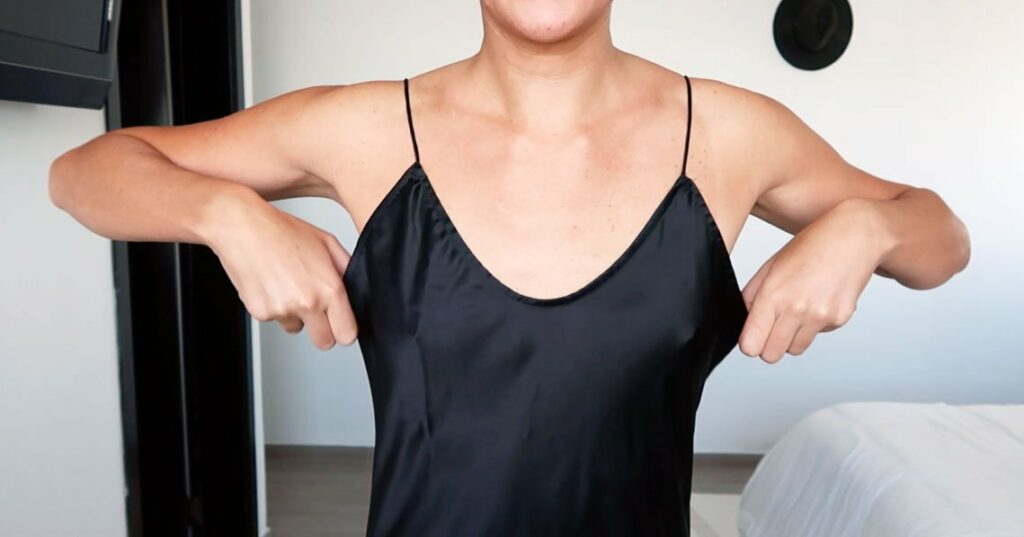 While I can still "make it work," by keeping my arms to my side or crossed, it's lightly disappointing for a dress that fits so well otherwise.
Consider sizing down if you're smaller on the top, but size up if you're in between sizes or if your hips are a little bigger.
---
PROS & CONS
Pros
–100% Silk Charmeuse: This is quality silk, quite similar to the weight and feel of Equipment's signature blouses.
–Adjustable Straps: You choose how high you want it.
–Bias Cut: Do I need to explain why bias cut pieces are so good?
–Length: The black silk and figure-hugging bias cut makes this dress pretty ~sexy,~ but the demure past-my-knee length stops it from being too OTT.
–Side Slits: These make the slip easier to walk in and get in and out of vehicles.
Cons
–Stray Threads: Somewhat disappointing. They're mainly at the adjustable strap loops though.
–Ballooning Sides On Top: Why though?
---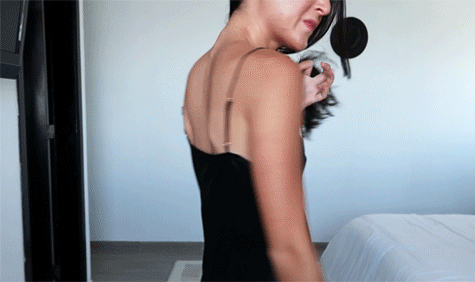 After trying slips from La Perla to Hanro to Equipment to some random dodgy nylon-blend ones in between and now CAMI NYC's, these are the three most crucial aspects of a slip dress:
1- 100% Silk: Non-Negotiable.
Silk skims your body, holds up strong over the years, and generally feels great on.
2- Bias Cut: Somewhat Negotiable.
Some days you want a boxy cut, but other days you want to show off your 30 Days of Yoga with Adriene progress.
3- Adjustable Straps: Non-Negotiable.
We're not all built the same way, some of us need a bigger size, but also need the straps higher, not lower. This is where adjustable straps come in.
CAMI NYC's Raven slip dress ticks off the most crucial aspects of a slip.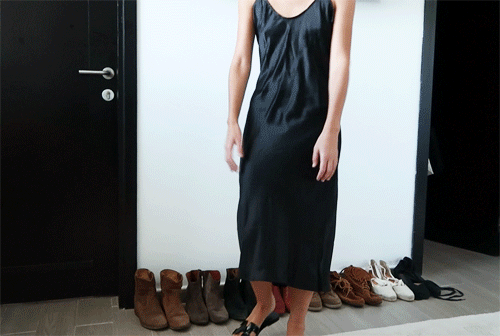 While the chest balloons, it doesn't make it unwearable or un-buyable…
It's just a little detail that I'll let slip through the cracks.
Note: newinspired uses affiliate links which costs you nothing… but means a lot to me. When you use these links, the money newinspired earns gets reinvested in blog content. Absolutely nothing on newinspired is "gifted," I purchase each item with my own money. Affiliate commissions are used to purchase new items to honestly & thoroughly review. If you found this review helpful, consider using them to support newinspired.
TIPS
-Take your normal close fitting t-shirt size
-Take 10% off your new order if you sign up for their mailing list. They release discount codes throughout the year so follow them on Instagram or join their mailing list to find out when.
YOU MIGHT ALSO BE INTERESTED IN…