At some point, every millennial was obsessed with Mary-Kate and Ashley.
… like to the point where I don't need to be specific with using a last name.
I could have said "Mary-Kate and Ashley Olsen" — but like, you knew who I was talking about.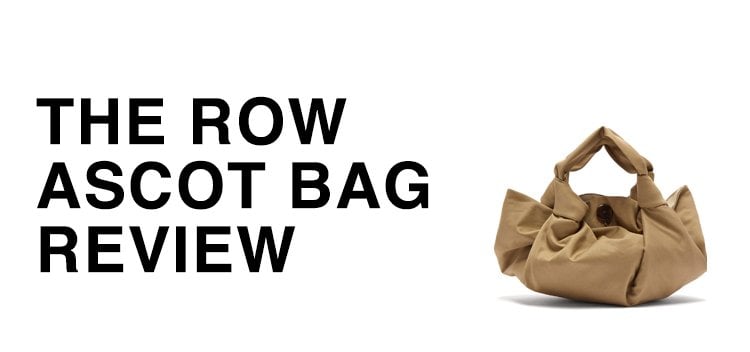 My top 3 favourite Mary-Kate & Ashley direct-to-video movies?
1- Our Lips Are Sealed
2- Passport to Paris
3- Winning London

While all their movies totally dictated how I dressed in elementary school into high school, it was Winning London that made me so aware of what they were wearing…
The Fendi bucket hats, Juicy Couture long sleeves, the power of trench coats…
The Row's Ascot Bag in a beige cotton reminded me of my trench coat (which I love)… so, I couldn't pass up this bag.
Let's investigate The Row's Ascot bag — and I don't need to say "Mary-Kate & Ashley's brand, The Row" because you all ready knew that.
---
The Row ASCOT BAG SIZING
For reference's sake, I'm 5'5.75" and here's how The Row's Ascot bag looks on me…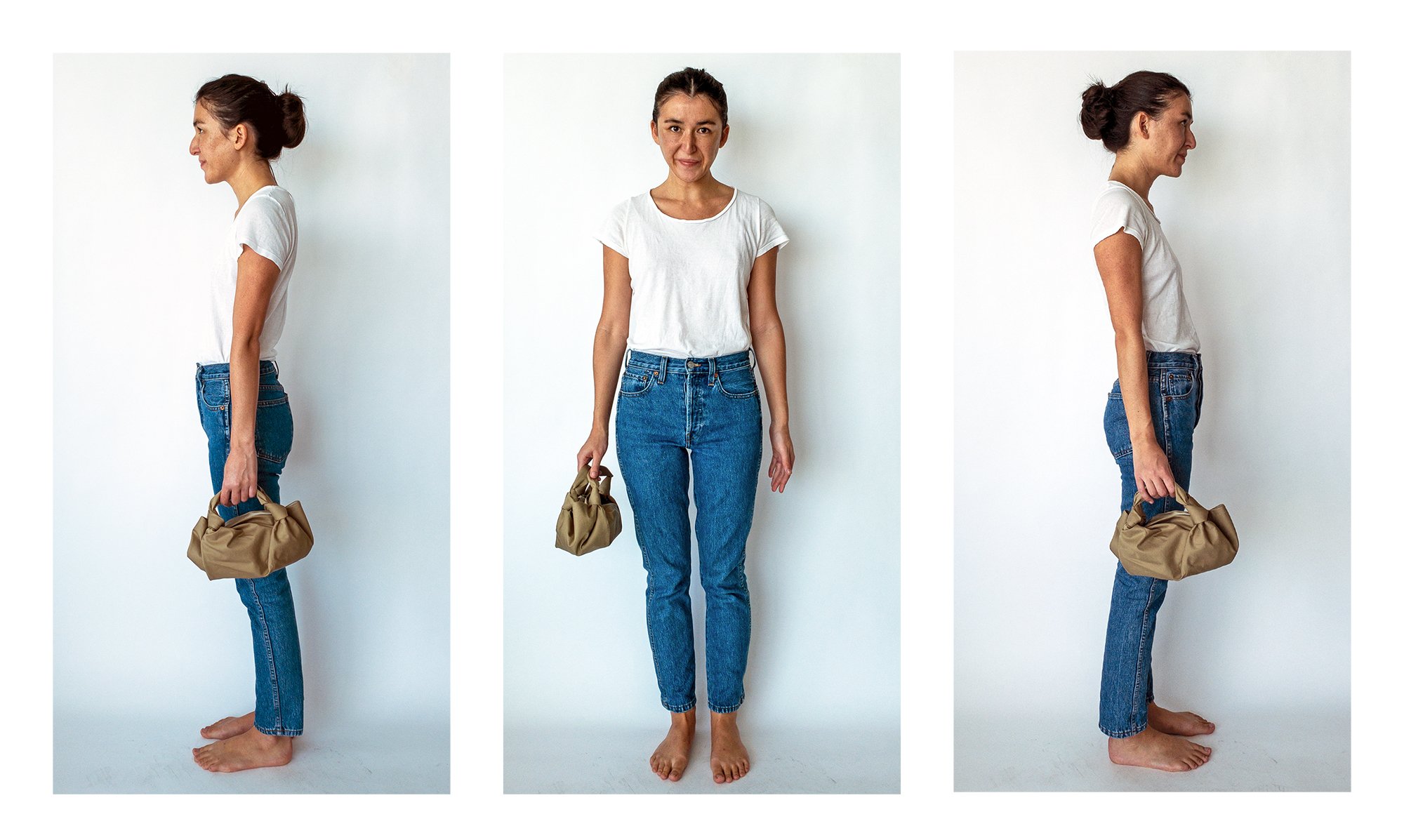 For comparison's sake, here's how Celine's Small Trio looks on me.
As you can see, the Ascot is a relatively small bag.
It weighs 110 grams and has a handle drop of 3.9 inches/10 CM.
This model is made from 100% cotton with a satin lining and a single button closure.
You can find the Ascot bag in a variety of fabrics though…
---
IMPRESSIONS & QUALITY
The Row's Ascot bag's shape is like an Ascot cap meets an Ascot tie.
It has the shape of two Ascot caps and the ties are tied like, well, two Ascot ties… actually, you know what, it really looks more like a bindle bag (read: the bag on a stick that hobos in cartoons use).
It's a casual shape that's elevated with its luxe materials.
With a max width of 30cm by a length of 13cm and a depth of 15cm, it isn't one of those x3 times as large as your Venti latte bags that led Mary-Kate and Ashley's mid-2000's style.
If you're curious, here's how it looks empty…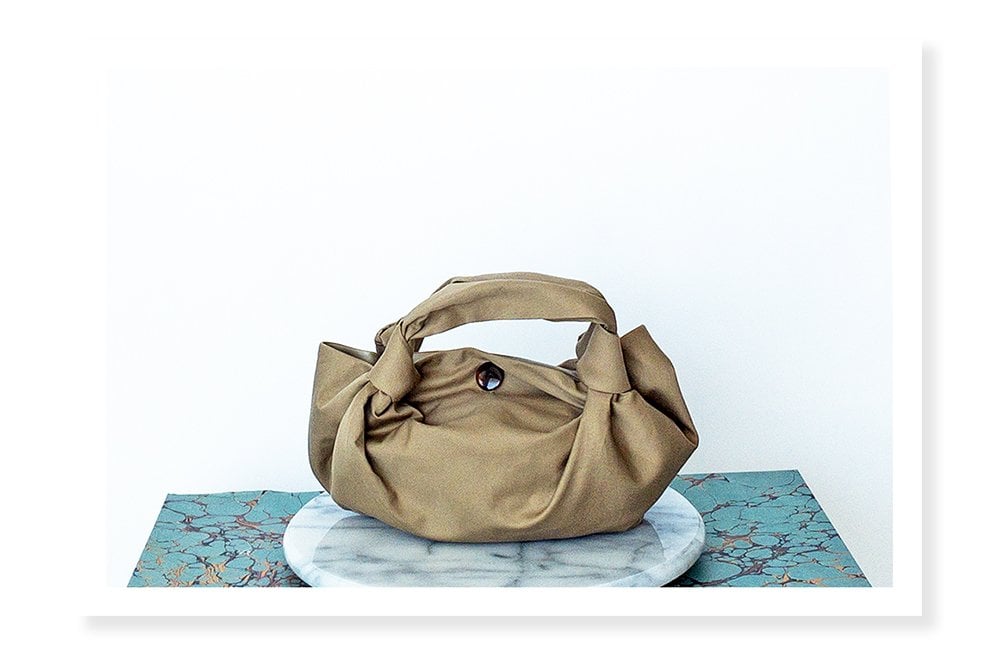 If you're more curious, here's how the Ascot bag looks next to a Louis Vuitton Speedy 30…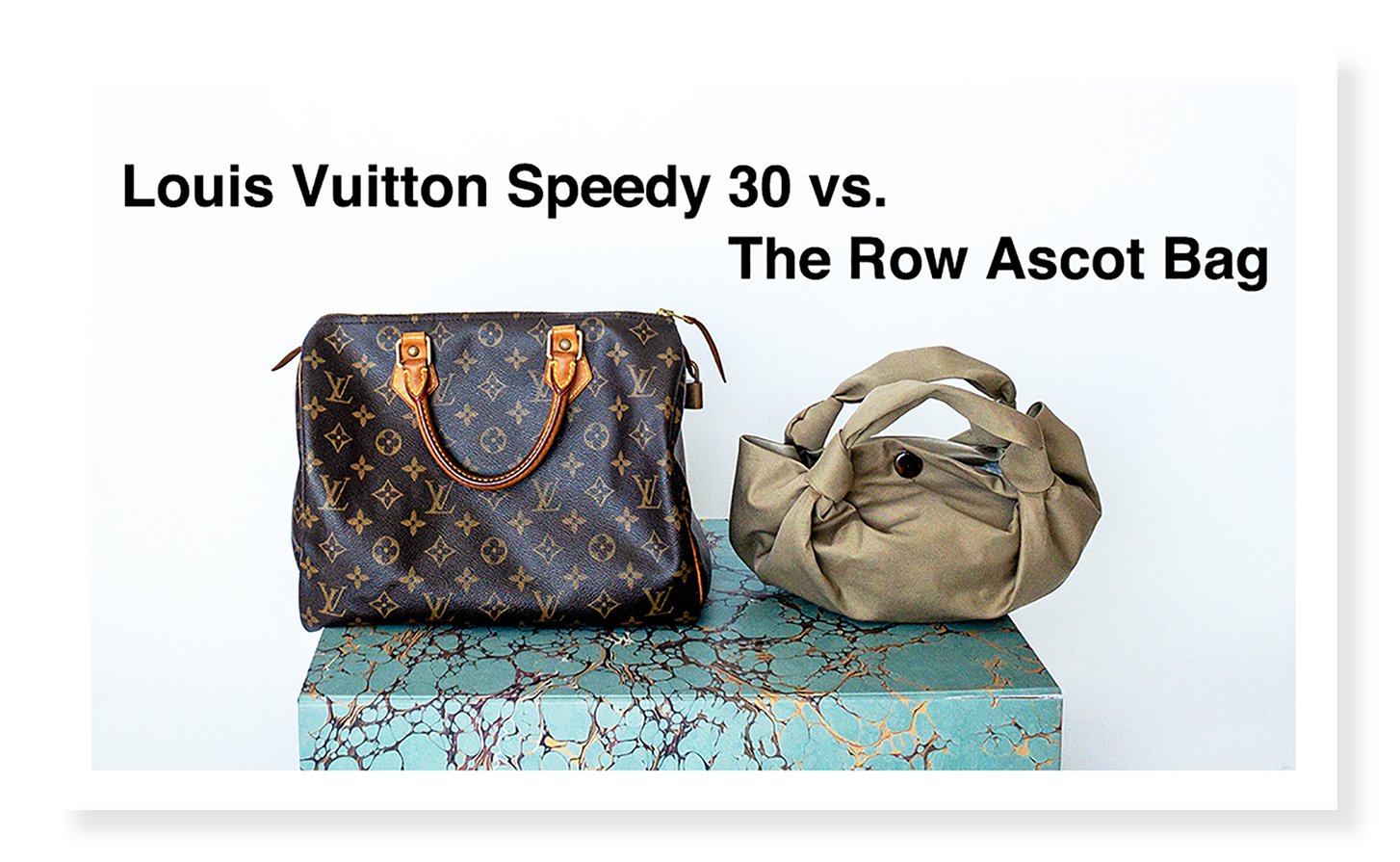 … and if you're even more curious, here's what's in my bag…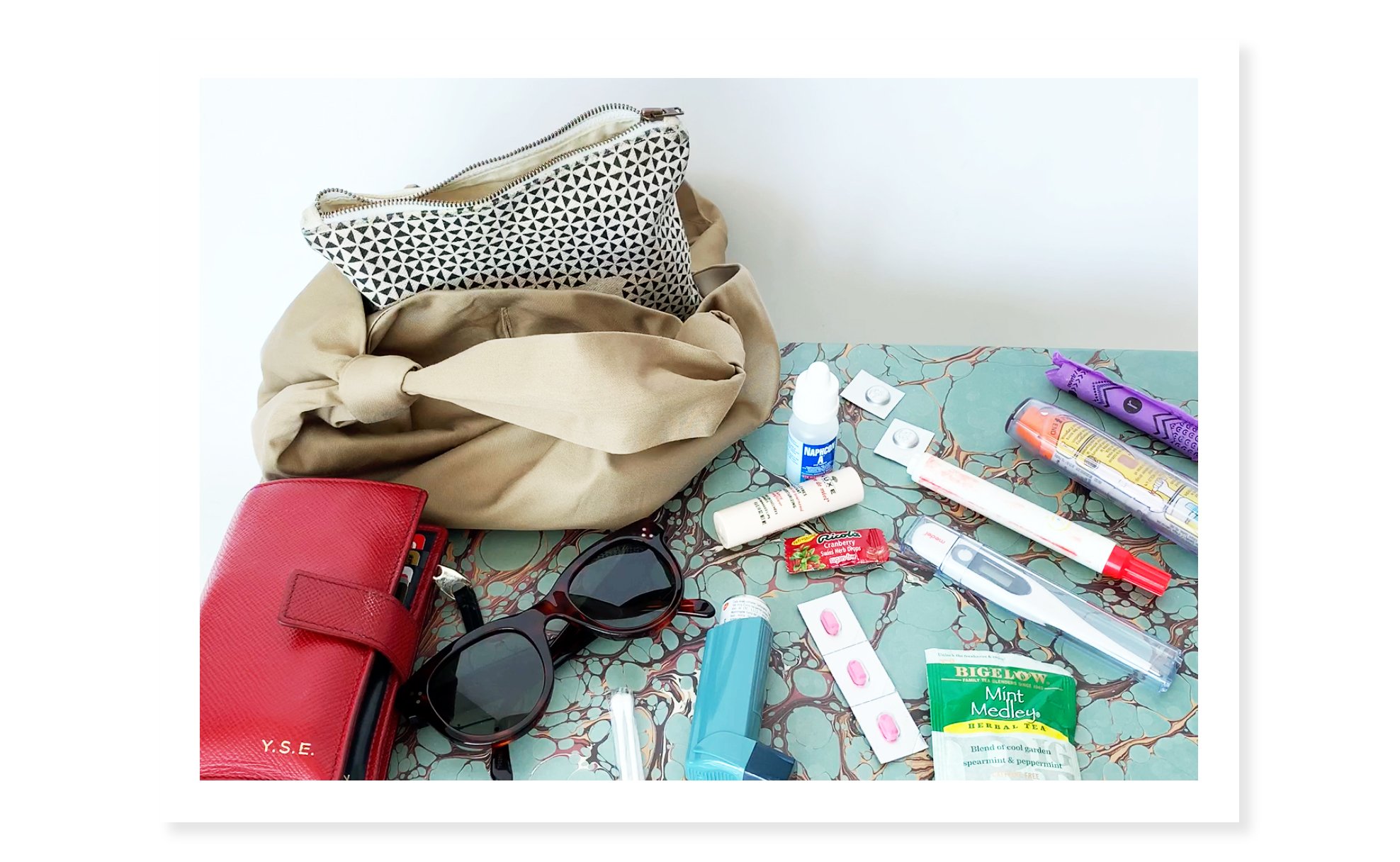 Unlike the Celine Small Trio, the Ascot bag looks good when its full to the brim.
Every stitch is in place and it feels high quality. The bag keeps its shape even with all my junk things in it and my full size wallet (that's basically empty now due to the cost of this bag).
Most importantly though, it's easy to dress up or down…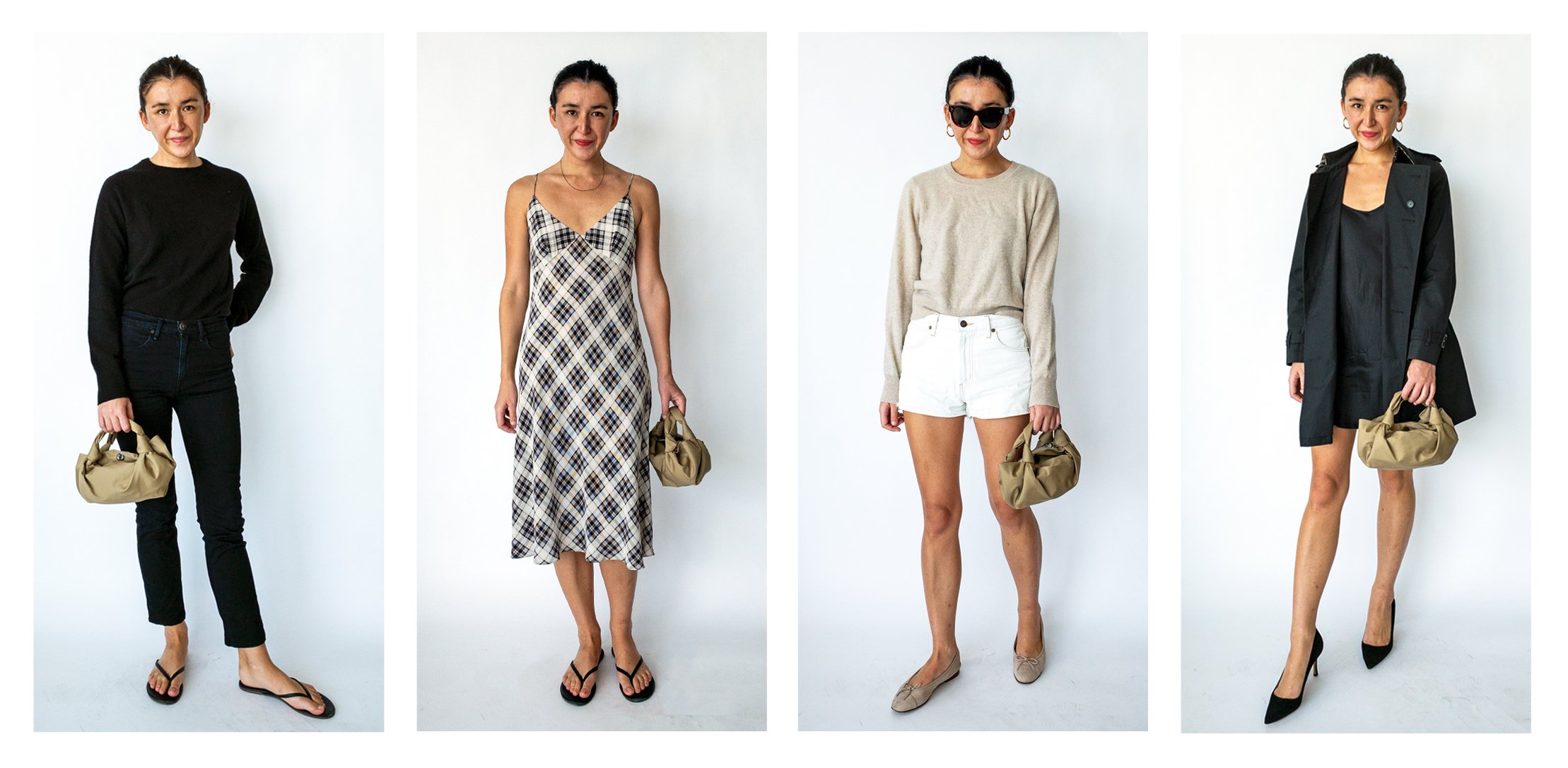 Left to Right: Rag & Bone cigarette jeans with an Equipment sweater and Tkees flip flops; Marc Jacobs Grunge slip with a chain and Tkees flip flops; Naadam cashmere sweater with Celine sunglasses, Re/Done shorts, Jennifer Fisher x Goop hoops, and Chanel ballet flats; Burberry Trench Coat with a La Perla Slip Dress, Jennifer Fisher x Goop hoops, and Manolo Blahnik BBs.
---
You Might Also Be Interested In…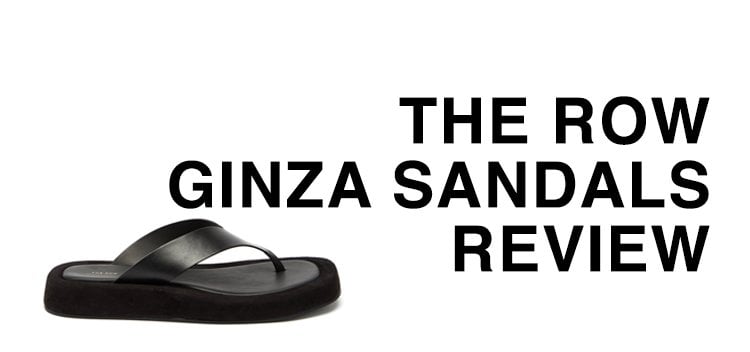 ---
PROS & CONS
Pros
–Cotton: The light beige colour will eventually get dirty — because it's cotton, I'm hoping that I can spot clean it more easily than satin or velvet.
–Size: Easy to wear during the day or at night.
–Shape: If you know, you know. It's unmistakably "The Row."
Cons
–Price: $990 for a piece of material stitched together is expensive and, in cotton, it's hard to justify the price. Perhaps it'd feel more "worth it" if it was one of the satin, velvet, or leather versions.
---
My top 3 favourite Mary-Kate & Ashley moments?
1- All their direct-to-video movies, direct-to-video shows (You're Invited to Mary-Kate and Ashley's…), and "real" TV shows (It Takes Two & So Little Time).
2- Their old website — that ended with them recommending Diptyque candles and YSL Touche Éclat when they were like 18 and I was 13.
3- The Row.
The Row lives and breathes on simplicity.
After a lifetime of being in the public eye, Mary-Kate and Ashley's vision for The Row's simplicity makes so much sense.
… and that's why The Row is my favourite Mary-Kate and Ashley moment.
The Row handbags are available from a wide variety of retailers including Net-A-Porter, MatchesFashion, or MyTheresa from $850 USD.
They sometimes go on seasonal sale — my Ascot bag was 30% off from MatchesFashion plus, I got 10% cashback.
Note: newinspired uses affiliate links which costs you nothing… but means a lot to me. When you use these links, the money newinspired earns gets reinvested in blog content. Absolutely nothing on newinspired is "gifted," I purchase each item with my own money. Affiliate commissions are used to purchase new items to honestly & thoroughly review. If you found this review helpful, consider using them to support newinspired.
---
YOU MIGHT ALSO BE INTERESTED IN…