Recently, most of my vacations have been spent in California.
As a result, my style has gone from French cool girl (read: Rouje) to relaxed California girl (read: Goop's G. Label).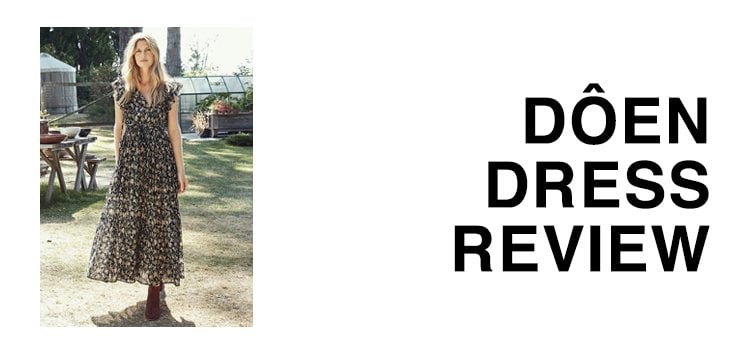 There are a lot of reasons that this new ~vibe~ started, but the biggest…
The location… duh.

When I'm in California, the laidback West Coast makes me feel like only wearing dresses that I can throw on & go.
With its floral print & layers of ruffles, Dôen's Carnation dress looked like it'd be the perfect addition to my burgeoning look (read: slight laziness)…
DOEN DRESS SIZING
For reference, I'm 5'5.75" and weigh 115-117 lbs.
For comparison, my other dress sizes run below:
-US 2, in HVN or Reformation
-UK 6-10, in ALEXACHUNG or RAEY
-FR 34-38, in Isabel Marant or Rouje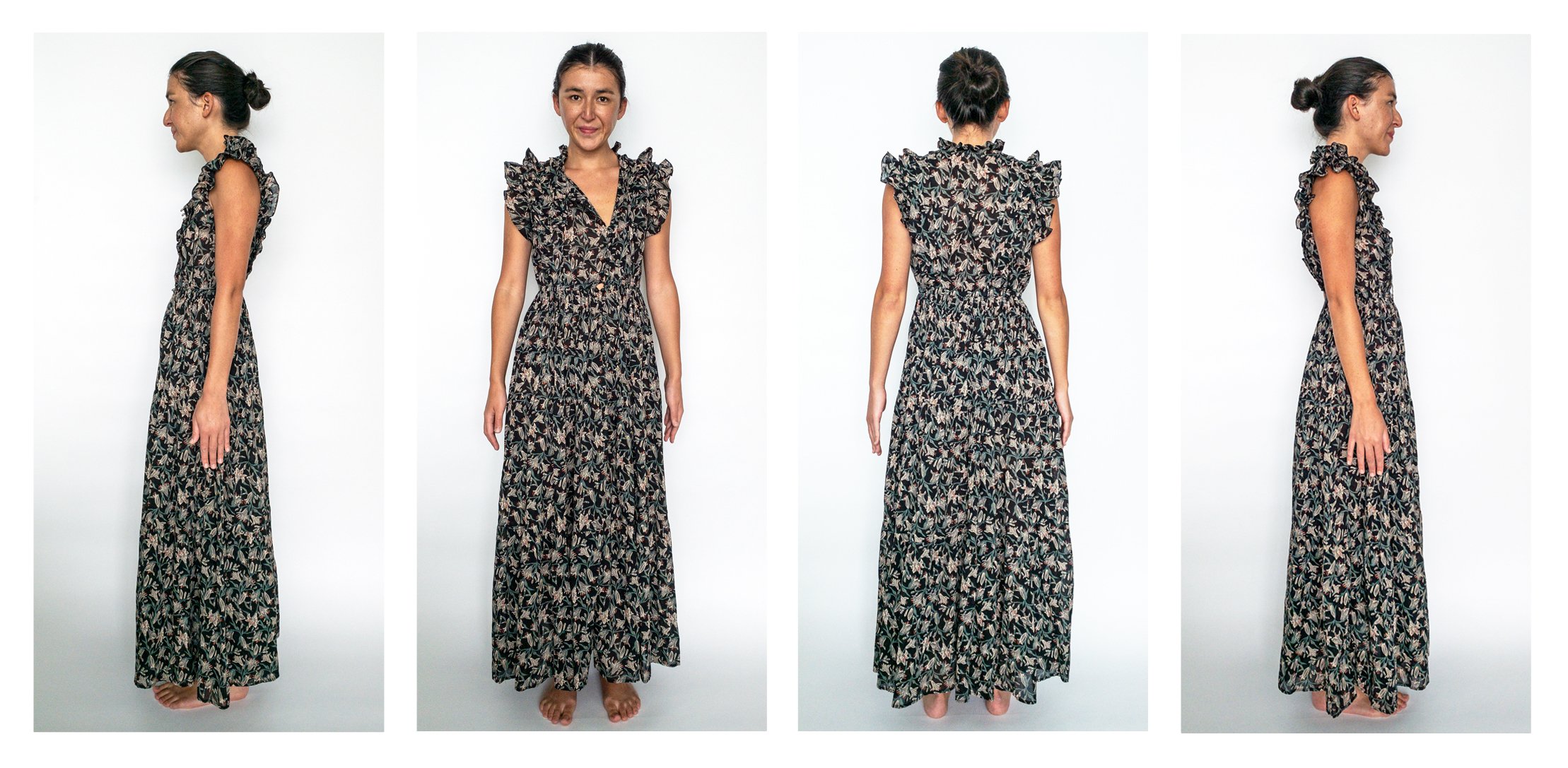 My Dôen Carnation dress is a size XS… and I'd say Doên's dresses run true to size.
I was surprised that an XS moderately worked though (it was the last size available).
In an XS, under the arms is jussst right, but for some it might be a little too tight. My chest is ~32A, which is why I think it's jussst right for me. A larger chest would likely effect how tight the dress in the arm area.
The dress' flutter sleeves slim your arms while the ruffles keep your full attention on the dress.
Dôen's Carnation dress has an elastic waistband with a detachable belt, which you can use to pull in the waist more if it's not close enough of a fit for you.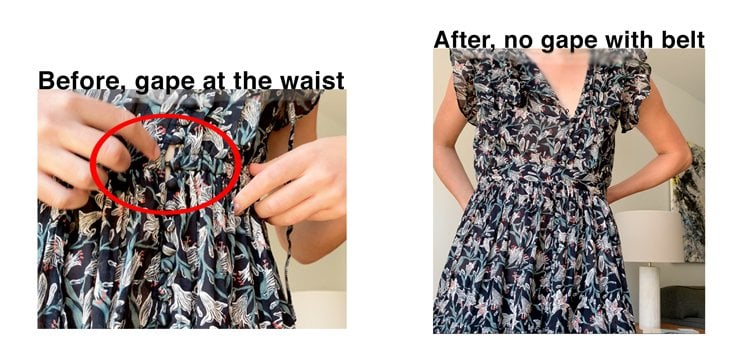 On me, the waist gapes between the elastic waist and the button, so I use the belt to hide that pesky little opening.
My waist is 71cm, which according to their sizing chart, means I really should have taken a size small.
Next time I'll size up to a small, but for now an extra small still works jussst fine.
Trying A Size Up
My Dôen Cascade dress is a size small.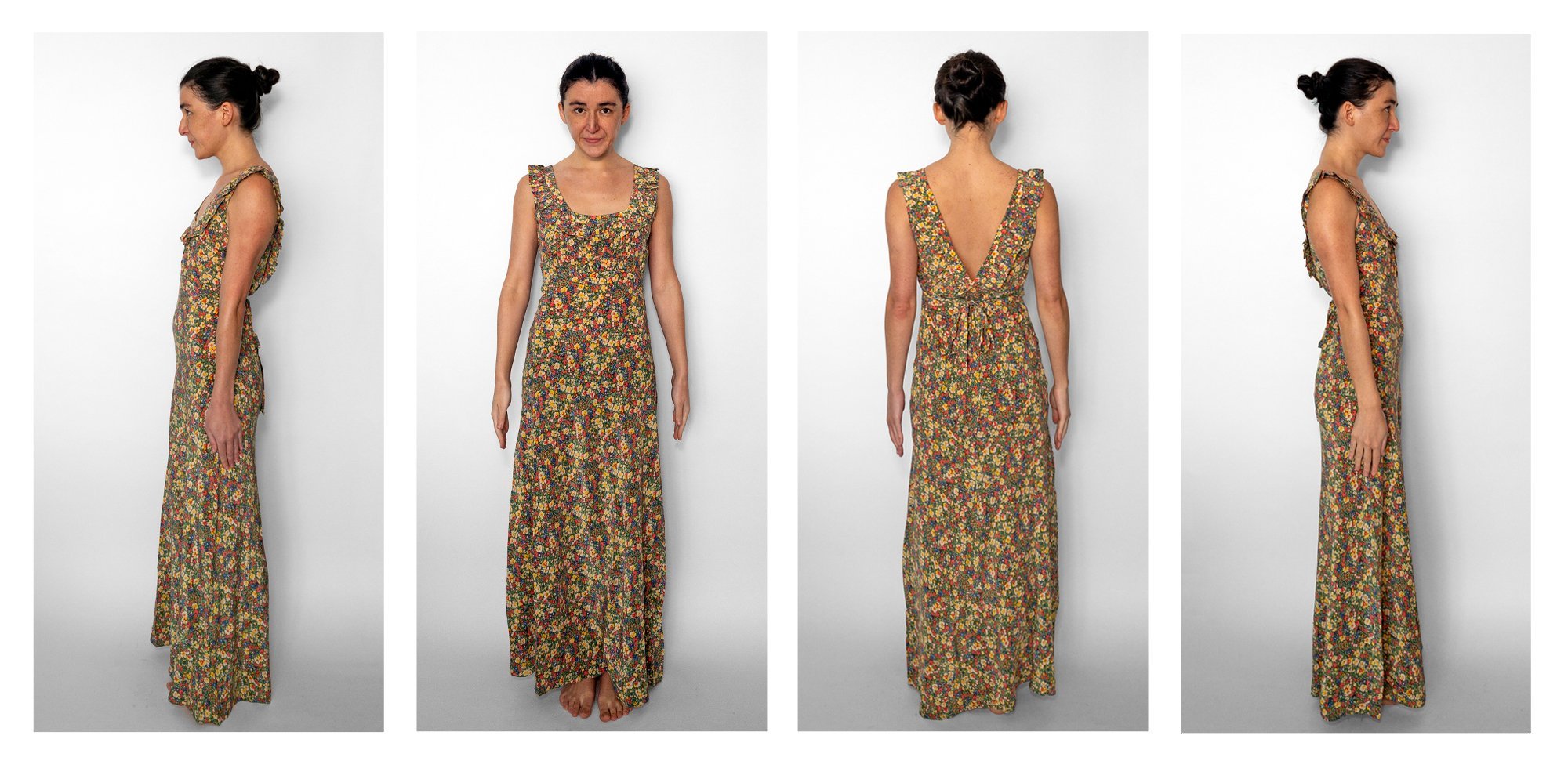 In 100% silk, this dress feels a little looser in the bust area.
Even though it's a pinch big, I'll continue to go with a size small in Dôen dresses.
You can always get clothes taken in, whereas taking them out is a little trickier…
---
IMPRESSIONS
Dôen was founded in early 2016 by two sisters who grew up in Santa Barbara… their five partners, all women, and two factories in Peru & India are all female owned or co-owned.
Their league of fans (from Lily Aldridge to Elizabeth Olsen) prove that Dôen's grownup bohemian feeling is well-welcomed.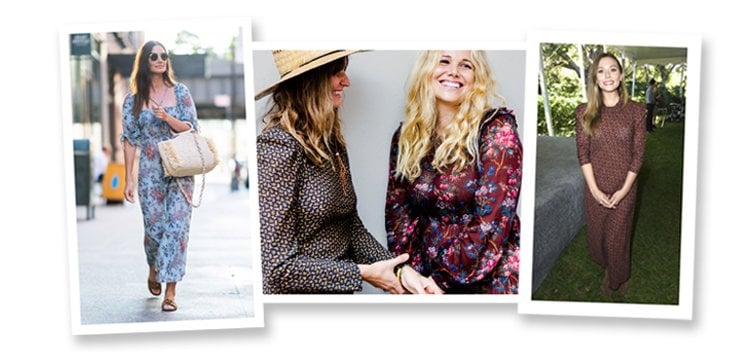 Santa Barbara is one of my "happy places." I could happily spend a lifetime floating on the light as air tortillas from La Super-Rica Taqueria with an ice-cold Tecate — drinking up that sweet Southern Californian sun on a patio… what could be better?
… a dress to match that feeling.
At 100% cotton in a sweet floral print, this dress is light, but luxe, while the ruffles and layers of material hide all matter of sin (read: massive amounts of rajas & tacos).
… it's the kind of dress you wear when you're playing some Tom Petty and cruising down State street en route to Jeannine's for a pastry (read: three pastries, let's be real).
Dôen Dress Outfits
As seen on my Instagram…
View this post on Instagram
---
DÔEN ON SALE
You can find a lot of Dôen clothes & dresses on sale via Vestiaire Collective or the Real Real.
Dôen's website has sales & flash sales now and then. It could be worth following them on Instagram to find out when they are.
My Dôen dress was 30% off, with a portion of proceeds going to Planned Parenthood.
Note: It's worth mentioning that Dôen is not sustainable or slow-fashion, you can learn more about that on Dôen Secondhand's Instagram story "Doen Drama" (that IG account is not affiliated with Dôen).
Also, given how many retailers now carry Dôen, you can save money by shopping other store's sales during sale season.
---
PROS & CONS
Pros
–100% Cotton: … after wearing so much Reformation & Rouje, it sure feels good to take a break from viscose and slip into some cotton.
–Easy to Wear: Slip on & go — I just unbutton the first eight buttons to put it on.
–Versatile: Do up all the buttons for a, well, buttoned up look, or undo the lower leg buttons and open up the bib for a relaxed look.
Cons
–Buttons Can Be A Pain to Button: In the grand scheme of this dress, that's really just a champagne problem though.
… I have none other than that light one — except that their clothes sell out fast!
---
Dôen's dresses are the dresses to end all "throw on & go" summer dresses.
They're made from 100% natural fibres, flatter all shapes & size and gently sway in the sweet summer breeze.
… those Santa Ana winds are beginning to blow and I feel right at home in my Dôen dress.
Dôen clothes are available from Harrods, Moda Operandi, Net-A-Porter, and Saks.
… alternatively (and obviously) Dôen has all their items from $74 USD.
Note: newinspired uses affiliate links which costs you nothing… but means a lot to me. When you use these links, the money newinspired earns gets reinvested in blog content. Absolutely nothing on newinspired is "gifted," I purchase each item with my own money. Affiliate commissions are used to purchase new items to honestly & thoroughly review. If you found this review helpful, consider using them to support newinspired.
---
YOU MIGHT ALSO LIKE…