I'm the first person to give an unpopular opinion.
… and if someone gives an unpopular opinion, I'm the first to challenge it.
Basically, I live in a realm of being a confused contrarian… or something like that.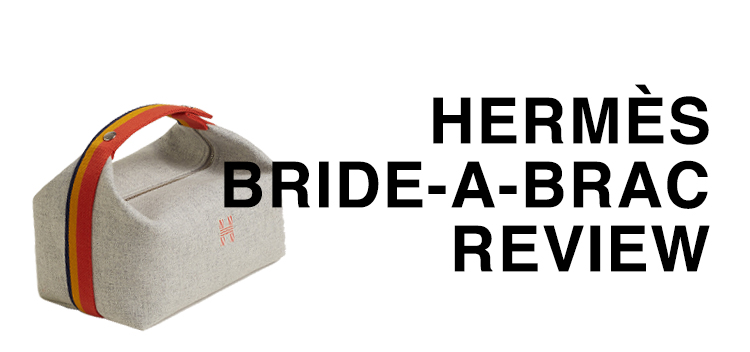 In an Hermès haze, I've been perusing a lot of sites lately about this historic house.
Imagine my delight when I read that someone said Hermès' Bride-a-Brac makeup bag is "not a real handbag."
… especially since I love using makeup bags as a handbag (see all the times I've used a 2007 Marc Jacobs makeup bag as a clutch — or heck, even my Louis Vuitton Toiletry case (from 2007) as one).
As Taylor Swift would sing, "it's me, hi! I'm the problem it's me."
Here is all the information and the justifications on why it's OK and totally OK to carry an Hermès Bride-a-Brac as a handbag (well, as long as you don't, like, put a Twilly on it)…
---
Hermès Bride-a-Brac Sizes and Prices
Hermès Bride-a-Brac cases come in 2 sizes.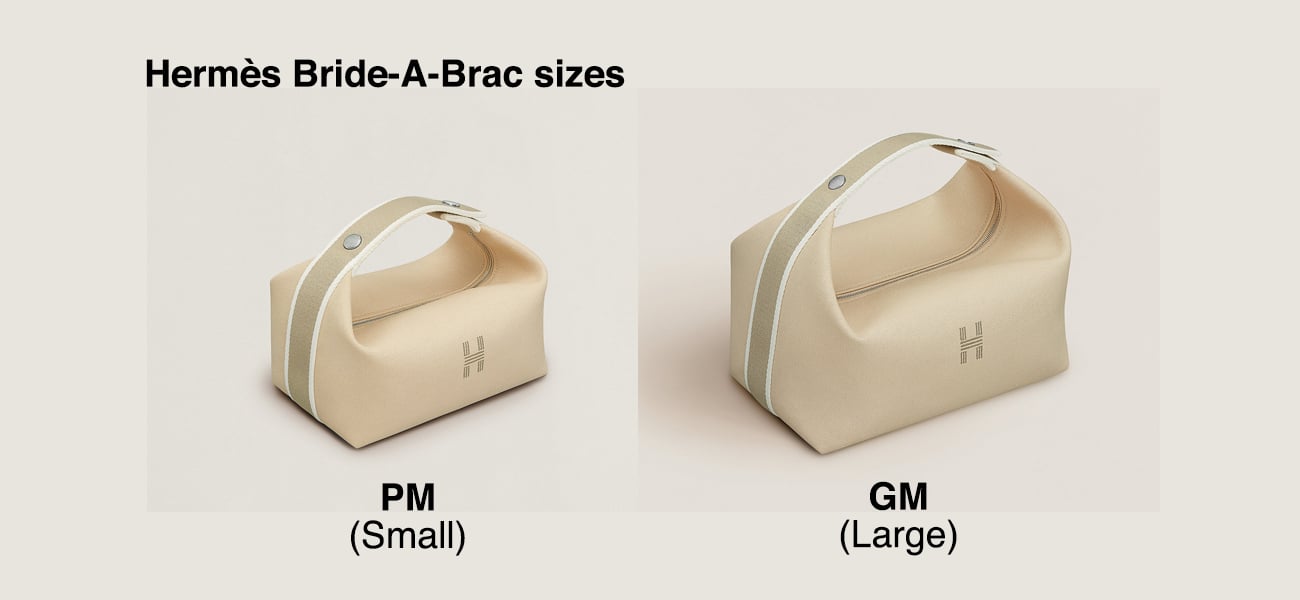 Small: Measures 8.3" long x 6.7″ high x 4.7″ deep; Price: $560-$650 USD (depending on material)
Large: Measures 9.8″ length x 8.3″ hight x 5.5″ depth; Price: $610-$730 USD (depending on material)
Note, these frequently (and quickly!) sell out online, so these are prices from earlier this year.
For reference, I'm 5'5.75."
… and for comparison here's how some other bags look on my frame:
–A.P.C. Mini Demi Lune
–Celine Small Trio
–Chanel Classic Handbags
–Isabel Marant Maskhia Bag
–Telfar Shopping Bags
–The Row Ascot Bag
My Hermès Bride-a-Brac, in grey wool with a Rocabar handle, is the GM (large) size.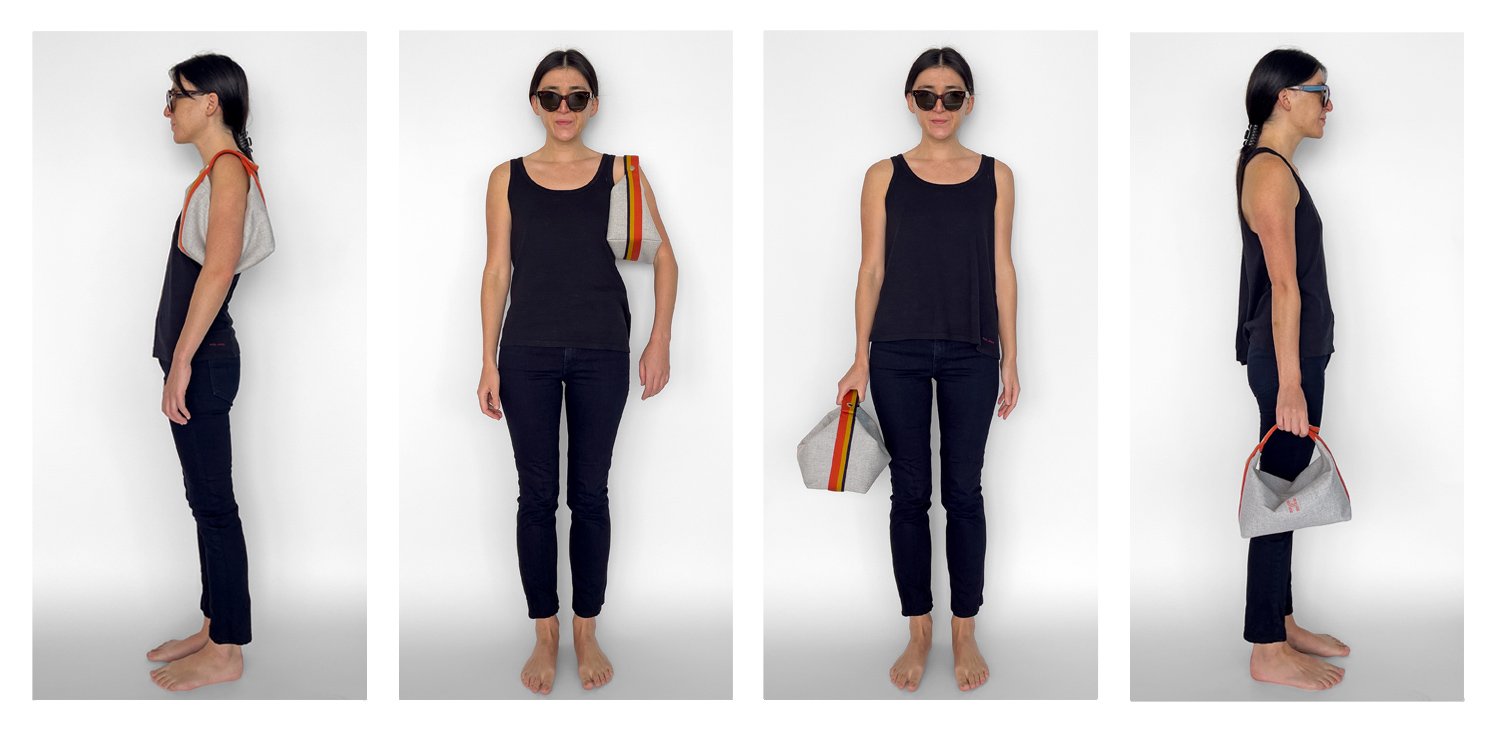 It's not totally comfortable wearing it over your shoulder.
… like, unless you're quite lithe, your deodorant will probably rub all over it.
If you choose to do that, it's fine since it's natural materials and you likely could spot clean it (the tag says to dry clean fwiw).
But it's totally fine carried as a clutch under your arm or by the handle.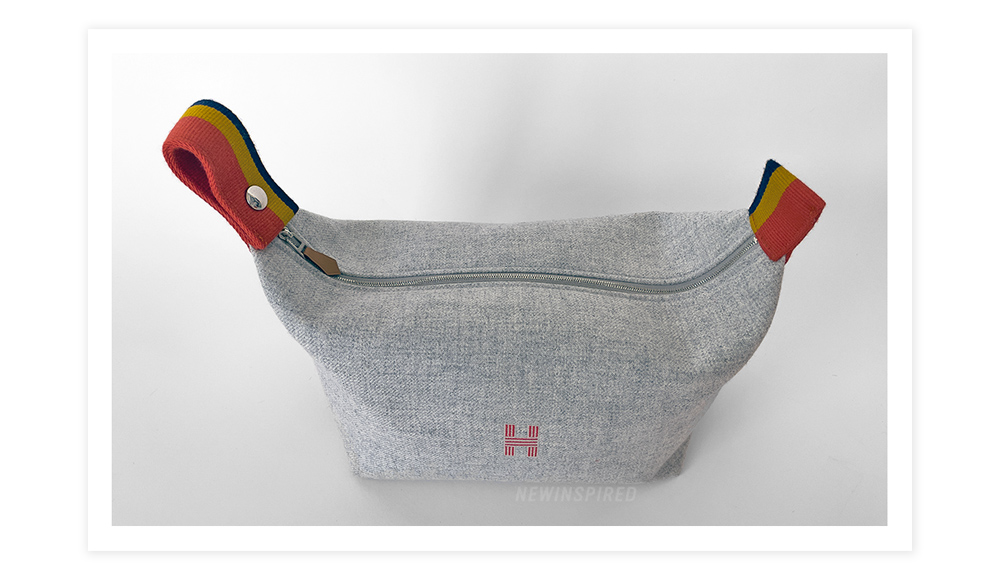 This makeup/hold-all case is extremely spacious and has 3 internal pockets.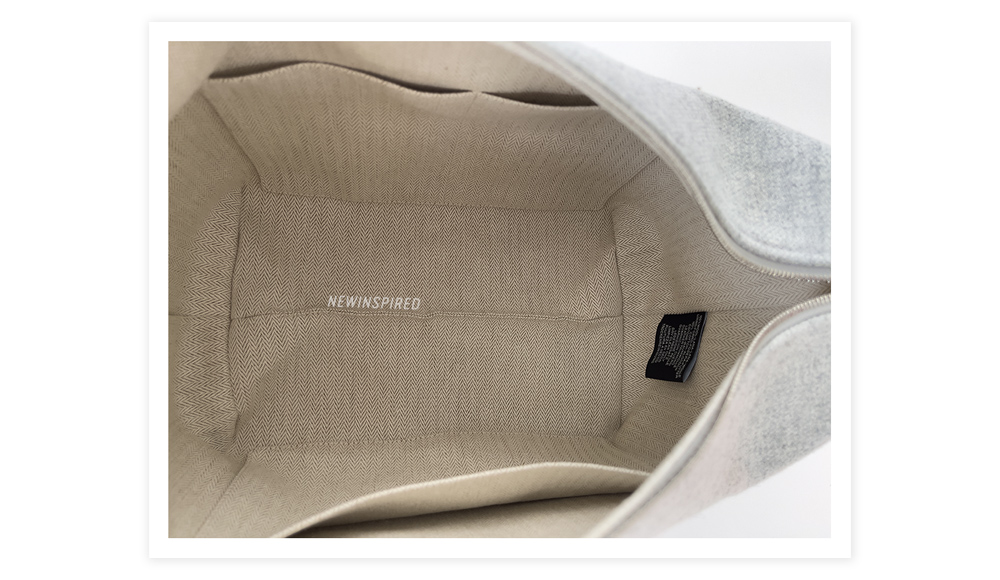 With that much space and pockets, it's basically begging to be worn as a handbag.
---
You might also like…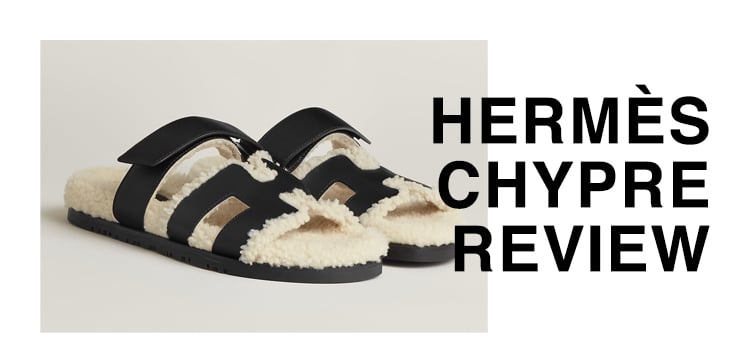 ---
Justice for using the Bride-A-Brac as a handbag
Am I making excuses here?
I don't think so…
Here's why the Hermès Bride-a-Brac makes an A+ handbag:
1- It's spacious: Here's what the large/GM Bride-a-Brac holds…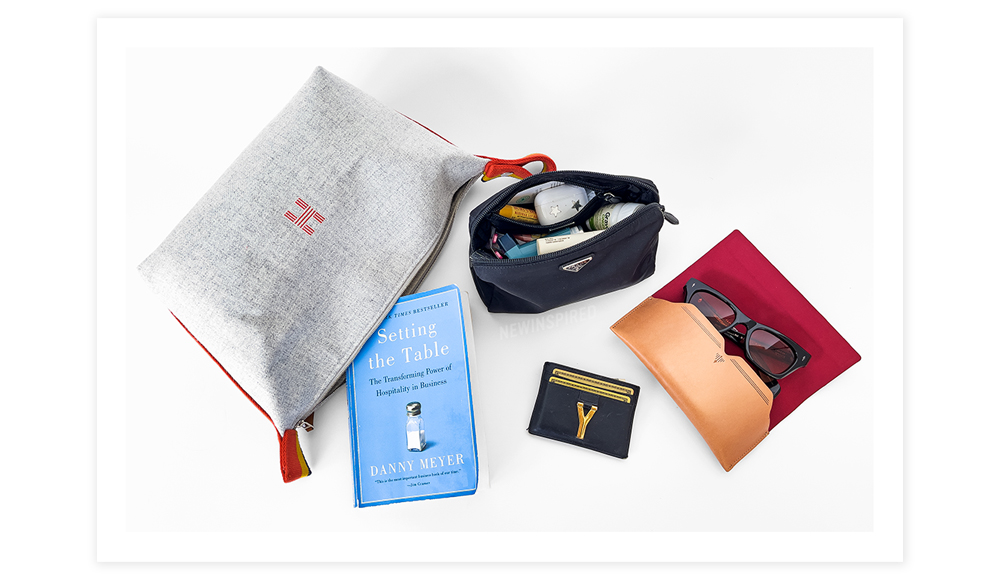 Basically this large "makeup case" fits everything.
… and if you use it to travel with your beauty products, it'll basically fit more than just your top shelf.
2- You get to play with people's hot takes: Are you also a contrarian? Join the club (actually, please don't, I wouldn't want to be part of a club that would have me).
3- SO many designers have handbags that look like it: Seriously though…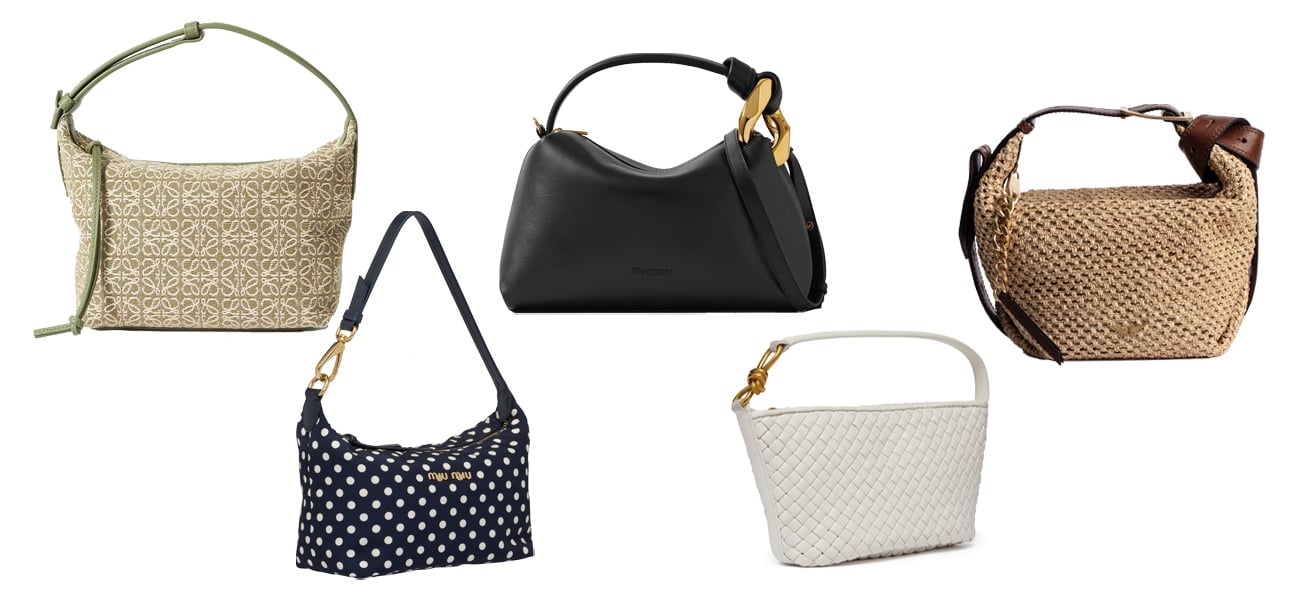 Left to right (in a zig-zag shape): Loewe, Miu Miu, JW Anderson, Bottega Veneta, and Zadig and Voltaire.
4- It's understated: Unlike a Birkin or Kelly, a Bride-a-Brac is totally unrecognizable with (almost) 0 branding or brand awareness… like, only people who know would know that it's from Hermès.
5- The name itself: Let's talk about the name Bride-A-Brac. It's likely a playful twist on "bric-a-brac," a term used for miscellaneous items and trinkets. The name suggests that this piece defies strict categorization, much like bric-a-brac can be anything from 18th century door knockers to kitschy modern figurines. This inherent flexibility in the name gives us a not-so-subtle hint — maybe it's more than okay to use this "makeup bag" however we see fit.
6- The Bride-a-Brac looks cool as a handbag: OK, it's not a handbag and should not be marketed as a handbag.
… but it's a "nonchalantly grab it on your way out to the beach, market, or whatever graceful and casual French thing you're about to do" kind of case/bag/makeup bag/thing holder.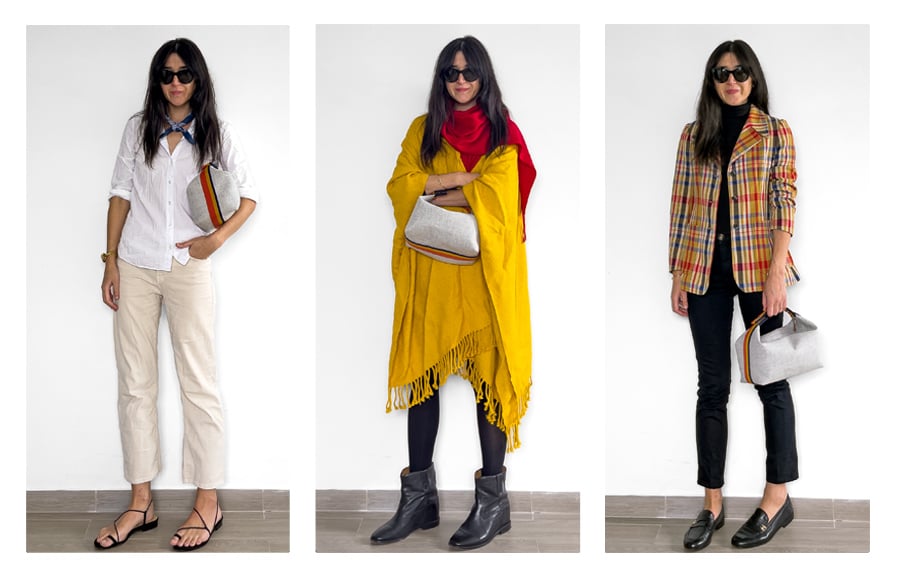 Left to Right: MOTHER jeans with J. Crew button down, bandana, and Emme Parsons sandals; Blanket ponch scarf thing from Chile with Commando tights, Reformation Jeanne dress, Italist scarf, and Isabel Marant Cluster boots; Rag & Bone Cigarette jeans with Wolford Colorado bodysuit, vintage jacket, and Chanel loafers.
Call it what you want, but it has a humble air that I admire.
Plus, if Hermès shows some of their scarves tied as handbags, then why can't we use a makeup case as a handbag?
---
Pros & Cons
Pros
–Fits a lot: The large size fits all your day-to-day needs.
–Waterproof lining: Whether your Bride-a-Brac is canvas or wool, the interior is always waterproof.
–Subtle: Who knows if it's really from Hermès? Only those who "know".
–F*ck the patriarchy: OK, it's not the "patriarchy" that set this up (I just wanted to quote another Taylor Swift song), but, I take great pleasure in messing up people's ideal's on what's "acceptable" (to wear or not). Wear the makeup bag as a handbag if you want, who cares? And if they care, who cares?
–Rocabar print: I LOVE the Rocabar stripes, even if it's meant for horses.
–Reasonably priced: … given that Louis Vuitton's Toiletry case, that's also made from canvas costs $1,080 USD (!!!) today, $730 USD for the large Bride-a-Brac (oddly) seems sane.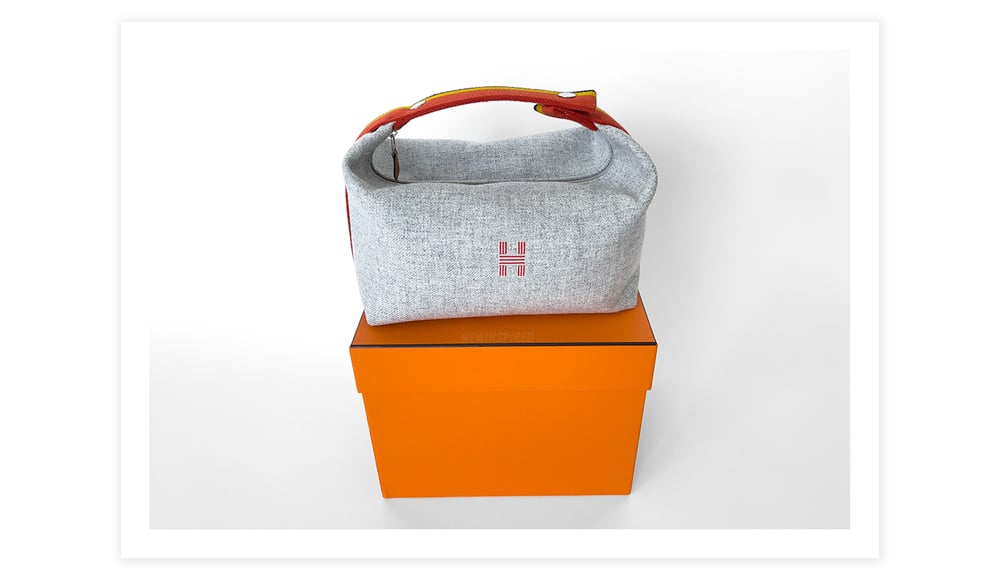 Cons
None.
… but, so you know, unlike a $35 USD Glossier makeup bag, the Hermès Bride-a-Brac case doesn't come with a dust bag.
Also, just as an FYI, Hermès' Bride-a-Brac case can be found under "Home, Outdoor and Equestrian" then "Bath and Beach" on hermes.com.
---
I guess the moral of this story, like most stories we tell ourselves, is…
Who cares?
Be your own anti-hero and carry whatever you want as a handbag.
Hermès Bride-a-Brac cases are available from Hermès boutiques or hermes.com from $560 USD.
Note: newinspired uses affiliate links which costs you nothing… but means a lot to me. When you use these links, the money newinspired earns gets reinvested in blog content. Absolutely nothing on newinspired is "gifted" or sponsored, I purchase each item with my own money. Affiliate commissions are used to purchase new items to honestly & thoroughly review. If you found this review helpful, consider using them to support newinspired.
---
You might also be interested in…