"Once a pair of sandals has been worn they will sadly never remain in perfect condition but we have listed care recommendations below to ensure your sandals have the longest life possible…"
-Emme Parsons' product care intro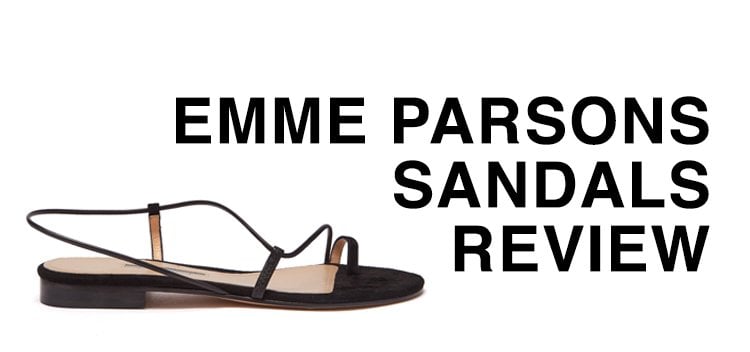 Emme Parson's product care page starts slightly dramatically.

A normal person would read that and run the other way — like, whattt?
… but in times of mini-bags that can barely hold a Tic Tac (looking at you Jacquemus Chiquito Micro!) or silk palazzo trousers with pheasants & Mickey Mouse on them (ugh, Gucci, just pick one or the other!), a slightly dramatic product care guide for a simple sandal is pretty fair.
Seduced by Emme Parsons' barely-there sandals (and her apparent proclivity for details & drama), I ordered two pairs: the Susan Slingback Sandals and the Chris Sandals.
Here's what the lifespan has been like for my sandals…
Emme Parsons Sandals SIZING
For comparison, my other shoe sizes run:
-Adidas Stan Smiths, US 8
–Chanel Shoes, FR 39
–Christian Louboutin, IT/EU 39.5
–Golden Goose, IT/EU 39
–Hermès, FR 39
–Isabel Marant, FR 39-40
-Nikes, US 8.5
–Repetto, FR 39.5-40
Slingbacks are a tough shoe to get right — they need to either fit perfectly or a little tight to keep the shoe in place.
My Susan Slingback Sandals are a size IT/EU 39.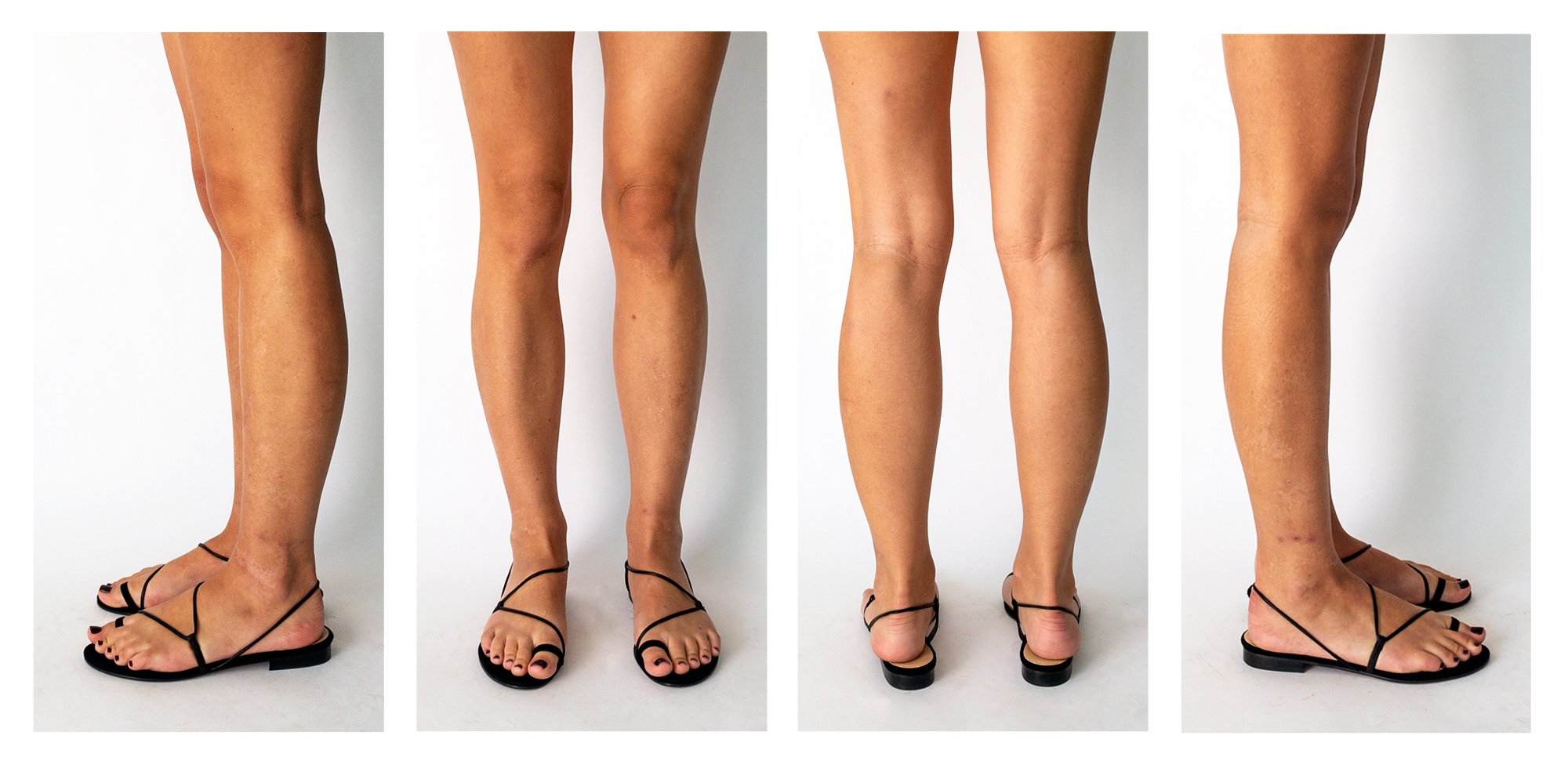 The Susan Slingback Sandals fit me perfectly to a little too tight — there is no elastic on these sandals, so you definitely want them either to fit perfectly or just a little tight.
The thing about the Susan Slingback Sandals is that they are absurdly hard to walk in.
These 0.5" sandals are as hard to walk in as my 5.0" Louboutins.
… but, to be fair, I think it ultimately has to do with how my legs are shaped.
See how the right sandal has a tough time staying on my foot, but the left is fine?
Yeah — idk exactly why that is either, but, again, it's probably just my legs.
My Chris Sandals are also a size IT/EU 39.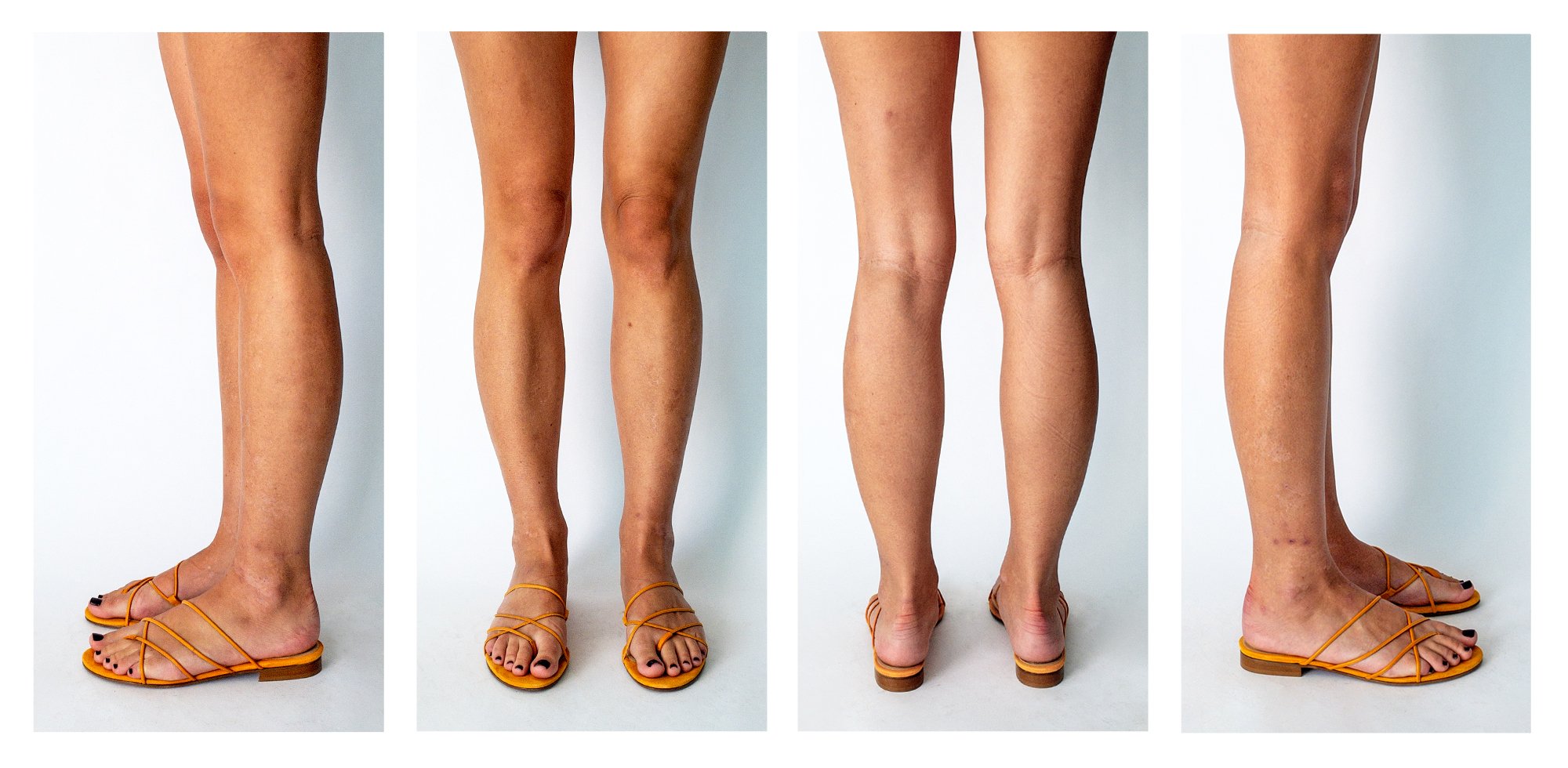 They fit perfectly.
For those of us with unusually shaped legs (or however you'd describe it), Emme Parsons' sandals that only have straps across the foot (like these Chris Sandals) are a lot easier to wear and walk in.
---
QUALITY
Let's put Emme Parsons' Susan Slingback Sandals and the Chris Sandals to a middle school "pseudo-scientific lab report" test!
Note: This is just my experience, yours could differ.
Hypothesis
While they feel well made, Emme Parsons' extremely thorough "how to take care of your sandals" instructions is daunting… and I'm not just talking about that ominous intro paragraph.
… like, if they need to explain how to exactly take care of a pair of sandals — just how flimsy will they be?
Upon my initial try on, I'll hypothesize that…
i- I'll get blisters (not for the Chris Sandals though).
ii- My feet will be covered in strap marks.
iii- Over time the suede will lift or something like that.
… and I'm going to ignore most of the product care suggestions, sorry, it's just really long — ain't nobody got time for that (or at least I don't).
Materials
-x1 pair of Emme Parsons Susan Slingback Sandals
-x1 pair of Emme Parsons Chris Sandals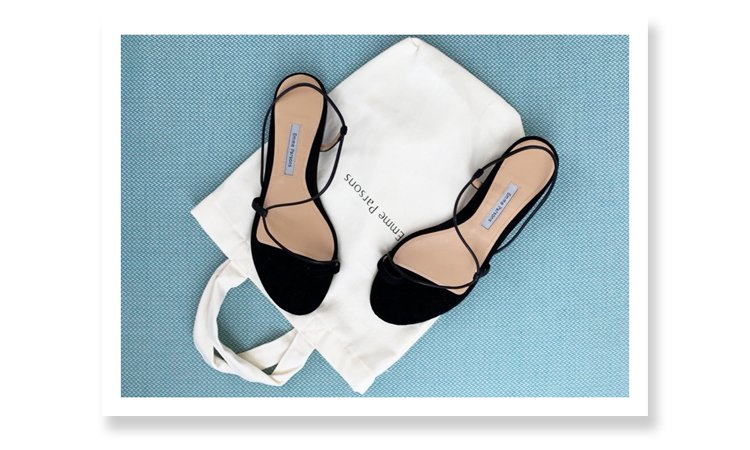 Method
1- Each pair of sandals must be worn 3 times outside for at least 1 hour.
Results
Susan Slingback Sandals
I gave up — the Susan Slingback Sandals made my feet hurt too much.
They are not ideal for those of us who have slightly, uhhh, fatter feet or unusually shaped legs.
The marks the straps left on my feet took just over 2 hours to go away.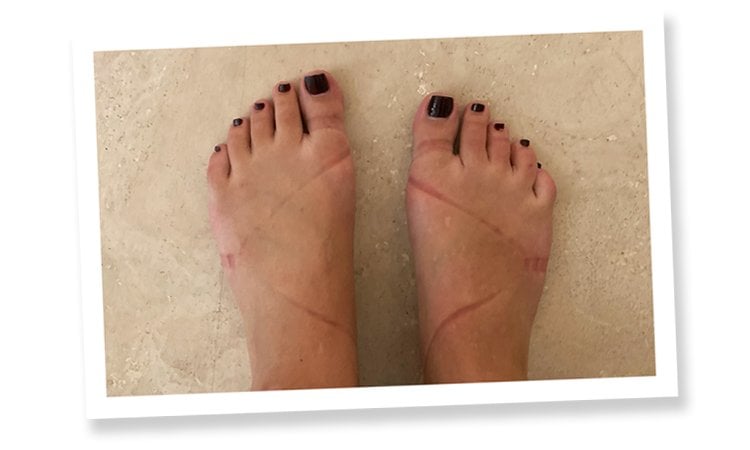 The pain wasn't because of blisters — it was an ache from the straps digging into my fatter feet.
… and there was a lot of difficulty with walking in them. Due to my irregularly shaped right leg/foot, the end part of my foot just couldn't stay put.
I've been told that "it gets better" with these sandals, but I don't have the stamina to find that out.
Chris Sandals
I had pre-existing light blisters on my baby toes, but was able to manoeuvre them outside of the straps, so they were fine.
This pair is surprisingly comfortable, mainly because of the small leather insert on the strap between the index toe and big toe.
Strap marks lasted for ~1 hour once I took off the sandals… and there were no blisters due to these sandals.
Conclusion
In conclusion, 1 out of 3 of my assumptions were correct.
I did not get blisters, nor did the suede lift after wearing the Chris sandals 3 times/the Susan Slingback Sandals once (I avoided going out after it rained or during the rain though).
… but my feet were covered in strap marks from both pairs of sandals.
It only felt like I was suffering for fashion when I wore the Susan Slingback Sandals — while the Chris Sandals left marks, they were ok in the end.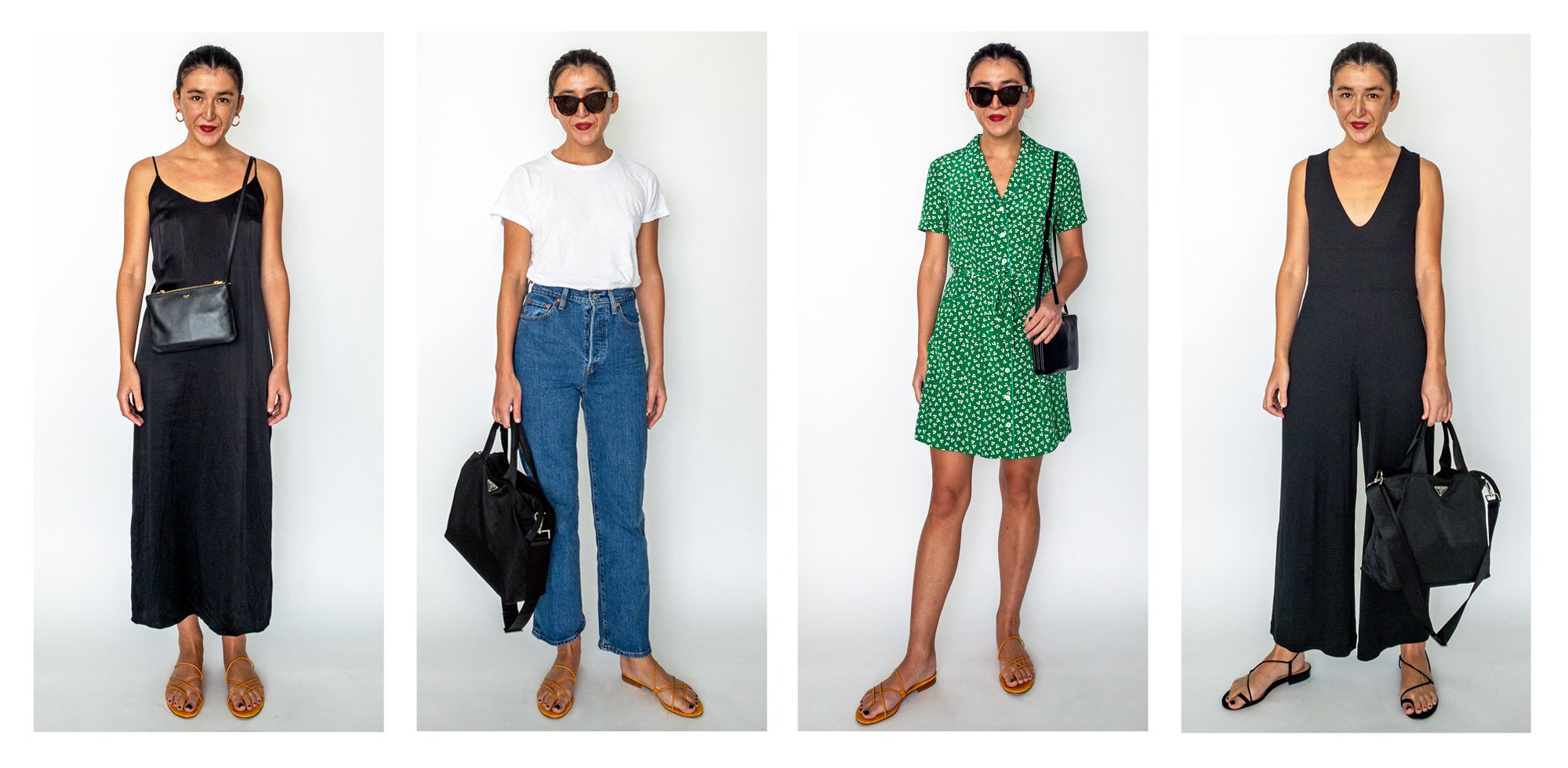 Left to Right: La Perla slip dress with Jennifer Fisher x Goop hoops, a Celine small trio, and Emme Parsons Chris Sandals; Re/Done "The Classic" white tee with Levi's jeans, Celine sunglasses, a Prada Nylon tote, and Emme Parsons Chris Sandals; HVN Mini Maria dress with Celine sunglasses, a Celine small trio, and Emme Parsons Chris Sandals; Skin jumpsuit with Celine sunglasses, a Prada Nylon tote, and Emme Parsons Susan Slingback Sandals.
---
PROS & CONS
Pros
–Beautiful: There's no two ways about it — they're a delight to look at.
–Easy to style: They add a great minimal 90's look to your outfits.
–Product care: While Emme Parsons' product care reads like a mini novella, it's still super useful information.
Cons
–Delicate: I mean, if you need that much product care info…
–Strap marks: Not particularly painful for the Chris Sandals, but the Susan Slingback Sandals were supremely painful.
---
"No man ever steps in the same river twice, for it's not the same river and he's not the same man."
-Heraclitus
Your Emme Parsons might not be the same once you truly wear them.
… but if you follow her product care, they can still be somewhat the same — just like you'll be somewhat the same as when you first wore them.
As much as I like my thick Isabel Marant Birkenstock-esque sandals, I like these thin Emme Parsons sandals just as much.
… even if the Susan Slingback Sandals didn't fit my feet properly.
Emme Parsons footwear is available from $360 USD at MatchesFashion or Net-a-Porter.
Note: newinspired uses affiliate links which costs you nothing… but means a lot to me. When you use these links, the money newinspired earns gets reinvested in blog content. Absolutely nothing on newinspired is "gifted," I purchase each item with my own money. Affiliate commissions are used to purchase new items to honestly & thoroughly review. If you found this review helpful, consider using them to support newinspired.
---
YOU MIGHT ALSO BE INTERESTED IN…