There's a lot to be said about the good of "shopping vintage."
From the environmental concerns of fast fashion…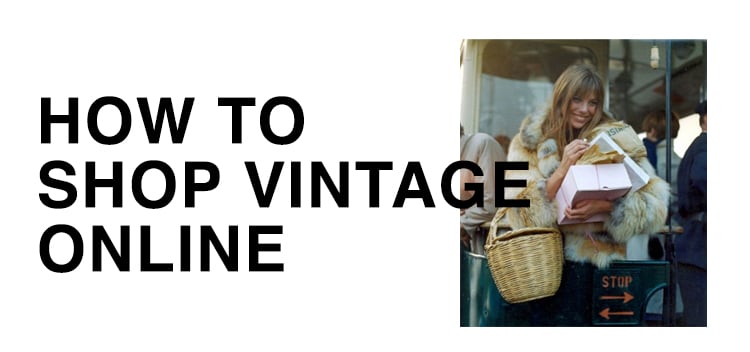 Fast fashion and synthetic fibres account for 35% of microplastics and that a single wash of synthetic clothing can release over 700 thousand microplastics into our oceans).
… to the idea of "helping" the discarded clothing problem by shopping for a true vintage t-shirt instead of simply buying a $160 vintage inspired t-shirt from your favourite denim retailer.
But the most enticing reason to vintage shop?
No one can exactly copy your outfit, since it's no longer produced.
… well, almost no one.
To repent my fast-fashion sin of recently buying a new dress that's based on a vintage silhouette (oh, Zara you temptress!), and admittedly all the consumerism on this blog, I feel like I should say a few Hail Mary's by sharing my greatest secret(s) to effectively shop vintage online.
---
How to Effectively Shop Vintage Online
There's something thrilling about the idea of Portobello Road or Rose Bowl Flea Market.
… but, I don't have the patience, location, or luck, to regularly shop hunt for vintage in real life.
For those of us who aren't blessed to live near a vintage haven, there's really only one good option: online.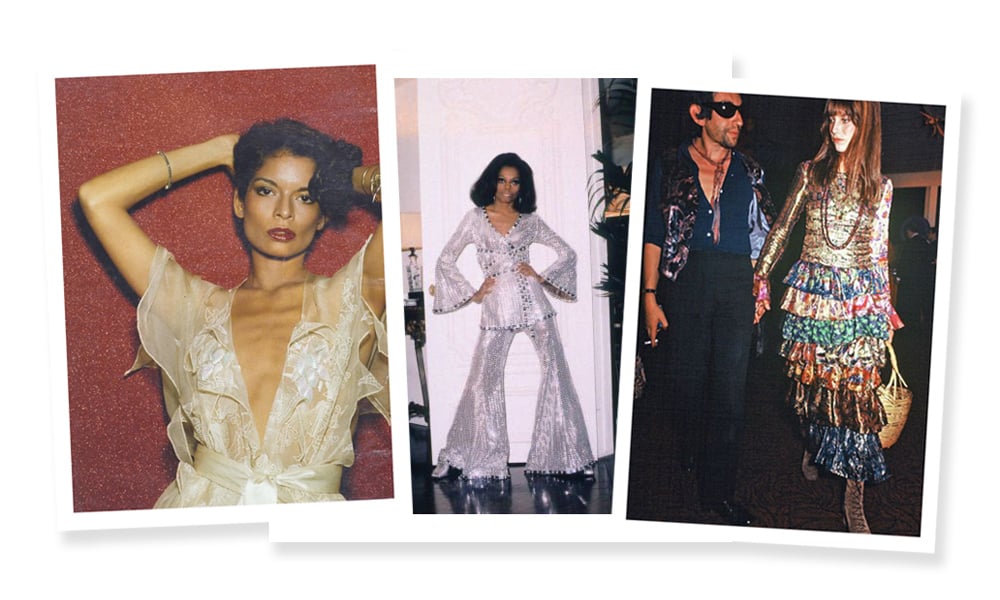 Prior to searching for vintage online, it makes things easier if you have some sense of what you're looking for — the designer, or era (60's, 70's, etc), material, garment type (dress/trousers/top/etc…), colour… whatever it is, just have a bit of specificity.
Here are a few questions to ask yourself prior to jumping in.
… I'll answer these questions as an example, based on my favourite vintage designer, Ossie Clark, who primarily designed in the 60's-70's.
1- What piece are you looking for from the designer?
The Bridget dress.
2- How often do you see that piece online? Be it on Instagram, other vintage stores, etc…
Never seen it for sale based on the (few) vintage shops that I follow on Instagram.
3- What kind of condition are you willing to accept? Perfect, good, or needs a repair…
Considering how hard it is to find an Ossie Clark Bridget dress, I'm willing to accept "needs a repair" as long as it isn't a massive repair.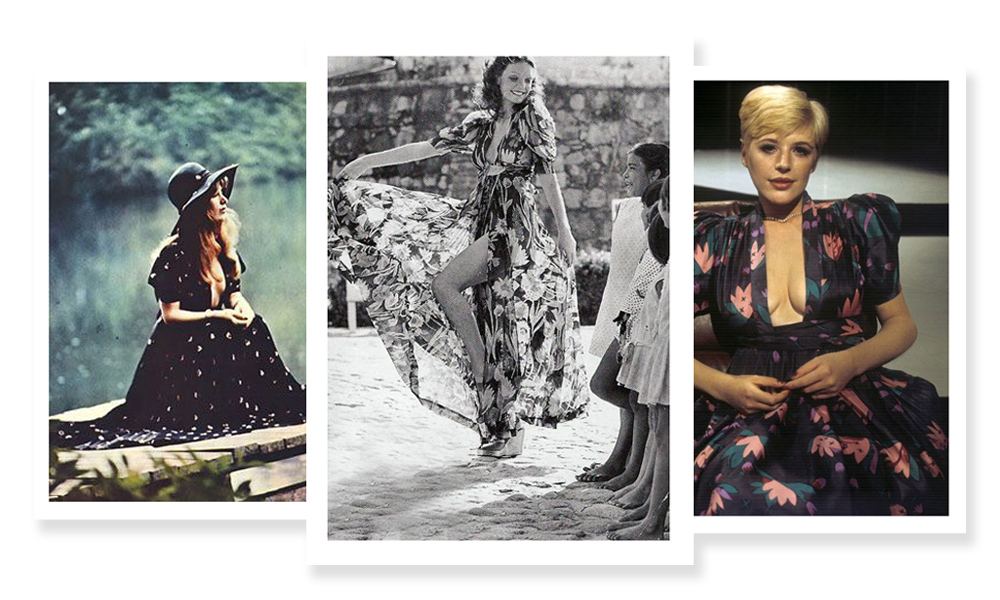 The Bridget dress.
4- Tag or no-tag?
For me, a very small, but important part of buying vintage, is being able to prove the garment's provenance. Vintage clothing can appreciate in value, so having the original label is super important, just in case I ever want to sell it later.
5- How much are you comfortable spending?
Less than $2,000 USD — based on the cost of other Ossie Clark dresses that are listed on sites, I don't think that the Bridget dress should cost more than $2,000… although one sold on 1stDibs for just over $2,000 USD.
Now, how do you start searching?
There are the usual suspects like eBay and Etsy, however there are so many hidden vintage stores that just aren't particularly Googleble…
Enter: Gem.app
Gem scours the internet (like eBay, Etsy, 1stDibs, and other random online vintage stores) to compile (most) pieces in one place.
They allow you to create search alerts that notify you via email when the item you're looking for is listed online.
---
How I Use Gem to Find My Vintage Clothes
As you can tell, I'm specific about what I want.
So, I set up my Gem search alerts to cover a wide range of what I'm on the market for, like…
–Ossie Clark: I'll manually filter out the contemporary pieces since I don't want to miss anything.
–Pucci: For 13+ years I've been on the hunt for a Pucci romper from the 70's that was reissued in 2007, so I keep this alert broad, because I'm open to any vintage Pucci dresses or rompers. In over a decade of pre-Gem searching, I've only seen 2 of the specific romper I want for sale (regrettably did not purchase) and 1 of a different, but similar romper (you know I scooped that puppy up!).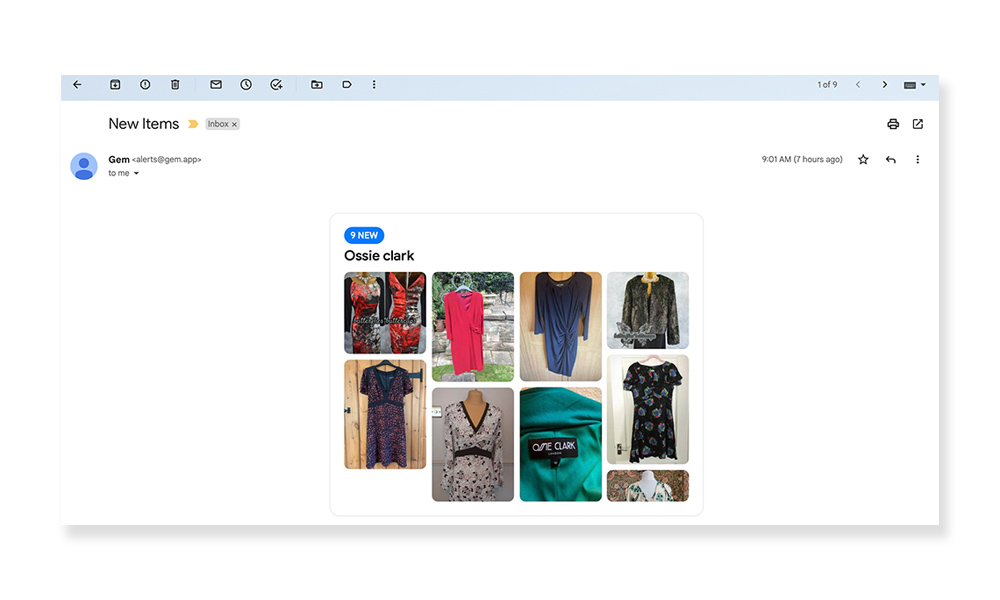 –Luella: A mid-aught's brand that was beloved by the British fashion set and sadly shuttered before I had disposable income.
–Misc. Chanel collections: Love the Paris/Dallas and Paris/Edinburgh collections and always open to finding something for a good price.
–Thea Porter: After that Kate Moss x Topshop (alleged) Thea Porter inspired prototype, I've been curious about going after one of Thea's original dresses.
Taking that Ossie Clark example into consideration, here's what happened recently…
First thing in the morning, I have my coffee while online window shopping.
It's a relaxing way for me to wake up and mindlessly check out what's new on my Gem search, Shopbop, Net-a-Porter, MatchesFashion, Fwrd, and MyTheresa.
… it's kind of like Breakfast At Tiffany's, except you don't have to take a taxi to 57th st.
I had just sat down with my coffee and started, when I saw that a vintage store in Holland had listed Ossie Clark's Bridget dress for $1,750 USD via Etsy.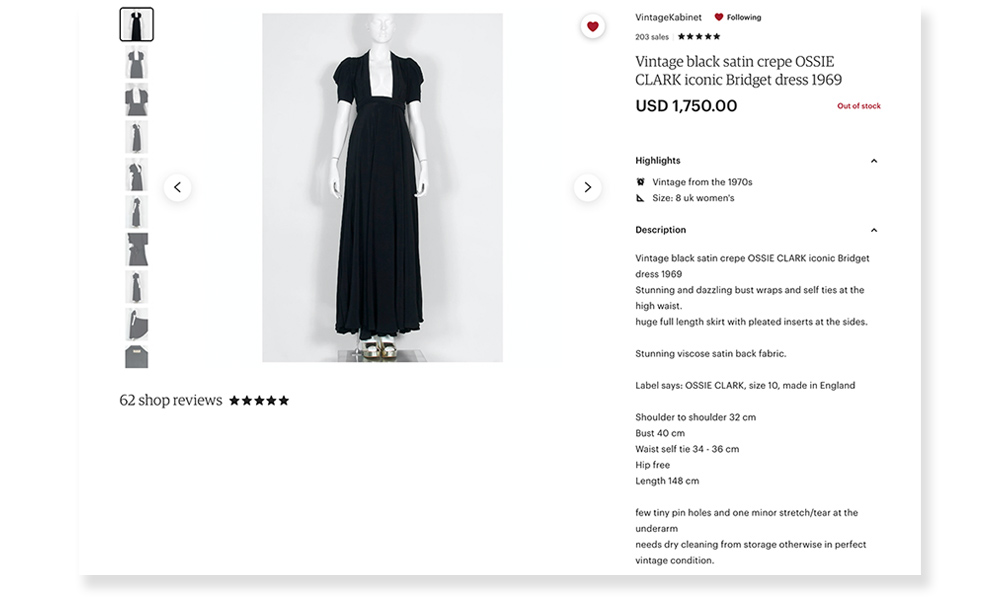 The listing was clear and mentioned a few tiny holes along with a tear by the underarm — less than "good" condition, but the vintage Ossie Clark label was still intact, so that was a plus.
Considering that I've never seen a Bridget dress for sale, I just bit the bullet and immediately purchased it.
Every night, I went to sleep thinking of this mythical dress that was on its way to me.
Where would I wear it? What will I style it with? How will it fit? Will it look as good on me as I think it will?…
These thoughts lulled me to sleep each night until it landed on my doorstop.
Immediately, I tried it on and it fit like a dream.
So much like a dream that I didn't even notice that there was a hole when I first tried it on.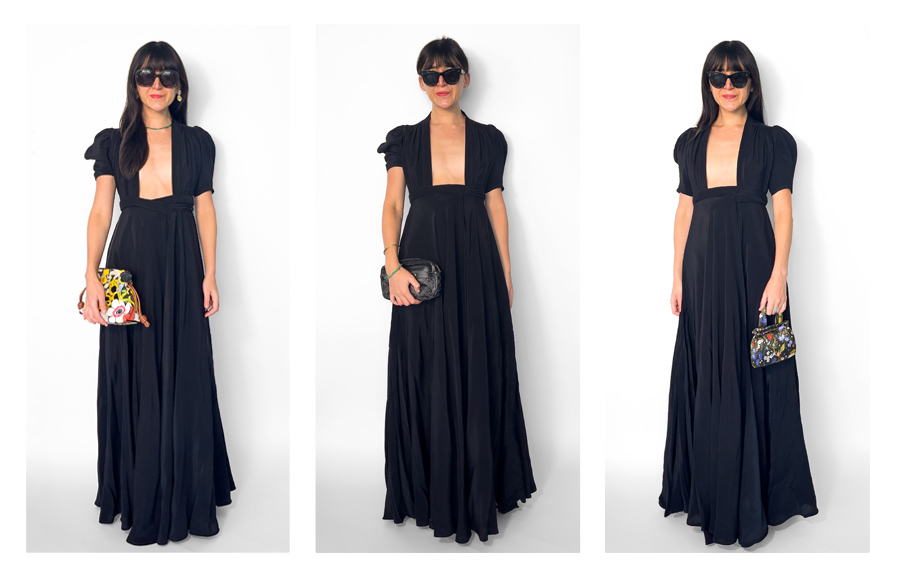 Left to Right: Manolo Blahnik Callamu sandals with Jenny Walton Daisy earrings, Mateo necklace, and a mini Loewe Flamenco bag; Manolo Blahnik Callamu sandals with an Aurélie Bidermann bracelet, Jennifer Fisher bracelet, and a Marc Jacobs makeup bag; Manolo Blahnik Callamu sandals with my Taylor Swift Red ring and The Vampire's Wife mini Visiting Bag.
As it turned out, the tear was so close to the arm pit that the way the dress falls on me (and the mannequin in the listing), it totally covers the rip.
For a dress from 1969 (54 years old) that I've wanted for 7 years, I am extremely happy with it.
---
Other Vintage Shopping Tips
1- Check Instagram
Follow your favourite vintage designer's hashtags (#OssieClark, #VintagePucci, #TheaPorter, etc…) to see if any vintage shops are selling their wares.
Gem does a good job, but sometimes they miss some.
If that's the case, follow the vintage store or the designer's hashtags on your Instagram.
2- Google
Same deal as #1, only on Google.
If you need to refine your Google search more, this article will help you.
… then sign up for the mailing list or follow the store on social media.
3- eBay: … but international
I'm talking about country-specific TLDs.
So, for me, since I love British vintage designers, that means eBay UK… but you never know if Canada or others could have something!
If the shipper doesn't state that they ship to your country, send them a message and ask them if they will — you won't get if you don't ask.
9 times out of 10, they'll ship it to you.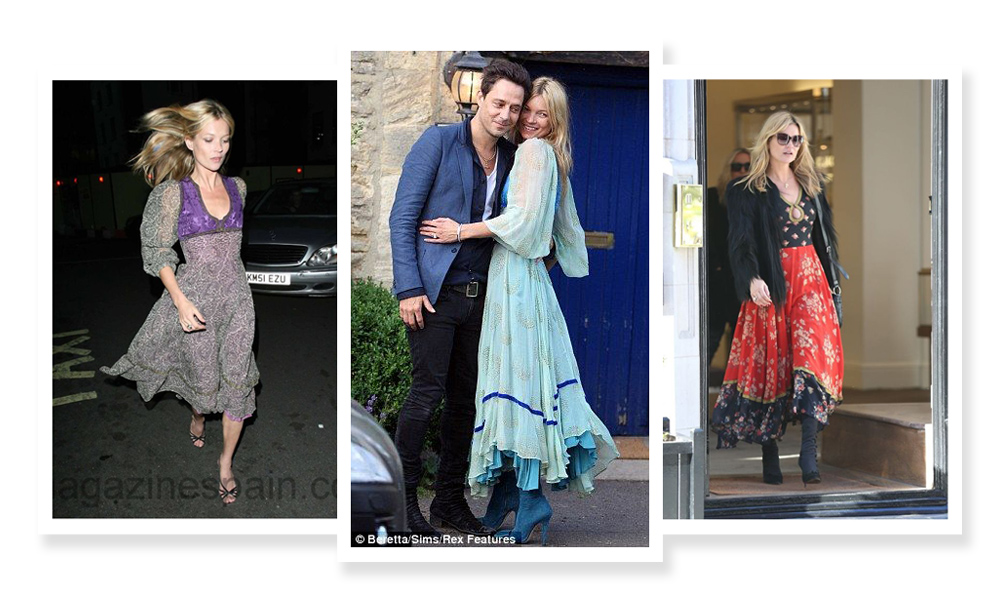 Casually browsing, I found a Thea Porter dress on eBay.co.uk — someone was cleaning out their grandmother's closet and listed a twin to the one Kate Moss wore.
I asked for sizing details to ensure it'd fit and then asked if they would ship to the USA… the seller agreed to post it across the pond.
This 51 year old Thea Porter dress (c. 1971) fits like a bohemian day dream…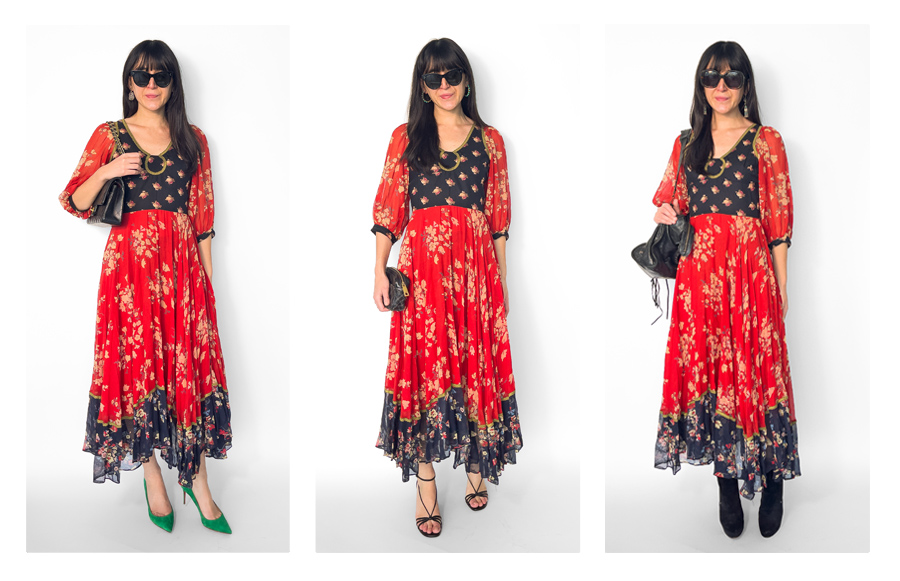 Left to Right: Christian Louboutin Kate pumps with vintage earrings and a Chanel Classic Handbag; Saint Laurent Kate sandals with Sylvia Toleda hoops and a Marc Jacobs makeup bag; Rag & Bone boots with Isabel Marant earrings and a Balenciaga motorcycle bag.
… but, the best part is that I'm not contributing to any waste from buying a reinterpreted version from a random new fashion label made out of, like, viscose or something synthetic.
This dress has survived 51 years on this earth and, as long as I take good care of it, it'll continue to thrive.
---
You Might Also Be Interested In…
This washing bag can help you cut back on microplastics, which are found in synthetic clothing…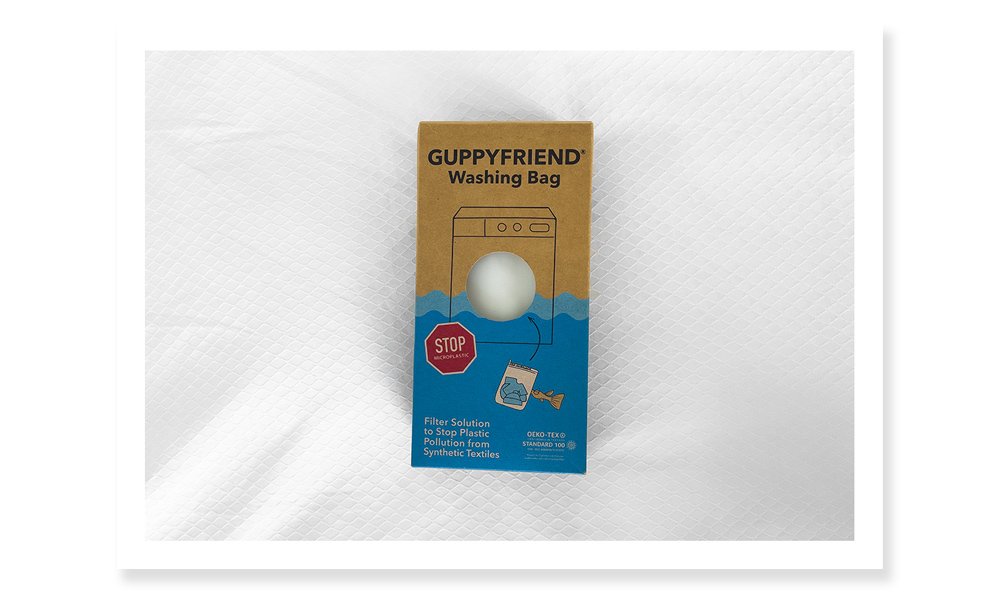 Here's my (mini) review on it!
---
Between the carbon emissions and rapidly changing trends, fast fashion is undeniably bad for the environment, but…
There are some pieces from Zara, Reformation, Rouje, H&M, or wherever, that can stand the test of time.
It's really all in how much you consume.
Your wardrobe should only be made up of things that truly bring you joy and delight you to wear.
If that means a fast fashion dress that you'll still love 10 years from now, go for it.
If that means a dress that you love from 50+ years ago, go for it.
At the end of the day, just buy what you love.
If you want someone to chat about vintage goodies with, I'm always available on Instagram DMs.
---
You Might Also Be Interested In…