Panamá is primarily a jungle-based climate.
If it isn't raining, it's threatening to rain.
Basically, three months of the year are considered "dry."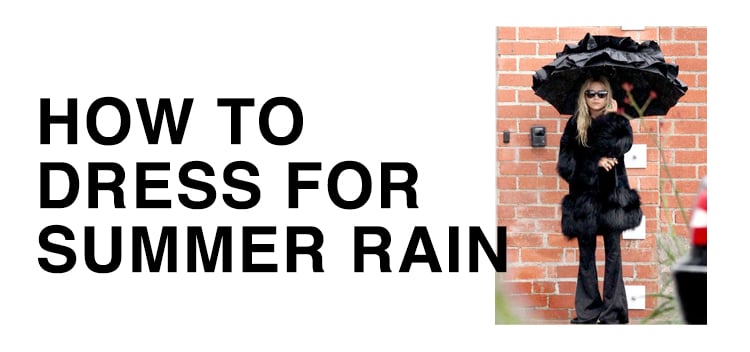 … so, I deal with a lot of rain on a day-to-day basis.
At this point in my life, I'm done tempting fate by wearing "nice" leather ballet flats when I want to run over to the grocery store or go out for dinner.
Let's get into what to wear on a summer rainy day or night, especially if you live in a city…
---
What Shoes to Wear When It Rains in the Summer
Waterproof shoes, obviously, are the only shoe you should wear when it rains in the summer.
That means shoes that are primarily made of rubber, like…
1- Rain boots
When it's only threatening to rain or you're going to the bar for a hot summer date, you likely won't feel like wearing such clunky boots.
… but, if you're into wearing wellies, you can check out my in-depth "How To Wear" article here.
2- Sandals
Birkenstock EVA sandals, Tevas, or those Freedom Moses sandals are A+ summer rain shoes since they're all made out of a rain-proof rubber, plastic, or fabric material.
Havaianas rubber flip flops are also a simple choice, however your foot might slip with all the rain and you could spend the summer in an ankle brace… then you'd be left slurping vichyssoise, in pain, at the restaurant you were rushing to make your dinner reservation for, wondering, "was it worth it?"
If you're still into wearing flip flops when it rains in the summer, catch the full article here.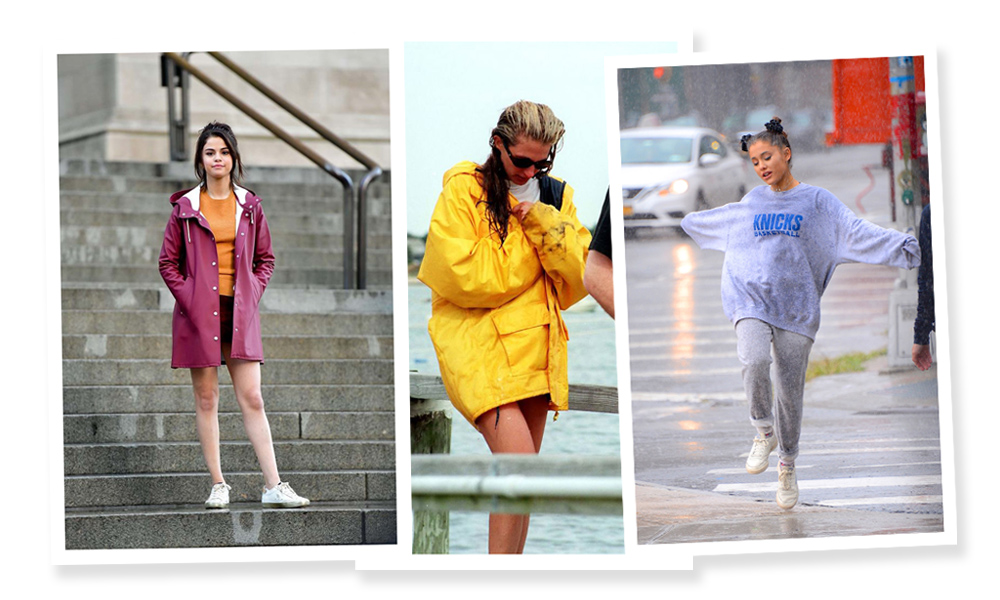 3- Sneakers
If you're OK with partially wet feet, and/or have sprayed your leather sneakers to repel water, a pair of sneakers could be a sneaky choice to thwart the rain.
Usually I wear my Stan Smiths in the rain, but lately they've been leaking — so the soggy socks now make this a no-go for me.
4- Ballet flats
OK, so Crocs makes waterproof rubber ballet flats.
Hear me out on this, they might be ~Crocs~, but they look like regular ballet flats with a squared off toe (á la ~New Bottega~), but are 100% waterproof and will 100% save your expensive shoes for when the sun comes out tomorrow.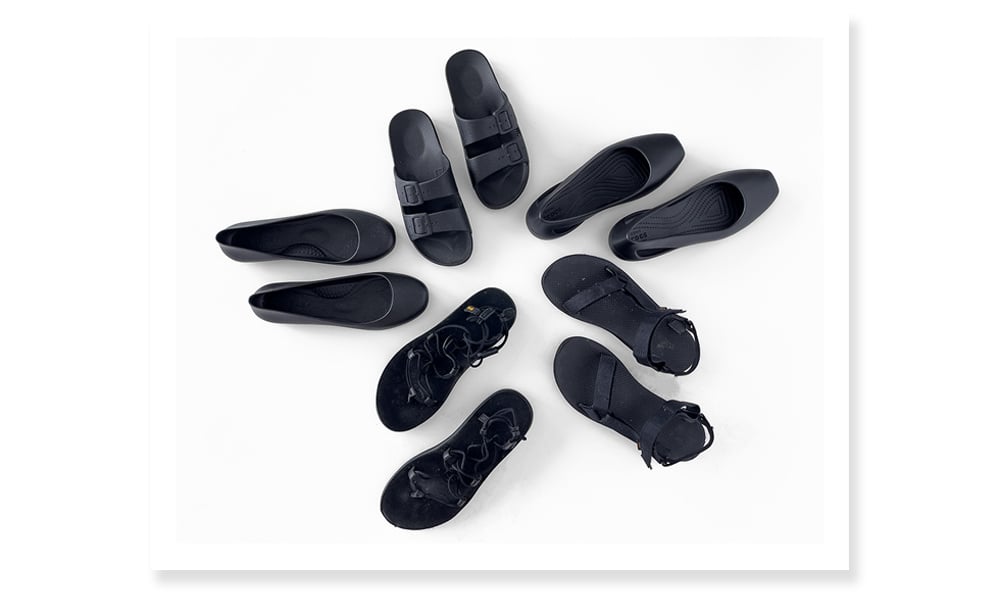 There's also this pair (mine are a size 9, click here for all my shoe sizes).
… however they don't have a ventilation system (i.e., holes to let your feet breathe in the rubber) and your feet will get all sweaty inside.
This Okabashi pair really look like normal ballet flats though, which means I really like them… and they're only $30 USD!
Anecdotally, my husband thought they were regular leather flats.
5- Mules
Maybe you're cool with Crocs, in which case, whip 'em out when it rains.
… or perhaps a pair of Prada rubber mules are more your speed, or, a Hunter gardening mule (I love mine!).
Either way, if they're waterproof, wear them.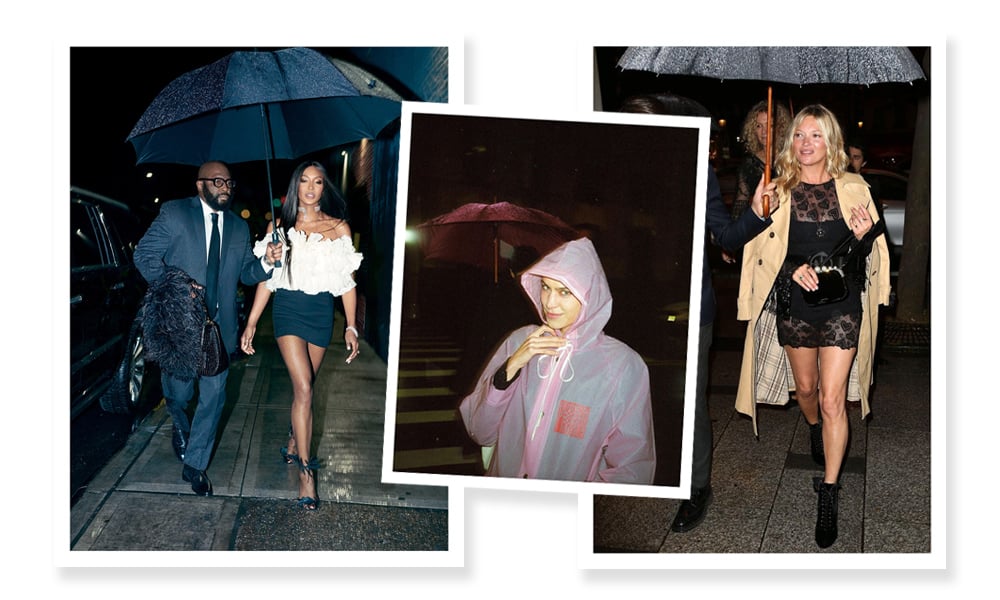 ---
How to Dress for Rain in the Summer
Should you want to wear jeans when it's a rainy summer day, be warned that you'll have to deal with soggy jeans for at least an hour or two.
So, for me, I prefer showing leg when it's raining in summer.
Your leg will wick away rain faster than anything else.
… and you'll also be cooler if you decide to throw a trench coat on top.
Rainy Summer Day Outfits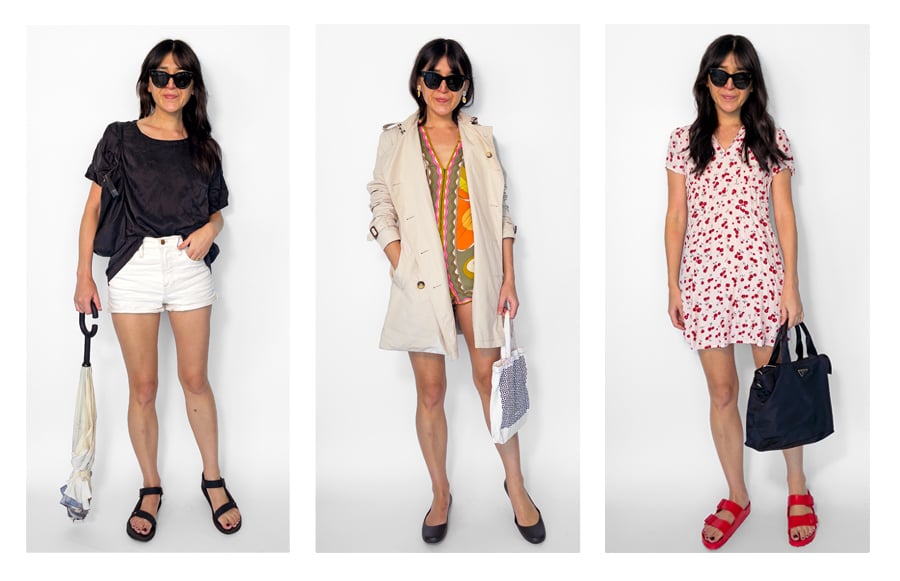 Left to Right: Madewell Perfect Jean shorts with Teva Original Universe sandals, Lunya sleep shirt, and a Prada nylon tote; Vintage Pucci playsuit with Okabashi jelly flats, Jenny Walton daisy earrings, and a tote bag; HVN Mini Maria dress with Birkenstock Eva sandals and a Prada nylon tote.
When it rains, you really do not want your outfit to be super fussy.
It's hot, probably humid, and worse, now it's raining.
Keep cool by going with a simple outfit and hold back on overdoing it with accessories.
The more accessories or jewelry you wear, the more weighed down and hotter you'll feel.
A dress with a cool print will help you look extra cool, while physically keeping cool.
Rainy Summer Night Outfits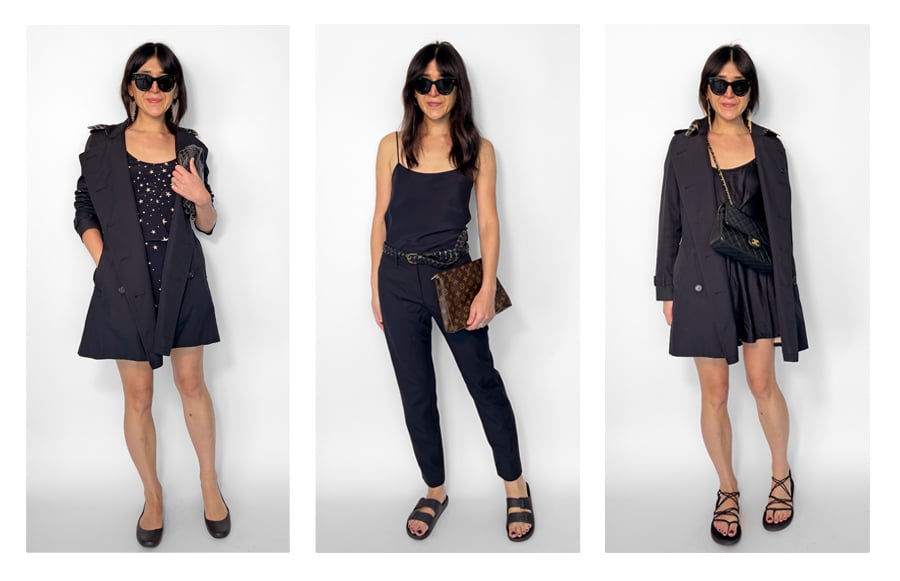 Left to Right: Stoned Immaculate Moon dress with Okabashi jelly flats, my 10+ year old Burberry trench coat, Isabel Marant earrings, and a Marc Jacobs makeup bag; Nili Lotan Tel Aviv trousers with Freedom Moses sandals, a Madewell belt, The Row cami, Taylor Swift Red ring, and a Louis Vuitton Toiletry Pouch; La Perla slip dress with Teva Voya Infinity Sandals, my 10+ year old Burberry trench coat, Isabel Marant Gold Swung earrings, and a Chanel Classic Handbag.
When you're taking an Uber, short walk (under 15 minutes), or public transportation to your destination, it isn't quite the same as running errands and slogging around a city in the rain.
So, in the evening we can eschew the arbitrary "limit the accessories" rule.
Personally, I still prefer no necklaces that will inevitably cling to my sticky (and hot) neck, so opt for jazzy earrings if that's a concern for you too.
When it rains at night in the summer, looking like you won a wet t-shirt contest is as much of an issue as it is during the day (don't ask why I picked a white dress to show you during a rainy summer day — hopefully you get what I meant).
Go for an all black outfit to get around this problem and save your whites for when the sun comes out.
---
With the right shoes, you can have a social life when it rains in the summer.
… well, you could before, but now you won't have to worry about ruining your leather shoes.
However, if you still want an excuse to stay home, just clear your browser history and pretend you never read this article.
Note: newinspired uses affiliate links which costs you nothing… but means a lot to me. When you use these links, the money newinspired earns gets reinvested in blog content. Absolutely nothing on newinspired is "gifted" or sponsored, I purchase each item with my own money. Affiliate commissions are used to purchase new items to honestly & thoroughly review. If you found this review helpful, consider using them to support newinspired.
YOU MIGHT ALSO BE INTERESTED IN…