"Hours Left! Don't miss 30% off!"
"Good news everything's on sale!"
"Get $30 when you spend $100 on our app!"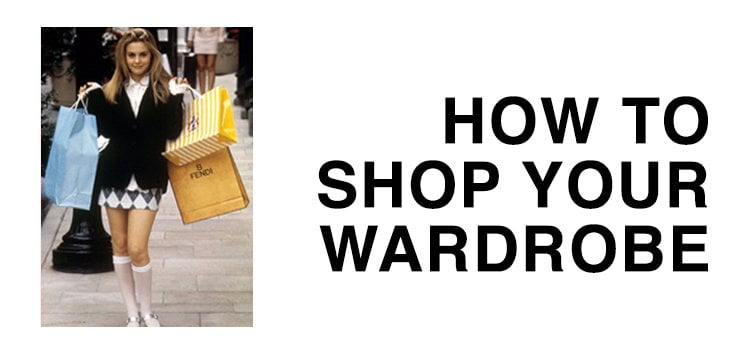 … I'll bet you dollars to Dries that your inbox is also overflowing with those e-mails.
These sales are tempting. So tempting… like so so sooo tempting.

I've filled up my online shopping carts only to abandon them at least 17 times.
When the economy is kinda uncertain, these sales read more like danger signs to me. Maybe you feel differently and are taking advantage of them — that's (obviously) totally cool.
What can we I do instead? Shop your wardrobe.
Here's how I'm doing it…
---
Shop Your Wardrobe
Now is a great time to go through your closet.
Cleaning actually can lower your stress levels, here's why:
1- Concentrating on something for 2-3 hours that isn't the news will give you some relief.
(Watching nostalgic Late Night with Conan O'Brien clips on YouTube will also help, but this is about clothes and not my resurfacing Conan obsession.)
2- Going through your wardrobe and seeing old clothes could bring back some great memories.
3- Seeing how clean your drawers and closet look will give you a sense of accomplishment.
Basically, a closet cleanout is an ideal way to de-stress.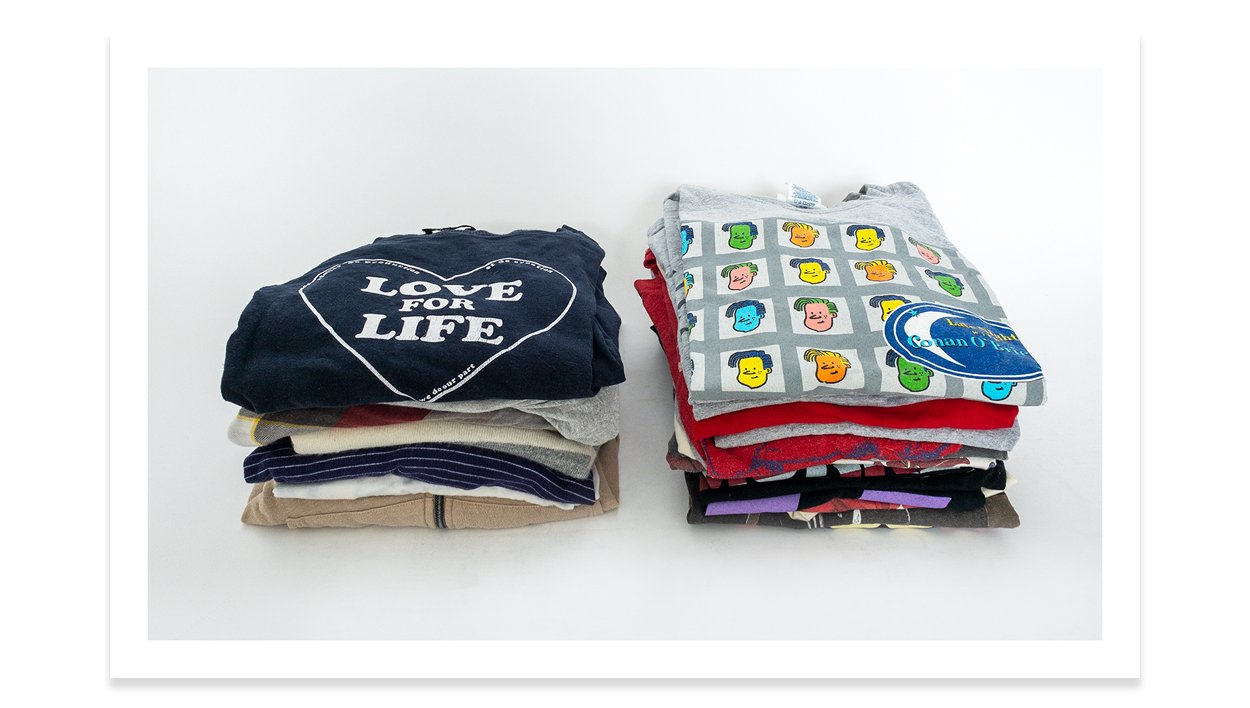 While you're going through it, you might find some gems that you forgot you loved — pieces that still look great on you and bring back happy memories.
When you find them, no matter how old they are, take them out and put them to the side.
Here are my gems:
1- Marc by Marc Jacobs blouse, c. 2006
Memory: Like a lot of Nylon magazine-reading gals, my sister and I were obsessed with Marc by Marc Jacobs. The difference between us was that my sister had an after-school job and I didn't. So, this was my sisters'… but on one fine day, she let me borrow it and it eventually started to get hung in my closet instead.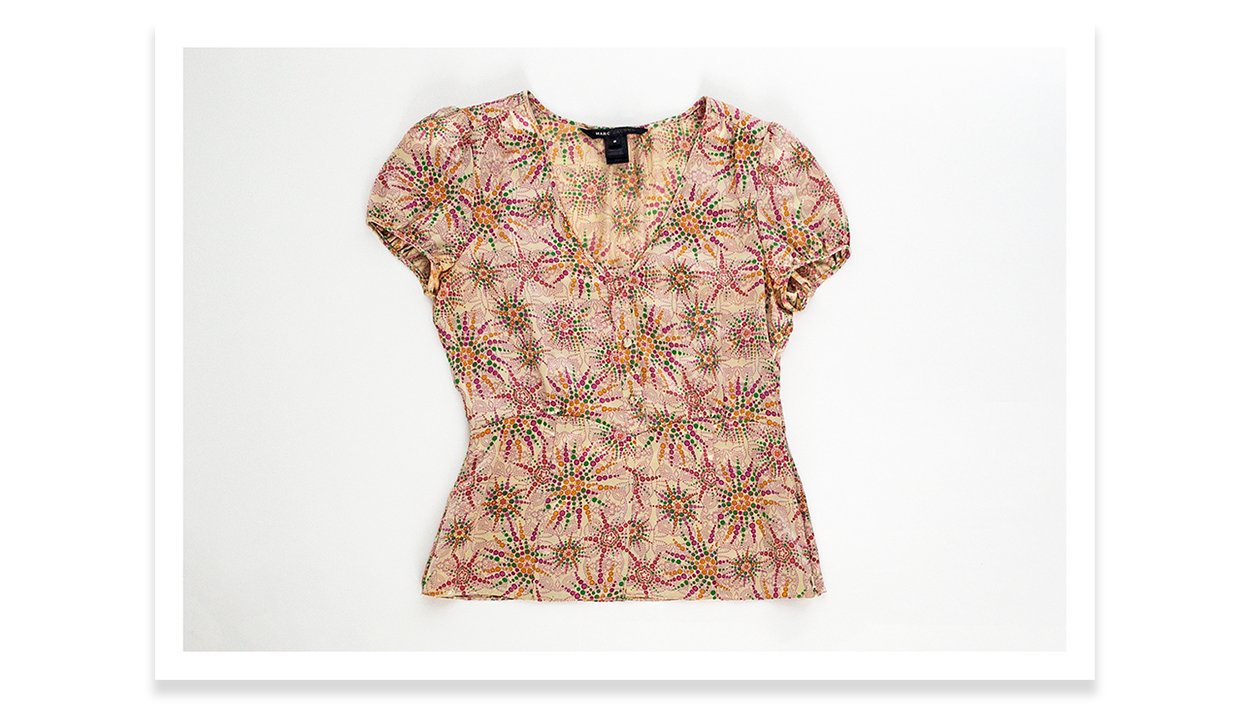 2- Miss Sixty leather jacket c. 2007
Memory: So, remember how in like 2006-2008 there were a lot of ~indie parties~ (i.e., Nu Rave parties) where photographers would, well, take pictures of said ~indie parties~? I'm talking about the Cobra Snake or Last Nights Party. Well, Montreal also had their equivalent with the Pregnant Goldfish… I can't remember what party I went to, but for some reason my sister lent me wear her brand new gold Miss Sixty bomber jacket. This was the height of American Apparel's metallic lamé clothes, so this jacket was prime goldfish bait.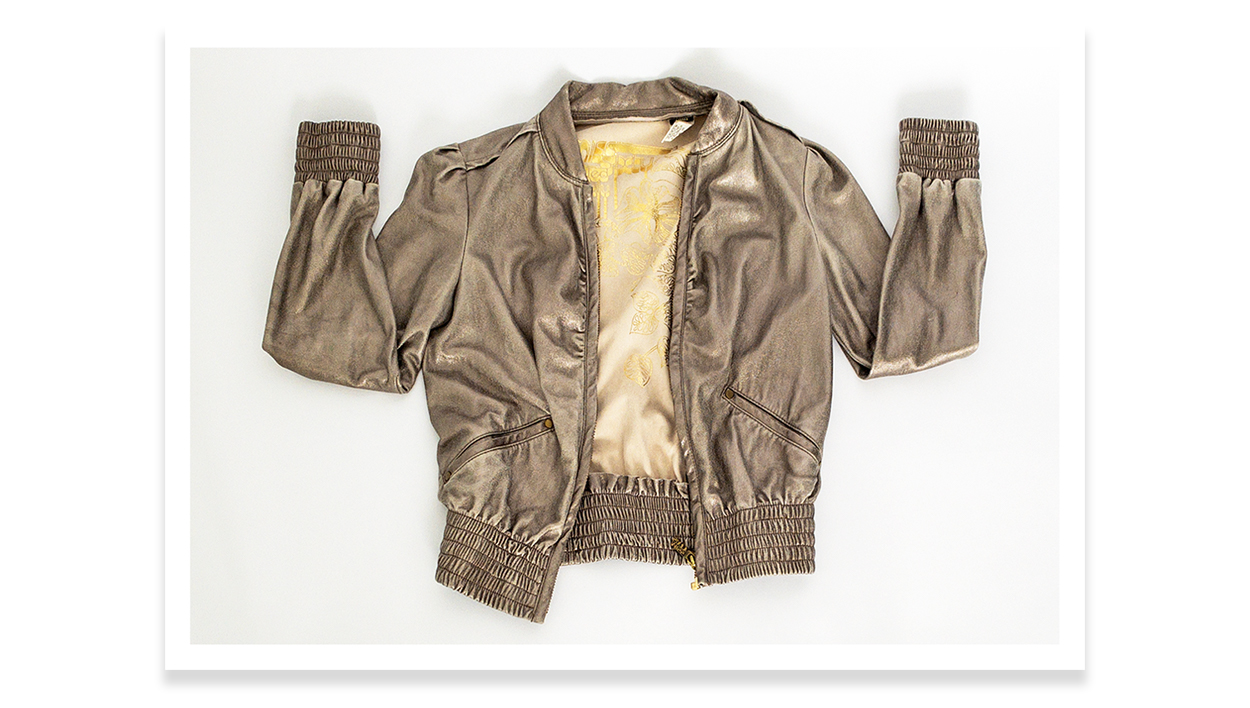 Hook, line, and sinker, I got photographed at this party. As a result, my sister never wore this jacket again, because the one time she did, people asked her "isn't that Yuki's jacket?" I felt bad and I still feel bad. To top off all those bad feelings, this jacket has never been worn since. Over a decade later, I still have it though.
3- Marni sandals c. 2008
Memory: These sandals were everything to me… until one day at FIT high school summer camp, I was wearing these sandals and the ring leader of our group asked if I had sprained my ankle due to my "grandmother-esque" sandals — apparently they looked like ankle supporting footwear.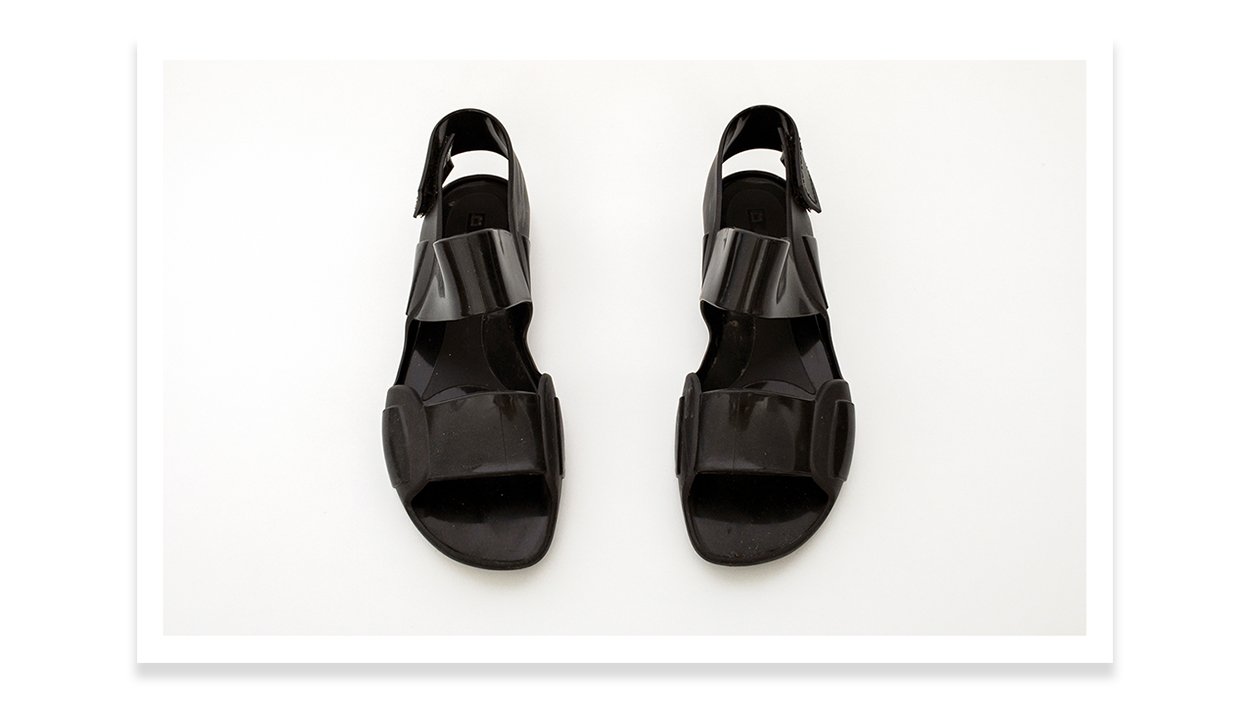 4- A.P.C. Madras dungarees c. 2009
Memory: I wish I could say that I came up with the idea of buying these all by myself… but really I was watching Alexa Chung's short-lived MTV show (It's On with Alexa Chung!) and she was wearing these — so I naturally bought them too and haven't worn them since 2009.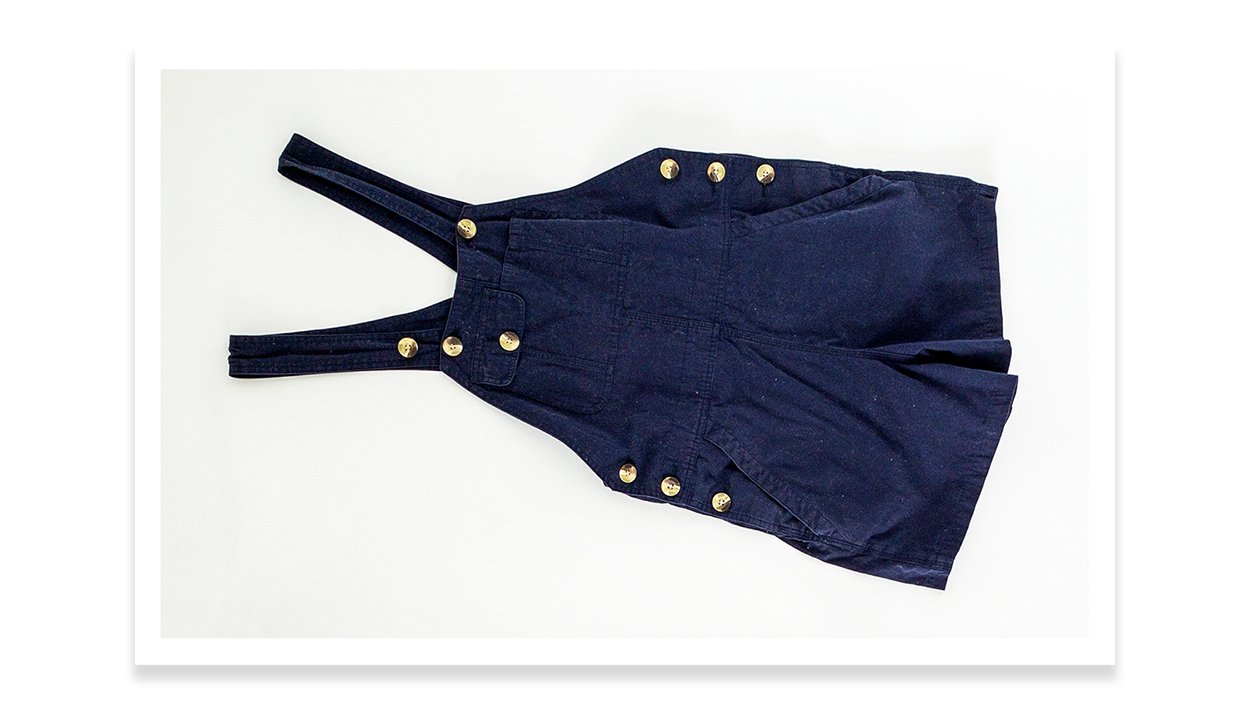 5- Silk Acne shorts c. 2009
Memory: Do you have those pieces in your closet where you're like, "I don't even remember where I bought this." These are those for me. I loved (and still love) them… but only ended up wearing them like once (and not well, TBH).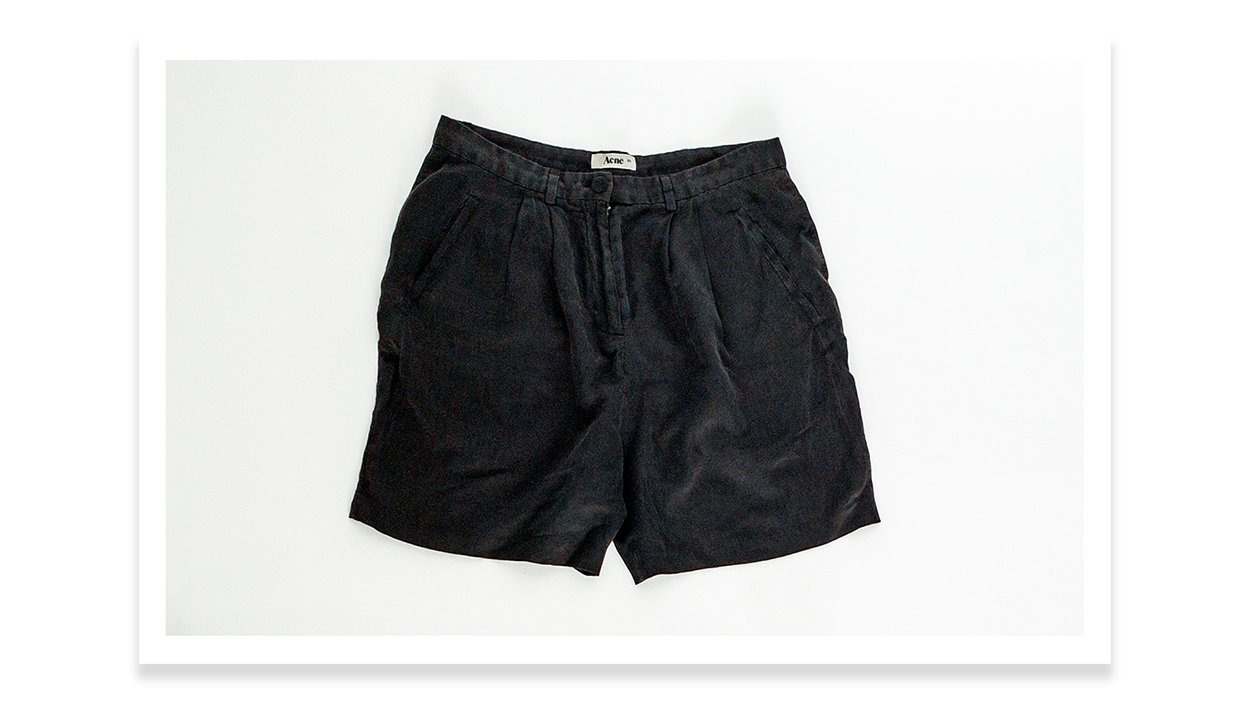 ---
How to Style Your Old Clothes
The best way to refresh your old clothes is to wear them with the clothes/accessories you are currently obsessed with.
It's the same concept that the best outfits mix vintage with new — except in this case, your "vintage" is only ~10 years old.
Make a mental list of the clothes and accessories you're currently obsessed with and then match them with your hidden gems.
For me, my "current obsessions" include: mom jeans, Celine sunglasses, and a bunch of new shoes from over the decade…
So, let's give you some outfit ideas…
1- Marc by Marc Jacobs blouse, c. 2006
In 2006, I wore this Marc by Marc Jacobs blouse with Mavi skinny jeans and ballet flats (… while glaring at my sister's then boyfriend).
This blouse's capped sleeves and buttons are pretty on trend though, so bringing it "back to life" should be (somewhat) easy.
To refresh the blouse, I'm going to wear it with Levi's Ribcage jeans, a Miu Miu bag (do I get bonus points because it's from 2005?), and Repetto Camilles… but this time, I'm going to tuck it in for a more modern look.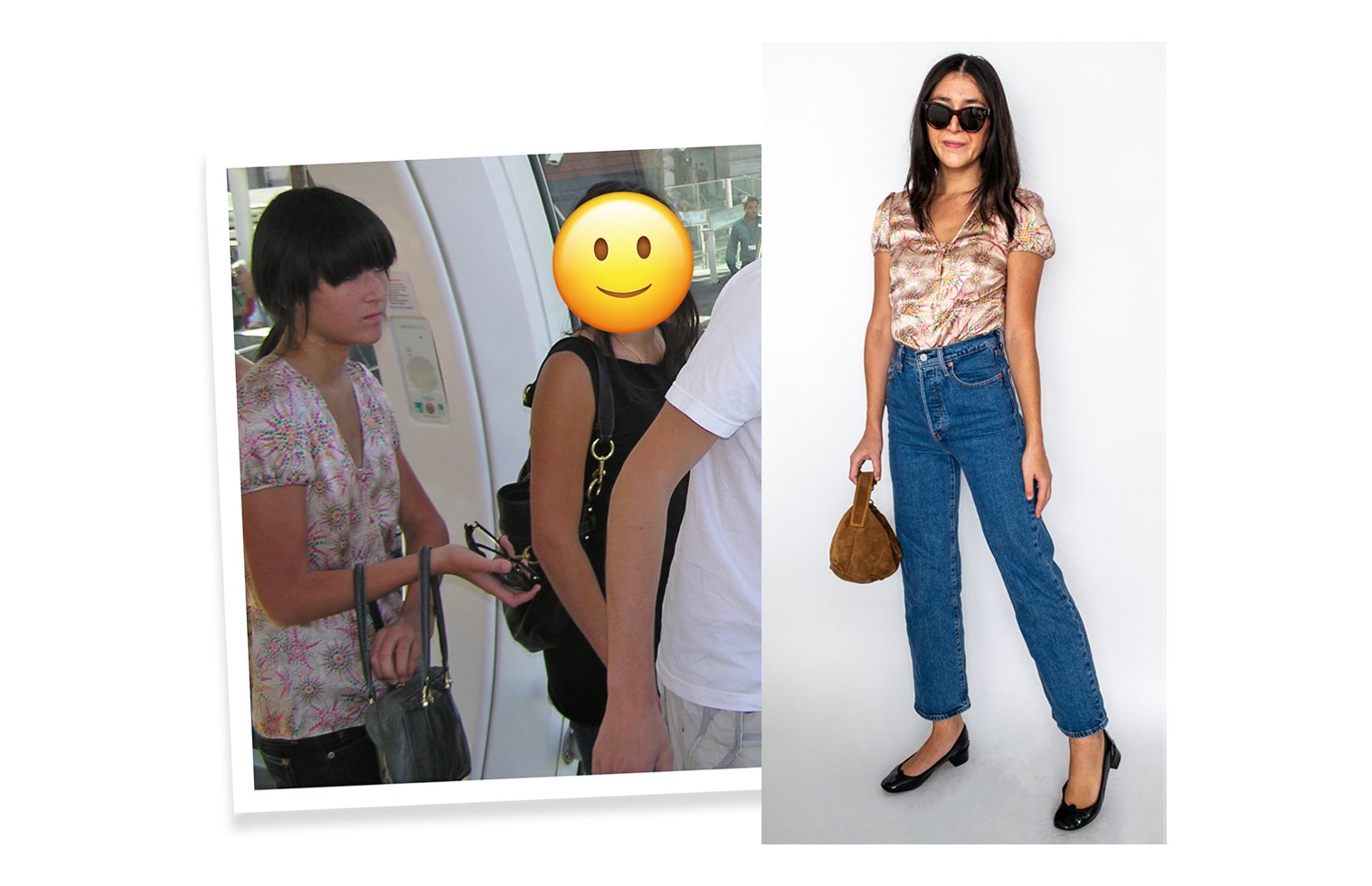 2- Miss Sixty leather jacket c. 2007
In 2007, this Miss Sixty leather jacket was worn with an American Apparel black t-shirt dress, black tights, and black short moccasin boots (a Kate Moss inspired outfit)… OK you can't see my outfit in the photo, but, just trust me — I have a really good memory.
The jacket is still so cool and still reminds me of something Kate Moss would wear in 2005/2006.
Kate Moss' outfits will always be relevant, so bringing this leather jacket back to present day will look like this: Mother jeans, Jennifer Fisher x Goop hoops, a Calder Blake t-shirt, Isabel Marant Dicker boots, and a Chanel bag.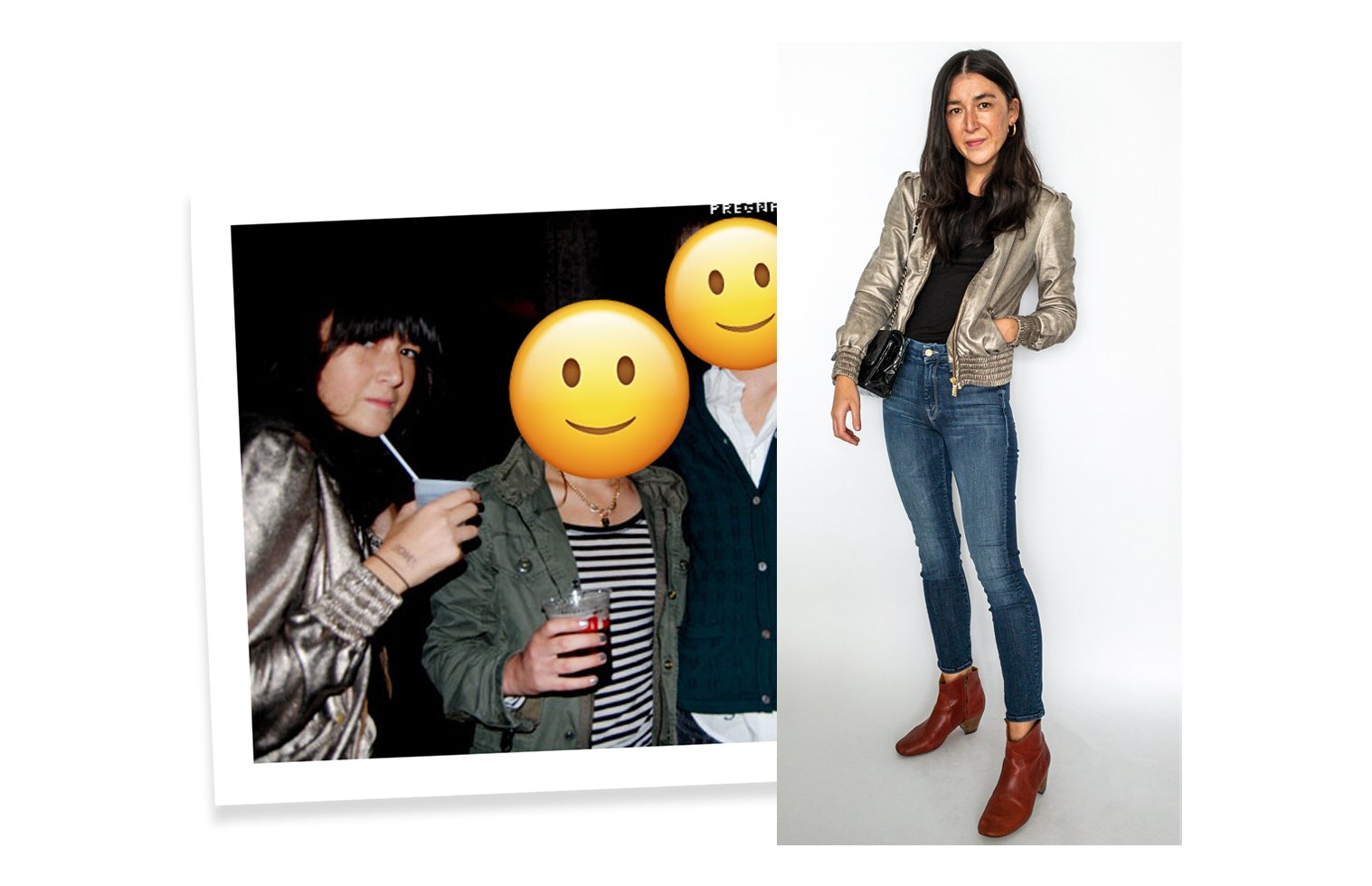 3- Marni sandals c. 2008
In 2008, these Marni sandals were poorly styled with an American Apparel grey tri-blend deep v-neck, an American Apparel white mini skirt, and a Balenciaga bag. Do I regret how much American Apparel I wore? No! It totally set up my obsession with solid basics.
12 years later and these sandals have maintained their greatness — the only difference is that my outfits have gotten better (uhhh, debatable).
To bring 'em back, I'm wearing them with Rag & Bone Cigarette jeans, a Re/Done tank top, Celine sunglasses, and a Celine Small Trio.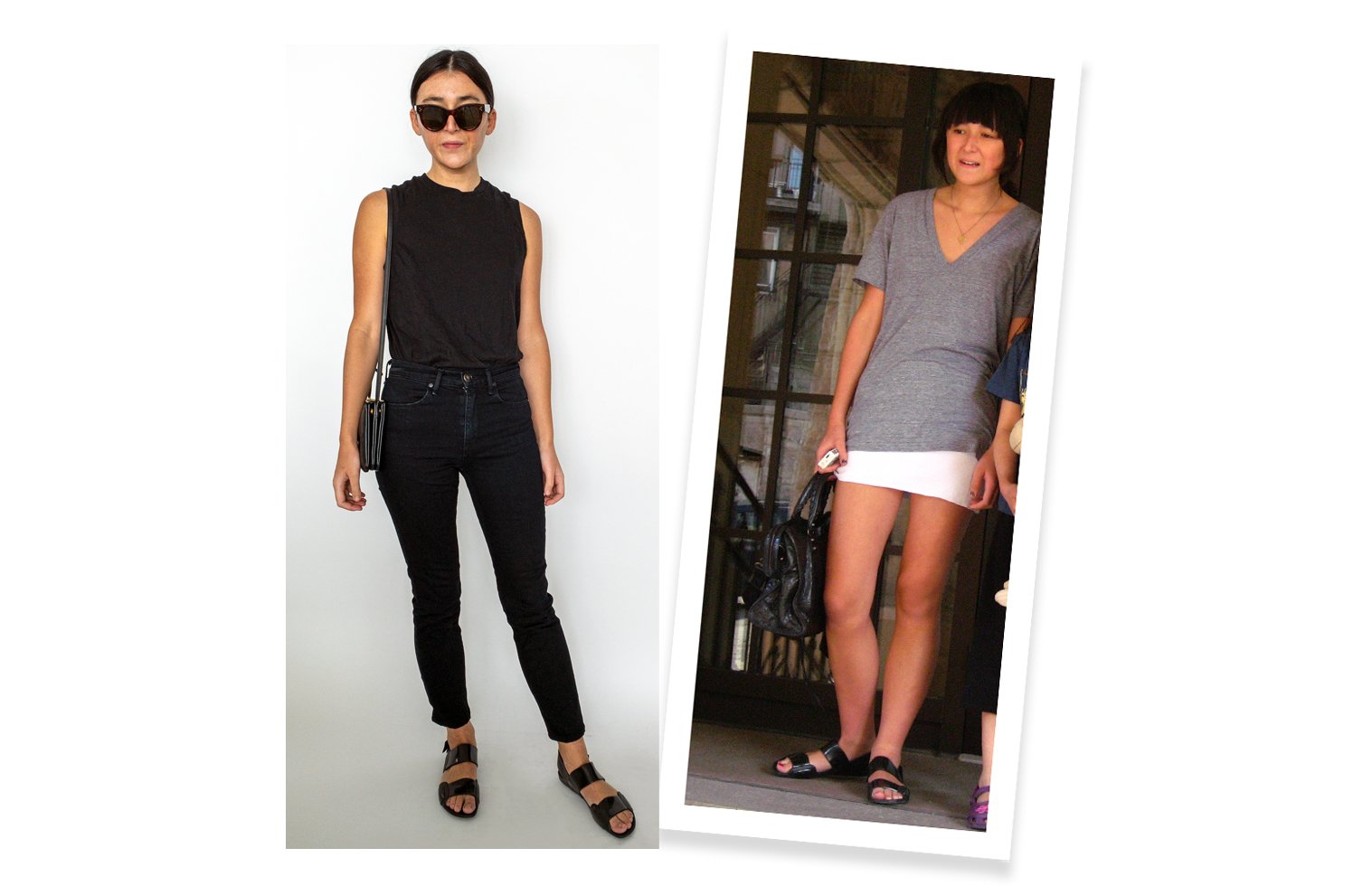 4- A.P.C. Madras dungarees c. 2009
In 2009, could you get more ~stylish~ than an American Apparel tri-blend t-shirt and a Chanel maxi bag?
These dungarees still feel modern to me, so I'm not going to push the boat out too far.
To make them feel a pinch more 2020, I'll add a Kule striped long sleeve, Chanel ballet flats (yes, again), and a Louis Vuitton clutch.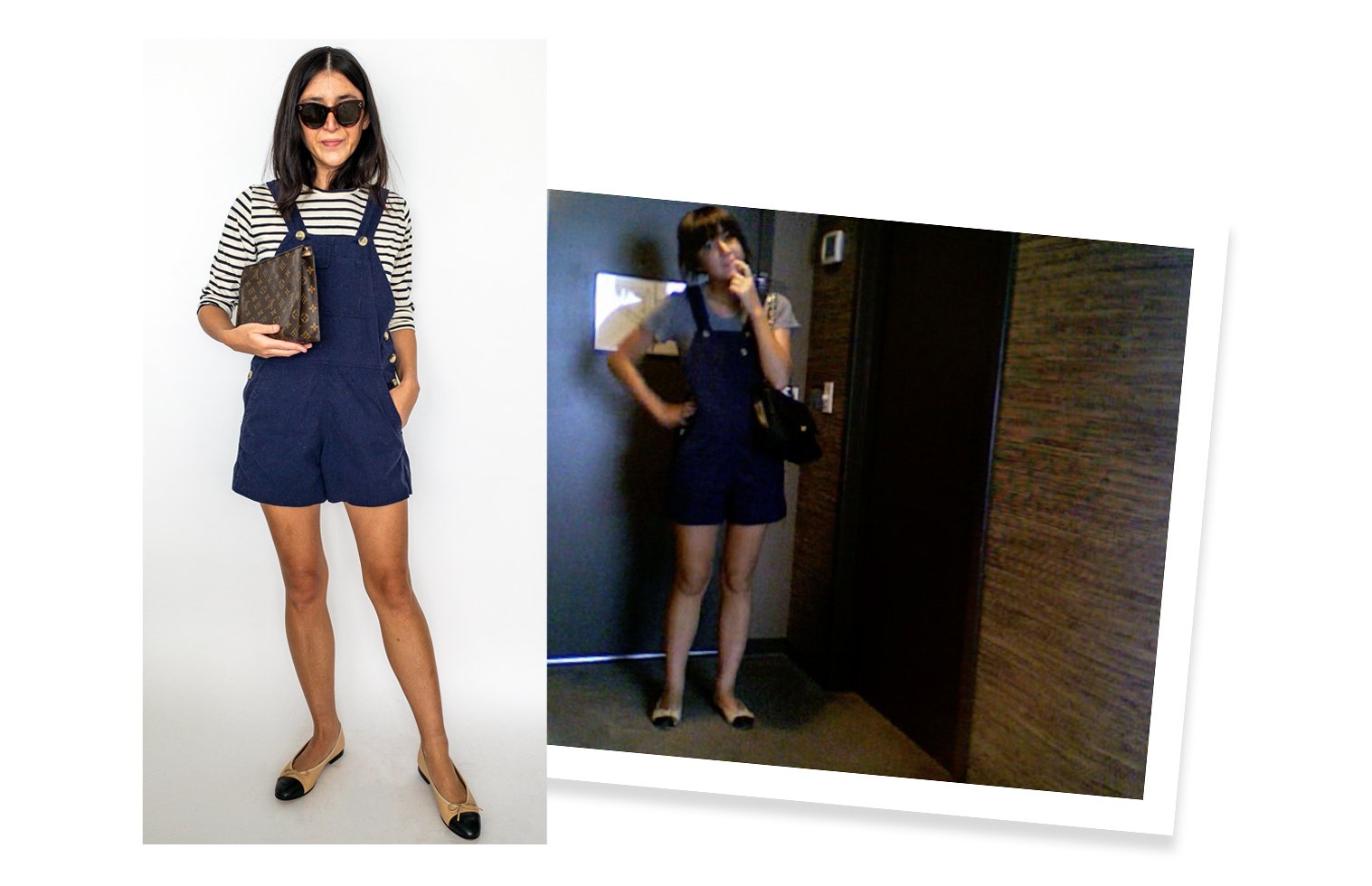 5- Acne silk shorts c. 2009
In 2009, tucking in your shirt wasn't a wide-spread thing… but it should have been, because otherwise this initial outfit would have been pretty solid.
They're "only" 11 years old, but these silk shorts have aged better than I have. The even better part about them is that now I have the wherewithal to tuck in my shirt…
To make these Acne silk shorts certifiably current, let's add a T by Alexander Wang cami, a Rockins skinny scarf, Dôen Mary-Janes, and a Chanel bag.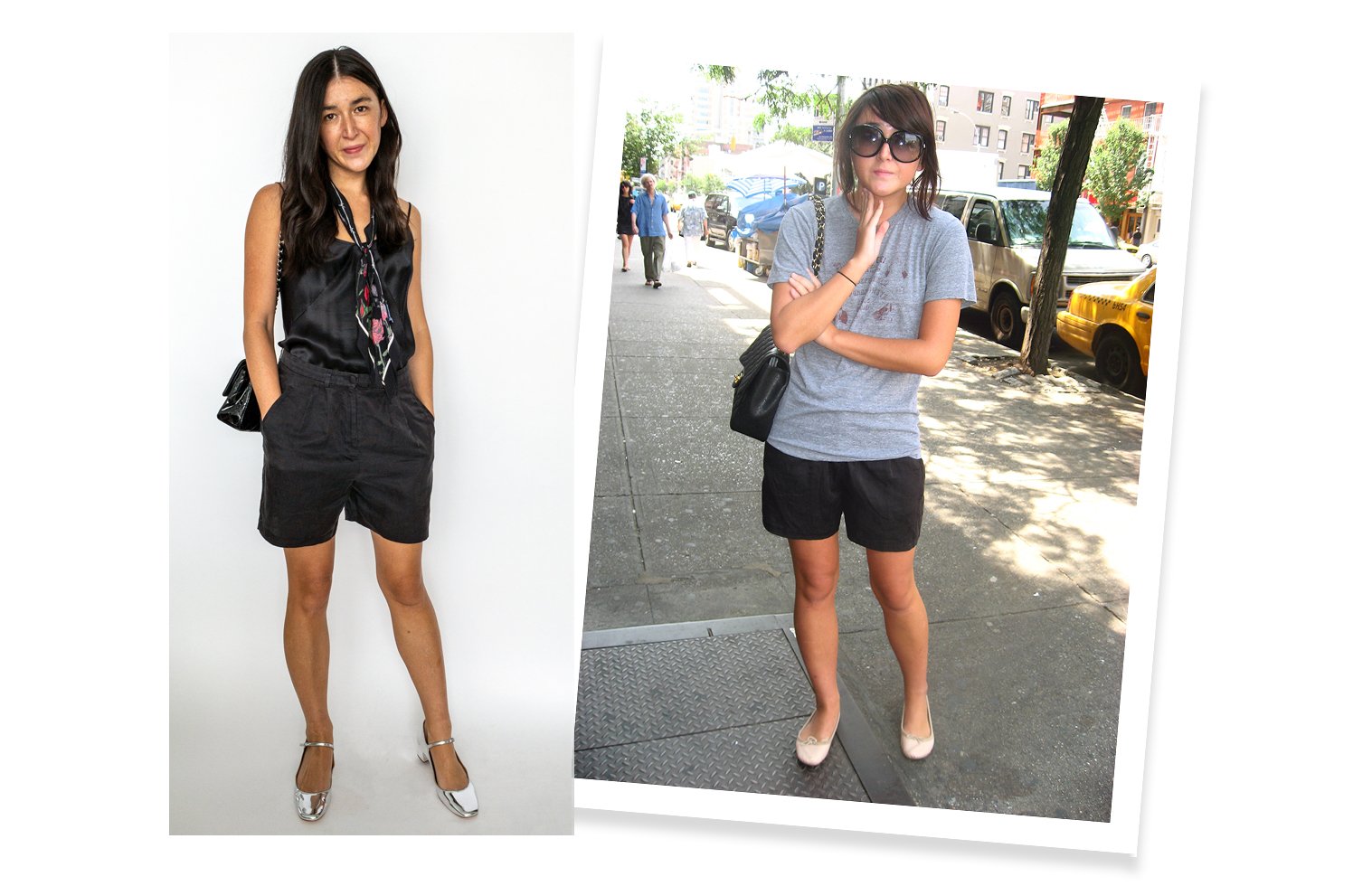 ---
Yes, I probably could have made this harder and picked a few rough tough gems.
… the Barbara Hulanicki x Topshop skirt or the spiked skyscraper Louboutins – but, ignoring those sales e-mails is hard enough.
Plus, some pieces in the deepest depths of your closet are better off just as relics.
… ominous relics to warn you not to buy into too many trends again — even if you had bought it on sale.
Are you organizing your closet? Let me know what your hidden gems are in the comments below!
---
YOU MIGHT ALSO BE INTERESTED IN…