Are "mom jean" style jeans even called mom jeans anymore?
Wouldn't a better name be slightly 90's high waisted fashion-esque jeans that everyone now wears?.. but I guess that's too long.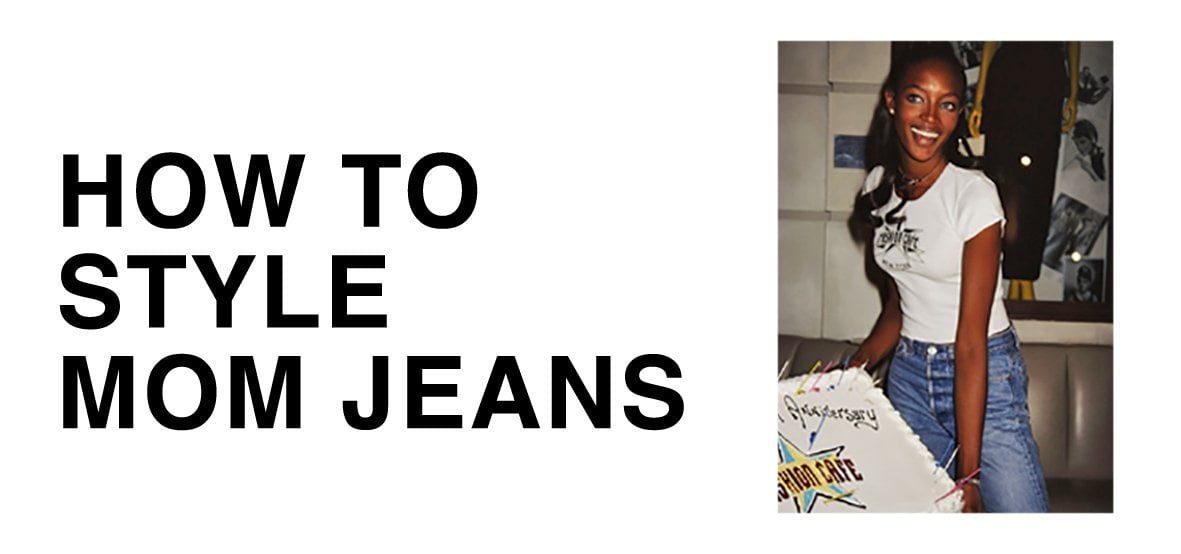 Call them what you want, mom jeans are here to stay.
With everyone and their mother wearing this denim, how do you make them look your own?

It's so easy to fall into a cookie cutter slightly 90's high waisted fashion-esque jeans that everyone now wears mom jean look, so how do you avoid looking like a cliche?
---
How to Style Mom Jeans
Before we get to mom jeans outfits, let's run down what works and what doesn't work when it comes to this denim.
We're gonna cover the type of tops, shoes, and handbags that you should consider styling with your mom jeans and most importantly, why.
---
TOPS & MOM JEANS
Basically any shirt can look good with mom jeans… but the key is to either full tuck in your jeans or do a half-tuck… even if it's a sweater.
Mom jeans are a slightly bulkier jean so you'll want your top half to look as slim as possible or wear a closer fitting shirt.
Tucking in your shirt will slim your shirt and draw attention to the higher perceived waistline. The higher perceived waistline is likely why you're wearing high rise jeans to begin with — so why not emphasize it?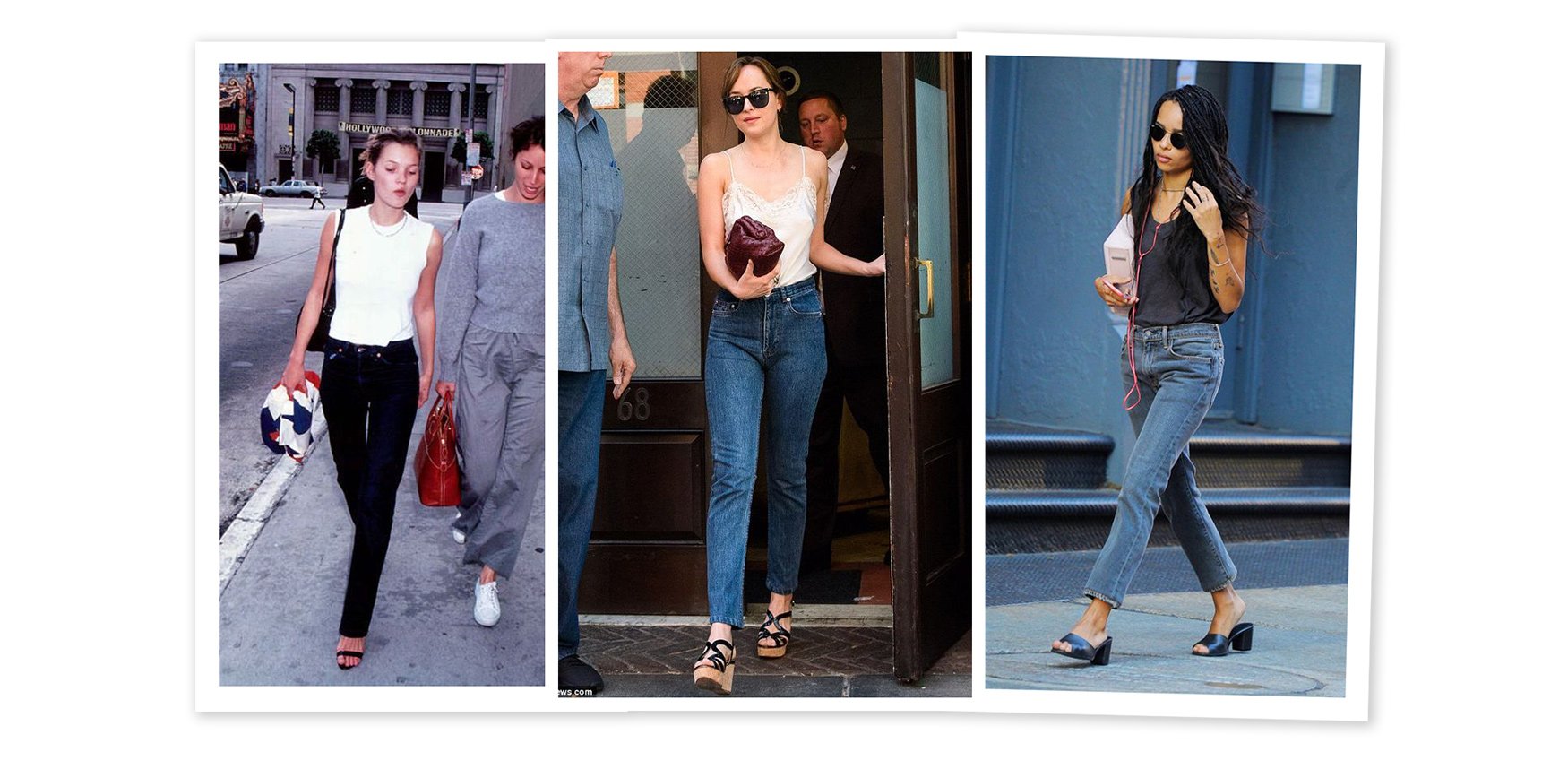 ---
WHAT SHOES TO WEAR WITH MOM JEANS?
With a few exceptions, any shoe can work with mom jeans.
From grungy flip flops to svelte ballet flats, they'll complement these jeans.
What shoes don't work?
Boots where you need to tuck in the ankle: ex. moccasin boots, over the knee boots, and unfortunately Isabel Marant Dickers.
If you have a boot, like By Far's Becca boot, where the jean can sit over the boot's shaft, go with that instead.
What shoes look exceptionally cool?
1- Heels, like…
-Lace up espadrilles
-Mules
-Sling backs
-… basically any shoe with, well, a heel
Mom jeans naturally lengthen your leg because of their higher perceived waistline. Because of that, you might as well go the extra mile and slip on a pair of low-medium heels to make your legs look even longer. A more refined shoe (like a pair of Manolo Blahnik BBs) also elevates the outfit from "regular" mom to ~fashion editor mom~ (like Emmanuelle Alt, a real mom).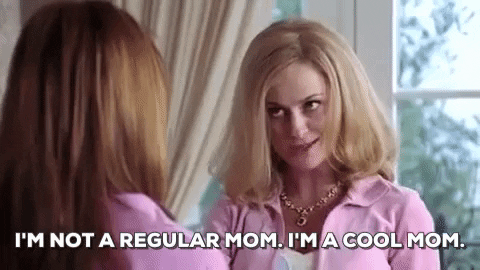 2- Flats, like…
-Ballet flats
-Birkenstocks
-Trainers
… but if you want to be an even ~cooler~ mom, pull an Alexa Chung (not a real mom) and pop on a pair of Converse or a pair of ballet flats. While Birkenstocks go against the idea of slimming a mom jeans outfit, they still look suspiciously cool.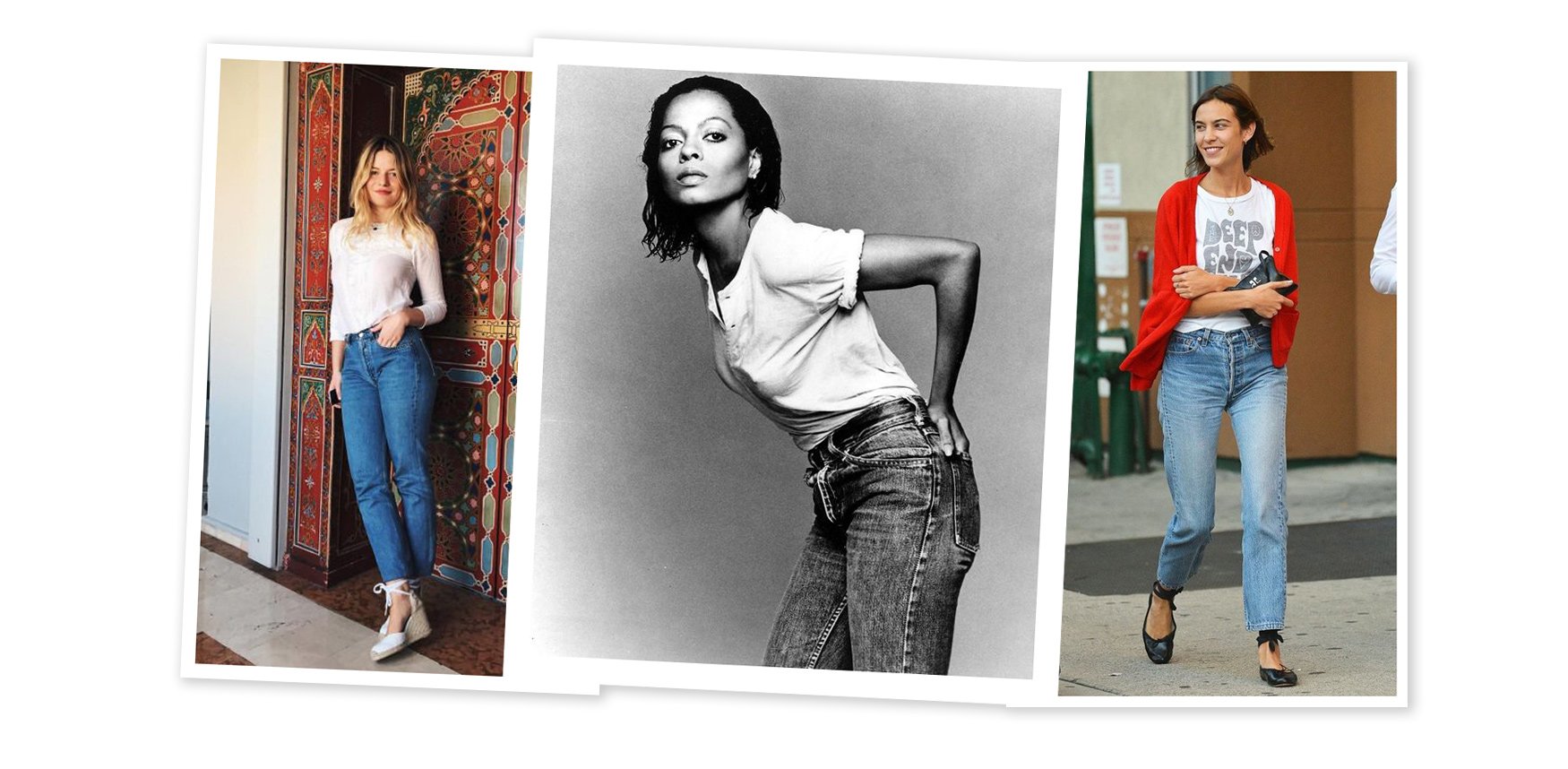 ---
WHAT BAG TO USE WITH MOM JEANS
Mom jeans are obviously not just for moms… but one thing holds over from moms in mom jeans to dog moms in mom jeans: hands free bags.
What bags specifically?
-Across body bag
-Canvas tote
-Mini tote
This, like the shoes, is just a suggestion. You can still (and I still do) use a clutch or top handle. After all a Louis Vuitton speedy adds a 90's throwback to these jeans… but, the most practical bag (and most "mom-sy") is something you can throw on your shoulder or strap across your body.
---
MOM JEANS OUTFITS
In all of these outfits I'm wearing Re/Done's Original Double Needle Crop jeans, you can read my full review here.
These are the jeans that you've seen on countless celebrities from Jeanne Damas to Emily Ratajakowski… and for good reason, they're perfect.
DAY OUTFITS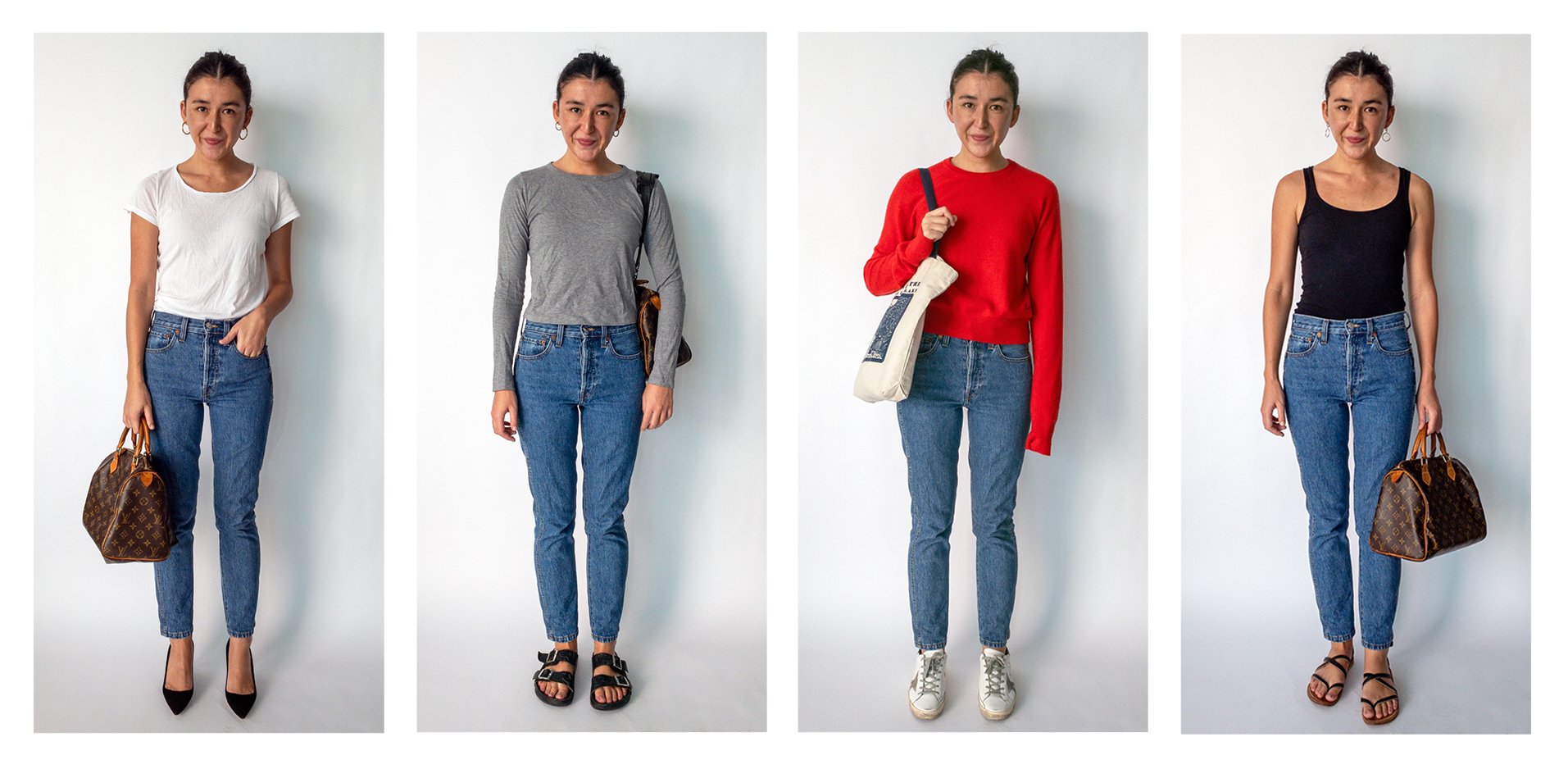 Left to Right: Rockins White T-Shirt with Jennifer Fisher x Goop hoops and Manolo Blahnik BBs; Theory Long Sleeve with David Yurman hoops and Isabel Marant sandals, Equipment x Kate Moss sweater with Golden Goose sneakers; James Perse tank top with K. Jacques sandals, and Isabel Marant earrings.
Tucking in the t-shirt and tank top in these mom jeans outfits makes a massive difference. It changes the silhouette of the outfit by streamlining and slimming it down.
NIGHT OUTFITS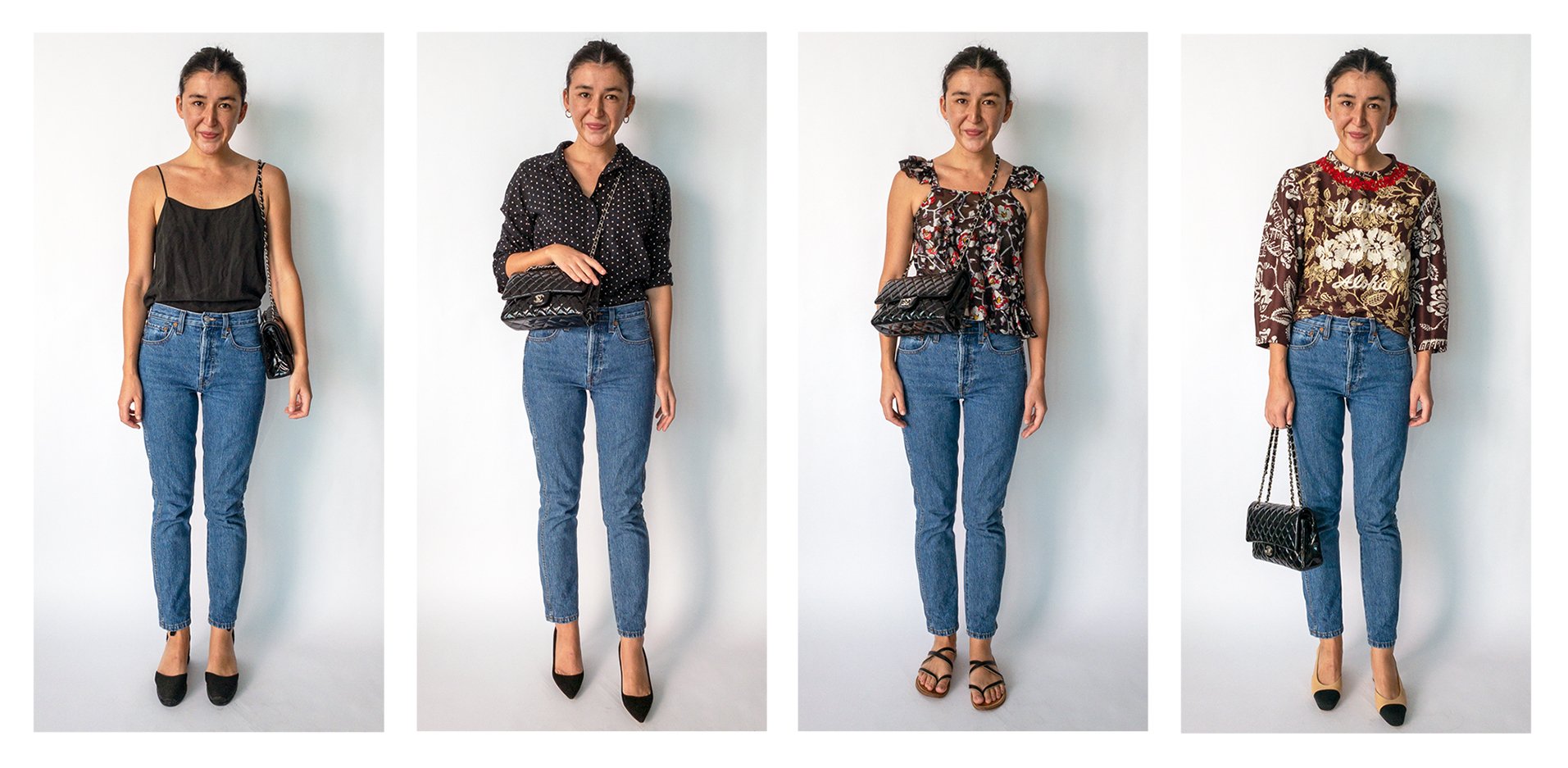 Left to Right: Equipment cami with Castañer espadrilles; Chinti & Parker blouse and David Yurman earrings with Manolo Blahnik BBs; Isabel Marant shirt with K. Jacques sandals; Isabel Marant blouse with Chanel slingbacks.
Playing with the shoe heel height for night mom jeans outfits helps make them feel more ~night time-y.~ While you might wear flat shoes or sneakers during the day, you could swap them out for a low-heel at night.
---
Really, the mother of all styling tips is just to tuck in your shirt.
Half tuck, full tuck doesn't matter — tuck it in.
If you keep that in, your mom jeans outfit will most likely work.
Any styling questions? Feel free to ask away in the comments below…
---
YOU MIGHT ALSO BE INTERESTED IN…