Sometimes, most times, I get insanely nostalgic for the simple life…
The days before we had to deal with existential dread over Apple's Vision Pro Display XDR TV+ (or whatever it's called) and where the only technology issue you had was if you had enough minutes left on your Sony Ericsson W800 and if your iPod was charged.
The mid 2000s were a weird moment in time when we only really had MySpace as our "social media."
… like, remember when social media was actually social and not just an amalgamation of algorithms?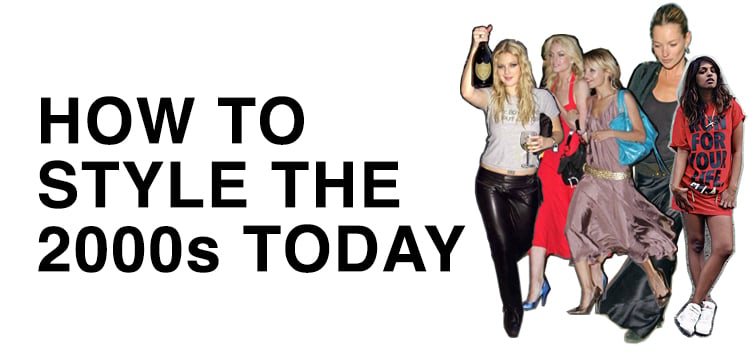 Thanks to the lack of technology and social media, there was an indelible anonymity in the early to mid 2000's.
It was also that beautiful time when fashion blogs actually blogged and weren't just a shallow photo series of what neutral cashmere clothes an influencer wore to get coffee at, like, Ralph's.
In this hallowed era, you'd find in-depth knowledge about fashion by memorizing the scriptures in physical (!!!) copies of Teen Vogue and Vogue UK or religiously following Faran Krentcil's Fashionista.
… or by, you know, just looking around you in the wild, instead of mindlessly scrolling through Instagram from your bed.
Personal style hit its stride during this time, thanks to all of this, plus MySpace's role in giving indie music a space and lastnightsparty photographing every "important" Indie Sleaze soirée.
After all, music and fashion has always gone hand-in-hand together.
We've gotten to this point of over-saturation now and, frankly, I'm seeking refuge in the aughties "oldies" again…
Let's bring out the classics that you probably all ready have in your closet (albeit with a thick layer of dust on them), and refresh them to make them new again.
… or at the very least, to simply style them again.
---
Indie Sleaze Outfit Trends
How to Style Vests in 2023
Where I grew up (Montreal), we were severely lacking on the vest-front in the mid-2000's.
Sure, there were tons of longer knit vests fresh from the 90's (from, like, Talbot's), or ones from Smythe that weren't quite "it" and cost $500 CAD.
As much as I wanted one, my fifteen year old self was vest-less.
During a Kate Moss x Topshop eBay binge a few years ago, I bought a black vest as a gift for my teenage self.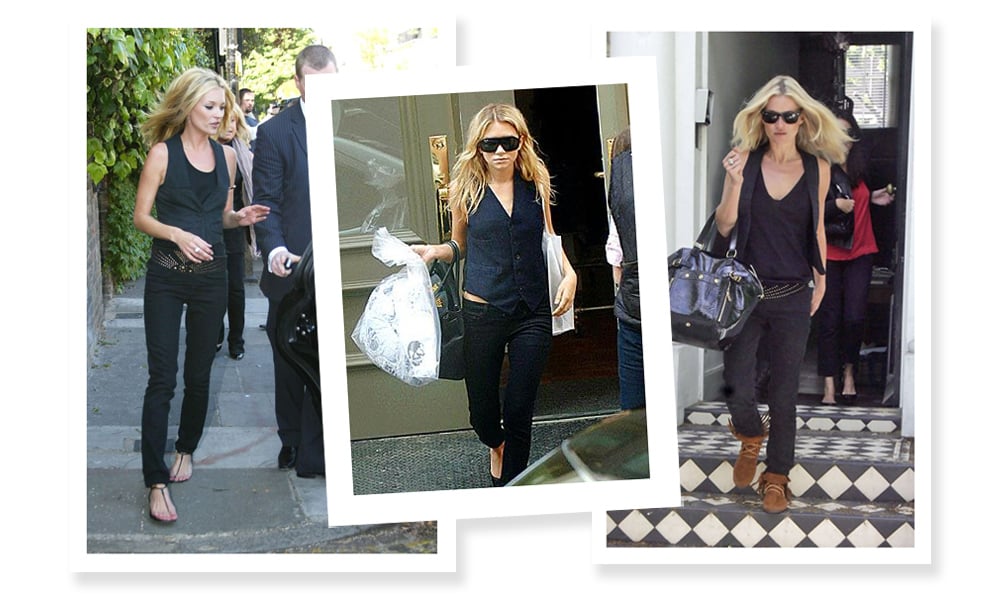 It's sat in my storage, NWT, just like the eBayer sold it to me.
16 years after it was created in 2007, today is the perfect time to finally cut off the tags and wear it…

Left to Right: With Re/Done jeans, J Crew tank top, Isabel Marant belt, Balenciaga Second Season Flat Brass hobo, vintage earrings and K Jacques sandals; with G. Label shorts, HM x Isabel Marant earrings, Paco Rabanne 1969 Moon bag, and Saint Laurent boots; with Reformation Serena skinny jeans, a chunky gold necklace that I forget where it's from, a Marc Jacobs bag, and Isabel Marant Cluster boots.
The times have changed since we last wore vests.
There's no more of that throwing a vest on top of your tea dress from Urban Outfitters to proverbially pledge allegiance to the Albion flag.
Now it's about wearing a vest to enhance norm core outfits, so wearing the vest as a top in and of itself.
The vest as a top works better when you don't see your midriff, so wear it with high-waisted bottoms or a shirt underneath that covers your stomach.
---
How to Pull Off Graphic Tees
In the 2000s, and also maybe today, you expressed your individuality by wearing graphic tees.
Urban Outfitters cornered the market with their "Gettin' Lucky In Kentucky" or "Everyone Loves An Irish Girl" t-shirts.
Some of us though, and most of us, preferred to literally show how ~unique~ we were by proudly wearing our favourite band's t-shirt.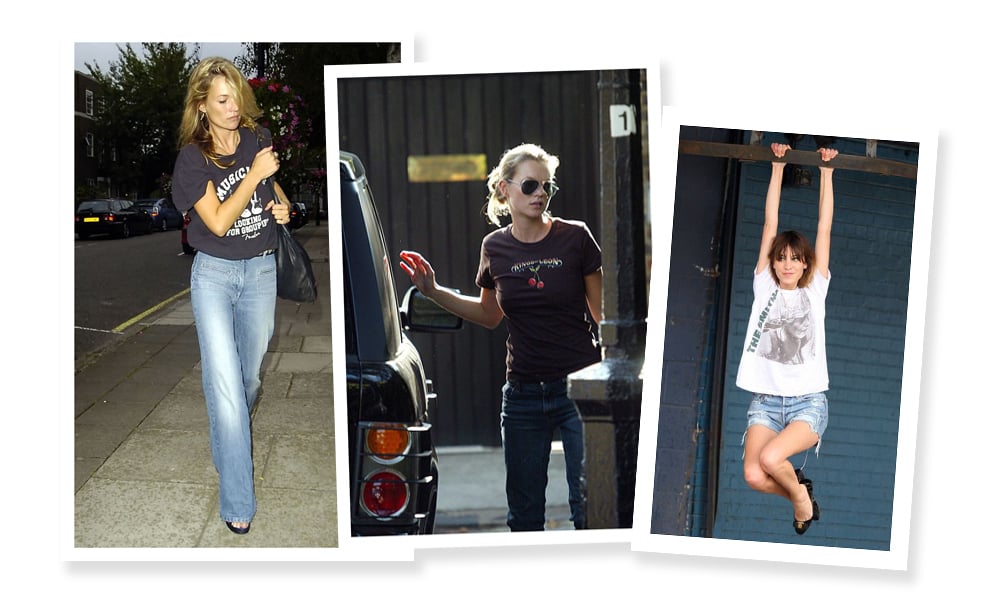 Today, I still buy band tees, merch from my favourite restaurant/bar/whatever, or just incredibly overpriced graphic tees from Re/Done.
This shouldn't be a "thing," that you need to get inspiration for "how to wear," but here we are…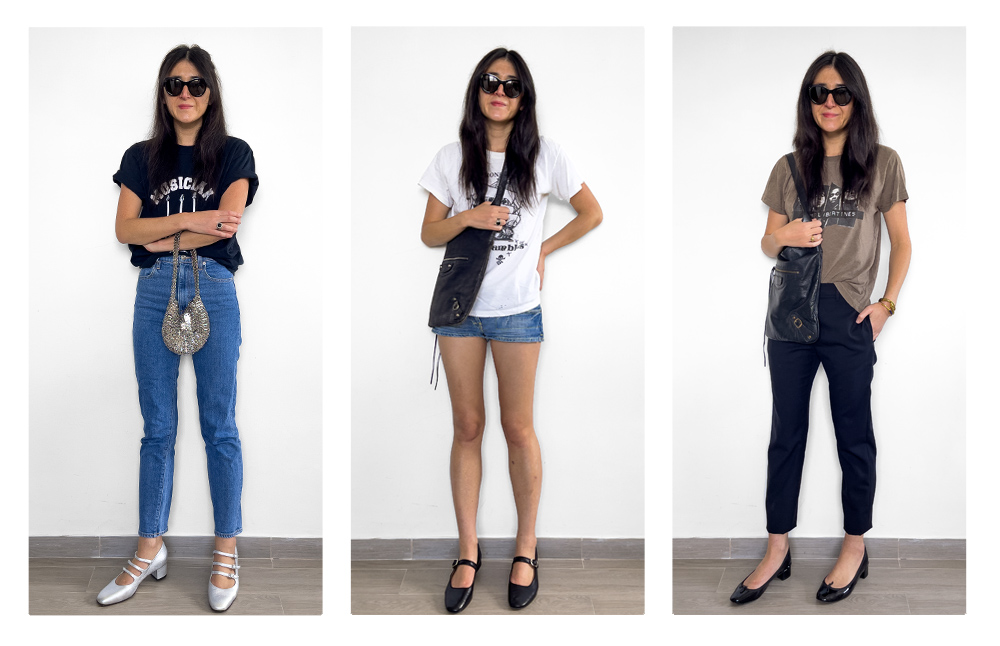 Left to Right: Fender t-shirt with SLVRLAKE Beatnik jeans, Paco Rabanne 1969 Moon bag, and Carel Kina shoes; Babyshambles t-shirt with Kate Moss x Topshop shorts, Balenciaga Third Season Monk Besace, and Le Monde Beryl Mary Janes; Libertine's t-shirt with Nili Lotan black Tel Aviv trousers, Balenciaga Second Season Flat Brass hobo, and Repetto Camilles.
Since your band tee has probably gone through a lot, it's likely distressed.
To keep a cleaner look, avoid torn denim and other messy features.
If you have messier elements in your outfit, such as the t-shirt, counter balance it with "nicer" polished pieces.
---
How to Wear Leggings As Pants (and not in a "Target run in your Lulus" way)
When my high school tights would get a tear in the toes, I used to cut off the feet to turn them into footless leggings to wear under my Urban Outfitters' dresses on nights out.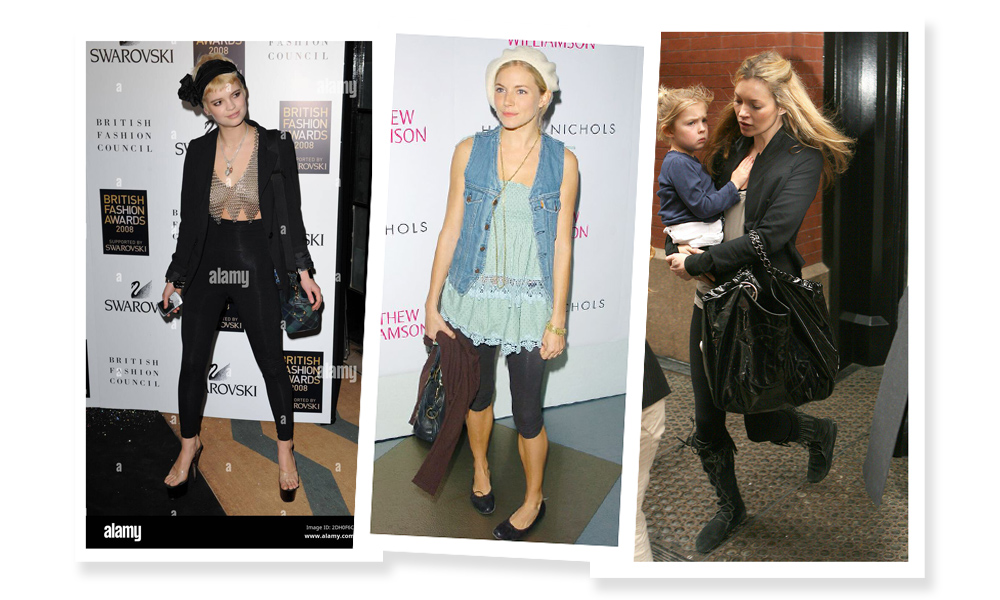 I also had my American Apparel leggings in black to wear as pants.
When I first wore leggings as my bottom, I didn't care who saw my bum — the kind of confidence that only youth can harness.
Today, and no matter how much yoga I practice in the future, I'm skeptical about showing my bum.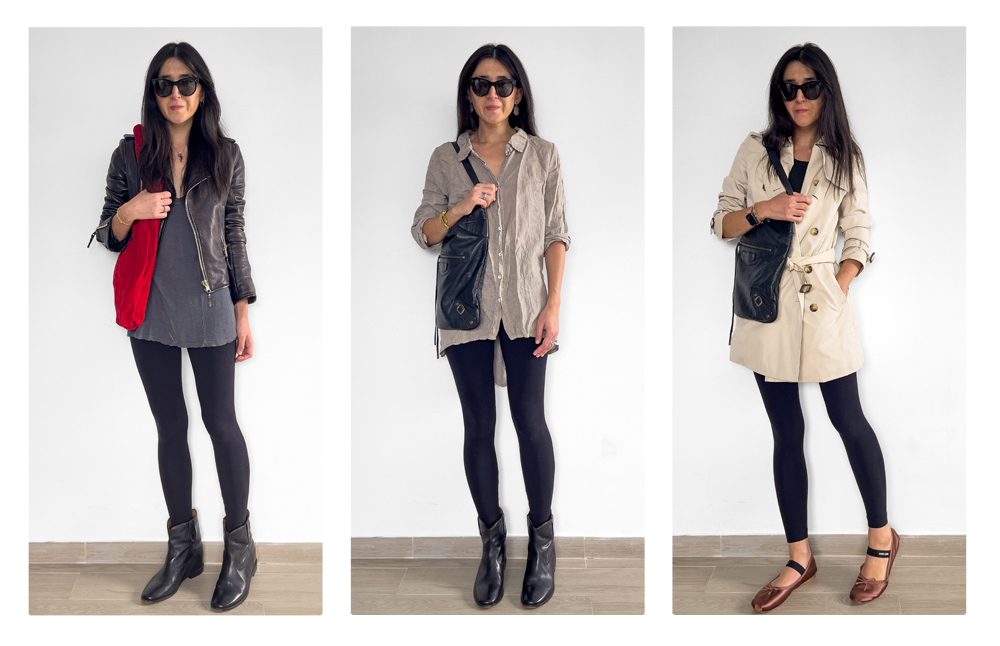 Left to Right: With a James Perse t-shirt (c. 2007 lol), vintage necklace, Balenciaga motorcycle jacket, The Row Bindle bag, and Isabel Marant Cluster boots; with La Tienda De Carolina linen shirt, Balenciaga Second Season Flat Brass hobo, and Isabel Marant Cluster boots; with a Burberry trench coat, an Étoile Isabel Marant shirt, Balenciaga Second Season Flat Brass hobo, and Miu Miu ballet flats.
If you're like me, then opt for wearing an oversized shirt…
Or, cover up your bum with a jacket.
Also, as fun as it is to go back in time to replicate outfits — some things, like dresses over leggings, are meant to stay in the past.
---
How to Style Pointed Heels
The pointed toe heel was probably the, literal, height of sophistication in the early 2000's.
From night outs to red carpets, every celebrity wore pointy toed heels — especially with bootcut or flared denim.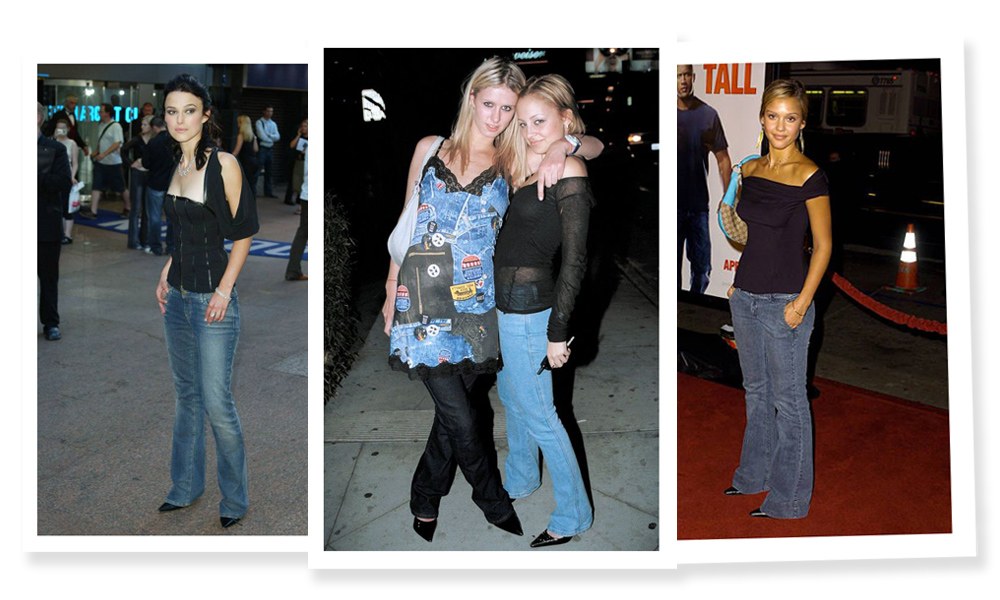 If you're an early 90's babe, you were likely too young to be allowed to have a pair and wear them.
… but that didn't stop you from fantasizing about wearing them out to Mr. Chow's with your BFF in Beverly Hills.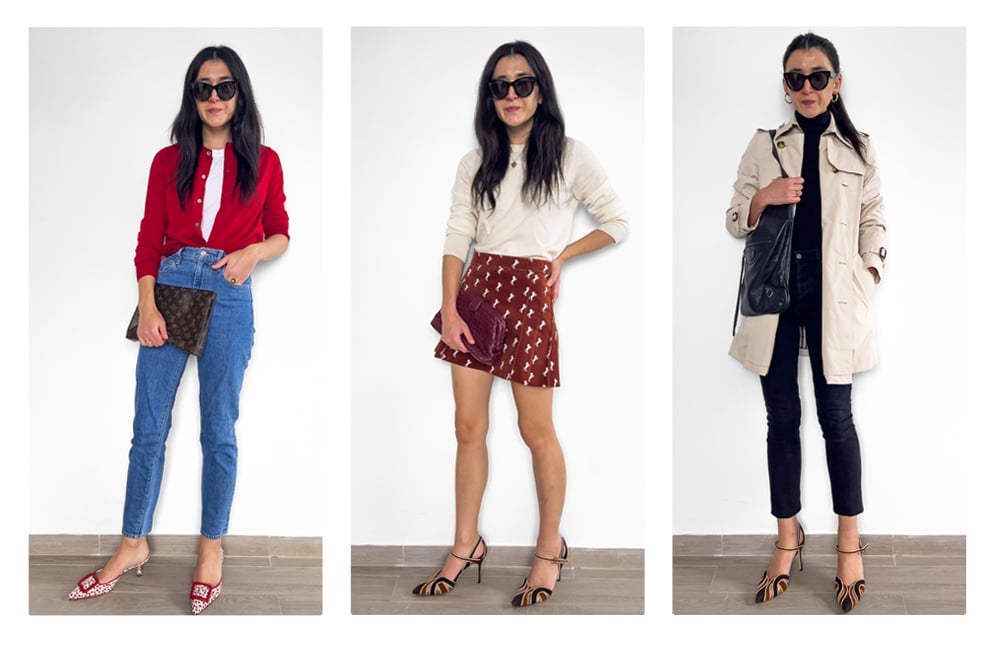 Left to Right: SLVRLAKE Beatnik jeans with a Re/Done t-shirt, CDG cardigan, and a Louis Vuitton toiletry case; Chloé skirt with a sweater from Holt Renfrew, Burberry trench coat, and Bottega Veneta The Lauren Clutch; Wolford Colorado bodysuit with a Burberry trench coat, Reformation Serena skinny jeans, and Balenciaga Second Season Flat Brass hobo.
The key to make a pointy toe heel work today is…
Not to wear them with boot-cut jeans (or flared jeans).
A shocker, I know.
Showing your ankle will showcase these pointed beauties and let you have your squab lettuce wraps and eat them too.
---
How to Style Maxi Silk Skirts
Like ballet flats (and Vogue's inane reporting about how they're "back in fashion"), silk maxi skirts are an item that never really left.
… they were just, well, forgotten about.
The only brand that I can think of, who quietly heralded the maxi skirt in "modern times," is Nili Lotan.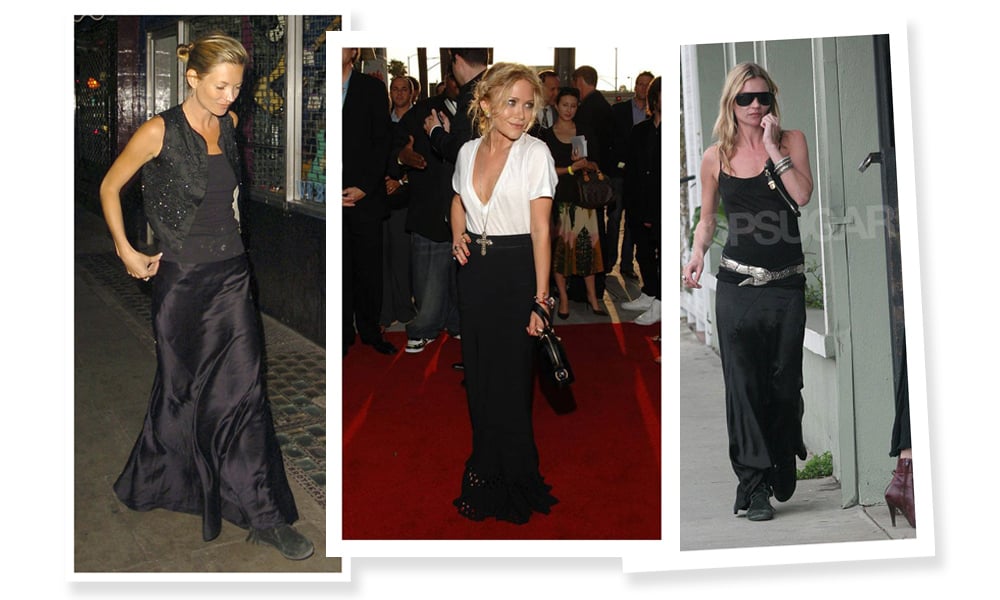 We remembered 90's-style silk midi-skirts (thanks Réalisation Par!), but we forgot about how delectable a solid colour maxi silk skirt is.
Me?
I never forget.
… and after having many dupes in the later aught's, I finally found the Kate Moss x Topshop version (NWT!) that I always wanted.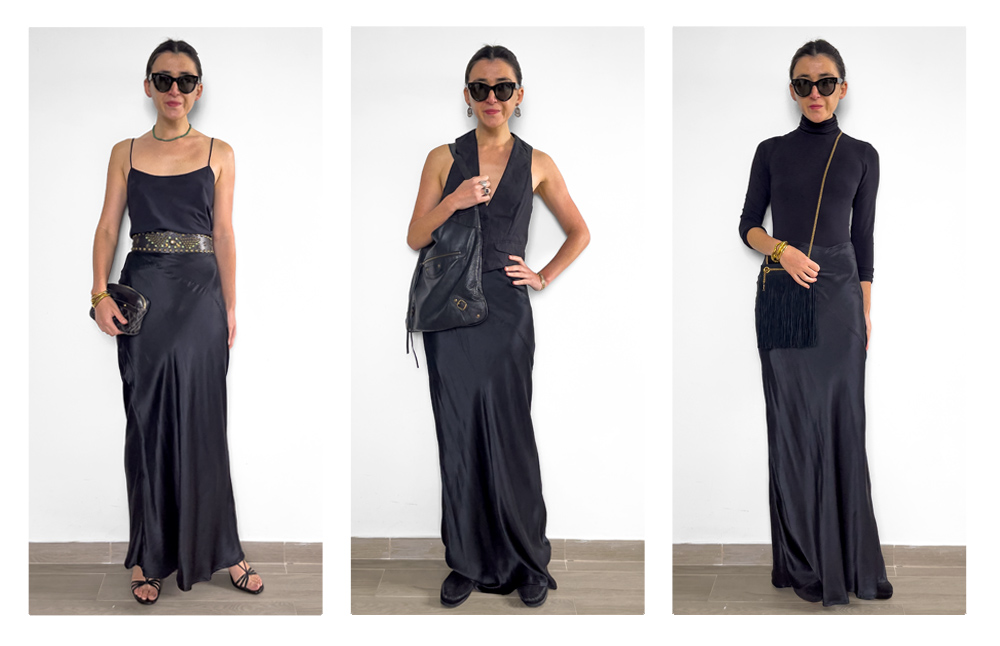 Left to Right: The Row cami with a Kate Moss x Topshop belt, Mateo necklace, Marc Jacobs makeup case, and Saint Laurent Kate sandals; Kate Moss x Topshop vest with a Balenciaga Second Season Flat Brass hobo, vintage earrings, and moccasin boots; Wolford Colorado bodysuit with a Saint Laurent Grace Fringed bag and Rag & Bone boots.
Clearly, I favour a monochrome look, but you (obviously) can style a maxi skirt however you want.
The only point of advice I would give you is that a more streamlined top will keep the attention focused on how well the bias skirt hugs your figure.
Break the rules if you want, though — if it makes you happy, who cares!
---
How to Wear a Skinny Scarf Today
In the aughts, it's like we were magicians pulling out an endless string of scarves from our fedoras…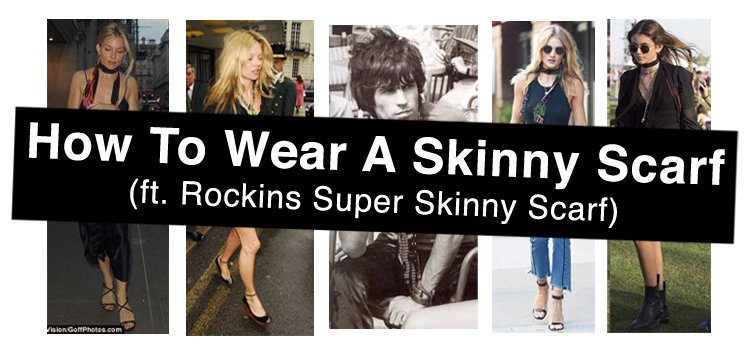 ---
Personal style is more than a reflection of a time or place, it's a testament to our strength in getting "older."
No one can take your memories of (awkwardly) stage invading an Architecture In Helsinki concert, just like no one could force you to change your Myspace profile photo after TheCobraSnake took your photo during a Daftpunk afterparty in 2007.
Turn off your phone, look around you you, read a book, or watch a movie without playing a game on your iPad.
… sartorial inspiration is out there still today.
Even after we've traded greasy midnight kebabs for locally sourced free-range chicken and are no longer inhaling secondhand cigarette smoke on a Saturday night, that indie spirit can still live within us.
… except, you know, it's a little less sleazy and more "paying my rent on time" now.
---
You Might Also Be Into…