Currently in my drawer(s) there are 27 pairs of jeans.
… and this isn't even to mention all the jeans I've donated over the years… or my denim shorts.
From 2004 (omg remember Earnest Sewn bootcut jeans???) to 2020, a good pair of jeans will bring out your finest assets.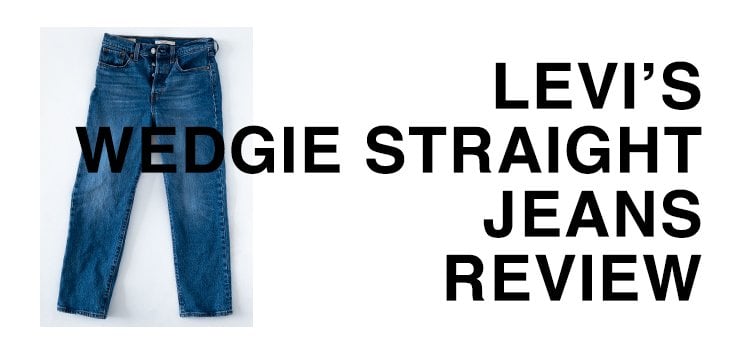 In my top shelf drawer, there are two pairs that stand out among the rest…
1- My Re/Done Originals
2- My MOTHER jeans

Up until now, I've never owned Levi's Wedgie jeans.
Like, could a pair of jeans that are under $100 actually be that flattering?
Let's get into it…
Levi's Wedgie Jeans SIZING
For reference, I'm 5'5.75" and weigh 115-117 lbs.
For comparison, my other denim sizes run like this:
–APC jeans, size 26
–Levi's Ribcage jeans, size 25
–Rag & Bone jeans, size 24-26
–Re/Done Original jeans, size 25 (sometimes a 26)
–Reformation, size 25
My Levi's Wedgie Fit Straight Jeans are a size 25 waist and 26 length (if you're taller, 28" length is available for these jeans on Levis.com).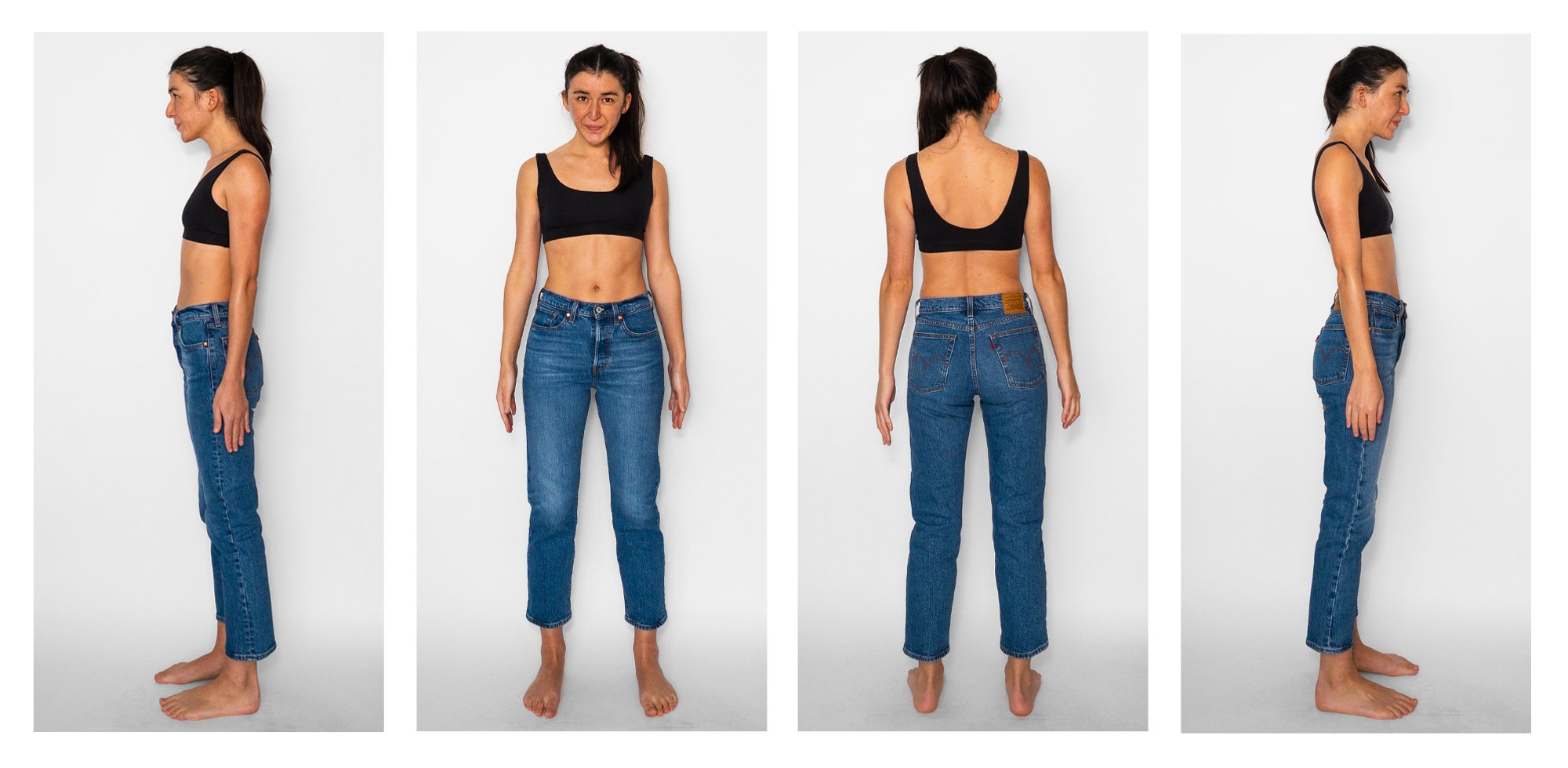 Levi's Wedgie Fit Straight jeans run true to size.
If I loved my Levi's Ribcage jeans, then I absolutely totally adore these Levi's Wedgie Straight Jeans.
Everything about them is even more perfect than the Ribcage jeans.
The 1% elastane — a little stretch to contour your bum.
The cropped length (26″) — at 5'5.75", my ankles are on display… this means Converse and boots will look perfect with these jeans.
The high rise (10") — not as high as the Ribcage jeans, but not as low as my Rag & Bone skinnies.
These jeans are seriously and simply perfect.
… like, Levi's Wedgie Fit Straight jeans are as(s)tronomical.
---
QUALITY
Let's put these Levi's Wedgie Fit Straight Jeans to a middle school "pseudo-scientific lab report" test!
For the sake of fun, this denim series is called the "Denim Dance-Off," because I'm gonna write about everything you wanna know about this pair of jeans and how easy it is to dance in 'em.
Note: This is just my experience, yours could differ.
Hypothesis
This is my third pair of Levi's denim (Ribcage jeans were first, then the 501 shorts), so at this point, I have an idea of what to hypothesize…
-The dye won't run.
-They'll give out a little while wearing, but not significantly.
-The jeans will return to their original stiffness after they've been washed.
Materials
-x1 pair of Levi's Wedgie Fit Straight Jeans in Jive Sound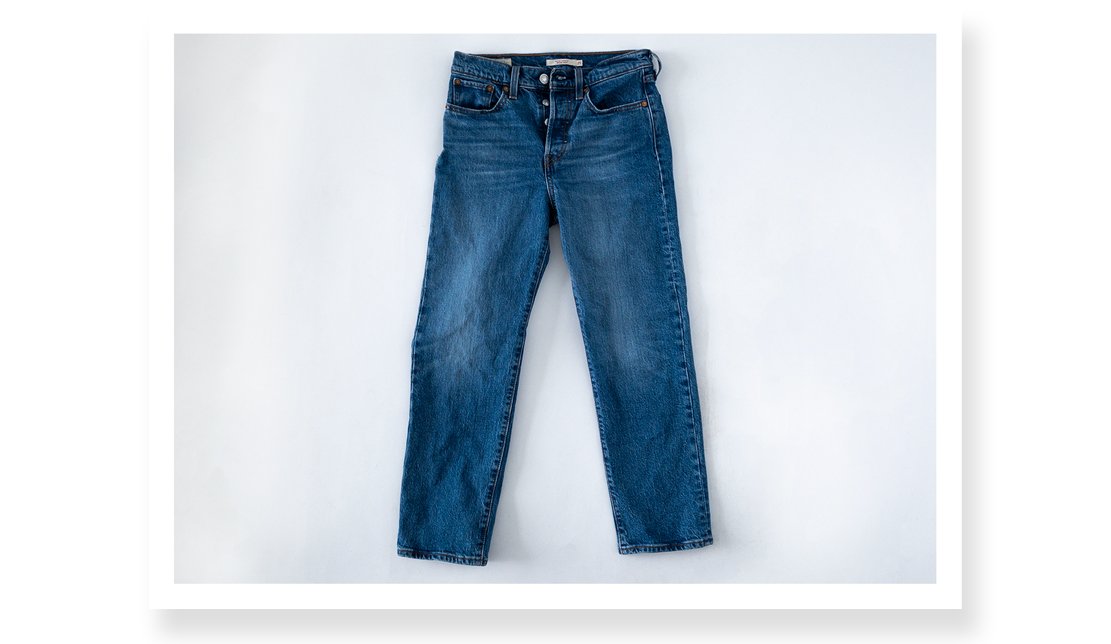 Method
1- Jeans must be worn for 5 days between 10:00am to 5:00pm.
2- Jeans must be washed on the last day.
Wash cold with a colour catching sheet (to see if the dye runs) and then they'll be air dryed.
Results
Unsurprisingly, these jeans were totally fine.
While wearing them, they did relax a bit (especially in the bum), but they returned to a snug fit after washing.
Unlike Levi's 501 shorts, the Wedgie jeans did not hurt my crotch after wearing them all day.
They were completely comfortable to wear for 7 hours — I definitely could wear them for longer, but my sweatpants beckoned…
Conclusion
By washing in cold water and air drying these jeans, I was able to make sure that…
-The dye didn't run.
-They returned to their original fit.
So, I proved my hypothesis was correct. Levi's quality construction also extends to their Wedgie Straight jeans.
If I gave marks for items, I would give these jeans top marks for quality, fit, price, and style…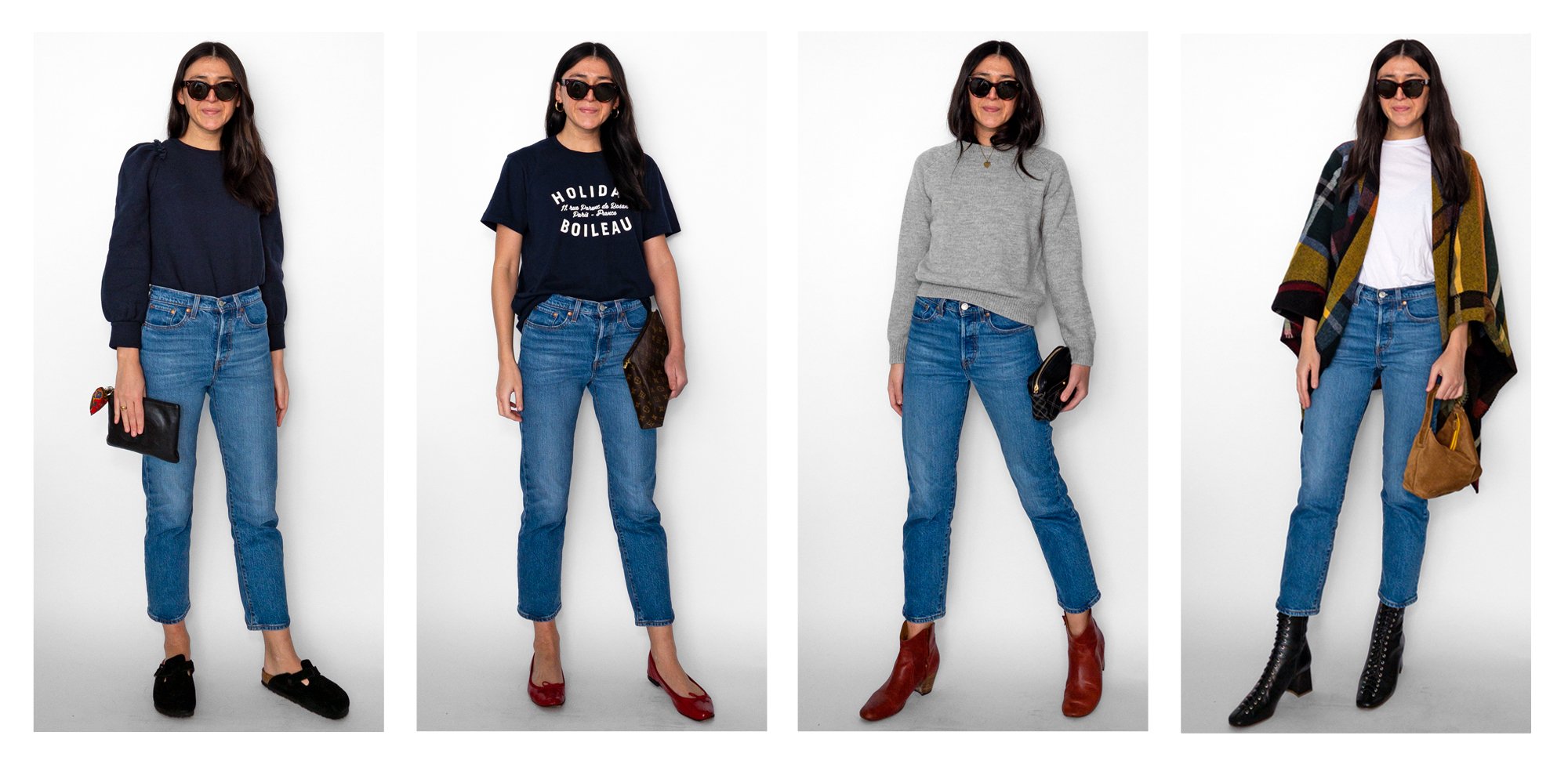 Left to Right: G. Label Torres sweatshirt with Birkenstock Boston clogs and a Chanel makeup bag; Holiday t-shirt with Jennifer Fisher x Goop hoops, Repetto Cendrillon flats, and a Louis Vuitton Toiletry pouch; Nili Lotan Vesey sweater, an In God We Trust NYC necklace, Isabel Marant Dicker boots, and a Marc Jacobs clutch; James Perse t-shirt with a Holzweiler blanket scarf, a Miu Miu bag, and By Far Becca boots.
---
PROS & CONS
Pros
–Fit: I take the same size in both my 98% cotton and 1% elastane Levi's jeans… (apparently some Wedgie washes fit differently than others though.)
–Ridiculously Flattering: "Are you wearing space pants? Cos your ass is out of this world (in these jeans)!"
–Price: I don't feel like I need to be overly careful with these jeans because they're under $100 and because of Levi's known quality.
Cons
None
---
They don't need to be hemmed (if you're 5'5"+).
They show off your assets.
… and they're half the cost of Re/Done or Mother jeans.
It took me way too long to get into these jeans (I totally didn't believe Kylie Jenner), but when it comes to these jeans, it's better late than never… because Levi's Wedgie Straight Fit jeans are top shelf drawer worthy.
Levi's Wedgie Straight Fit jeans are available from Nordstrom, Revolve, Shopbop, or SSENSE from $98 USD.
Note: newinspired uses affiliate links which costs you nothing… but means a lot to me. When you use these links, the money newinspired earns gets reinvested in blog content. Absolutely nothing on newinspired is "gifted," I purchase each item with my own money. Affiliate commissions are used to purchase new items to honestly & thoroughly review. If you found this review helpful, consider using them to support newinspired.
---
YOU MIGHT ALSO BE INTERESTED IN…