Sundresses get a lot of flack. Some folks think they're the lazy girl's summer outfit.
Just slap on a cute floral dress, a pair of flats, some sunnies, and call it an ensemble! But that is an unfair generalization of summer's dreamiest dress.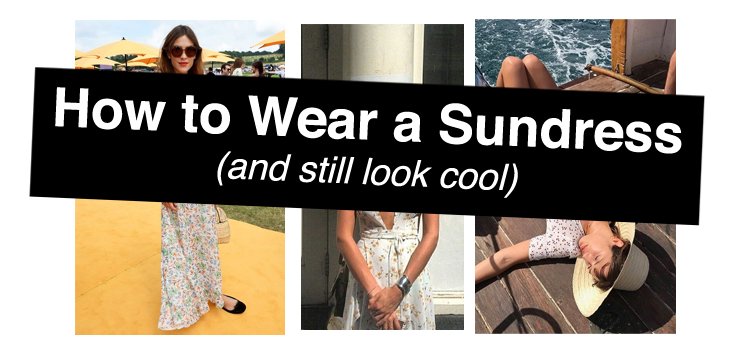 With just a pair of black flats the sundress takes us from day (including the office!) to night (even the diviest dive bar!) without even trying.

In a world inundated with vintage denim and slip dresses, the simple sundress deserves more!
This floaty, flirty, and feminine dress works no matter how many times we wear it and no matter how simply we wear it.
So what if we tried to switch our sundress outfit up just a little bit?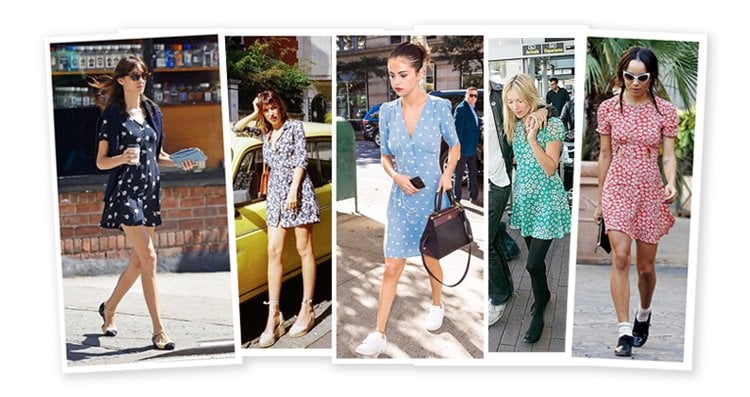 What if we tried to infuse Zoë Kravitz's edge?
What if we tried to add a dash of Alexa Chung randomness?
What if we tried a little of Selena Gomez's sweetness?
What if we tried some of Jeanne Damas' je ne sais quoi?
What if we tried to play a Rolling Stones vinyl and mix in some Kate Moss cool?
Well, these different sundress outfits are what would happen…
The dress I'm featuring in these outfits is Réalisation Par's Ozzie dress in "Poison Ivy." My full review is here. It's a gorge light green almost seafoam color with a faint white floral print — it's a quintessential sundress.
HOW TO WEAR A SUNDRESS DURING THE DAY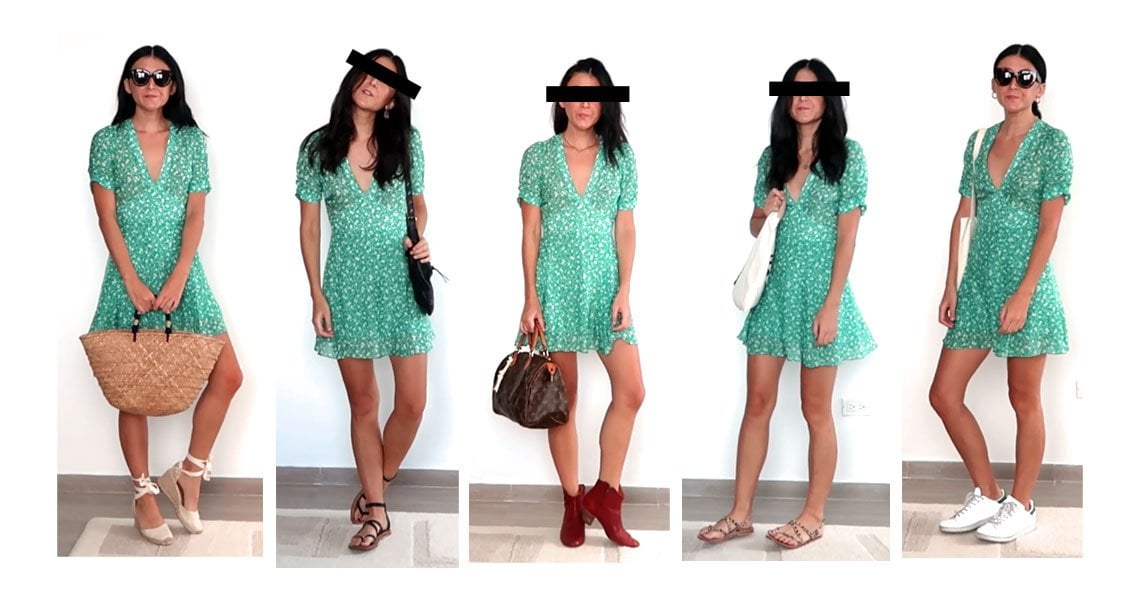 Left to right…
Cream Castañer espadrilles (review here), straw Kayu tote, and Céline Caty sunglasses (review here) — I don't think I need to explain how this feels Jeanne Damas-y.
Black K. Jacques Epicure (review here), vintage earrings and a Kate Moss x Longchamp bag — simple, but cool.
Red Isabel Marant Dickers (review here), Isabel Marant necklace, and a Louis Vuitton speedy — the red boot adds a little Zoë Kravitz edge, no?
Leopard print K. Jacques Marathon, In God We Trust necklace, and a tote bag — sooo Alexa Chung.
Stan Smiths, vintage gold hoops, Céline Caty sunglasses, and a tote bag — Selena wears white sneakers with a lot of her sundresses.
HOW TO WEAR A SUNDRESS AT NIGHT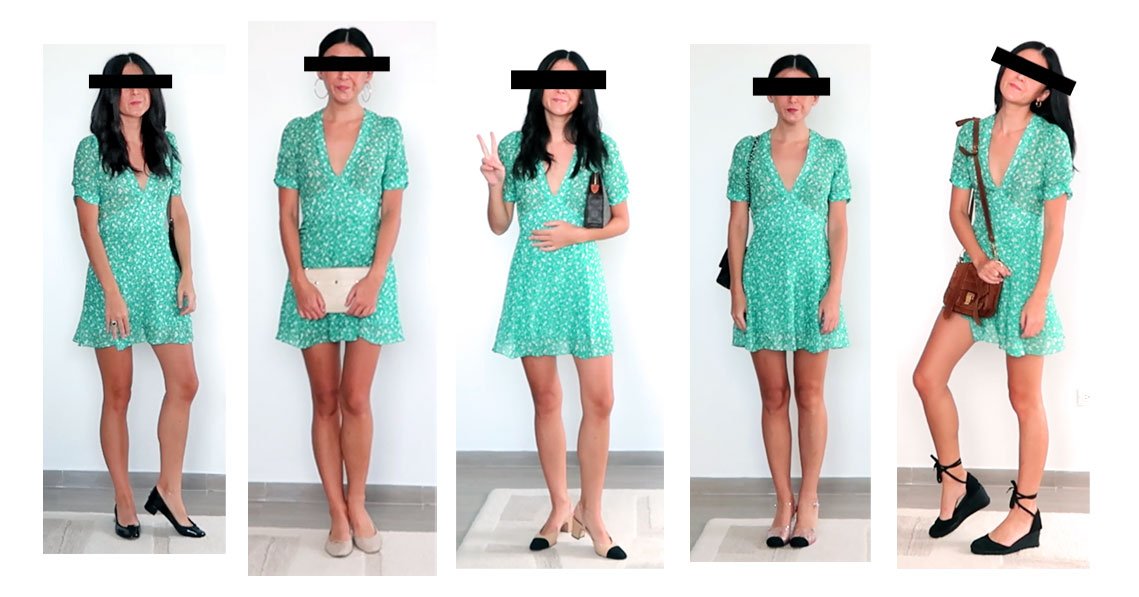 Basically, at night you'll want to add darker shoes & bags. This will tone down the brightness a bit and make it more midnight-friendly. Patent leather shoes & bags will also work wonders. Alternatively, add some jewelry!

Left to right…
Patent Repetto Camilles (review here), vintage earrings, and the same Kate Moss x Longchamp bag — again, Kate Moss simplicity.
Pale pink Repetto Camilles and an Yves Saint Laurent chalk clutch (this was from before the name change) — Selena Gomez sweet.
Chanel slingbacks (review here), vintage gold hoops, and a Louis Vuitton clutch — these retro-esque pieces have the vintage spirit Alexa Chung became famous for.
Chanel Metier D'Arts 2017 Mary Jane shoes and a patent Chanel medium flap — these shoes are so obscure and add that Zöe Kravitz classy cool vibe.
Black Castañer Espadrilles, vintage gold hoops, and a Proenza Schoulder PS1 — A brown suede bag is so Jeanne Damas!
What Shoes to Wear with A Sundress
My favourites? Gladiator sandals (black or tan), ballet flats (Chanel two tone flats will match any floral print), and espadrilles (2 inches or less). They're each light and summery — the two most important qualifications for a pair of sundress appropriate shoes.
It's important to just keep the shoe neutral, unless you want to really push the boat out and add some character. The best edgy but (still) neutral print to go with a floral dress? Leopard print.
What Bag To Wear with a Sundress
A canvas tote is neutral and keeps your hands free. A little black clutch also works, but ties up one of your hands, so if you're carrying an iced coffee in the other hand, you're basically going to be immobile. A crossbody bag also works well and frees up your hands. Alternatively, a straw beach bag!
Bags to avoid? Anything massive and clunky. A sundress is delicate and your purse should compliment it, not weigh it down.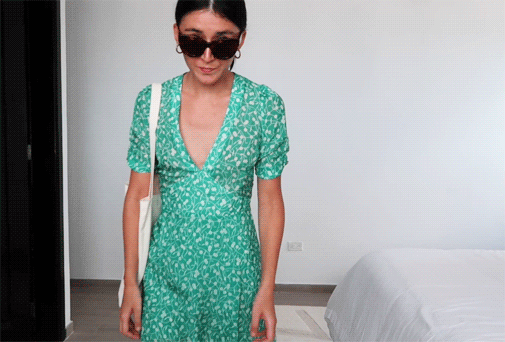 How to Accessorize a Sundress

The best accessories for your floral sundress are simple… A simple necklace or a pair of hoop earrings will do the trick! As for sunglasses? Anything goes, but cat eyes are encouraged! ?

Like a warm summer day, a sundress is what you make it.
Go to town accessorizing and push the boat out with a cool new pair of shoes… or stick with what you know and keep it simple.
As long as you feel happy and confident, it's going to be a winning outfit.