Do you have a list of vacations you want to take once things are more settled?
I do.
It starts and ends with Greece.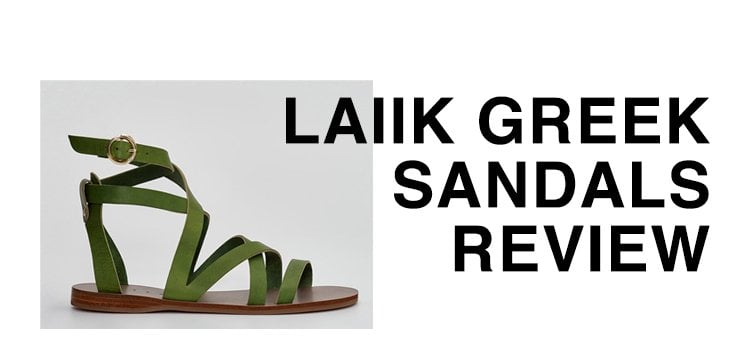 I want to eat my body weight in spanakopita every day & night.
… and explore the cobble stone corners that are laden with cats.

… and float on endlessly in that clear Mediterranean turquoise sea.
Not ready to travel, I still wanted to at least feel the Greek, ummm, ground below my feet.
The best solution? "Made in Greece" sandals from Laiik.
LAIIK SANDALS SIZING
For comparison, my other shoe sizes run:
-Adidas Stan Smiths, US 8
–Chanel Shoes, FR 39
–Christian Louboutin, IT/EU 39.5
–Golden Goose, IT/EU 39
–Hermès, FR 39
–Isabel Marant, FR 39-40
-Nikes, US 8.5
–Repetto, FR 39.5-40
My Laiik Ippolita Gladiator sandals, in Moss Green, are a size 39.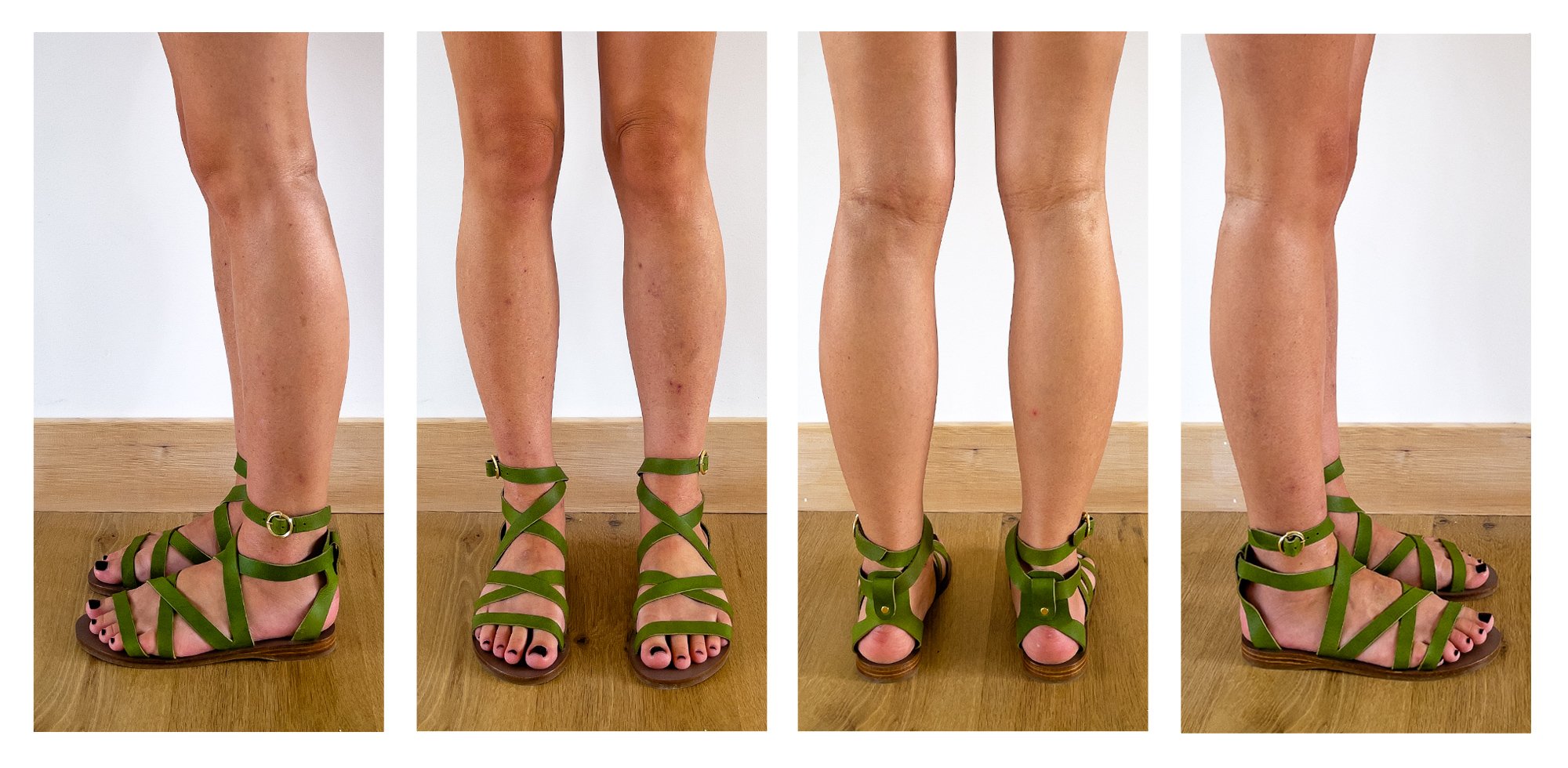 With my toes totally lined up with the leather strap…
And an adjustable strap wrapped around the ankle to get the perfect fit.
… basically, my Laiik Ippolita sandals fit perfectly in a size 39.
---
Impressions
Maybe it was reading a Leonard Cohen biography that set me off.
You know he's from Montreal (born at the same hospital as me!) and spent a great part of his early life in Greece?
I could imitate his life…
Ride a donkey up a steep lane, in my Laiik sandals.
Pour glasses of Ouzo, in them.
Stumble back to the stone built hotel, with my Ippolitas strapped securely around my ankles.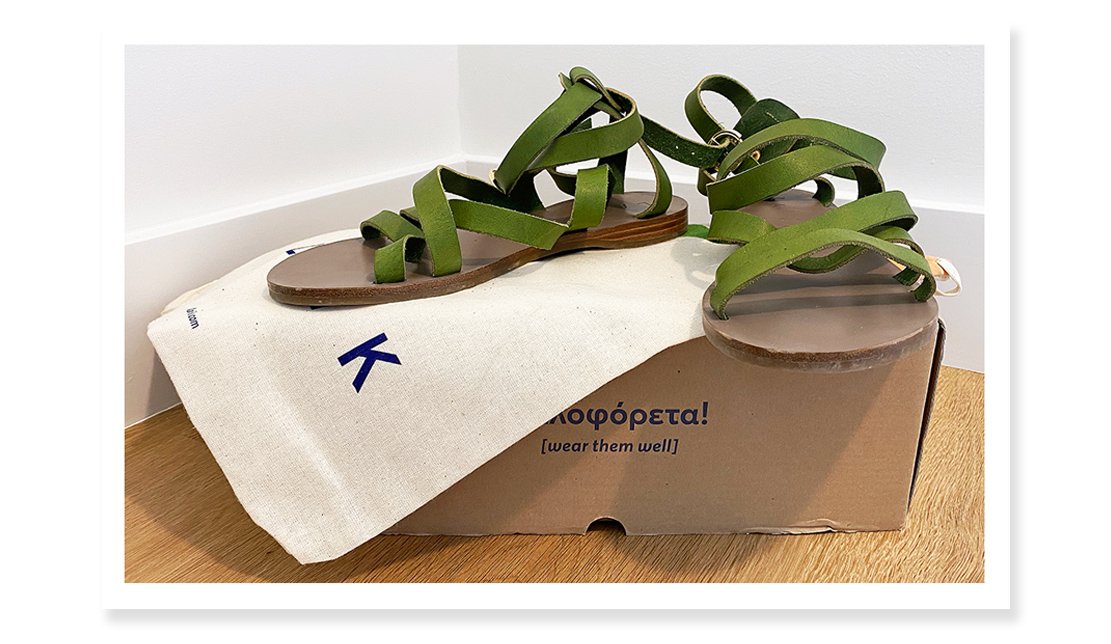 Similar to the song "Suzanne," I wouldn't miss a beat.
---
PROS & CONS
Pros
–Dust bag: Makes throwing them in your suitcase so much easier.
–Handmade in Greece: Laiik uses 3rd generation craftspeople to make their sandals in Greece.
–Perfect sizing: A sandal brand that keeps on track with accurate sizing.
–Comfortable: The Ippolita sandals hugs all my toes and keeps those little piggies in place while wearing.
–Rubber bottom sole: Makes them more beach-friendly, which is where you should be wearing your sandals!
Eco-conscious: Let me explain…
–Reclaimed leather: Basically, they use the leather that comes from the EU food sector to make their sandals. This complies with EU legislation on animal welfare.
–Natural plant-based tannins: So other companies use a lot of toxins and bad stuff in the process of tanning their leather — LAIÍK's tannery doesn't.
–Biodegradable: Once you've worn them out (likely in like 7+ years tbh), because they were made with so many eco-friendly practices in mind, they can be easily discarded at the end of their life.
–Reclaimed soles: OK, that sounds weird and confusing — what I mean is the leather they use for their leather soles come from reclaimed hides, which reduces water usage and helps repurposing the "waste" product.
Cons
–Leather is slightly thinner: Compared to K. Jacques or Ancient Greek Sandals, but it isn't thin enough to be like, "these are flimsy."
… considering Laiik's price and their eco-practices, this does not bother me and nor should it bother you.
---
While I'm still at home, or traveling within the USA, Laiik's sandals.
… maybe for right now, I'm just "une Canadienne errant."
Lost, looking for a new country to call home — or at least vacation in.
Laiik sandals are available at laiik.com from $138 USD. You can take $30 off your first order using my link here.

Note: This review was not sponsored or paid for in any way. A family friend mentioned that their close friend had this sandal company and that I should look them up. I reviewed their offerings and was impressed — so I bought a pair with my own money.
---
You might also be interested in…