You know this It Girl from Instagram. At some point you've seen her wavy blonde bob sashay across your screen from a far flung & hard to pronounce destination.
With 425K followers and thousands & thousands of hearts on each photo, there's no doubt that @adenorah, aka Anne-Laure Mais, has got it.
When her clothing line, Musier Paris, launched, I was ready for it… until I found out the dress I wanted had a $299 USD price tag.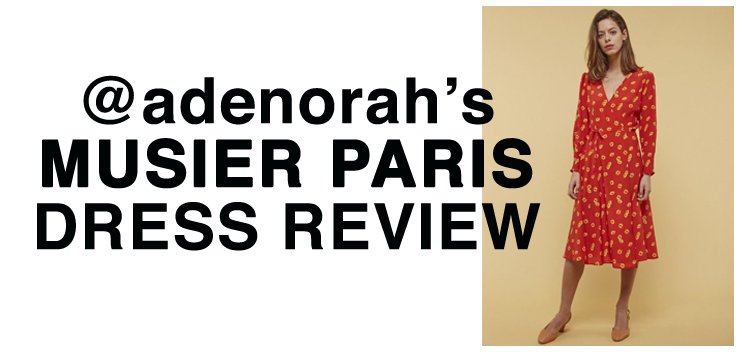 Musier Paris garments are made in Paris with mostly natural materials (some from viscose). This is what accounts for the $299 cost.

Every two months a new collection is launched and the "old" one goes on sale. I took this as my opportunity to try out the newest French girl brand and ordered the Luce dress for 40% off.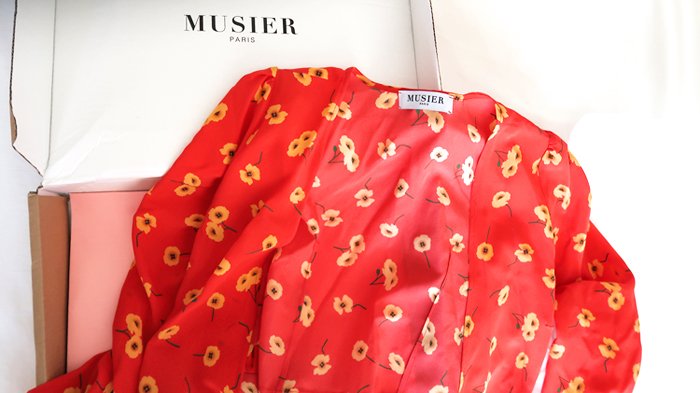 … but something felt off when it arrived.
The French girl ~vibe~ was there, the 100% silk shone splendidly, and the red poppy print shouted "c'est l'été!" from across the room… but I couldn't figure it out…
What was wrong with it?
MUSIER DRESS SIZING
The Musier Luce dress I ordered was a size FR 36.
This is my standard French size.
In Rouje, Isabel Marant, or APC, I almost always take a FR 36 (sometimes 34 or 38). In Reformation, I'm a US 2 and I generally take a UK 8-10 for British brands. My Réalisation Par dresses are mostly an extra small.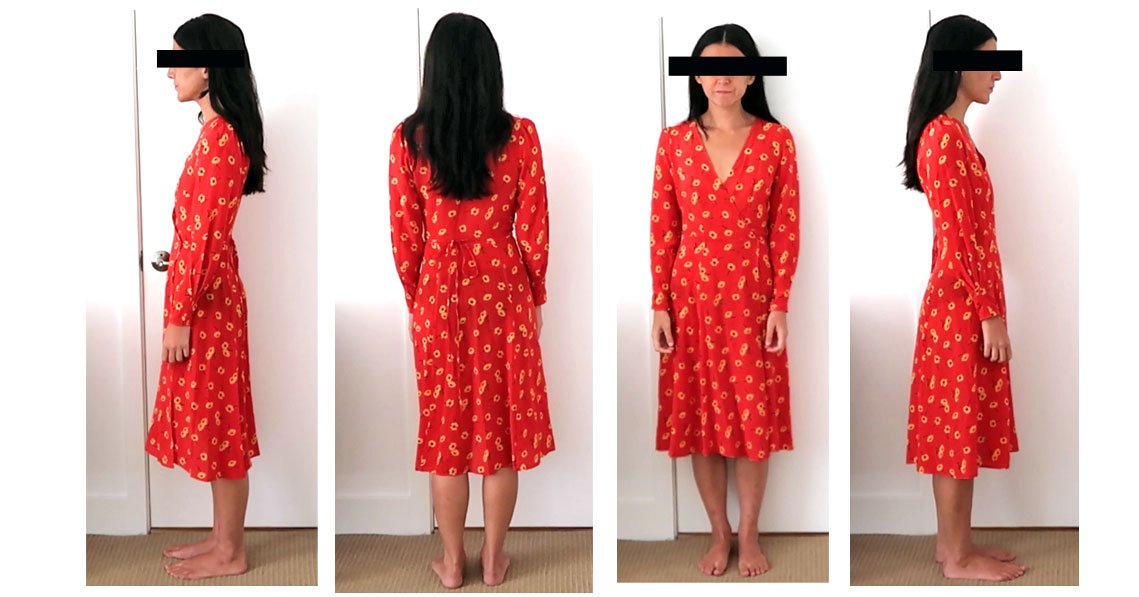 The Luce dress fit perfectly in an FR 36 and I have no doubts that it was my correct size. The garment's shoulders were in line with mine, the sleeves came right to the end of my arm, and the skirt skimmed below my knees.
There were two big problems with the Luce dress…
1- Sleeve Cuff Opening
The sleeve cuff openings were way too small. I could get my hands through them, but getting them out was another story… There were buttons on the cuff, but they were just decorations. So the only thing I could do was take a deep breath in and try to make my average sized hands as little as possible.
2- Draping Across the Chest
A wrap dress is supposed to hug your figure by, well, wrapping around your body. The photos of the Luce dress on the model made it look like a standard wrap dress… similar to Réalisation Par's Teale or Rouje's Gabin dresses.
On me though, the dress' top drape was more of a droop.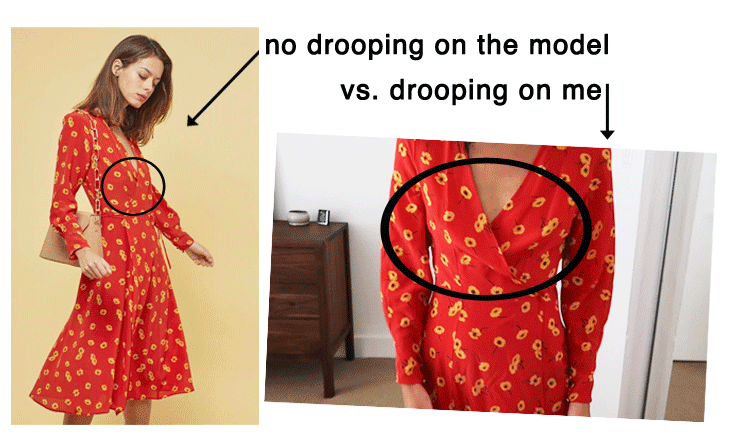 ---
QUALITY
Musier's Luce dress is 100% silk.
It's rare for a younger brand like Musier to use natural materials. Most companies rely on the lower prices of semi-synthetic or synthetic fibres to keep costs down, even if that means sacrificing quality.
Natural fibres (ex. silk, linen, cotton, etc.) are better quality. In my Reformation review I explore more about the downfalls of semi-synthetic and synthetic materials.
Not only is a natural fabric, like silk, better quality, but it just feels better on your body. Try it now, throw on your viscose dress then the silk one — which one feels more ~sensual~?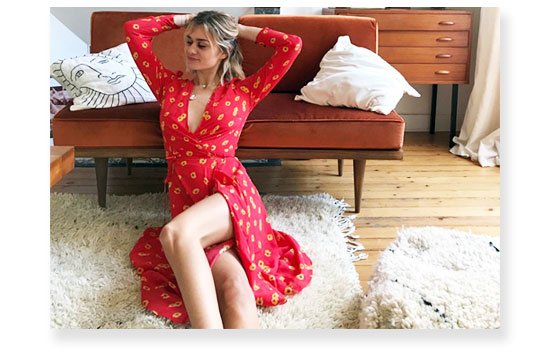 With that said, I can't speak to Musier's longterm quality because I returned my dress.
---
RETURNS
As much as I wanted to make Tim Gunn proud, I couldn't make it work.
In order to return a garment to Musier from the USA, you need to do the heavy lifting (i.e. stand in line at USPS and get confused about forms & labels) and pay for it (i.e., uhhh, take out your credit card).
While it's annoying, this is NOT Musier's fault.
International shipping and returns are always a pain… even Rouje's return process is quite similar.
I sent the Luce dress back to France from California on July 24th via tracked USPS. On August 2nd I received an email that my refund for the dress was processed. A surprisingly quick turnaround — thank you Musier!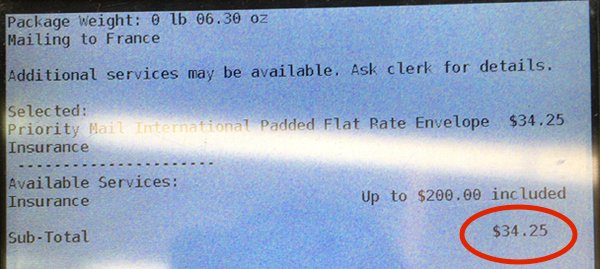 When I purchased it, shipping cost €23.33. To send it back cost $34.25 USD. I received €122.50 back for the dress, but I still lost $60.84 USD in the end because of the non-refundable shipping charges.
… so basically I paid $60.84 just to try on a dress.
---
PROS & CONS
Pros
–Made In France: Adds an extra layer of ~authenticity~ to this French girl brand.
–100% Silk: A lot of younger brands almost exclusively use viscose. Musier sparingly uses viscose and tries to use natural fabrics as much as possible.
–No Additional Duties: DHL didn't ask me to pay more than what Musier charged me. A friend on Instagram confirmed my hunch that if you live in the USA you do not pay duties on orders below $800 USD.
Cons
–Not-So Thought Through Design: Unintentional droopy draping and too small cuffs are avoidable, but this dress had both.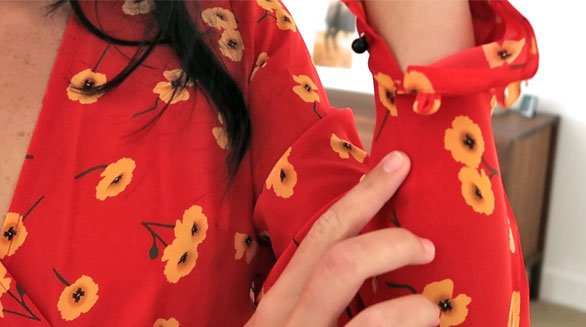 ---
The natural fabric, the wrap silhouette, and the vibrant print… this dress had "me" written all over it… but it just didn't work out.
I'll continue to admire Anne-Laure's style, just I'll admire Musier from afar.
While they have a few wrinkles to iron out, Musier has a promising concept of making clothes in Paris for those who wish they were… i.e. for aspiring French girls like me.
Musier Paris clothes are available exclusively from their online store.
YOU MIGHT ALSO BE INTERESTED IN…