Like everywhere in the world right now, it's hot in Montana (where I'm currently on vacation).
To combat the heat I needed a lightweight dress that was totally unfussy.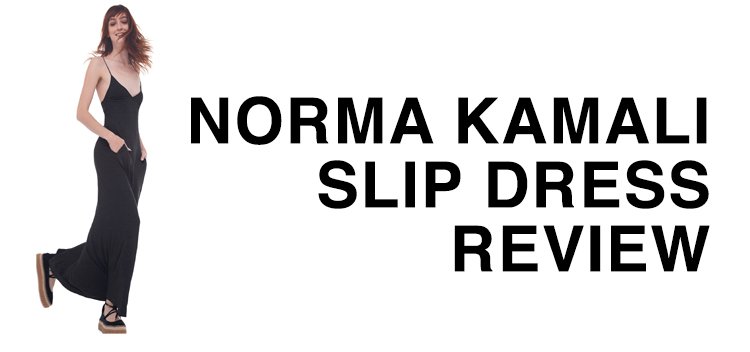 … something like Norma Kamali's slip dress.
Simple, long, and classic, I was intrigued…

Norma Kamali Dress SIZING
For reference, I'm 5'5.75" and weigh 115-117 lbs.
For comparison, here are some sizes I normally take:
-US 2, in HVN or Reformation
-Small, in T-Shirts
-UK 6-10, in ALEXACHUNG or RAEY
-FR 34-38, in Isabel Marant or Rouje
My Norma Kamali Slip A Line Long Dress, in Anthracite, is a size XS.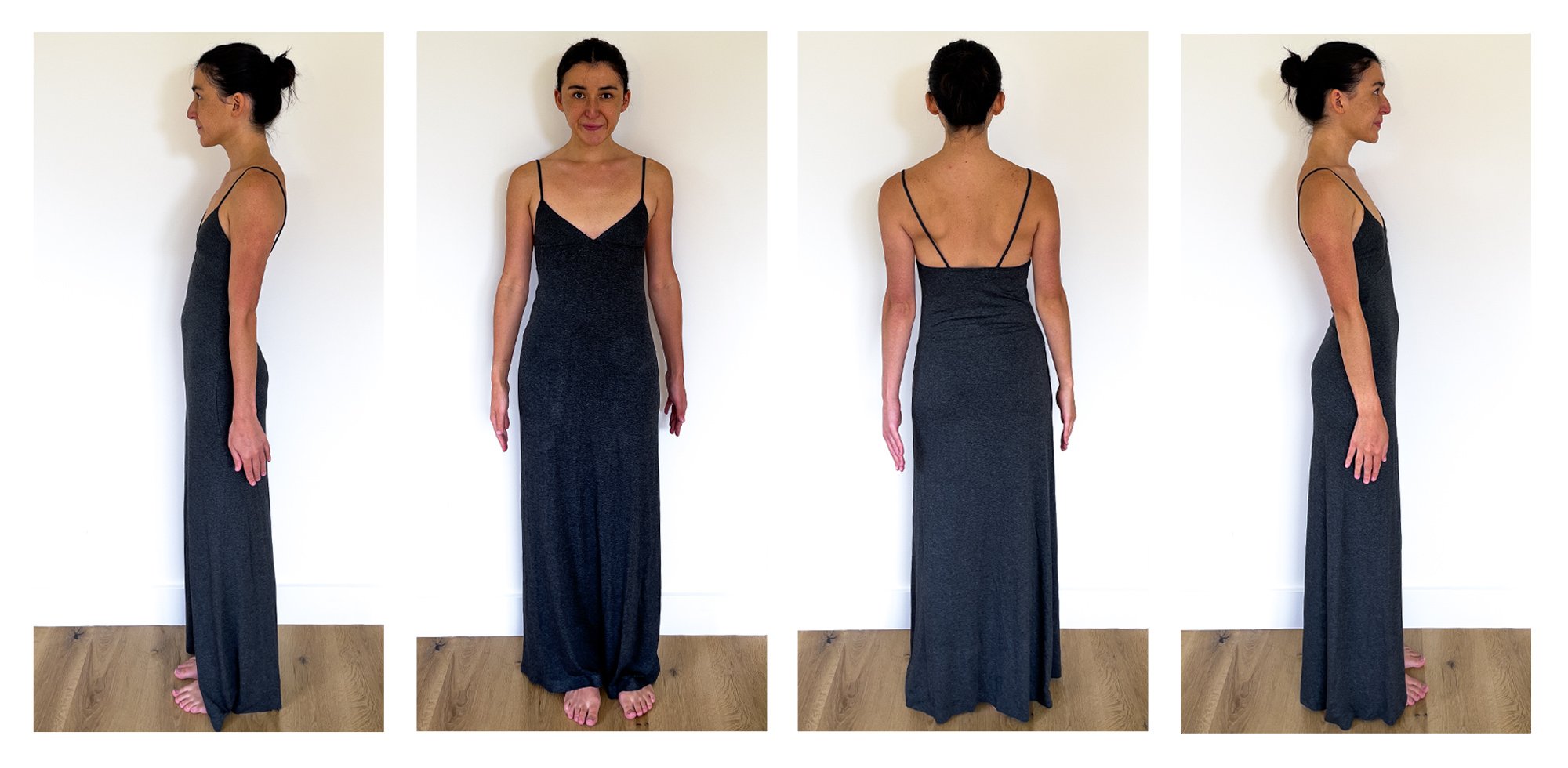 Since it does not have adjustable straps, going a size up to my usual S likely would have resulted in the straps being way too long and the darting on the bust wouldn't come close to lining up with my bust.
… so, due to my flatter chest, I sized down to an XS, which fits a lot better.
The dress is incredible flattering no matter what your body type is.
The top is tight, while the skirt flows free — exactly what you imagine from a dress that's made from 96% modal (a type of Rayon that feels kinda like cotton and is biodegradable) and 4% spandex.
… and Norma's slip dress has, wait for it…
… pockets!!!!!!!!
---
Slip Dress Showdown
Let's put Norma Kamali's Slip A Line Long Dress to a "pseudo-scientific lab report" analysis!
For the sake of fun, this slip dress is called the "Slip Dress Showdown." I'm gonna list everything you wanna know about this slip dress so no detail slips by you before buying.
Note: These are my opinions, yours could differ.
1- Armpit bulge? Yes or No?
Unfortunately, kind of.
2- Can you wear a strapless bra?
No!
… go with sticky shapers or no bra at all.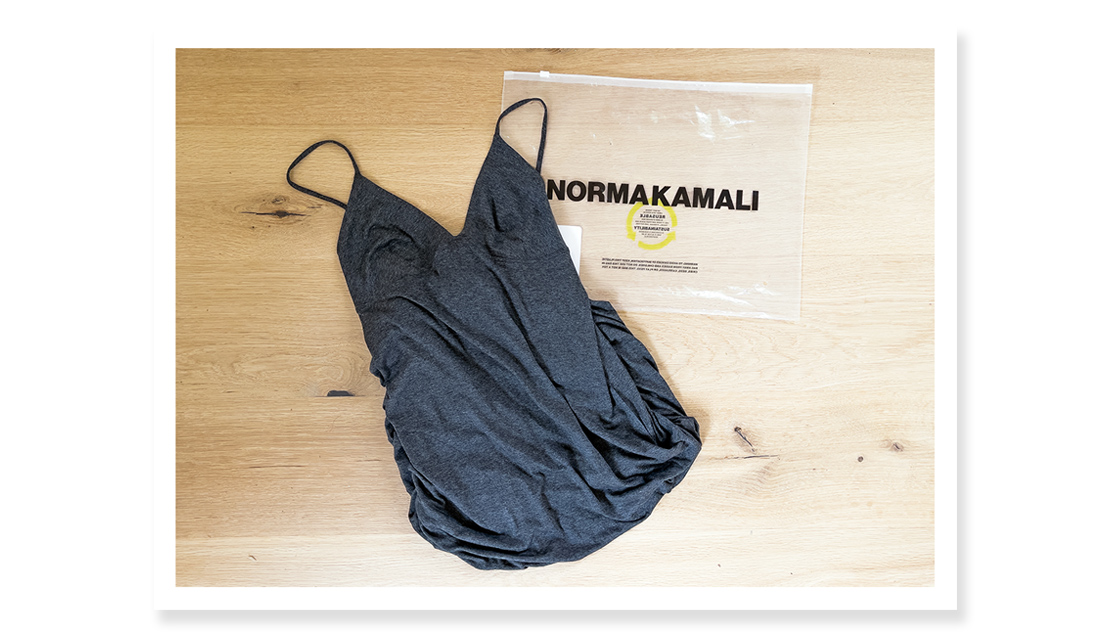 3- Adjustable straps?
No!
… which, similar to the Square Neck RAEY slip, is why I sized down to an XS in Norma Kamali's.
4- What's the material like?
This Norma Kamali slip dress feels like a stretchy pair of yoga pants in the form of a dress… in the best way possible.
I.e., It's 96% modal and 4% spandex.
5- Just how bias cut it is?
Not bias cut at all.
Tight on top, then swishes out into a breathable skirt.
---
PROS & CONS
Pros
–POCKETS: FINALLY, pockets… if Norma can subtly slide in side pockets on a slip dress, then how come some sweatpants can't figure out how to make pockets work?
–Body skimming: OK, that sounds weird — I think what I really meant to say was flattering for any body type.
–Light weight: This slip dress is stretchy, yet not sweltering.
–Alma matter: I never said newinspired isn't bias, did I? I always appreciate when my alma matter, FIT, is shared with a fashion legend.
Cons
–No adjustable straps: It would be nice to adjust them…
–Modal: The jury's out if this is a sustainable fabric or not.
… not a pro or a con, but "this dress isn't bra friendly" note — in this 32°C/90°F weather, who wants to wear one anyways though?
---
There's a reason why Norma Kamali has been in the game for over 50 years.
Along with Norma Kamali's many many iconic designs (Farrah Fawcett's Smithsonian-worthy red swimsuit, anyone?), this simple and subtle dress is the one that made me go, "wow."
This genius lady made a sleek and skimming dress — with pockets to boot.
Norma Kamali's maxi slip dress is available for $175 USD from Net-A-Porter, Shopbop, or NormaKamali.com direct (where you can take 15% off your first order).
Note: newinspired uses affiliate links which costs you nothing… but means a lot to me. When you use these links, the money newinspired earns gets reinvested in blog content. Absolutely nothing on newinspired is "gifted" or sponsored, I purchase each item with my own money. Affiliate commissions are used to purchase new items to honestly & thoroughly review. If you found this review helpful, consider using them to support newinspired.
---
You might also be interested in…