There's this pair of Rag & Bone denim short shorts, the Mila shorts in "Moss," that I love.
If they were a child, they'd be entering grade 4 — like, they're around 10 years old.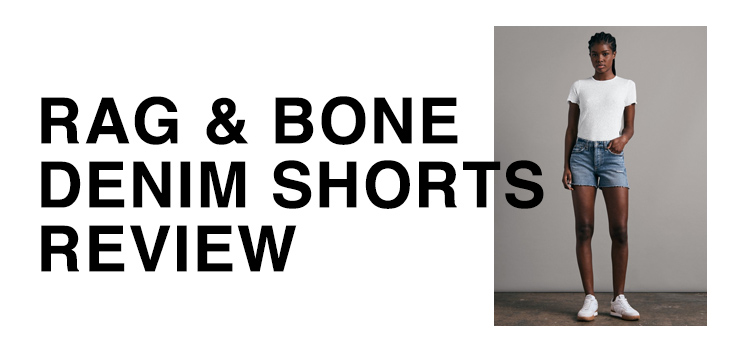 Rag & Bone discontinued the Mila, but I still bought a "reserve" pair on eBay, just in case my first pair ever kicked the bucket (they haven't).
When the trend of having your short shorts' pockets show changed, I simply pinned the pockets back so they wouldn't show.
In the last 9 years (checked my Shopbop order history specifically for this), Rag & Bone has not increased their price for denim shorts.

… and since I still love wearing denim shorts with, luxe ballet flats (especially Chanel ballet flats — that have increased by 45% since my first pair!), well, I got curious.
Are Rag & Bone's 2020+ denim shorts as good as their 2010 pairs?
---
Rag & Bone Denim Shorts Sizing
For reference, I'm 5'5.75" and weigh 115-117 lbs.
My other denim shorts sizes run below:
–Acne Studios denim shorts, size 25
–AGOLDE, size 25
–Citizens of Humanity, 25
–Levi's 501 shorts, 26
–Re/Done, size 26
My Rag & Bone Dre denim shorts, in Clean Peony, are a size 25.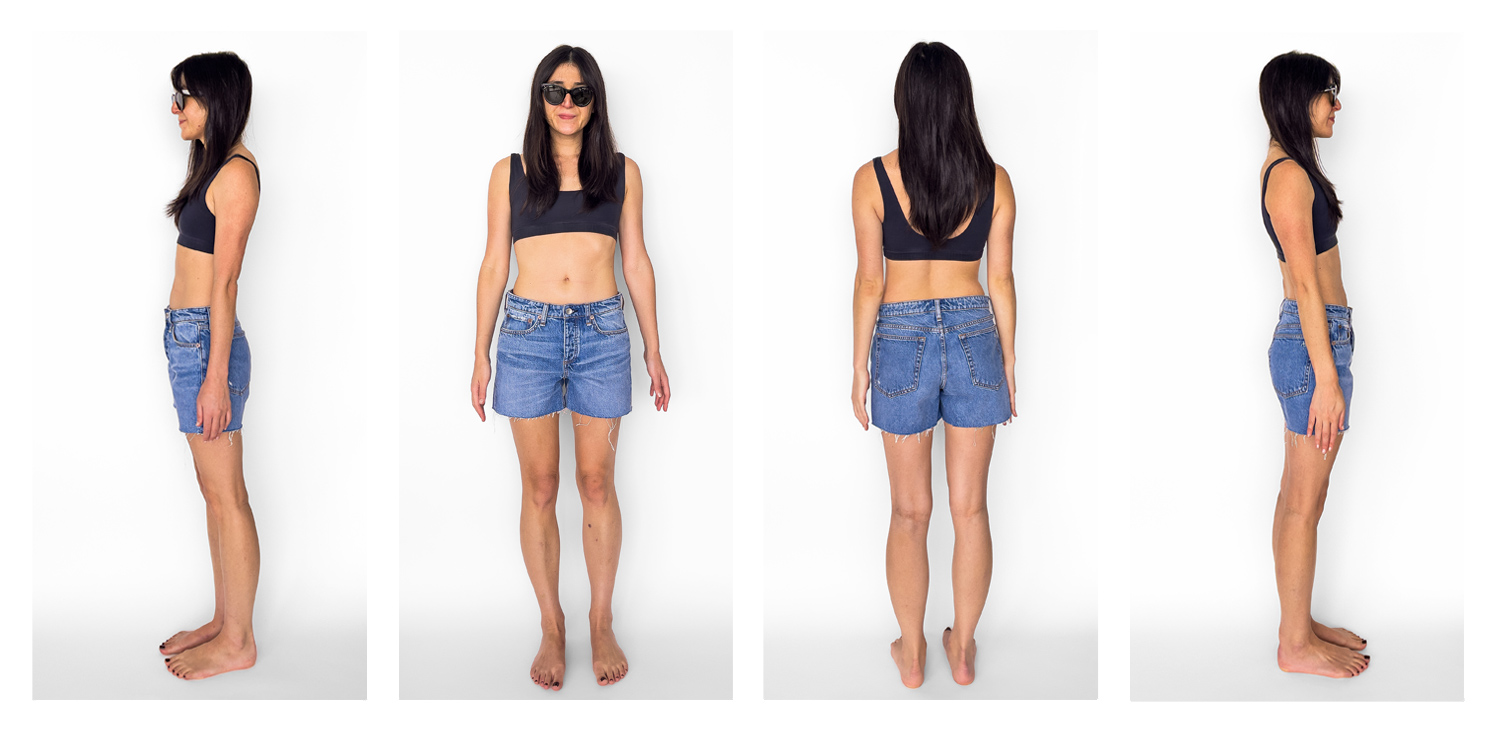 These shorts are big, but snug around the waist.
… and long.
They're advertised as low-rise shorts (with a 9.5" rise), but there's no way they're low-rise unless you order, like, 2 sizes up.
As a result of their 4" inseam, they are longer than most denim shorts.
In effect, and on, the Dre denim shorts remind me of those Citizens of Humanity shorts (although their rise is 11.5" and inseam is 3.5") that I don't like.
… and even worse, these Rag & Bone shorts give a super unfortunate v-shape while wearing.
Like, I don't get it — they just look really bad on.
---
Meanwhile, the Rag & Bone Bitty denim shorts, in Tide, are a size 26.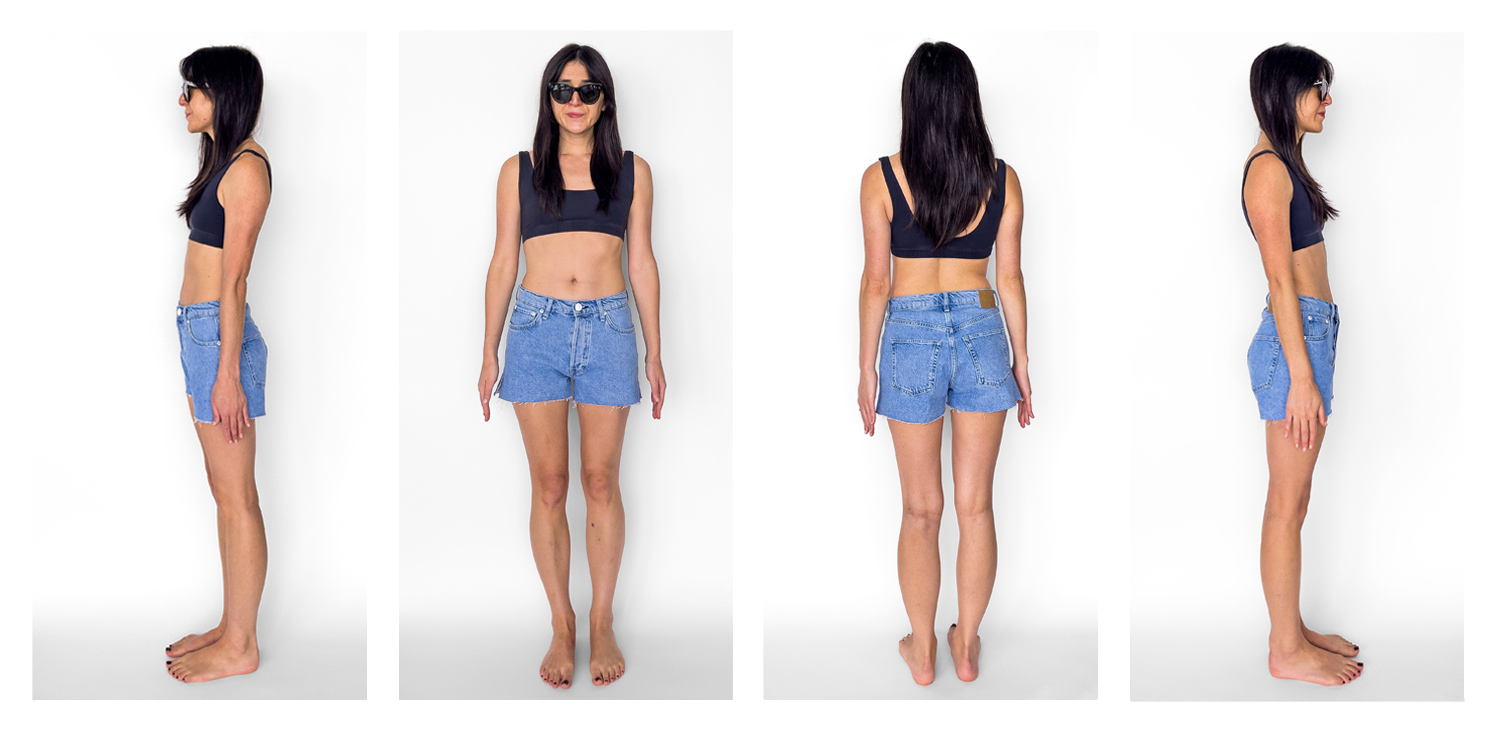 Initially, I ordered a size 25, but they fit way too tight and they could not be buttoned up.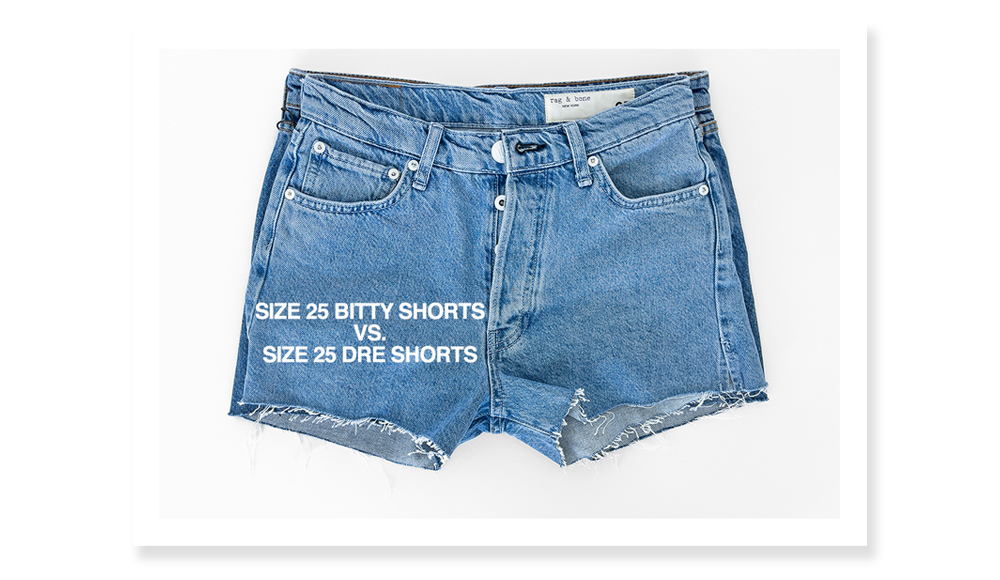 Anyways, in a size 26 (as shown) they fit well, but, I hate the gusset.
The gusset makes the shorts flare out at the sides and gives the illusion of a skirt.
Rag & Bone's Bitty shorts are more fitted than the Dre denim shorts, and better in the sense that they're…
Short(er)!
The inseam is 3.25", while the rise is 9.75"… compared to AGOLDE's Parker shorts which have a 2.75" inseam and 10.75" rise.
… but, they're still not that great.
---
Quality
Let's put Rag & Bone's Dre denim shorts to a "pseudo-scientific lab report" test!
For the sake of fun, this denim series is called "The Denim Cut-Off," because we'll go everything you want to know about the wear & tear for this pair of denim cut-offs over a 5-day period.
Note: These are my opinions, yours could differ.
1- Do They Flatter Your Bum?
Not really, tbh.
2- Is There That (Unfortunate) V-Shape From the Front?
My husband is extremely talented with his video work, so he did not capture the v-shape that either pair create.
… but, IRL, they create a slight v-shape.
3- Do They Pinch Your Crotch?
The Bitty shorts (I know this is about the Dre shorts, but…) pinch your crotch when you're just sitting around in them.
The Dre shorts do not pinch though.
4- Are They Short Shorts?
Rag & Bone's Dre shorts are not short shorts.
They are longer denim shorts with a 4" inseam.
5- How Do They Hold Up to Washing?
The Dre shorts held up fine after washing, however one side is distressed post-wash and the other side seems to have lost any hanging fringe.
… which kinda looks weird.
---
Pros & Cons
Pros
–100% cotton: Pretty standard, but still worth pointing out.
–Washes: Rag & Bone (almost) never misses with their washes and these are no exception.
–Quality: I imagine that the Dre and Bitty will last a long, long, time, like my other Rag & Bone shorts and jeans.
Cons
–Inconsistent sizing: It's really frustrating when a brand can't make a consistent size across the board for their denim shorts.
–Two awkward fits/cuts: These two Rag & Bone shorts are not "should they discontinue them, I will track down on eBay" worthy.
–Button zip: Normally I don't list this as a "Pro" or "Con," but the Mila shorts had a zipper and it was just sooooooo much more convenient.
---
The theme for my past summer seems to be "you can't go home again."
You can't go back to the house where you grew up.
You can't go back to the city that raised you in your teens.
… and you can't go back to the denim short brand that carried your outfits the last time you visited "home" in the early 2010's.
Rag & Bone denim shorts are available from Rag & Bone, Revolve, Shopbop, SSENSE, amongst other retailers from $165 USD.
Note: newinspired uses affiliate links which costs you nothing… but means a lot to me. When you use these links, the money newinspired earns gets reinvested in blog content. Absolutely nothing on newinspired is "gifted" or sponsored, I purchase each item with my own money. Affiliate commissions are used to purchase new items to honestly & thoroughly review. If you found this review helpful, consider using them to support newinspired.
---
You might also like…