Every time a Rouje package lands at my doorstep I exclaim "this one is definitely my favorite!…"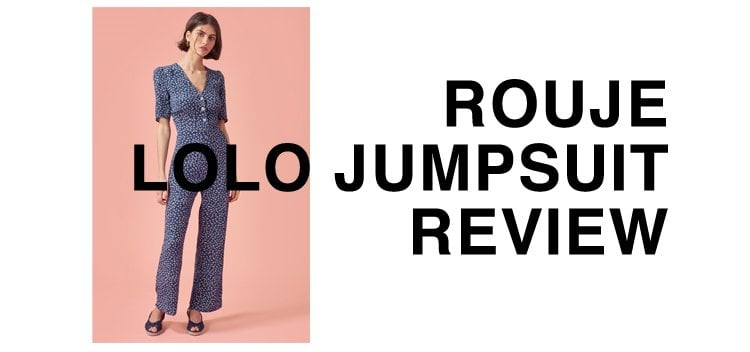 … but this time, I mean it.
Rouje's Lolo jumpsuit is my absolute favorite Rouje piece.

If there was only one Rouje piece I could wear for the rest of my life, I would choose the Lolo. Jeanne Damas changed the game with this one.
ROUJE JUMPSUIT SIZING
Jumpsuit sizing is one of the trickiest things to get right… Especially when the jumpsuit has a closer cut like this one.
You have to get your top and bottom half right at the same time.
My Lolo jumpsuit is a FR 36. I'm 5'5.75" and weigh 115-117lbs.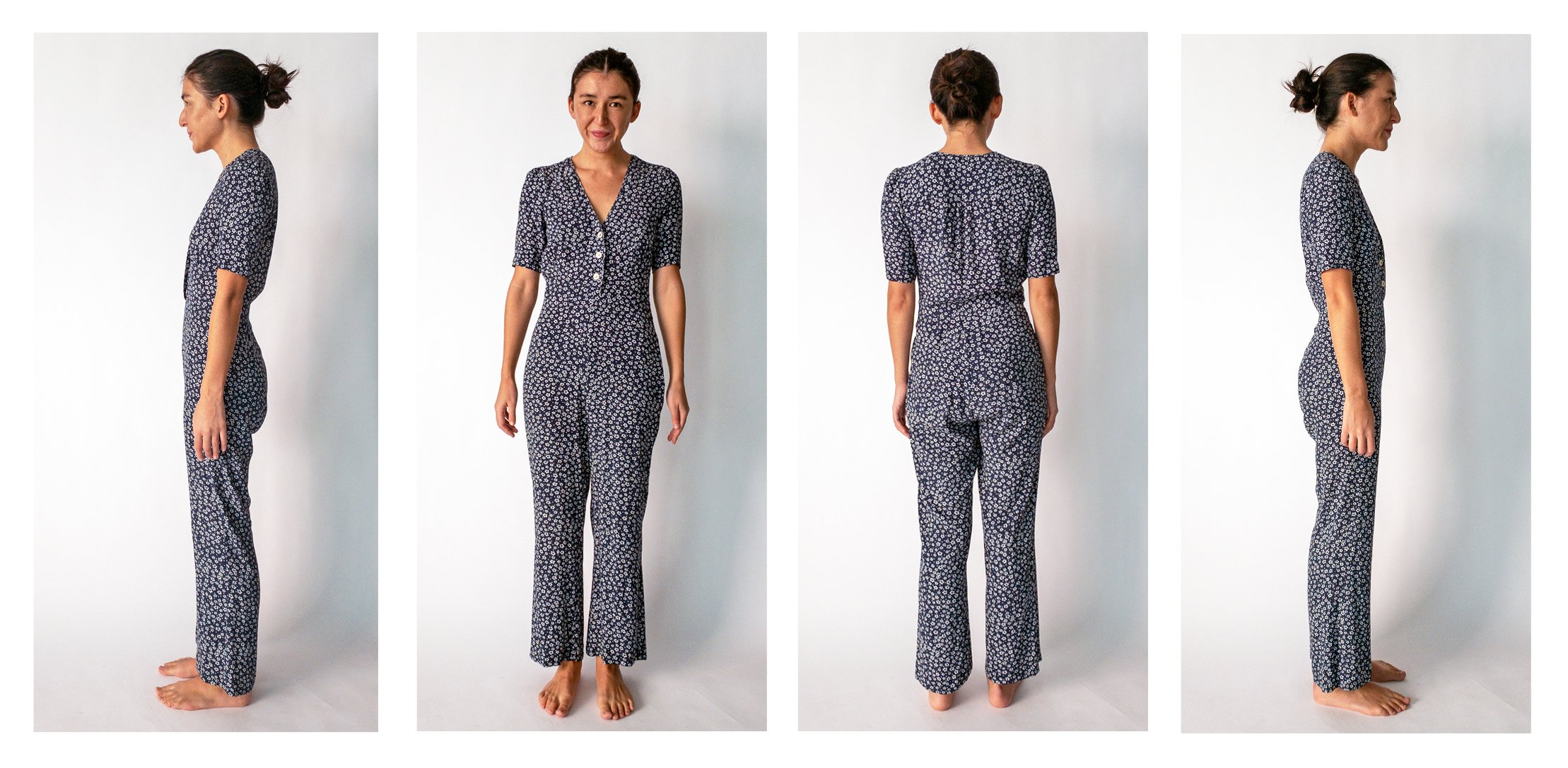 For Rouje related sizing references…
My Gabin is a FR 34
Lena is a FR 36
Matis is a FR 36.
For more general sizing reference, in Réalisation Par I generally take an XS, and in Reformation I take a US 2.
Considering my FR 34 Gabin was a pinch too tight, I knew I needed to size up for the Lolo. I was nervous though because my FR 36 Matis needs a little hop to get over my hips. I considered getting an FR 38, however the Lolo looks incredible on the model due to the closer fit (she wears a FR 36).
My torso and legs are average length in comparison to my build. If anything my legs are shorter than they should be. I was still nervous though that the Lolo would be too short and ride up too much — camel toe is not so chic.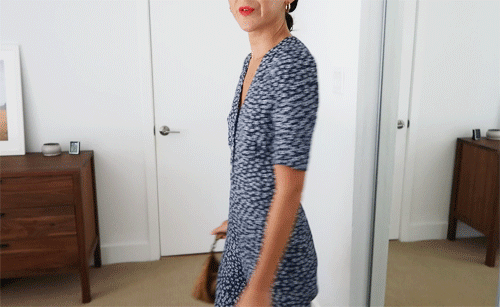 But, the FR 36 Lolo does not ride up anywhere.
The lightly flared pant legs fall right at my ankles, which makes it look fantastic with ballet flats and sandals alike. If the pants were too long they would cover the shoe and look a little awkward.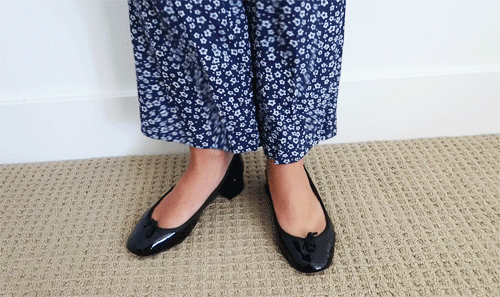 The top part doesn't pinch under my arms like my FR 34 Gabin does. It hugs, but still feels relaxed — exactly the look you want in this kind of jumpsuit.
The buttons help you get in and out, while the side zip does most of the heavy lifting. I put the Lolo on by stepping into the top with the zipper undone then do a light shimmy to get my arms in, then zip up the side. It would be a lot easier if they had put the zipper along the back seam.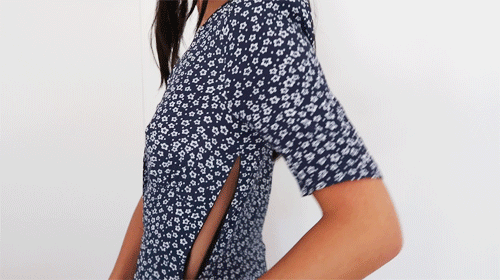 ---
IMPRESSIONS
If Studio 54 was now outside a café in Hossegor in 2018, Rouje's Lolo jumpsuit would be the equivalent of a Halston jumpsuit.
If tequila sunrises were swapped for a glass of Côte de Provence rosé, the girls would want to wear the Lolo while sipping their glass of wine.
If Ron Galella had been a "boyfriend of Instagram," his Jackie O would wear the Lolo.
From the light bell bottom leg to the floral print, if you're into the 1970's but also like the modern ~French girl~ way of life, the Lolo is for you.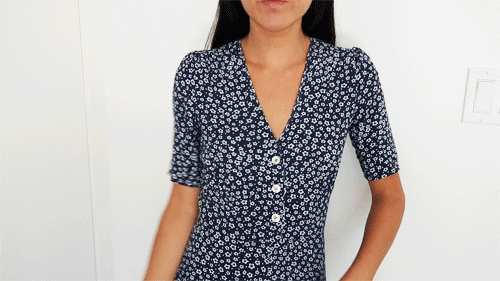 ---
PROS & CONS
Pros
–Remarkably Flattering
–Classic Rouje Piece: Jeanne Damas and Rouje bring back the Lolo each season in a different print, so you can rest assured that it's a staple.
–Bra Friendly: Sure, you can totally embrace the 1970's vibe and go braless with the Lolo, but a bra underneath also won't show.
–Quick Delivery/Shipping: Ordered on Sunday July 22nd and received it on Wednesday July 25th in the USA.
Cons
–Viscose: Rouje uses a lot of viscose and the Lolo jumpsuit is no different. It's 100% viscose, which just isn't a quality material. Like my Rouje dresses, I've encountered light fraying along the inside seams after a handful of wears.
–Tricky To Get In And Out: If Rouje had put the zipper on the back seam, it sure would make it easier to wiggle in and out of.
---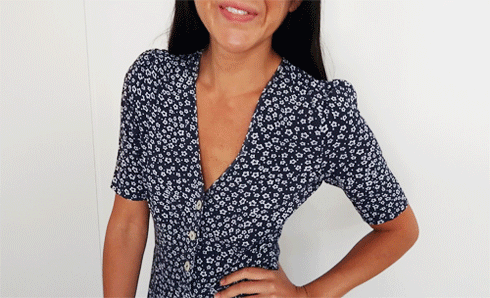 You can get into your Gabin, lust over your Lena, and marvel over your Matis dress…
and I agree, Rouje's dresses are all super sweet.
… but me? I'll love my Lolo jumpsuit.
The Lolo is available for $200 USD from Rouje.
This is an older style, but luckily, older Rouje pieces sometimes get listed on the Real Real, where you can save money and the environment by buying it secondhand.
---
Note: newinspired uses affiliate links which costs you nothing… but means a lot to me. When you use these links, the money newinspired earns gets reinvested in blog content. Absolutely nothing on newinspired is "gifted," I purchase each item with my own money. Affiliate commissions are used to purchase new items to honestly & thoroughly review. If you found this review helpful, consider using them to support newinspired.
---
YOU MIGHT ALSO BE INTERESTED IN…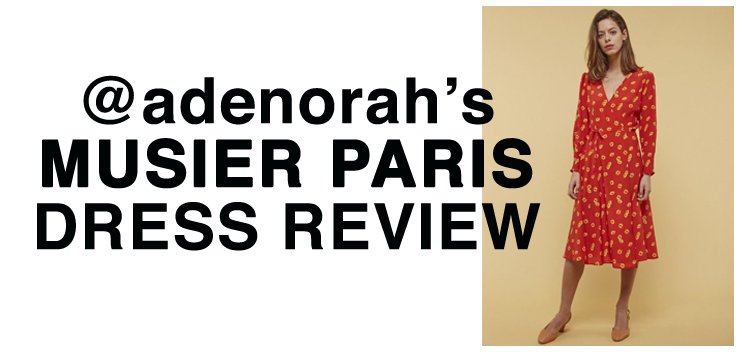 TIPS
-Take your true FR size if you feel like you're average height. If you're taller, you might want to consider sizing up for more length.
-For orders shipping to the USA under $800 USD, you will not have to pay import duties.
-Rouje does not do flash discount codes, but they do have seasonal sales. The Lolo regularly sells out though so it's better not to hold out for one.