There's a problem with Everlane's Japanese GoWeave slip dress.
See, I was hoping that like their bodysuit, it would inspire me to write a lengthy review.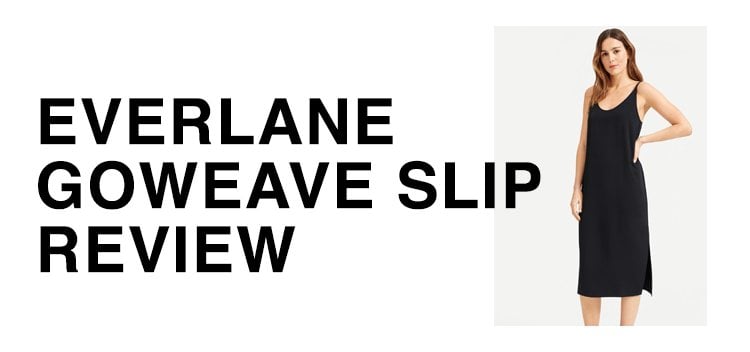 In my imagination, the words would flow straight from my fingertips onto the screen.
The dress would be delightful and this review would just come to me.

… but, it wasn't and it didn't.
Here's how and why Everlane's Japanese GoWeave slip dress didn't entirely inspire me…
Everlane Japanese GoWeave Slip Dress SIZING
For reference, I'm 5'5.75" and weigh 115-117 lbs.
For comparison, here are some sizes I normally take:
-US 2, in HVN or Reformation
-Small, in T-Shirts
-UK 6-10, in ALEXACHUNG or RAEY
-FR 34-38, in Isabel Marant or Rouje
… and you can find my other Everlane-specific size reviews here.
My Everlane Japanese GoWeave Slip Dress, in Black, is a size 2.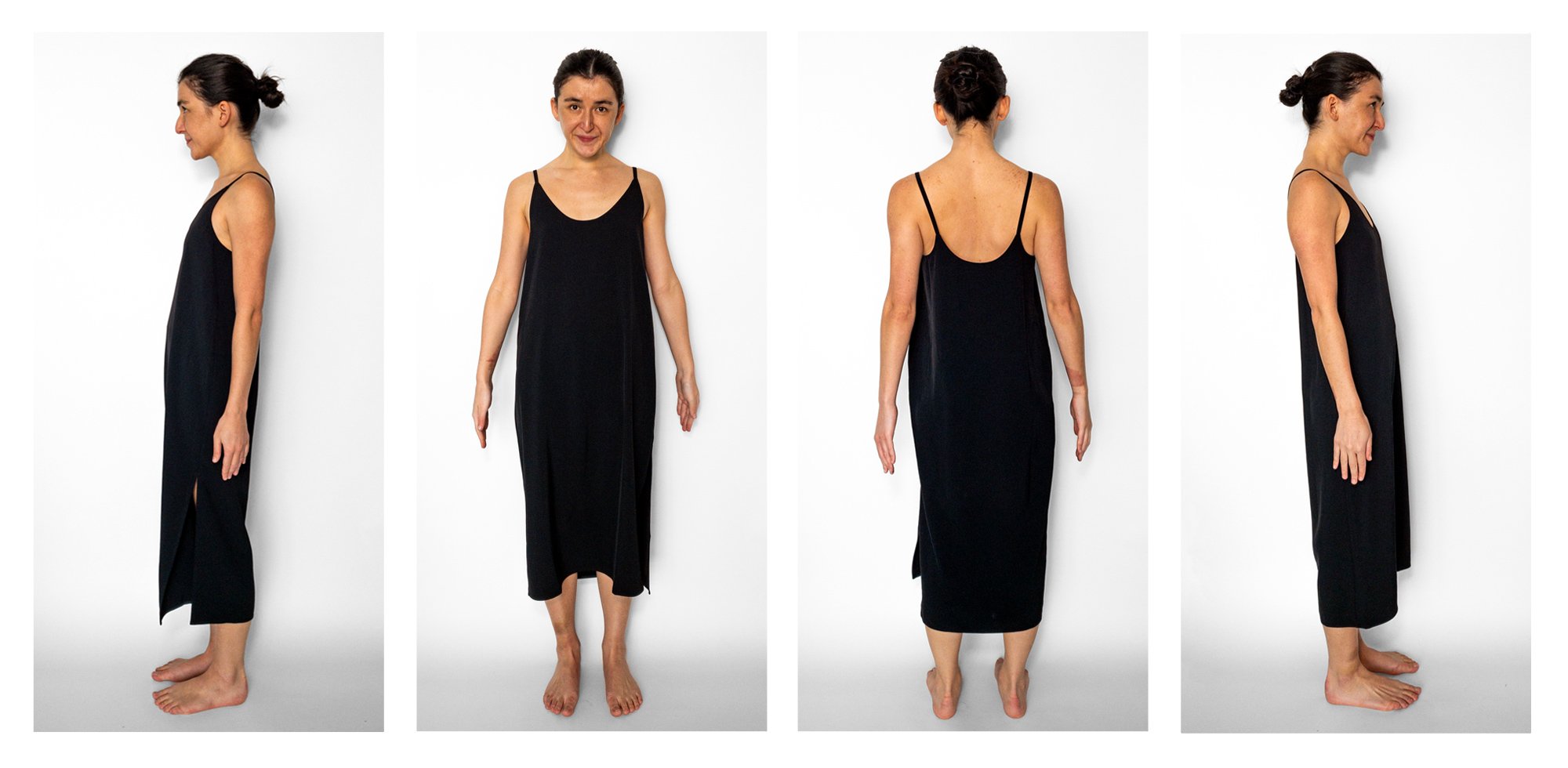 It feels oversized on.
… like maybe I could have gotten away with taking a size 0.
However, I do think that the sizing is correct because of how the straps fall — If it was a smaller size, they might be too high.
The rest of the body is definitely spacious, with no distinctions on where your bust or waist should be.
I kind of enjoy and appreciate the Japanese GoWeave Slip Dress's shapelessness, but at the same time, it feels slightly sack-esque.
There is a side slit, which is definitely appreciated though.
---
Slip Dress Showdown
Let's put Everlane's slip dress to a "pseudo-scientific lab report" analysis!
For the sake of fun, this slip dress is called the "Slip Dress Showdown." I'm gonna list everything you wanna know about this slip dress so no detail slips by you before buying.
Note: These are my opinions, yours could differ.
1- Armpit bulge? Yes or No?
The armpit bulge is somewhere in between, but can be hidden depending on how still you stand.
2- Can you wear a bra?
Yes!
Everlane's Japanese GoWeave slip dress is strapless bra friendly.
3- Adjustable straps?
This dress does not have adjustable straps.
4- Material thickness/feel
This dress is 100% triacetate which allows it to be wrinkle-resistant, but it's pretty bad for the environment.
It does feel relatively heavy — but maybe the weight is from my guilt knowing that it's not an eco-friendly fabric.
5- Just how bias cut it is?
Everlane's Japanese GoWeave slip dress is not bias cut.
It's more of a box-cut to be honest.
You can make it look more waist-defining with a belt or by styling it a little more interestingly…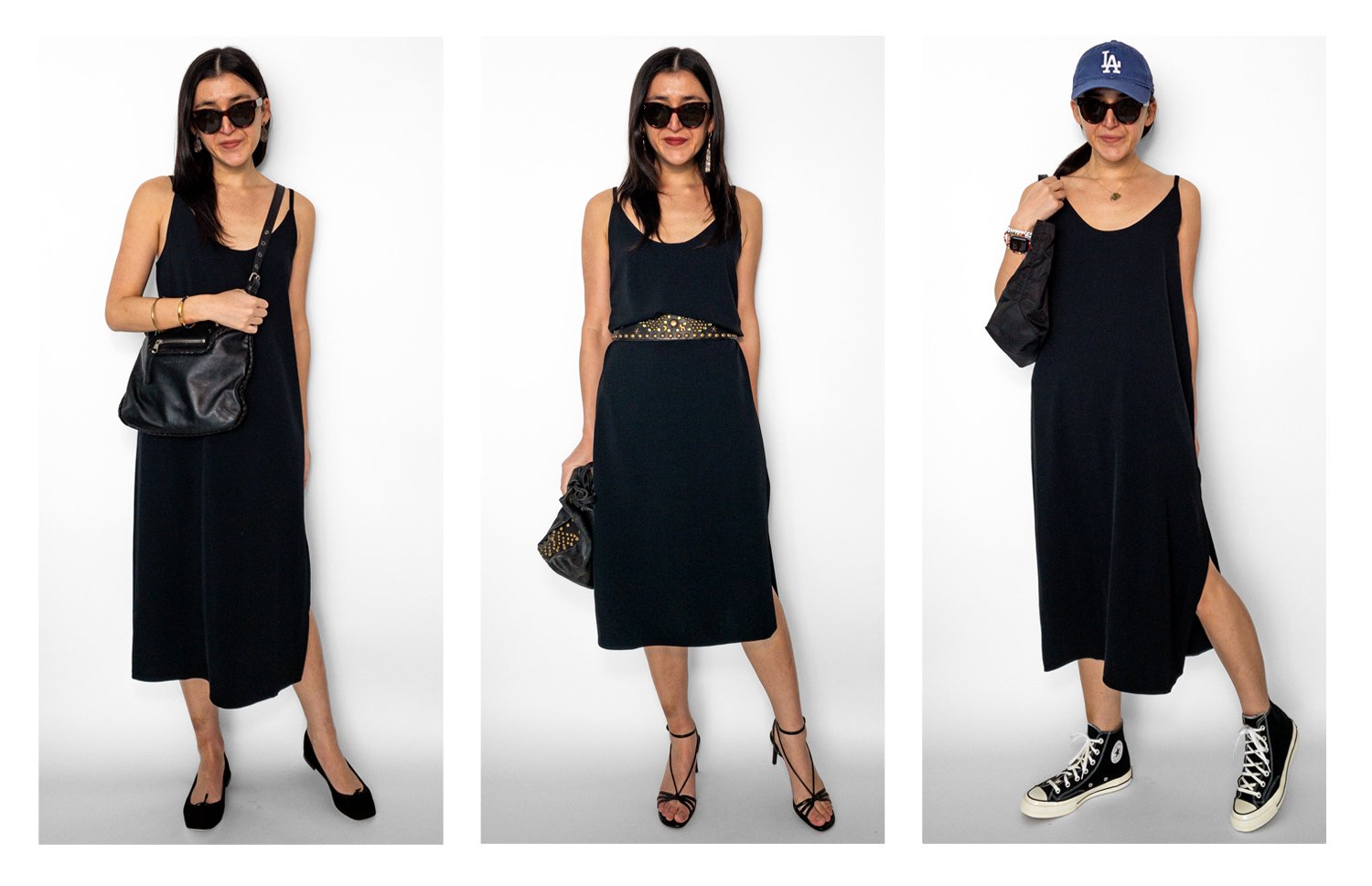 Left to Right: Repetto Cendrillon flats with Aurelie Bidermann bracelets, Jennifer Fisher Bangle, vintage cuff, vintage earrings, and a Kate Moss x Longchamp bag; Saint Laurent Kate heels with a Kate Moss x Topshop belt, Isabel Marant x H&M Earrings, and a Kate Moss x Topshop bag; Converse high tops with a baseball cap, Tory Burch Apple Watch band, my beaded bracelets, an In God We Trust NYC necklace, and a Prada East West Nylon Tote.
---
PROS & CONS
Pros
–Side slit: Unlike RAEY's slip dress, the side slit on Everlane's Japanese GoWeave slip dress makes it 100x easier to walk in.
–More wrinkle resistant: This dress is 100% triacetate and that means you can pack this bag and won't need a steamer to get rid of creases when you unpack it.
Cons
–Super boxy: Without a deep-v cut or skinnier straps, this dress looks super boxy and kind of boring on.
---
With Everlane, I've found that similar to most things in life, it's like "you win some and you lose some."
Some pieces are duds and some are spectacular.
Everlane's slip dress, unfortunately, was a bit of a disappointing dud for me.
If you're curious about it though, Everlane Japanese GoWeave slip dress is available from Everlane.com from $98 USD.
Note: newinspired uses affiliate links which costs you nothing… but means a lot to me. When you use these links, the money newinspired earns gets reinvested in blog content. Absolutely nothing on newinspired is "gifted" or sponsored, I purchase each item with my own money. Affiliate commissions are used to purchase new items to honestly & thoroughly review. If you found this review helpful, consider using them to support newinspired.
---
You might also be interested in…